Coach, I'm not going
Vladimír Vůjtek
ice hockey

The whole country was celebrating, and I was crying. In the middle of the biggest euphoria, I disappeared from the crowd into my office and closed the door behind me.
On the other side of the world, the scoreboard was counting down the last seconds of the Nagano final against Russia, and Robert Záruba shouted that famous sentence about rewriting history. At that moment, I was filled with mixed emotions no one else could experience. It took me a few minutes to get it back together.
We watched the most memorable tournament of our hockey history in my pub in Klimkovice and it was always crowded. Although the games started very early in the morning, people carried chairs from their homes to be able to sit. No one was working too hard those days.
There were lots of cheers, chanting, and when the boys won a game, we celebrated in style.
However, knowing that a week before the start of the Olympic Games in Nagano, I was also on the roster with all of these players that everyone in our country now worshipped, it was hard. When Pavel Patera won the faceoff before Petr Svoboda's golden goal, it could have been me who was the first to jump on him with joy.
Fate had a different plan for me.
"Coach, sorry, I'm not coming," I said. "I am not ready. "
After arriving in the locker room in Tampa, I took a cell phone and dialed Ivan Hlinka's number. It would have to be a miracle to make me suddenly feel better. Inside, I had long ago come to terms with what I had to tell Ivan. Nevertheless, the phone call at the end of January 1998 was one of the most difficult I had ever made.
If you knew Ivan, you would know how he reacted.
"Don't be silly," he said. "Come on, you can do it. "
"Coach, it doesn't make sense," I replied. "I would just take someone's spot. I'm still not able to cross the rink, I can't breathe. I really can't do it. "
Ivan and the general manager of the national team, Franta Černík, knew about my problems in advance. But he downplayed them anyway. It was amazing how he believed in me, how he wanted me to join the team despite my medical condition. But I couldn't do it. People around me tried to convince me until the last moment to take the risk, but I couldn't justify it to myself. Just to be in Nagano, when I couldn't help the team in any way, I rejected this idea immediately when I realized that I might not have time to get healthy. I was sorry to refuse the chance to take part in a fantastic event where the best players in the world would meet for the first time, but I would have had an even harder time coping with my condition going there. I would drag myself there completely unnecessarily, just to get an attendance point, and I wouldn't feel good about other boys who missed out. The decision to give up was based on my character.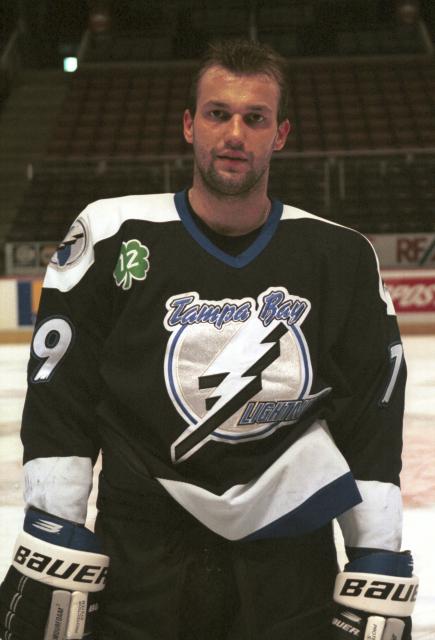 The hotel air conditioning was to blame. After the 1997 World Championships in Helsinki, in which I played on a successful offensive line with Patýz and Martin Procházka , I accepted Tampa's offer. It allowed me to return to the NHL, Tampa was counting on me as a key player for their offense. And during training camp, things looked great. I played No. 1 center with Ysebaert and Renberg on the wings, we collected points, and played the power plays.

Before the last preseason game in Detroit, I went into my hotel room after lunch and, as usual, closed the window blinds to take a nap. But this time I fell into a deep sleep just under the air conditioner. Americans are crazy about them. It may be thirty degrees outside, but you must wear a jacket in shopping malls, because it is only fifteen degrees there. Here, too, the temperature was set low, even though the sun was shining.
I woke up with a completely ice-cold ear, the entire left side of my head felt as if I had just taken it out of the refrigerator. During the game, I had a terribly dry throat, which didn't go away even after drinking liters of water on the bench. After returning to Tampa, the doctors prescribed me antibiotics because I started to feel very sick during the trip.
The season was starting in a few days and I was lying at home with a high fever. The phone rang. Phil Esposito, general manager, called me.
"Vladi, I want you to play," he said. "It's the first game, it will be a full house, the people are excited, and you are our big star. We have to show you on the ice. You can handle it. "
"Phil, I'm 35," I told him. "I feel terrible. It is not possible."
But he went on and convinced me. After all, I finally had a position on the NHL team, and I didn't want to risk losing it. I got out of bed and headed for the stadium.
In the end, I lost much more.
Of course, I felt miserable on the ice and played terribly. I played two games under antibiotics, which created the whole problem. If I had taken a break for a while and cured the disease, nothing would have happened. But during the second game I started to feel a terrible chest pain and I knew something was wrong. The virus could do whatever it wanted in my weakened body and it picked my heart.
Until then, antibiotics were no problem for me. Like most hockey players, I played with fevers by popping pills, but this heroism eventually cost me a year of my career and a gold medal from Nagano. Nowadays, as an agent, I tell the boys not to risk it in similar cases. The possible cost is a thousand times worse. Allow everything to heal first. At most in the playoffs, where everything is at stake and there will be time to relax after the season, I let them play according to their feelings, but otherwise I tell them not to take risks. They still cannot turn in a 100-percent performance. What's the point of risking it? There will be another game in a few days. And after that dozens, even hundreds more.
If only I had been thinking like this in Tampa back then.
The pain in my chest didn't disappear, and doctors weren't even able to tell me what was wrong with me. They treated me like a guinea pig. I was getting other antibiotics, corticoids, they were stuffing everything into me, but I still felt like a horse was standing on my chest. It was better for a while, worse for a while. At the same time, my teammate Brian Bradley was diagnosed with lung cancer and he had similar symptoms as me. That didn't really help my optimism.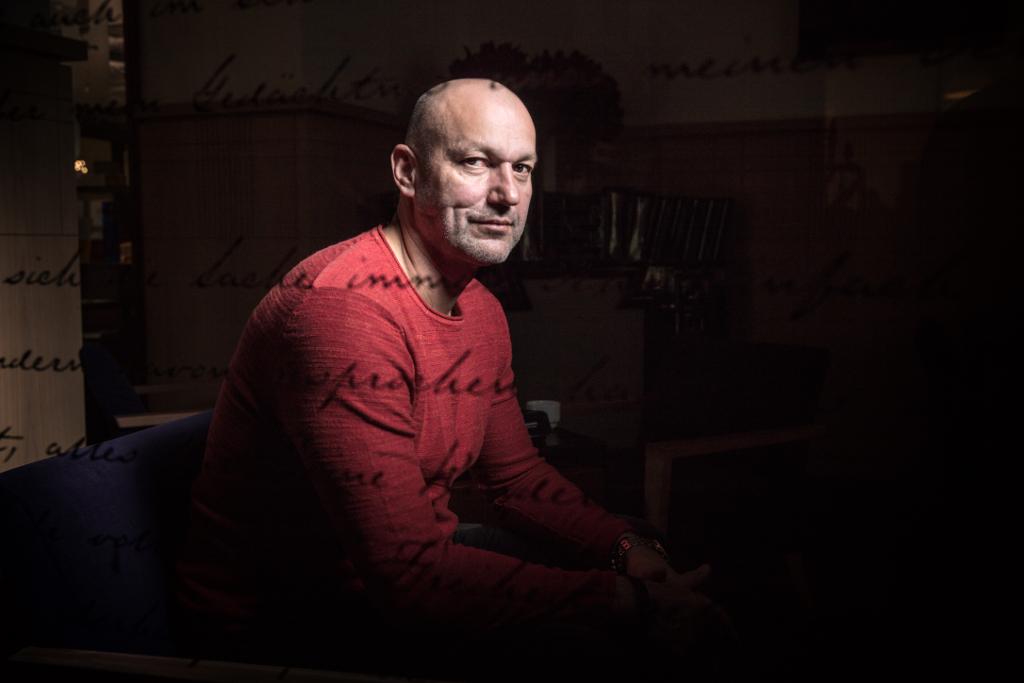 If it wasn't for the Olympics, I would have wrapped it up right away, but with a dream of playing Nagano,especially after the roster was announced, I didn't want to give up so easily. I always took a break for a few weeks and then tried it again, but after a few games I dropped out again. During one such break, I played two games for the farm team and it seemed that it would finally be OK. I returned to the team and the pain returned. Until December, I still played quite regularly, but in January I only played one game. It was impossible.
It bothered me that I was losing my place on the team, and then I realized that February was approaching. That I could also lose Nagano. I still had hope in the corner of my mind, but I told Franta Černík and the boys Patýž and Prochy in advance not to count on me.
One week before the Olympic break, I tried one last time. I asked the coaches to let me take part in a skating practice, but I soon realized that nothing had changed. I was not able to skate from the goal line to the opposite boards. I got to the point where I had to admit that the only solution was to finally call Ivan.
You know the rest of that story.
During the Olympics, my mother and mother-in-law flew to Tampa for three weeks to visit my wife and our six-month-old daughter. The trip was already planned in case I went to the Olympics. I ended up watching Nagano at home with my dad. We watched hockey like two widows.
It was my dad who helped me a lot in deciding whether to go or not. He understood my feelings. He explained to me that the world would not collapse if I rejected the nomination. I always trusted him. As a great hockey player and coach, he was my role model, people liked him, and I tried to be like him. I inherited his talent for sports and the nickname Justin.
After the Olympics, I registered reactions from people who appreciated my decision. Dominik Hašek also mentioned it, which pleased me. I often heard that I could have just gone to participate, but that was exactly the situation I rejected in the beginning. Being a 13th forward and not playing games would not have pleased me. Not playing and then being famous for being in Nagano? No, thanks.
Of course, I felt sad that I couldn't be there, but everyone's life path is different. What is to happen will happen. It was useless to think about the if, and the more that memorable Olympic gold faded in history, the less I enjoyed talking about my connection to it. Sometimes, just for fun, I would tell Robert Lang, who replaced me at the last minute, that he should send me a commission for his contract. The gold medal from Nagano restarted his eventually amazing career in the NHL, which was already waning.
He and the boys on the team enjoyed a well-deserved celebration after the Games, and I had other worries, like getting healthy.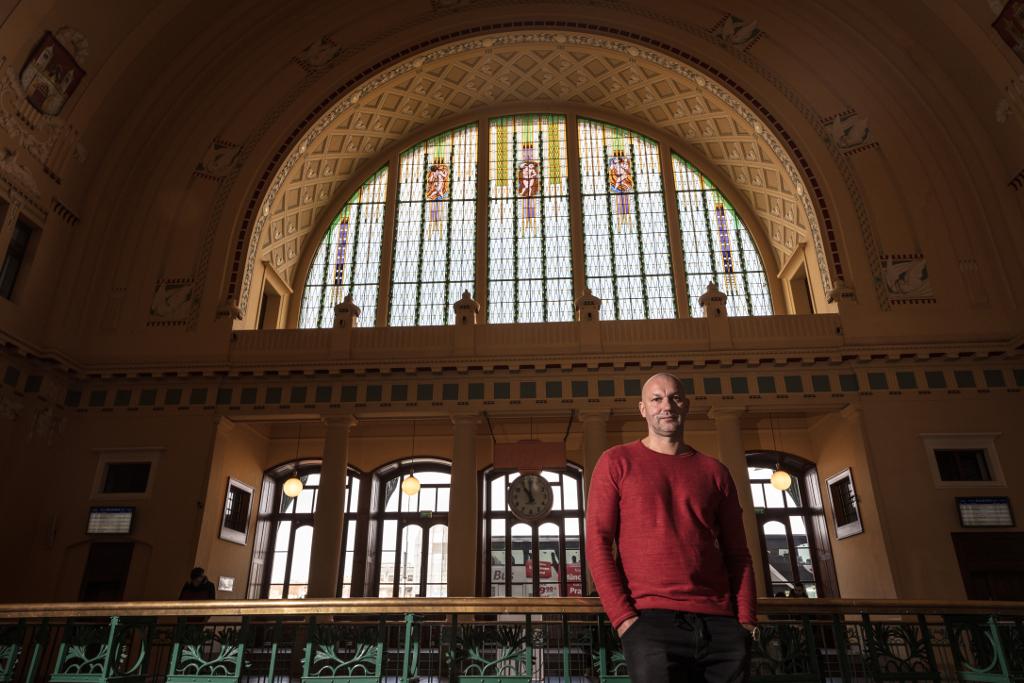 It wasn't until I replaced my doctor that it became clear what was causing my problem. Epstein-Barr virus. As soon as the new doctor saw me, it was clear to him. He conducted a detailed blood test, which confirmed his suspicions. The disease is said to affect about one in 10 million people and nothing can be done about it; the virus must leave the body on its own, which lasts 10 to 12 months. I didn't understand what the previous doctors were doing that they couldn't figure it out. Later, we got very close with this man and we visited each other for a long time. He was a nice guy whose advice helped me a lot.
After the Olympic break, I returned to Tampa, where I was placed on the list of injured players and instead of training, I continued to attend all sorts of examinations. At least it was more bearable in the heat by the pool, but it was still a strange time period.
As my mind was racing, I overlooked a traffic light and caused a car accident. I was driving from the hotel where I visited Roman Hamrlík before the game, who was traded to Edmonton.
On Tampa's main avenue, there is a crossroad every few hundred meters. The sun was just setting, it was very low, and I overlooked a red light. I hit a car, which was coming from the right, and crashed into the driver's door. Unfortunately, I didn't fasten my seatbelt. I hit my head on the mirror, and that bounced me back in the seat. I couldn't move my neck for a month.
Luckily, I wasn't going faster. Even so, I destroyed both cars, the other one was a week old. A man with a huge bulge on his hand stepped out of the vehicle. As I was in shock, I told him to put ice on it, that when I get slashed during a hockey game, ice always helps.
Show me the wound. It's not broken, it will be okay.
It's funny that the cops didn't even ask me to take a breath test. They didn't even take me to the hospital.
At first, I was afraid of every inhale while I was sick. I started to train again in the spring of 1989, and my rested body got used to the load well. Over the summer, I got in shape and signed a contract at home in Vítkovice. The main goal was to get back to the competitive game.
I played well until a severe concussion ended the season in February. In Litvínov, Robert Kysela cross-checked me in the middle of the rink, and I hit Martin Krátký's elbow as he was passing by, directly with my head. At that moment I had no clue what was going on. I was unconscious and swallowed my tongue. My teammate Miloš Holaň with our masseur Milan Mezei saved my life with a quick reaction and removed the tongue out of my throat. I woke up in the locker room for a while, but I didn't know where I was or what was going on. Later at the hospital in Most, I started to come to my senses. Another three months of forced break.
I transferred to Sparta and it looked like a great season was ahead, but at the last moment before the start of the season, my agent called to say that he had great news for me. Atlanta, an NHL expansion team, wanted me to play with Martin Procházka. They were watching us play for the national team and they liked how we played together, so they planned to put us on the same line.
I was crazy to believe that. The reality looked a little different. We played on the same line probably only once during practice and they put Prochy on the right and me on the left wing, quite the opposite to the national team formation. After a week of training camp, it was clear that this did not make any sense, that we came somewhere where we shouldn't have gone. I wanted to go home. I didn't feel like I wanted to play here in Atlanta at all. But the agent convinced me to give it a try. And I listened, again.
The first Atlanta Thrashers game was a preseason game against the Rangers. It was a perfectly normal game, until the last minute. I was chasing the puck to the boards, where Valery Kamensky was already fighting with our defenseman. He tripped Kamensky and he kicked his leg in my direction.
Nothing hurt. I didn't even feel the coldness of the skate blade, nothing. But I fell on the ice and lost consciousness for a moment. I recall how the equipment manager led me to the locker room with a towel tightly pressed to my face and I glanced down to my feet at a big puddle of blood. I wondered for a moment if it belonged to me. I had no idea what was happening.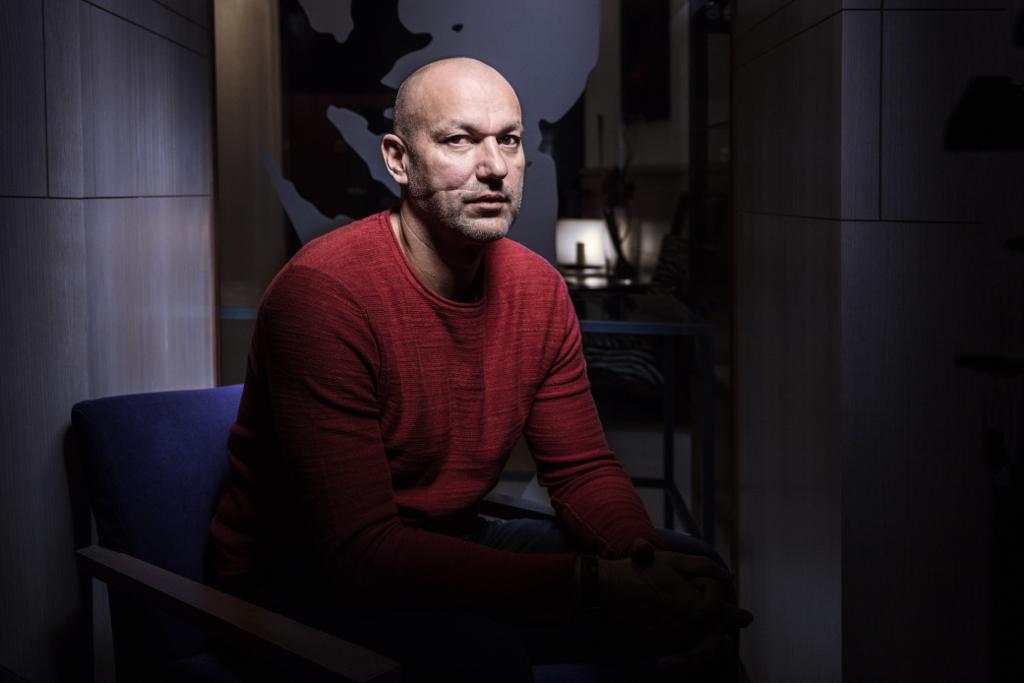 We went upstairs to the locker room where he took off the towel to look at what had happened to me. A splash of blood splattered on him. Like a geyser. He was completely covered in blood.
"I hope you don't have HIV," he said, while he was cleaning his face.
Such a stud. My mouth was slit, and he was still joking. I still didn't feel any pain, but I realized that something was wrong when I breathed in. I took a deep breath through my face. It was a clean cut. Kamensky had well sharpened blades.
It was strange that I stayed calm. They loaded me into an ambulance, connected me to a drip, and I communicated normally with my mouth slightly open. My wife was in shock. She was shaking when they brought her into the locker room. She had just arrived that day, but we didn't have time to meet before the game. From the stands, she just saw someone laying by the boards before they told her it was me. There was blood all around me.
She has dealt with a lot in my career. She has endured all of my failures and health issues and I could always count on her to support me. When I look back on my career and what we went through in our lives, I know that I chose the best woman in the world. Even though, in Atlanta, she almost fainted.
Thanks to the fact that it was the first game of the new club, all of our doctors were present at the stadium, they all gathered around me and immediately knew how to proceed. On the other hand, we drove in the ambulance from the underground car park, and train gates came down right in front of us. A train had activated the crossing gate system. People from the team took notes to make sure they would figure out a new route before the start of the season.
In the hospital, they were stitching me for about three hours. Fortunately, there was a plastic surgeon present who started working on me. When I woke up, I asked how many stitches he used, and he said that he lost count after 200. There were a lot of stitches inside my mouth. At that moment, I started to feel terrible pain. After the anesthesia, everything came together, and my face was wrapped and bandaged. Moreover, as is customary in America, I was immediately released for home care after a few hours with no pain killers.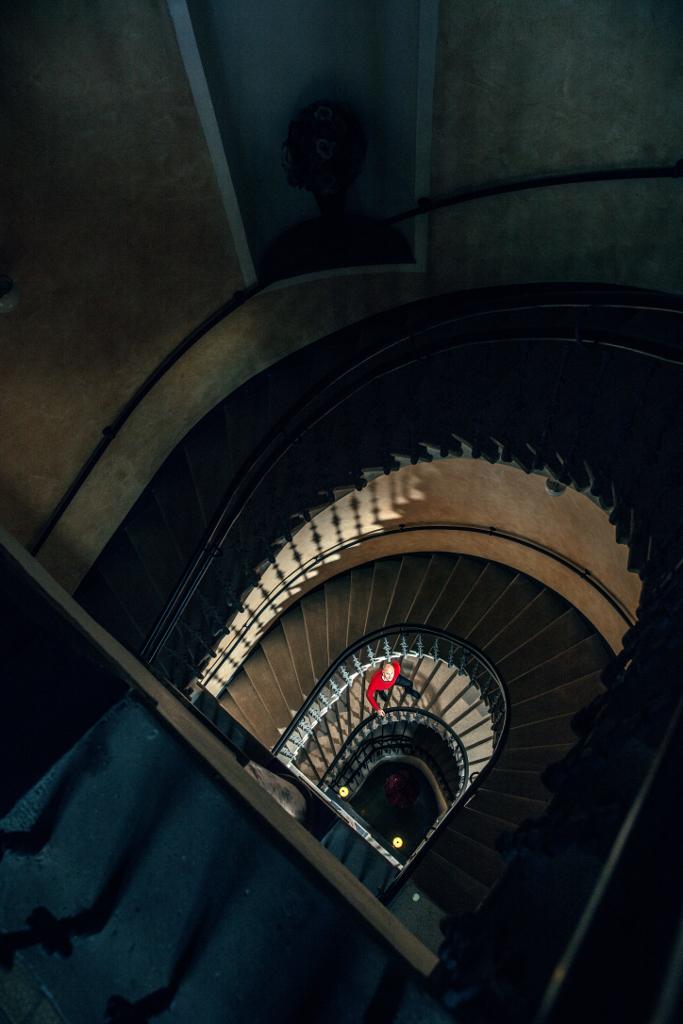 They stitched me up well, because to this day I don't have any problems. There are so many important nerves in a man's face, including the trigeminal nerve. It is surprising that I do not have a sagging face and my salivary glands are working. I was very lucky from a medical point of view, lucky in misfortune. After six weeks, I was back on the ice.

In Atlanta, however, it was over after only three games. The coach was completely useless. I laughed at him when he shouted at me from the bench: "Dump the fucking puck, Vůjtek."

Yeah, sure! You brought me here to throw pucks to the boards.

His name was Curt Fraser and he was a former enforcer, a hard worker, but he didn't understand European hockey. I had no idea why they were signing me. I had a clause in the contract that I could leave by the first of November, and I took advantage of it. It earned me a spot with Sparta Prague on an incredibly strong team with wonderful guys. It was a great decision.
Since then, I know that everyone should only make decisions which he feels are right for him, otherwise life will redirect the path. This is what I tell my clients when they have two or three options. I can offer them my opinion, recommend something, but it is up to them to decide what is the right path for them. I try to convince them that it is not only about the money. If they decide to go somewhere just because of the contract value, it may backfire. All my unusual injuries and health problems are proof of that.
I realized that none of those cases were accidental. Everything happened for a reason. As soon as I wasn't convinced that the path I had taken was the right one, something always happened to me. The scar on my right cheek serves as a reminder until this day.
I got used to it. I don't even notice the scar when I look at a mirror, and even if I run my tongue over from the inside, there's nothing wrong with that place. It became a part of me. Shortly after the incident, Bob Goodenow, the director of the players association, called me to say that they would reimburse all of the costs connected to traveling to America and removing the scar with a laser, but I refused. I got used to it.
The only thing I miss is a piece of tooth that Kamensky cut off with the skate. During my career, I didn't want to replace it, because it was clear that sooner or later someone would knock it out, and I haven't found the time since the end of my career. We'll see if I ever decide to do it.
However, what I decided, three years after my experience in Atlanta, was to play in the NHL once again. Once and once for all. I spent a wonderful year in Hämeenlinna, Finland, and could have continued there, but I nodded to Pittsburgh because they offered an opportunity of a lifetime: Play with Mario Lemieux. He had returned the previous season after his battle with cancer in amazing shape, and now there was a chance that I could be part of his continued dominance.
But this time it wasn't perfect either. The NHL was not meant for me. Although I played on the second line with Alex Kovalev and Randy Robitaille, I didn't play when we were shorthanded and I was taking turns with Mario during the power play, so I only played a few minutes in the games.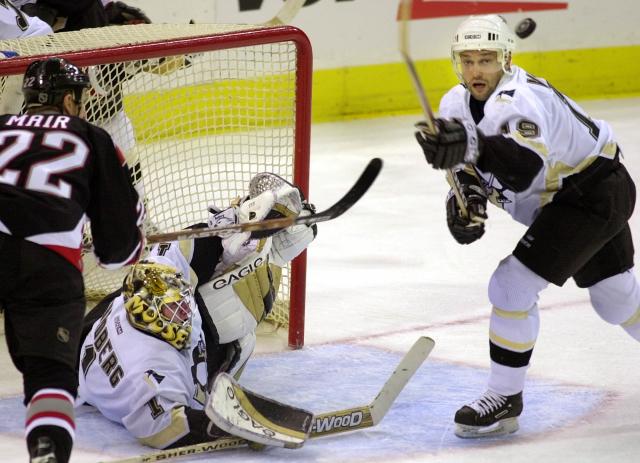 When the coach first said, "Vladi, you're going instead of Mario," I just nodded, sat comfortably on the bench, and opened the gate for the other boys. He let me in there for maybe 20 seconds. I couldn't blame him. Mario played fantastic hockey and it was incredible just to watch him. He scored 29 points in the first 12 games of the season, in the defensive NHL before the lockout, when it was not easy to score and the productivity of even the biggest stars gradually declined. I knew that this time it was not an ideal situation either, and I'd come back to Europe, but at least I enjoyed watching Mario from the best seat in the stadium.
I remember, for example, a wild game in Toronto, when he scored four points. In overtime, he took the puck behind the Maple Leafs goal, started stickhandling and the defensemen didn't even go after him because they knew that with his long stick he would immediately pass it to someone on the other side to score. He was handling the puck and suddenly… Goal.
"What happened?" The whole stadium was in shock, and I started to laugh.
The goalkeeper was moving from side to side, and Mario waited for him to stick out his leg behind the post. He then shot the puck at his calf and it bounced into the net. After the game, I went to tell him that it was unreal. You sometimes see such goals, but they happen by coincidence.
Mario planned it. He was an incredibly cool guy. As soon as he took off his jersey and vest after the game, they handed him beer cans, but at the same time he was incredibly hard working at training camp to get in shape. I admired how he could take care of himself on the ice. There was always an enforcer guarding Gretzky, but Mario was a huge guy and he handled all situations by himself. He could hit his opponent and hold his own: a brilliant hockey player.
At that time, Jarda Jágr was already playing in Washington, but we still had a nice squad of Czechs in Pittsburgh. Straka, Kraft, Melichar, Hrdina, Rozsíva, Sivek. We all lived together in a community and from a family point of view it was a beautiful month, but from a hockey point of view it was not worth it. Again, I quickly realized that I would be there for nothing. I wanted to play, so I went to Russia and with Cherepovets made it to the finals, which was a historic success for the club.
Then I received a lot of Russian offers, but our newly born son had health problems, so after my previous experience, I listened to my inner voice. I didn't want to be somewhere in Siberia, while my wife would be alone taking care of him. We returned to Finland, and it wasn't until my son got better that I returned to Russia again. I returned because of the money. And again it wasn't worth it. If I wasn't stupid, I would have played in the NHL from the time I was young, and everything would have been fine. I had a great time in the beginning.
Immediately after the Velvet Revolution, I went to the Canadian junior team Tri-City. After Méda Nedvěd, I was only the second European to play there. I had a successful first six months and one summer day in 1991, I woke up at home and found out that Montreal had drafted me.
No, I wasn't happy. They told me that I could go to the draft a year later and we agreed with Vancouver. However, the Canadiens came up with an opportunity to get me sooner, and paradoxically my problems began.
I didn't speak English well enough to understand what my agent was doing to me. He cheated on me and forced me to sign a meaningless two-way contract. I left the camp as the last person eliminated to return to the junior team, and he caught me at the airport saying that I had to sign some papers.
In Tri-City, where I made it to the All-Star team that season alongside Scott Niedermayer, we were coached by Bob McCammon, a great guy. When he found out what they had done to me, he called Montreal and had a heated argument with them. Soon after, I hired Rich Winter, a famous agent. But I got into even more trouble, which I would find out later.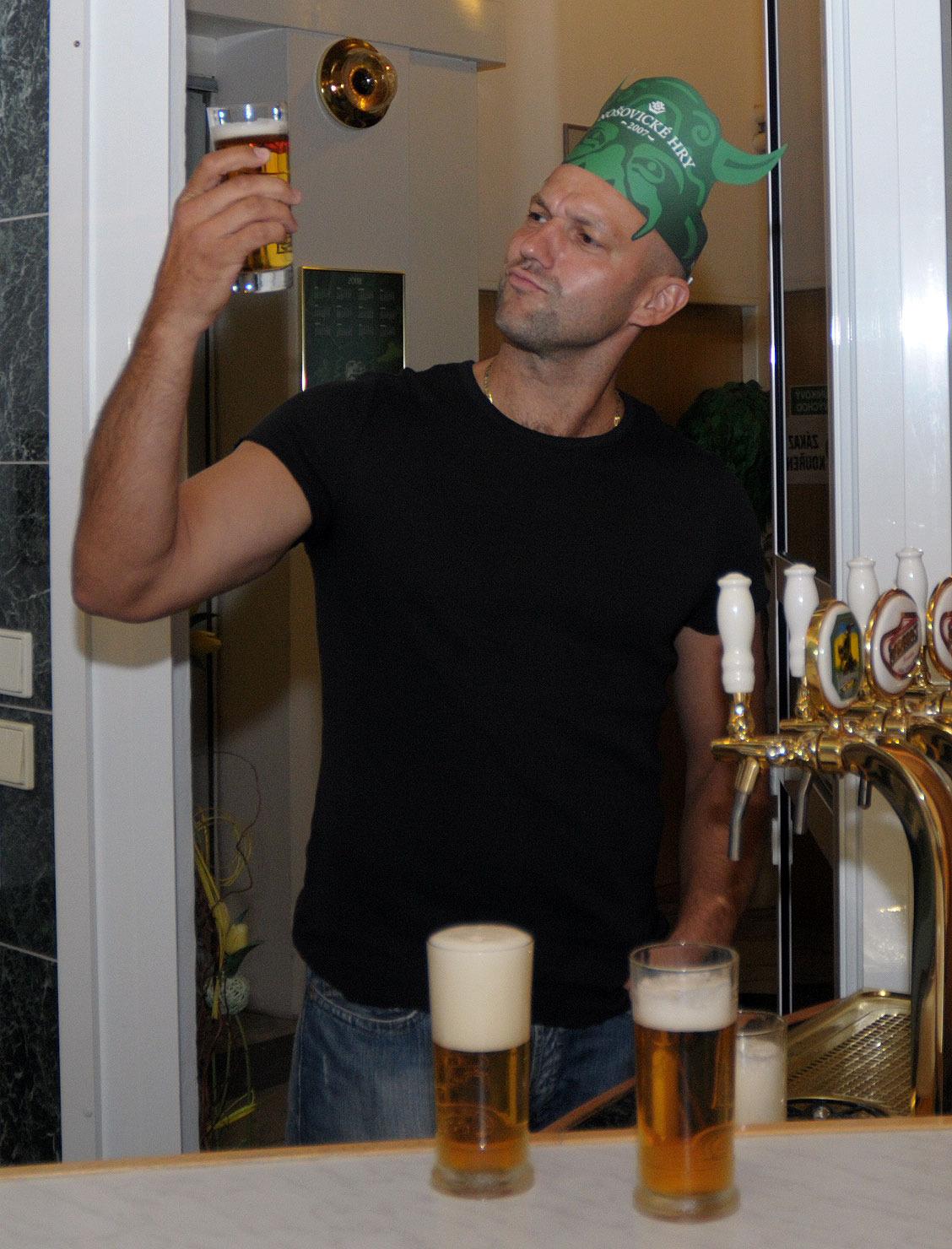 My NHL debut was still ahead. I left training camp knowing that the coaches liked me, and when the Canadiens went on a trip to the West Coast during the season, I knew they would call me to join them for a few games. As this opportunity approached, I called Winter to see if I should prepare. He discussed this with the club for quite a while, but they decided not to take me this time.

Okay. We just had a few days off in Tri-City, so a team party was planned. Nevertheless, I called the day before to be sure nothing had changed.

"No, I've talked to them again now, you're not going," Winter told me.

So, I accepted it. Around seven in the morning, we returned home from that party with my teammates. At nine o'clock the phone rang.
"What are you doing?"
"What would I be doing? I'm trashed and I fell asleep an hour ago," I said.
"Hmm. Pack your things and fly to Vancouver, you're playing for Montreal tomorrow."
"Are you kidding me?" I asked.
He wasn't.
I tossed whatever stuff I found in my bag and headed to the airport. In the afternoon, as soon as I arrived at the hotel in Vancouver and checked in, I ordered room service, closed the blinds, and slept until the next morning. In the evening, I played in the NHL for the first time. I had been preparing for my debut in the best league in the world for many years, and then, as a 19-year-old fool, I premiered in the NHL, probably still with alcohol in my blood.
Our dispute with Montreal after the season resulted in my transfer to Edmonton, where GM Glen Sather, one of the greatest figures in NHL history, and I argued for a change about canceling my unfavorable contract and signing a new one. The whole predicament was that Sather hated Winter. He told me he would not talk to him and I should find a new agent. But I was too smart at 20, and I even told Winter. Rather than letting his colleague help me, he decided to fight with the most influential boss in the league. And I paid for it.
At least, there was something to remember from that time. Sather once told me, "Pack your stuff, you're joining the farm team."

"I'm not going," I replied.
"How are you not going?" he asked.
"I came here to play, not to hang out around farms," I said.
"Good. Then I'll suspend you," he said.
"Then suspend me. I don't care, I'd rather go back to Europe," I said.

I was a young fool. I was frustrated that I was fine to play, but the dispute over the contract put me in this position. Sather suspended me and I trained for a month with a local college team, while they were still discussing my contract. I didn't understand that the Oilers still wanted me.
When I finally got tickets home, Sather sent word, through Czech agent Petr Svoboda, with whom he got along well, to ask what I wanted. I replied that he already knew my conditions well.
He agreed. I got a one-way contract, the money I asked for, and I returned to the team. From then on, however, he watched my every move.I started my second year in Edmonton well. Five games, five points, plus five. First line with Doug Weight. Splendid.
We came back from Los Angeles and Ted Green asked me to join him for a video analysis. "Come on, I'll show you something," he said. In the footage from the last game, Wayne Gretzky had a puck behind his goal and passed it to the second defenseman. I was just attacking, I stopped in front of Gretzky and skated back.
"What did you do wrong here?" he asked.
"I don't know," I said. Nothing. "
"Nothing?" You must finish that play!"
I just looked at him suspiciously. "It was Gretzky," I said. "Nobody touches him."
"No, you have to attack him," he said.
To give you an idea of what happened, within three seconds of anybody making an aggressive move on Gretzky, Marty McSorley, his huge bodyguard, would have his gloves in your face. It seemed to me that they were just looking for an excuse to cut me off, and here they had found it. I fell into an insignificant role in the lineup and sometimes I didn't even dress for the games at all.
When it went on like this for a few weeks, I met Sather after Christmas in a sauna.
"Vladi, are you ready?" he asked.
"What do you mean?" I asked.
"Jason Arnott is hurt, you're going to play," he said.
"I'm always ready," I said.
"Okay, you're playing tomorrow," he said.
We played at home against Montreal and won 6-3. I scored two goals; earned the first star of the game. But the next day in Calgary we were losing 3-0 and after a while, I was on the ice when the Flames scored two goals. Sather, who had already switched to coaching at the time, called me to the bench. He yelled at me right on the bench. He told me that the team was expecting me to lead them, that everyone was looking up to me to do something, and I fucked around.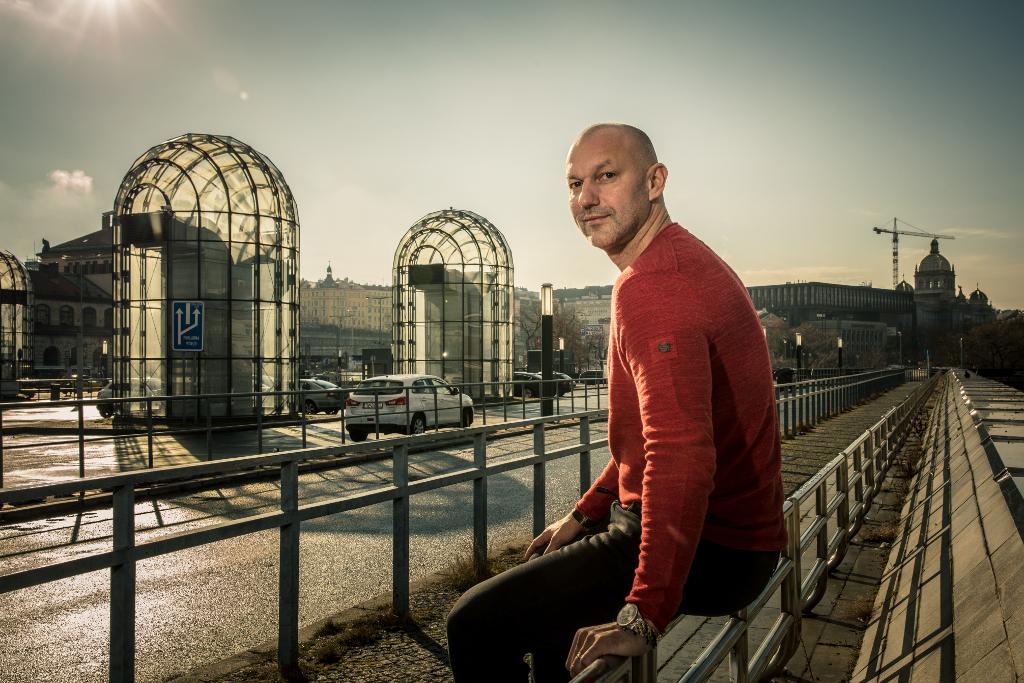 At that time, older players on the team like Craig MacTavish came to see me, saying that I shouldn't take it from Sather. They said he likes someone who is confident enough to stand up to him. I didn't care about him the whole time, but now in Calgary I was touched. We lost 7-1, we all played a terrible game and in the locker room after the game, he blamed me that it was all my fault.
So, I decided to take action.
"Why are you yelling at me?" I asked. "I will no longer tolerate it. You always put the blame on me, I'm done with this shit."
We shouted at each other for five minutes. The rest of the team had their heads down and they didn't even breathe. Sather left the locker room, saying that I had to pack my things, that I was done there. I was going to the farm team the next day.
As he closed the door, the other boys started to laugh. They laughed like a drain.
"What are you laughing at?" I asked. "You told me to stand up to him."
I looked at MacTavish.
"Vladi, that's true, but I forgot to tell you to do it in private. Not in front of the whole team," he said. "Not even Grant Fuhr in his greatest glory did that."
The whole league heard about that altercation; how a young fool from Europe shouted at the great Glen Sather, coach of Gretzky and Messier ,while they ruled the NHL. Until this day, I still laugh at the memory with my former teammates.
When I cooled off after the shower, I went to see Sather and apologized. I was frustrated by his exaggerated attention for so long and I just exploded. He looked at me and said, "Okay. But you know what, I had better trade you. "
"If you feel that way, do it, but I like it here," I said. "I want to stay here. "
He thought for a moment, then said, "No, I won't trade you. You'll be here until the end of the season, but you're not going to play. "
A few more times he put me in the lineup, but I almost didn't get any minutes on ice. Often, they didn't even take me on trips, I just trained alone with a fitness coach who was extremely hard on me. It wasn't until mid-February when Sather told me that I was joining the team on a Washington trip and he would put me back in the lineup.
In the morning, I joined the guys for the warmup, and before the first whistle, I was joyously playing with the puck. I tripped over the blue line and fell so badly that I dislocated my shoulder. The season was over.
That was the end of my most successful employment in the NHL.
"Have you seen Vůjtek? He skates there like a prima donna, he doesn't attack anyone. I would kick his… "
When you are sitting in the locker room during a break in your first game after an injury and you played only about three shifts, it is not very pleasant to hear such comments through the open door of the coach's office. One of the Třinec assistants told our head coach, Juřík, this during a game in Kladno. "Come and say it to my face," I shouted at him across the locker room, and behind those three dots, put any bad word which comes to your mind. I don't recall what word I used, but I was very angry.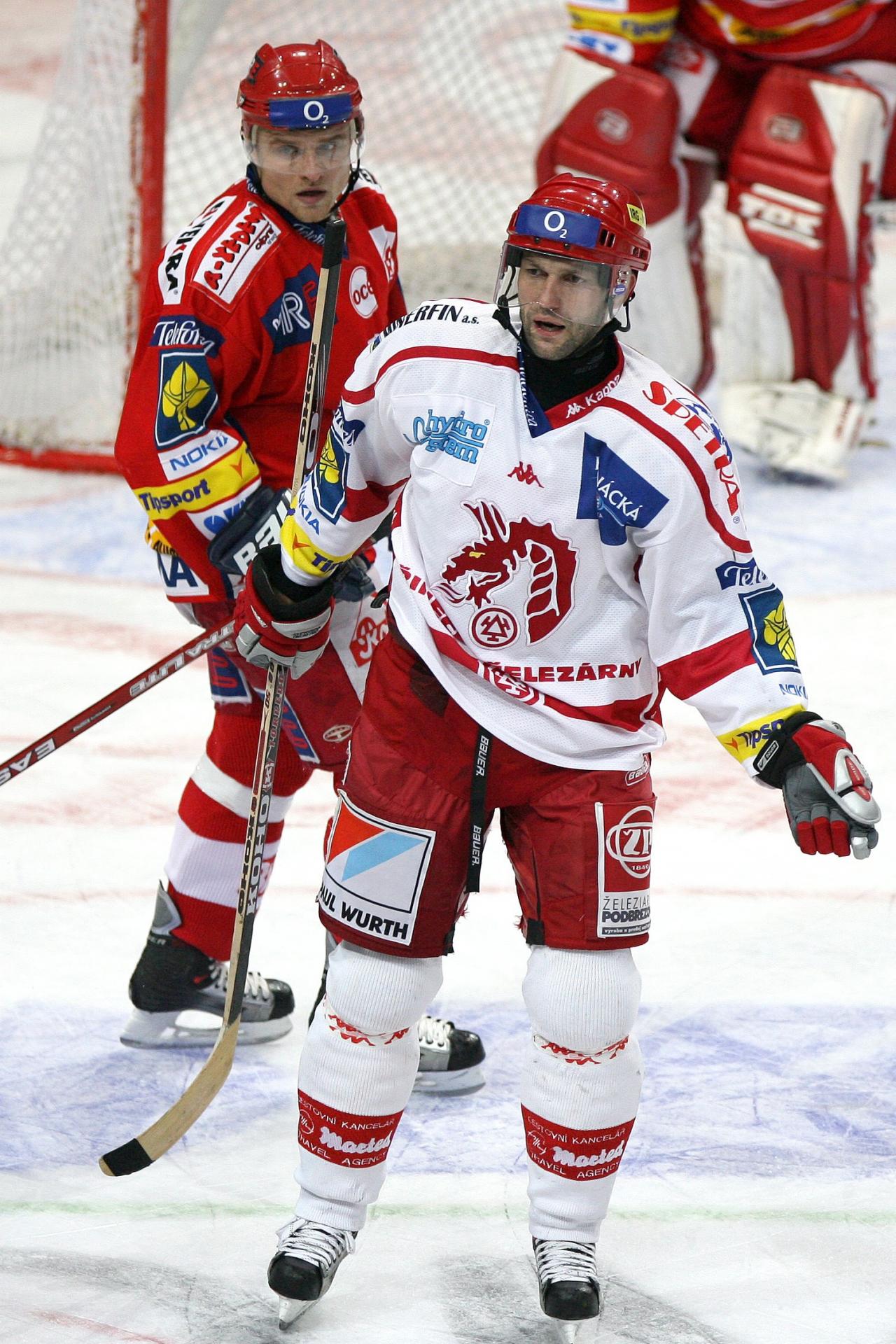 I really wasn't in the mood for this. After all, I had already said goodbye to my hockey career the previous season in Vítkovice. I had started commentating for Czech Television, and I went to Třinec where manager Pavel Marek approached me. He asked me to play again, telling me that they would give me a contract. As long as it was nice weather outside, I resisted. But as the weather worsened, I let them convince me. Like so many times before, I pulled my skates out of the garage and agreed on a contract depending on the number of games played.

It was not a very successful comeback. I jumped into the season after a short training period, and over time, my muscles started to protest. Just after one of these muscle injuries, the Kladno story occurred. At that time, there was a national team break and after the game I didn't even go back home with the team. I took my gear and continued to Prague. I called Pavel Marek and told him that I was done, that I didn't need this. I didn't enjoy hockey anymore, I felt I couldn't play at the level I was used to.
Of course, he convinced me to try again. I came back for exactly one game. During the game, I lost the puck a couple of times, missed an empty goal, and finally with Honza Peterek, who played center on my line, we crashed into each other in our defending zone. It was an incredible hit, from which we both literally crawled back to the bench. I turned to Honza and told him that this was really the last straw. I was done.
This time without a doubt. I probably couldn't have planned a better end to my career. Look at my player statistics and you won't find a moment of stability there. Apart from my childhood club Vítkovice, I didn't stay anywhere for more than two seasons. I never found a hockey home.
In a way, I enjoyed changing places. It was also suitable for my current job. I went through so many teams and met so many players who are in coaching and managing roles today that I could immediately start with a friendly tone. "Yeah, I played with him," is my most common answer when we talk about someone working in the hockey industry.
I liked Finland as well as my family. There, I could have imagined staying longer, but once I was there, whether the first time in Pori or later twice in Hämeenlinna, there always came a tempting opportunity. The NHL, Russia. In the first case, I wanted to prove again and again that I had what it took. In the second case, I liked the value of the contract. Today, I know that I should have stayed in Finland. I felt like I belonged there, I got along with the people around the club, the environment suited me and the hockey style did as well.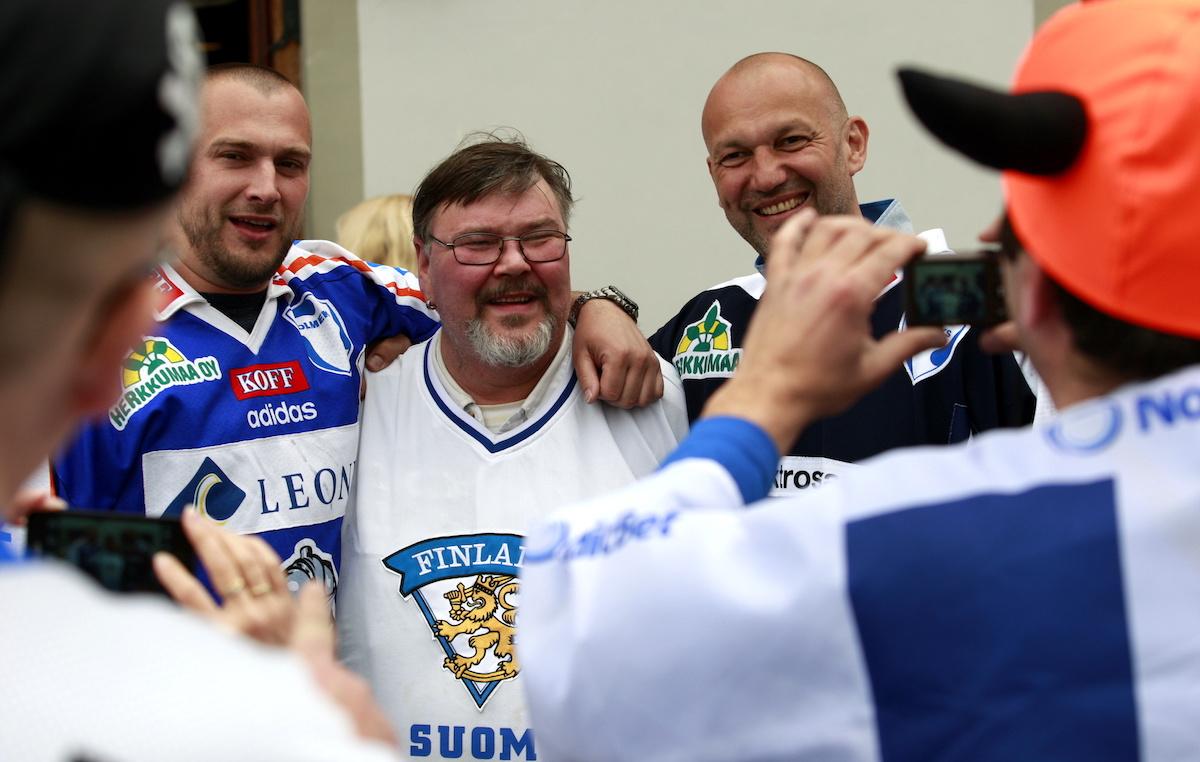 But I was not destined to stay in one place. Something was constantly happening around me.
Remember the previously mentioned World Cup in Helsinki in 1997, my only one? With Prochy and Patyz, we played amazingly. Whatever we touched finished with a goal. The whole team there was wonderful. A year after the title from Vienna we wanted another gold. But the second game of the semifinal group with Canada, when I managed to score a hat trick, turned into a massive brawl at the very end.
Coach Andy Murray sent Shean Donovan, who hadn't played at all, to the rink with one goal: to provoke something. It was probably no coincidence that he chose me. He landed a huge cross-check to the back of my head and I chased him down and stabbed him with a hockey stick. Then four Canadians jumped on me and the memorable battle broke out. I ended up with a concussion, Robert Lang and Jirka Šlégr received a match penalty, so neither of us could play the following game against Sweden, where we needed to win to make the final. We lost 1-0. Our offensive line was missing; we scored a goal in every game of the championship. Thank god we won the bronze medal, because we led the Russians 3-0 and they tied it 3-3, 10 minutes before the end. If the coaches didn't let us play at the end of the Canada game, it could have turned out completely differently.
If…
Similar things happened to me often, but three serious injuries in the period around Nagano broke me. A virus, a severe concussion, and a slit face, all in two years. I wondered if I was doing something wrong and I needed to change.
After the Tampa experience, I vowed that I would never take pills again, so since then I only use alternative medicine at home. Without chemistry, it works as well. I started reading a lot about esoteric things like kinesiology, body and soul, and looking at the world and my behavior from a different perspective. I have matured from the young kid I used to be. I also found one gentleman, a natural healer, who was able to help me with all sorts of health and mental problems. In the hockey environment, you may hear various jokes about me because of that, but I know that it helped me. And even though the boys in Sparta laughed at me, they came to see me one by one over time, and asked if I would take them to meet the guy.
When you're in deep trouble, you will try anything. In the end, I got a simple answer to all of my questions. One should not force oneself into something that is not right for him; into something he doesn't feel right about. Whatever people around you say you should do, no. You don't need to do anything. Long ago, life planned your path that you have to take, and inside you know very well which one it is. The sooner you admit it, the fewer obstacles you will encounter.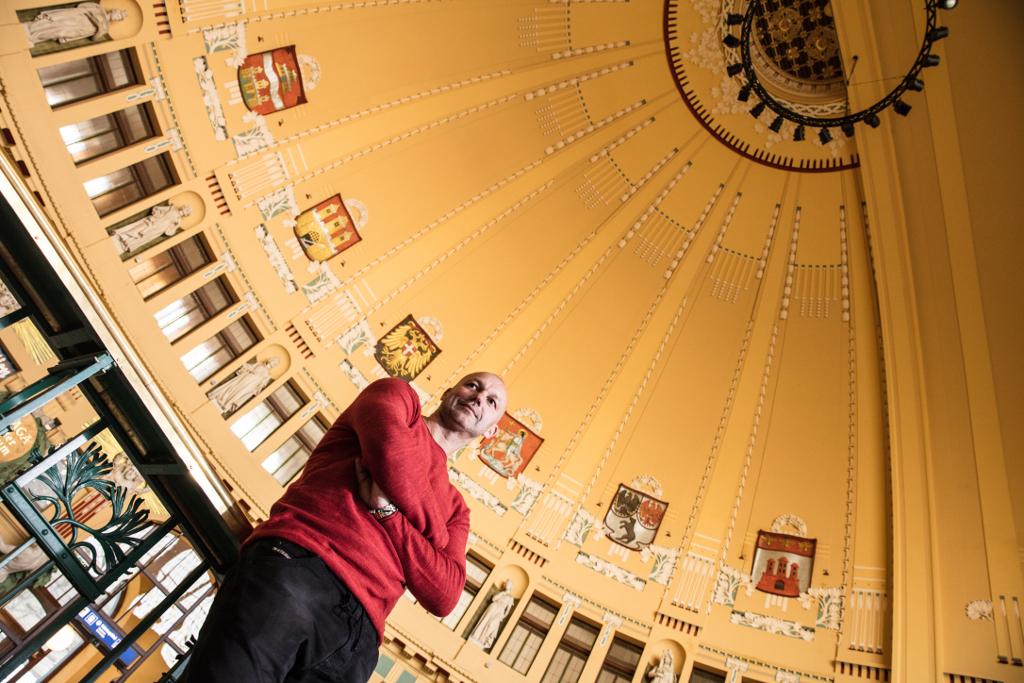 The most important thing for me was to learn certain behavior patterns and their effect on the environment. I used to be the one who complained about everything, something was always wrong, but nothing good happens to such a person. He will drown in his negative thoughts.
Do you think you can swear all day and then happily fall asleep in the evening? No, so, I try to calmly evaluate every situation I get into and I often realize that it is not as bad as it seemed at first glance. You know, it can always be worse. And when I'm upset, I start singing or whistling.
Seriously, try it. In both cases, you cannot frown while singing or whistling. Knowing this when I was 20, maybe I would have sung something to Sather in that locker room in Calgary instead. And maybe I would have the gold medal from Nagano.
Jana Mensatorová, Aleš Krecl, ČTK/AP, ČTK/Pavel Paprskář and the archive of Vladimír Vůjtek