Everyone was happy.
"Good job!"
But I didn't get it.
Sure, we played in Manchester against City, one of the best clubs in the world. We had a solid game; nothing to be ashamed of.
But we lost 2-0. We gained zero points.
It didn't look like that feeling in our dressing room at all. The lads were cool and the postgame feedback was positive. I sat there watching others and didn't understand what was happening. We lost. This was the wrong way to react! It's wrong when you're playing in your backyard and it's wrong in the Premier League.
I had to process it all. I realized that I had come to a team with a completely different mentality than what I was used to previously. I came from Slavia Prague where we were our league's leaders by something like 16 points, and even against Barcelona we were not stepping on the pitch feeling defeated.
We lived with the belief that you could win every game. There was always a chance at the beginning; that was our mindset. And we believed in our philosophy and proved it not only in the Champions League.
Was I supposed to be happy with a defeat now?
I was undressing after our game with Manchester City, my second start for West Ham, and my head was filled with questions like this. It was probably at that moment that I realized there was no time to settle in. I had to show what I could do, on and off the pitch.
We were playing to stay in the league and to achieve that, one thing had to change: The team's mentality.
It's not okay to lose. Even if you had a good performance, it's not a good job.
It didn't matter whether we were playing against Manchester City or someone from the bottom of the leaderboard. At the age of 24, I felt that I needed to inject my mindset and experience into the rest of the team. That's why they bought me after all.
I often remember the words of Slavia Prague manager Jindřich Trpišovský, under whom I honed this view of my life.
"Eleven warriors will defeat eleven footballers."
It may sound like a cliché but if you can fulfil this on the pitch, it turns into truth.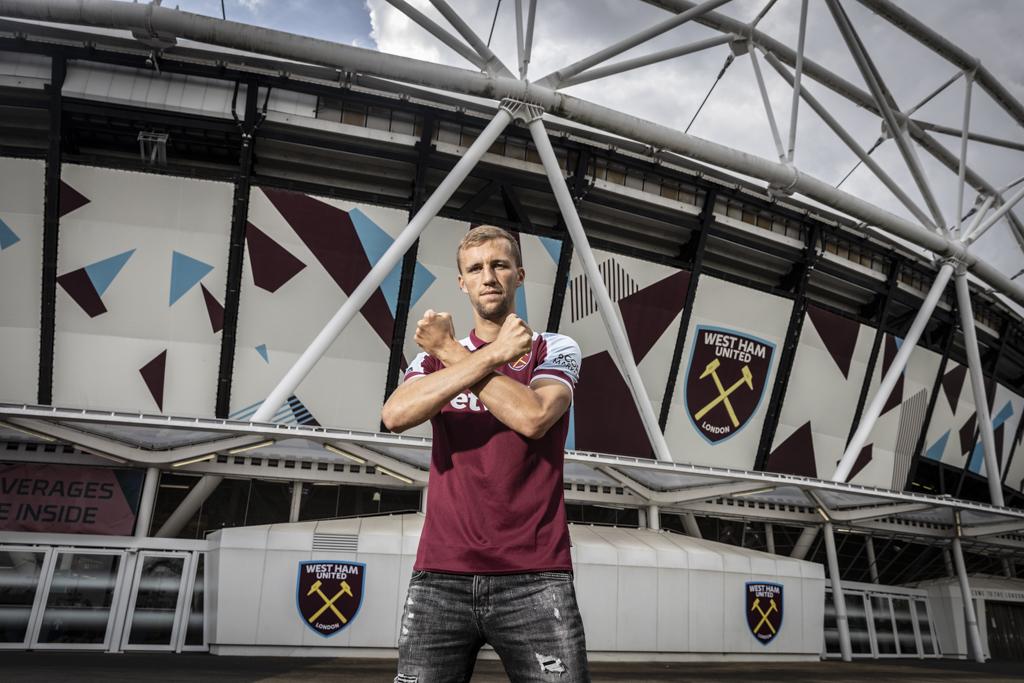 Jindřich and I have a very strong relationship and a very similar view of football. The team helped me improve my strengths, to become the footballer I am today.
All this happened despite the fact that he didn't want me on his team years earlier. One thing saved me. I didn't cost anything. That's what my story is about as well. My journey began before the first step of the staircase and sometimes I had to go a few steps back to move a little higher.
You'll see. But before I begin, I need to say that the best things come with perseverance and patience. Don't be fooled. Even I sometimes sat in the corner of our dressing room, trying to be invisible. I felt like I needed to earn my spot in the team.
That's why I believe that it was not arrogant or overly confident of me to try and change the mentality of our Premier League team. It was my responsibility and I tried to accept and use everything I learned in football.
The rain glittered in the artificial light and the cold crept under the jersey along with the adrenaline. This was a big game!
As the ball was flying towards me, I had to decide what to do next. A pass? A feint? Once the pass landed on my foot, it's already too late to think.
I knew that I was up against a big player. I knew what to do with big players, I knew what to do with small and nimble ones. These thoughts run through my head on autopilot; I don't have to focus on them. Plus, there's no time for that. I try to improv. Here and now, I can. I have freedom!
I feint a move left, cut and move the ball right. The benches roar with admiration, I feel happy inside as well. This is football! I go on, prepare for a shot, and try it.
Goal!
Euphoria! A feeling I know and never get tired of.
The guy could have had the name "De Bruyne" on his back. Kevin De Bruyne. But he didn't. He had no name on his back, just a number. I didn't know him, he didn't know me. We played against each other in Hanspaulka, the Prague amateur football league.
We met in the evening, us after school, our opponents usually after work. The autumn part of the season peaks in rough weather and we didn't mind.
"Boys, come on, let's go!" I encouraged my teammates; classmates from the same year at Postupická Gymnasium, our high school, where we met and got together as a team for the seventh league of the competition.
During our studies, we advanced all the way to the second league, and we managed to advance pretty much every half a year.
Here among my own, I could be a leader. "Backside, your right!" I tried to help our defender with a play; offered him an option with a cut and tried to lead by example. Even in intensity. I hate it when someone's slacking. Mistakes happen, but everyone has to come back. Even the biggest star.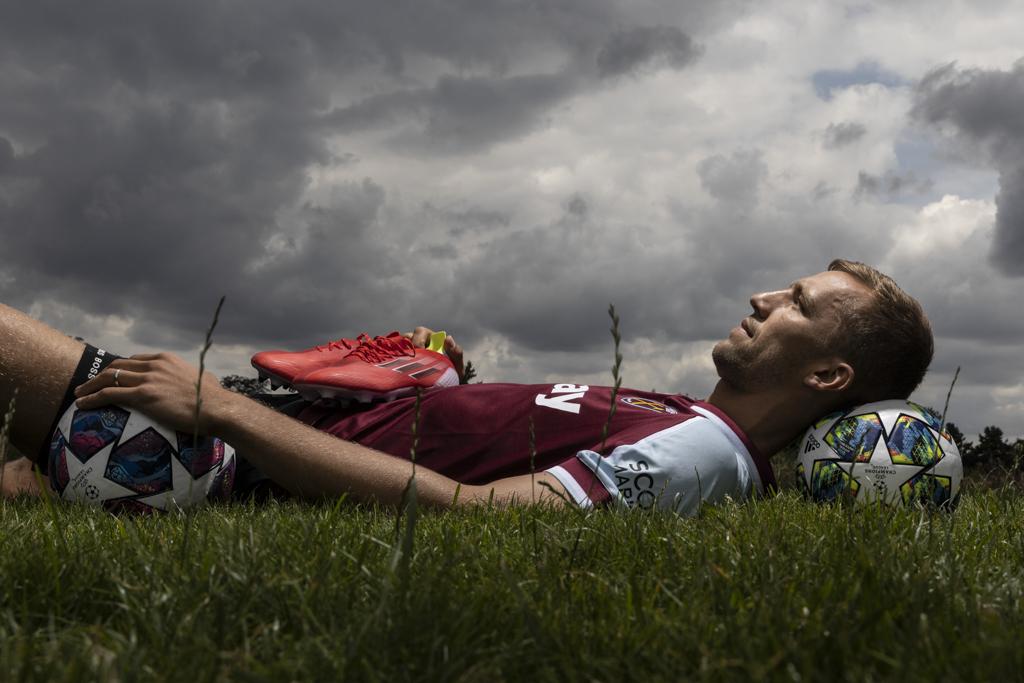 In the evening, when I'd lie down on my bed back at the dorms, I'd replay that feint in my head. Adrenalin wouldn't let me sleep, but it was fine. I was going to enjoy those feelings; they were so wonderful!
And later, in my dreams, I'd play in England. In the Premier League. Against De Bruyne.
The ball would come at me again and again and there wouldn't be any time to think. Kevin De Bruyne. Big guy. I would try a feint! I moved left, cut and moved the ball right.
And off I went!
Sixty thousand fans roared with admiration.
Once evening came, I wouldn't be able to fall asleep in my London apartment, as I never can after a match. I'd replay it all in my mind and if I turned the TV on, they would replay it for me even more.
And that's really the only difference.
Thanks to the guys from Hanspaulka I could match up against stars from the Premier League. Thanks to them, my dream is a reality. And I mean it – I learned football by playing football.
I tried to play all the time.
My dad and grandpa introduced me to football in Havlíčkův Brod and after some time it beat my mom's handball. I moved from the goal onto the pitch and at that moment this game beat everything actually. It became my biggest passion.
Sometimes, I had to defend it. In our region, Vysočina, there were definitely more hockey players born than football players and when we were young we used to wage wars against each other. None of us would back down.
Sometimes, I had to cheat a little to be able to play. When I stepped on the field I had clear instructions on what to remember if the referee asked me. The instructions were twofold.
Name. Date of birth.
My registration didn't have the name Tomáš Souček, born February 27, 1995. There was a different name for a totally different person. I apologize, but I was 13 and I just wanted to play with my friends from Havlíčkův Brod. To enjoy the fact that I was on a pitch with teammates who liked me. To share the happiness from playing football. To score. To be happy that they are happy, that we were together and that maybe I even helped them as I did many times before.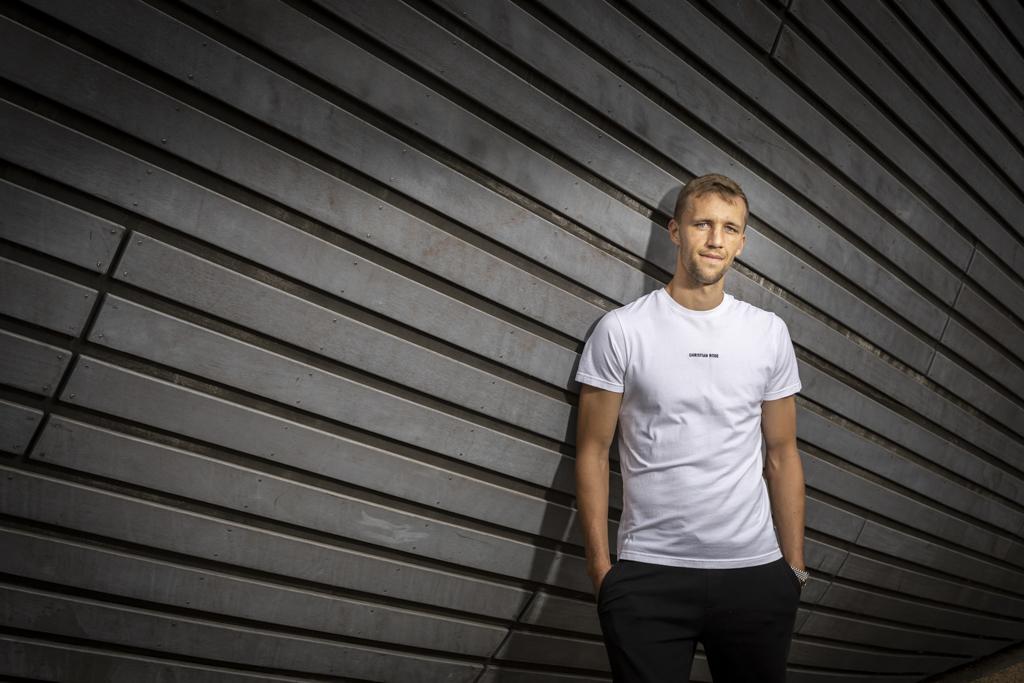 This was everything to me and I got so little of it at the time. My registration was with Slavia and I wasn't good enough for Slavia at that age. I was sitting on the bench more than running on the grass. That's why I cheated sometimes. Hopefully, you can forgive me.
The thing is, I never really cared much about where I played. It was good enough for me just to play. We had a backyard back home where the guys went to play a bit before having a beer. I was always ready to join them if they wanted me. Later in Prague, we used to have the lights on the pitch before our dorms turned on until late at night.
I also played futsal back in Vysočina for a few years every weekend ever since I was young until we started winning titles with Slavia. Then the club found out and we decided that I should probably stop for some time.
But the passion for the game was always in me. I enjoyed it. I wanted to be part of the team; to feel the euphoria from winning together, be it at a small or big stadium. If you like football, that feeling is similar everywhere.
I've had thousands of fights for the ball. With older, faster, stronger, smaller, more nimble opponents. And I've learned everything I know in those fights, no exaggeration.
Sure, I've practiced in another way too. My dad bought me an athletic ladder to practice my motor skills and agility because I struggled with those. We drilled this on the lawn behind our house and it was important for sure.
But the game gave me so much. You always learn something new in a fight with an opponent, it's always a new experience. No slalom between the cones can replace it. Each feint, each pass pushed me towards the one I might do one day at Worlds.
The best thing about it is the fact that each feint and each pass brought me the same joy; the same sense of satisfaction because there were many failed feints before the successful, important one. I remember those emotions as a kid, as a teenager and I still have them.
When I'm playing against the real De Bruyne.
The guys made themselves very clear: "We don't need any outsiders here."
They were letting me know with their looks, their behaviour. It's not nice when you're 10 years old and nobody wants to talk to you. And they wouldn't speak a word to me. They were from Prague, from Slavia. They had known each other for a long time and they weren't willing to let anyone from the outside into their group.
That's how it was in Slavia in the beginning. I had just one friend there, Jiří Sodoma, who commuted from a small village near Kolín.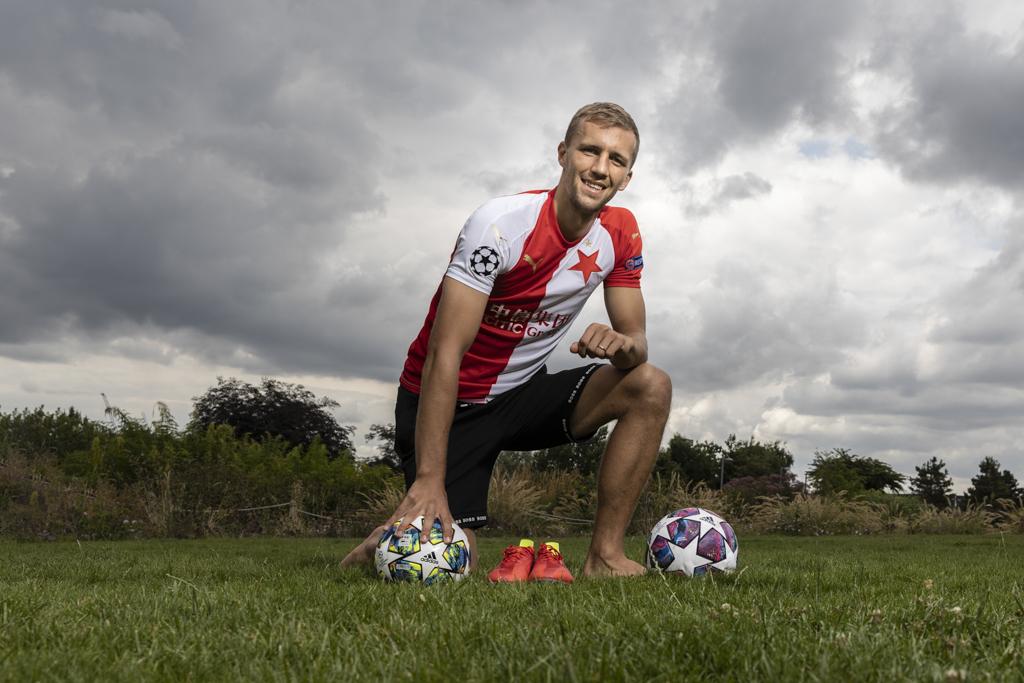 We were together all the time, alone, targets for others. It wasn't easy enduring this, especially when I was popular among others before. It was hard to understand why they were all so mean to us.
It reflected in my game as well. Suddenly, I wasn't standing out. I wasn't the MVP; the best scorer. I was benched quite often. I was without football and without friends. I didn't have the confidence to try a feint even at practice. I was afraid to screw up.
I tried to escape this by going back to Havlíčkův Brod to my friends with whom I began and with whom I got all the awards for being the shooter of the weekend and so on. I played friendlies, sometimes even championships with them. Unlike in Slavia, I felt like I could be myself.
But it was all shady. I couldn't change that and it couldn't go on like this. I didn't want anyone to recognize me.
The junior coaches in Slavia noticed me when I was 10 at a summer football camp where I'd spent pretty much my whole summer. What else would I do? I wanted to play. They asked my parents whether they'd let me try Slavia.
"Of course, he can go! Quite the contrary, this is an offer you don't reject," they said. Dad and mom were confident this was the way and I shared their enthusiasm.
They knew this was my chance. They had no idea how it would turn out, but they wanted to let me try it. They knew how difficult it would be for the whole family, but even that didn't stop them from supporting my dream to be a part of big football.
For the first couple of years we commuted to Prague for practice. We drove an hour and a half to the city, just to return the same way after my practice ended.
Quite often and especially in the beginning it was a journey to which I wasn't looking forward. I knew that the group in Prague would laugh at me. My mind was filled with thoughts, wondering if I should return back home and play with my friends who accepted me.
"You can always quit, nobody's going to be mad at you. However, we will always support you because if you endure, you'll succeed." This is what everyone closest to me repeated at that time. They were the ones to see the player in me and I trusted them. I didn't want to disappoint all of them so I had to push through all the taunts.
We spent a lot of time in the car together with my parents and grandpa. All three of them, mom, dad and grandpa, sacrificed a lot for me. They left work early so we could be at practice on time and then stayed late to catch up on their missed work.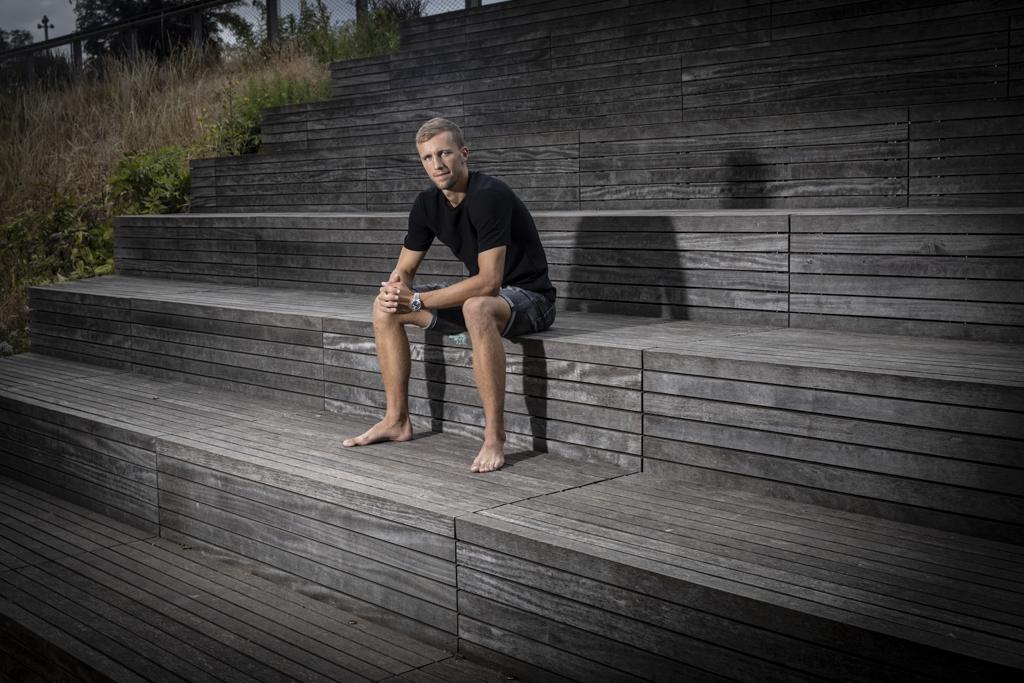 I still admire them for this and forever will.
Sometimes, I slept through those journeys but other times we talked about football, about life, about anything. This taught me a lot and formed my personality. And near Kolín we were always picking up Jiří, so I had a friend even for these transports.
Nothing changes the fact that before I started studying high school and moved to dorms in Prague, it was difficult. By successfully navigating this I took probably my largest step into the world of big football.
I endured. Just as my close ones advised me to do.
By the way, the football club in Havlíčkův Brod let me go quite generously. Slavia wasn't in a position to pay a lot of money for small talents. I was traded for a few balloons (??) and a clause in my contract that for my next transfer, Havlíčkův Brod would receive 10 percent of the price.
In the end, this one clause was worth about forty and a half million CZK, which makes me very happy. I'm glad that not only Slavia profited from my transfer to England, but my parent club as well where I began my career and where I truly fell in love with the game.
Plus, I'm in contact with the officials there and I know the money will be used for developing the infrastructure for youth and a new Tomáš Souček Academy should be established. Parents won't have to drive their kids to surrounding villages. There will be enough pitches right in the city.
It brings me great joy.
I know that thanks to the Premier League, not just my dream is being fulfilled. I see that this can help with the dreams of others and whenever I'm back home I like to stop by to visit the kids at practice. I remember very well how happy that would make me at their age.
I try to show them by my example that they have a chance as well. Now it's me who talks about endurance and hard work, just as my mom, dad and grandpa told me during our journeys to practice.
I always try to behave the same way I was raised at home. That's how I would like to raise my own kids. I can't give them anything more valuable. I hope that they'll be able to succeed in anything.
"Guys come on, don't be crazy, let him stay. He's free!"
These words began my adult career. Jindřich Trpišovský always reminds me of them and we always have a good laugh.
The man who said those words was Ivan Horník, the boss of Viktoria Žižkov at the time.
The coaches with Jindřich Trpišovský at the helm were ready to return me to Slavia in February 2015. I wasn't good enough for them even for a club with no money which took in only players not worth a penny.
Ivan Horník saved me.
They gave me a bit of extra time and I used it well. I managed to settle in and work hard at practice and suddenly I was in the starting lineup for the start of the spring season. I didn't leave the pitch for a minute after that.
You could sometimes hear that during this time I was pretty much done as a footballer. I don't think it was that bad. To move from juniors to adults is hard but to move from Havlíčkův Brod to Prague was harder. I knew I could always return to juniors in Slavia, I had something to lean on. At 17 I was the captain of my year in Slavia. I believed I could become a professional player.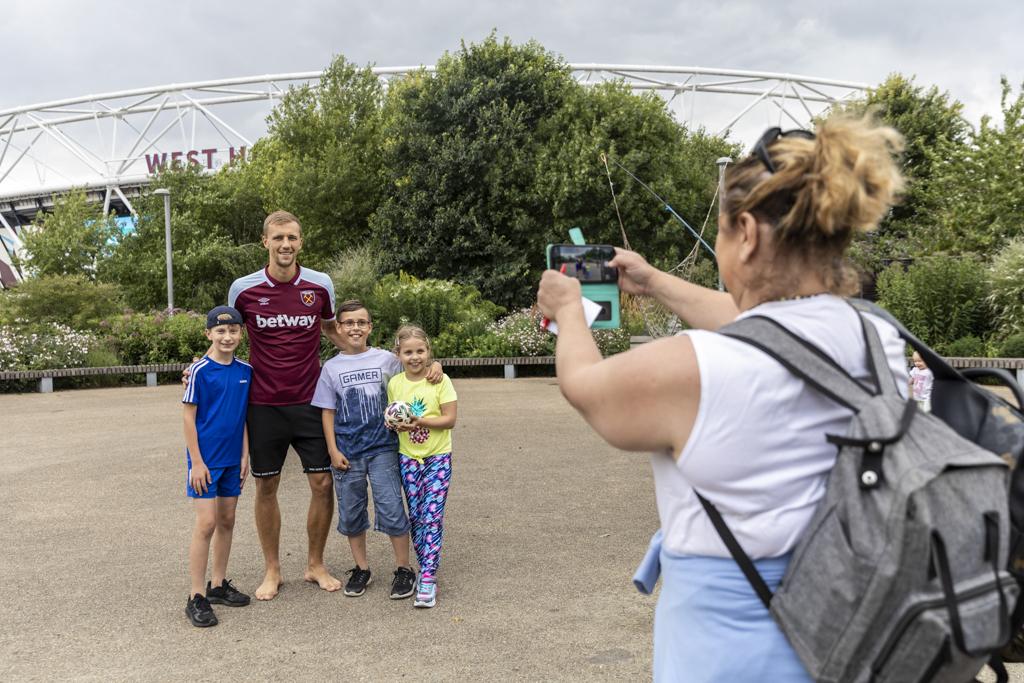 For a while, it even looked like I could make it to the Slavia A team, but under coach Alexander Pastoor I didn't get a chance. Match after match, I was on the bench and just practiced. It was nice to gain experience for a year but then I didn't really see the point in it so I came to Vlašim. To coach Vlastimil Petržela. It all seemed great there to me.
"We'll take you, but you have to fight for the starting lineup. For now, I have you as the first sub," the club representatives ended my enthusiasm in an interview.
We didn't manage to get a deal.
A similar situation happened half a year later in Frýdek-Místek. I was there for 10 days, but to be honest I didn't like it that much. And to be honest, they didn't like me that much. My position was once again uncertain.
Again, I had to take a step back to juniors. At least I had time to heal my injured groin.
I was 19 with two rejections under my belt. I wasn't happy but I didn't see it as a tragedy either. I was happy to go play Hanspaulka or futsal back home, to relax and try new fakes or improvisation.
And if I didn't make it to pro football? I'd go to university. That was the plan and I even attended entrance exams for the Faculty of Physical Education and Sport at Charles University.
I knew my chance would come.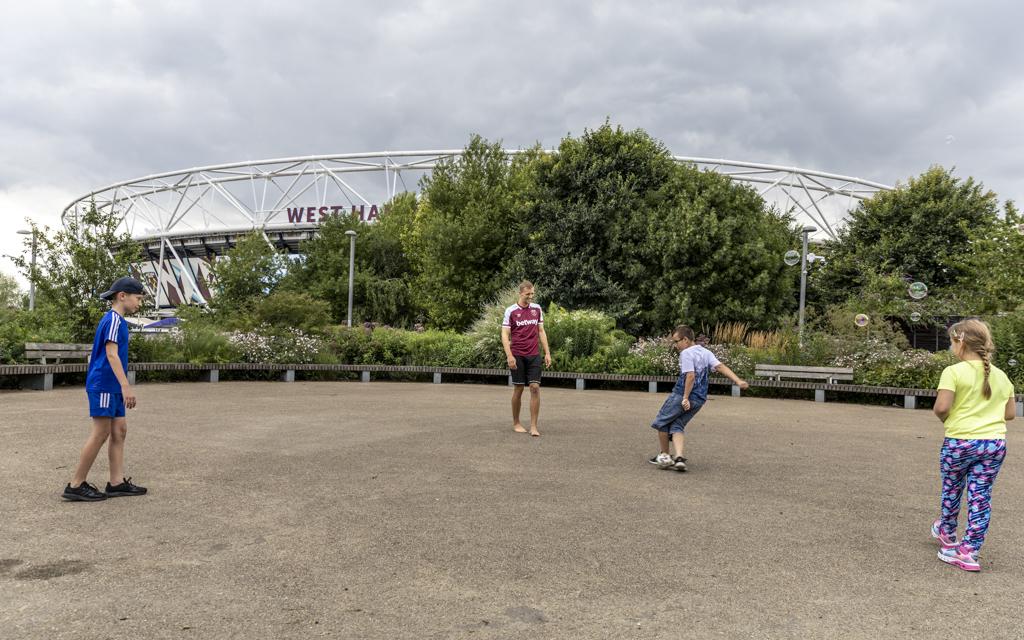 "He's for free…"
I guess Ivan Horník saw me as a slightly better practice cone that he didn't have to pay; one that even moved a little. I think that even Slavia was glad to finally play me somewhere. They didn't know what to do with me so they sent me to get some experience without getting anything in return.
Coach Trpišovský remembers that I walked into the room and nobody knew about me and I didn't talk to anyone.
It's true.
I used to sit in a corner and I didn't want to talk to anyone. I found myself between grown adult men and I definitely didn't need to be the center of attention right from the start. Josef Bazal – my good friend with whom I often talk to this day – helped me tremendously. He still does!
At the same time, I think that already back then I had the strength of a leader in me. I was a leader in juniors or while playing Hanspaulka. I just needed to feel comfortable. I needed others to know me so I could show them my qualities.
At first, nobody knew me at Žižkov and I knew none of them.
I had to find my place in the room and that path required playing games and turning in good performances. I found it.
Just as I had no way of finding out how good a coach Jindřich Trpišovský was from just one practice, he couldn't know right from the first practice what kind of player I could become. He was the guy with the cap, I was the guy who said hi quietly and didn't talk.
Once again, my dad's advice stayed true: "If you endure…" Perseverance is just as important as football skills. I truly believe that and my path confirmed it. I often had to go down two steps to be able to go up one. Starting in juniors, after returning from Žižkov, I had to leave Slavia for Liberec. They were short-term steps back that definitely moved me forward in the long run.
We used to sit over coffee with Jindřich Trpišovský quite often.
"Hold on, something better will come," he persuaded me with his arguments. "We'll play the Champions League, you're still young and you can still improve even with Slavia."
I'd already rejected an offer from Russia before. I didn't want to go there and Slavia didn't want to let me go either. We were building something new, we were starting to be successful and I had faith in Jindřich's team direction and that it was the best for my personal development.
But after a while, an offer from Italy appeared. Three million euros for transfer was an interesting offer and destinations like Atalanta Bergamo or Fiorentina were much more interesting.
"Just wait," I heard again. "You'll have an offer with a bigger price and so your starting position will be much stronger as well. You're the team's captain now who plays in Europe on a regular basis and you can still get better. You'll then leave as a completely different player."
I had and have a lot of confidence in Jindřich and his team. That's their biggest strength, their players trust them. And for good reason. It is a very specific relationship between a coach and their players.
On the one hand, we talked about everything. We started with football and ended up talking about cars or families. We could talk about anything and I never had a feeling that I was talking to my superiors.
On the other hand, I didn't lose my respect for them for a second. Jindřich sets this boundary very naturally and everyone knows not to cross it. What's on the field is under his control. He has a plan and sticking to it brings success to the whole team. We worked during our games and had fun afterwards.
Like joking about my transfers.
Sometimes I faked being upset: "Damn, where I could have been now!" And he returned it after some victory with: "See and you could've suffered now somewhere in Italy…"
During that time, we found the perfect football world where everything was connected to everything. We were having success on the pitch, but it was partly because we liked to spend time together off it as well. After each game, we had a team dinner or at least coffee.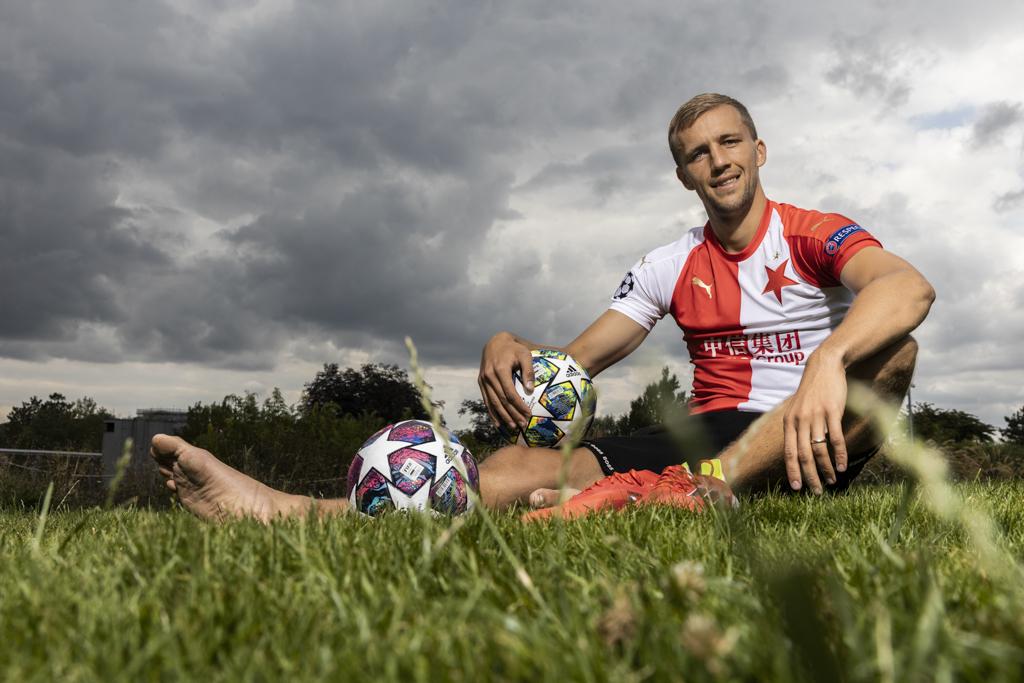 We were together because we wanted to be. No one rushed from the room. We all felt good there and we were willing to help each other even during the games. When someone didn't have a good day, others pulled him up.
The journalists and fans liked our movement, they talked about how many kilometres we ran in the Champions League and we were talked about as an example for others. But it wasn't just our extraordinary conditioning, it was also our mindset.
The coach had us on his side and we were then able to fulfil whatever he came up with. Simply because it worked. Trust me, it's very simple, but it works on any level. If we were to push ourselves to run like this, we would never get such results.
In an environment like that, I couldn't be bothered waiting for my big transfer. After all, I was playing at Camp Nou! We managed to tie the game 0-0 there against Barcelona, which had Messi, Griezmann and other stars.
I enjoyed those big European fights at famous stadiums with star opponents and celebrated our victories back in Czechia. That's what loving football means and every child knows it just as every man. The joy of the game.
All coaches say they want to build a team with character. Jindřich managed to achieve it. He and his co-workers chose players they trusted and were able to utilize our strengths. He knew who needed to feel pressure and who needed to feel comfortable.
Whoever believed in his methods and was willing to work was rewarded. For me, it was the offer from West Ham. For a beautiful price for Slavia and Havlíčkův Brod, I could go to England; my greatest wish. What's more, I came there ready, in a position my coach had predicted. It was a reward for both of us.
He tried to nutmeg me.
All right, so we're showing off here.
I didn't get away from my teammate in the next fight. I went right into it. And I had the ball.
Even at practice, I wanted to show that it's not okay to lose. Here is where you could change the team's mentality. If somebody wants to try and shoot, fine, but I was not going to make it easy.
I'd rather have five guys who are not afraid to fight than five guys with amazing technique who are playing it just as well as Messi or Ronaldo at practice but are good for nothing in a game.
I try to pull my team up with my own enthusiasm so we can defeat a group of much better players. Once, twice we won 5-0 and suddenly showing off became a fight for victory. That's how my effort to transform West Ham began.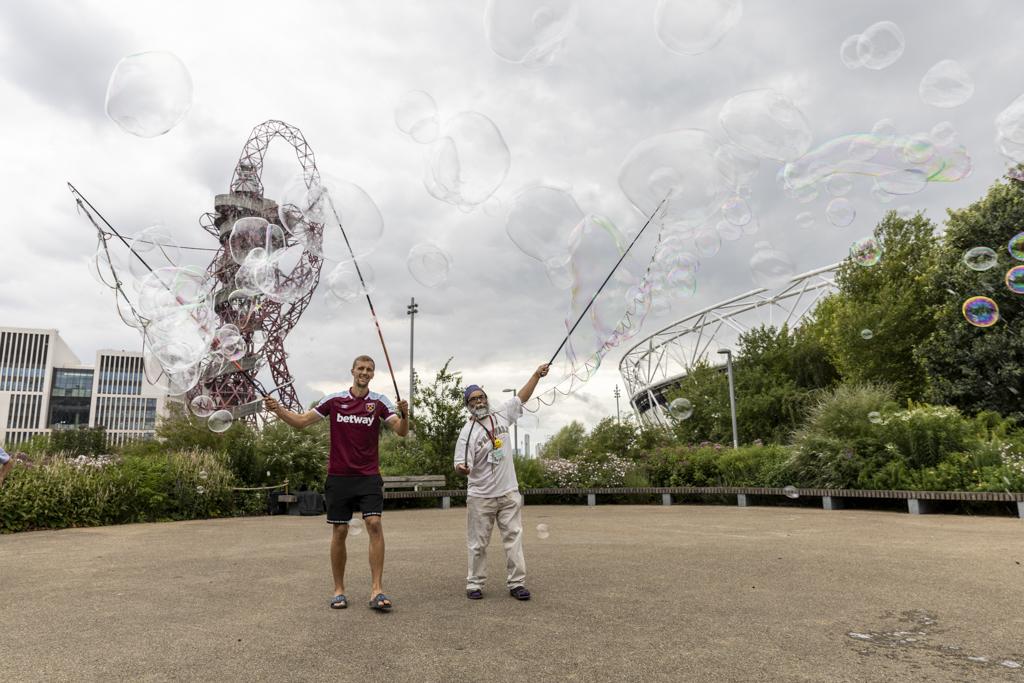 I could feel the atmosphere of our practices changing. Suddenly, we were more competitive and the intensity of individual game drills went up.
It's not cool to lose. I'm honestly proud of changing that thinking.
I built my position at West Ham, got the fans' Player of the Season award, scored 10 goals, and listened to the interest of other big clubs. It was nice.
However, what's more important to me is the fact that we managed to change as a team. We went from playing a rescue game to becoming a team that could succeed anytime. We made it to European cups and earned the respect of the biggest clubs.
This is an achievement for me. When we lose, suddenly everyone's surprised. It used to be the standard, but now it's a surprise. And that's incredibly valuable to me.
So is the way that my teammates accepted me. They know they can come to me whenever and have a talk. I think they know I genuinely want to help. When they have a bad day or when they have a conflict with the coach, I try to be empathetic and analyze their situation.
The trust of others lets me be their leader. I want them to know that I'm always on their side. It's those simple things like talking on the pitch. It's so trivial that even little kids hear it at their practices, yet not many people do it in big football.
The reason is simple. Everyone has their own problems and they're also playing a bit on their own. As much as football is a team sport, at the Premier League level it's also about individuals. The result is that nobody helps you much on the pitch; you help yourself.
My advantage is that from my position as a midfielder, I can see the situation very well and I can help others. I didn't do it automatically but older guys in Slavia explicitly asked for it. Since then I've been very communicative.
A simple "On your back, right side!" helps you with finding the right solution for which you have just a split second. I can see that this helped me with finding a position in England as well. Football is not just about kicking the ball.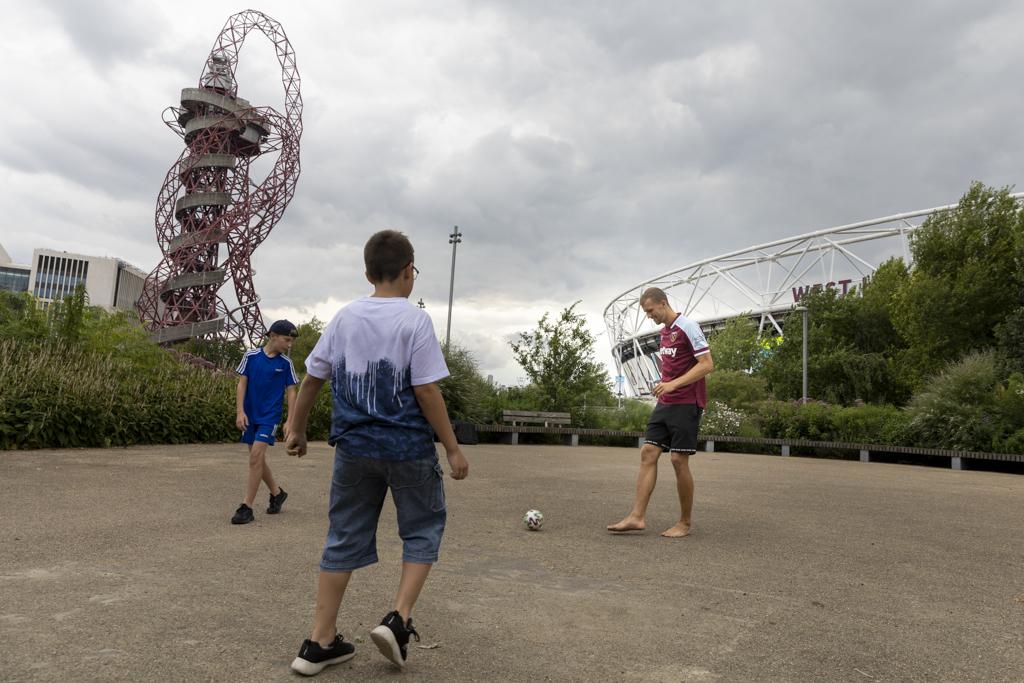 Of course, I know how to shout when someone doesn't come back to defend. But the main thing is constructive communication. I don't blame people for losing the ball on the pitch or a failed fake. There's always time for that in the final feedback.
At West Ham today I know that nobody tries a feint just to look good. Everyone does it only to help the team. Eleven warriors. We're a team, we all attack, we all defend.
We say "Good job!" today only after winning.
I can't sleep after a game even now. I stay up until maybe 3 a.m., analyzing all the situations that occurred. I know what I did right. I realize what I did wrong. I can't fight it. It's useless to try to sleep. In me are such strong emotions that won't let me.
I still have big goals and many steps ahead of me. West Ham is about European cups, but that's not our final destination. We want to go further and win something big. I have no doubts we have what it takes.
Nor do I doubt our national team. Even there I used to sit in a corner, trying to get to know all my teammates. Now it's my time to be one of the leaders who pushes the team further and higher and helps players who are there for the first time.
I still have in mind the game against the Netherlands at Euro where we showed our real strength. I mean the mental strength. We went into the game with a winning mindset and we succeeded. We need to keep this mindset and work off it.
I saw it as my responsibility and with the captain's armband this responsibility has grown even more.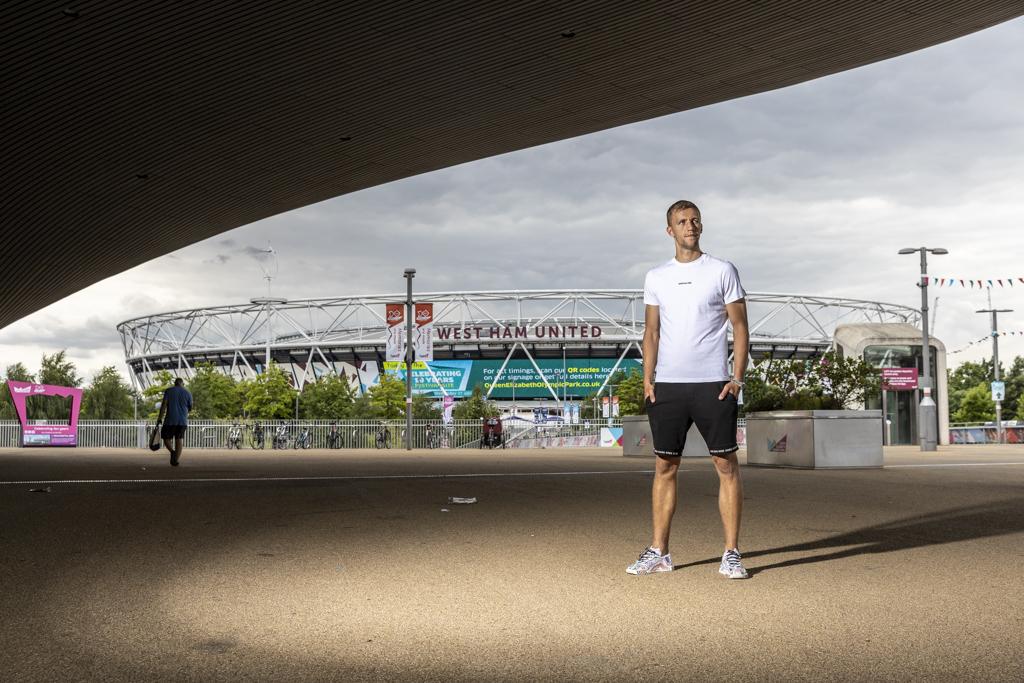 There is no club in the world that means more to me than the national team. Whenever I have that jersey in my hands, I see myself as a young boy who admired the group around coach Karel Brückner. The players who showed me the joy of football.
Unless it's for a good reason, I will never turn down an invitation to a national team camp. It is my responsibility to the small footballers who will be cheering us on. That's my attitude and I want to stick to it.
I want to be an example for all the boys and girls on and off the pitch. We all have a different starting line but I believe that everyone can reach a great goal. If my story inspires even just one child in their journey, it will be a huge honour and achievement for me as well.
There are days when I don't believe in myself when I have a bad day. A new season comes, new players and things are not as I would like them to be. In such times I try to go back to the things which have always worked for me. To hard work. To fighting hard. To building a team spirit and a winning mentality in our room.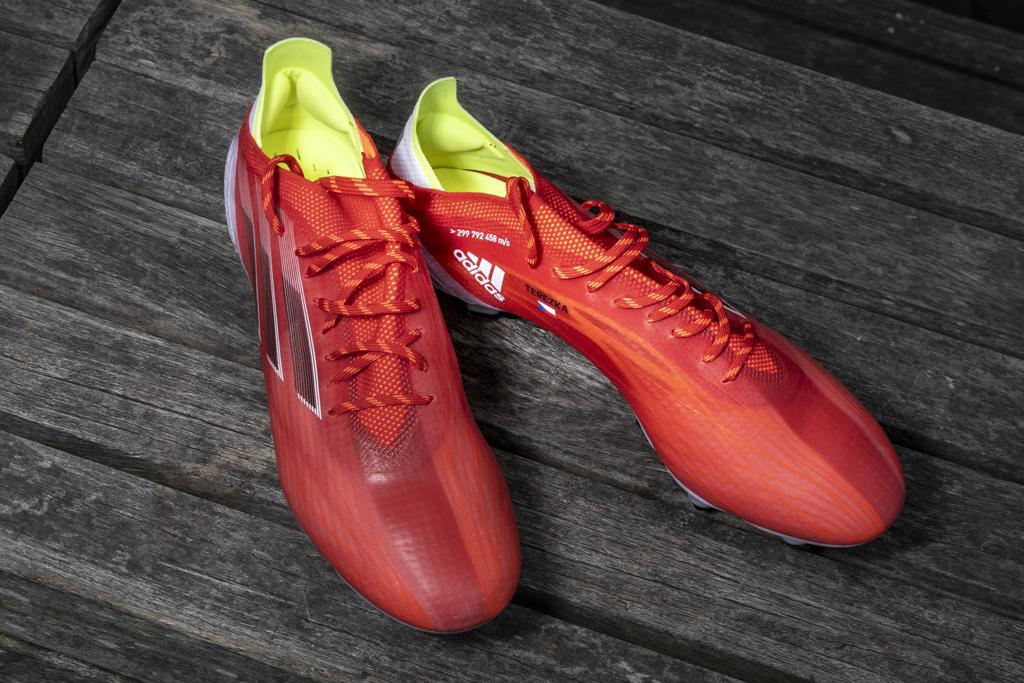 Endurance and perseverance always pay off. In life as in sports. I do not doubt this because I've seen it for myself.

At the same time, I'm lucky not to be alone during these hard times. I always have my family on my side. My wife is not only a great mom to our daughters, but also the person I can always talk with to spit out everything. I know that without her I couldn't be the person I am today and I'm very thankful.

Just as I'm thankful to my parents who were always there for me. I could rely on them my whole life. They are a huge part of who I am and what I've achieved.

And I always return from my gloomy football thoughts to the backyard behind our garden, to the futsal hall in Chotěboř or our student team from Hanspaulka. I remember what it was like back then.
The joy of a good feint or a nice pass.
It always makes me smile. Football is the greatest joy I know. It was fun in the past under the lamp posts outside my dorms and it remains fun in front of tens of thousands of fans in the Olympic stadium in London.
I realize this every time I step on the grass and look around. I'm as excited as a little boy when the referee blows the whistle and the game begins. It's a shame I can only play one match per weekend now. I wish I could put on a mask and go outside our house to play with friends. Just for fun.
Jana Mensatorová