"Come on, let's go, guys!"
The energy in the dressing room was growing again. It always happens when the break between periods is almost over and players start putting on their helmets, gloves and even their jerseys. They're pumping each other up, helping teammates get in the right mindset.
It was no different one day before Christmas 2018. We were playing at home in Dallas against the Islanders and the second period was supposed to start in just a moment, with the score 0-0. The focus level was to the max.
"Go! Go! Go!" Fists bumping, every player stepping onto the ice in a straight line.
Except me.
I was resting on a massage bed, hearing all of this from a room across the hall behind a partially closed door. The doctor was examining me, and I refused to accept that I had just played my last period in the NHL. I refused to accept what deep down I knew was the truth. This was it. The end. I couldn't go on.
At the beginning of December, I returned from my third and most complicated spinal surgery. I thought everything was going to be alright. I could still feel my back pain a little, but I thought it was just a post-op stiffness that I'd soon get over.
I managed to play six games, feeling good, working slowly back into game shape. In game number seven, though, shortly before the first period ended, I was skating back to the bench. Everything was normal and then it struck me. My leg went dead. The same sensation I remembered from 10 years ago, before my first surgery. A sharp pain back in my thigh and then… nothing. It was as if my left leg had just disappeared.
'No. Not this,' I thought. This was my nightmare.
Before I made it to the dressing room, it got worse. It got worse with every step. I fell on the massage bed, all of my gear still on, and told the doctors and trainers around me: "Look, there is something wrong down there. I can't move my leg again."
I was desperate for some hope. I tried to calm myself, reasoning that it was just because I hadn't played for so long and my body needed to adapt. Or maybe it was just something swollen around my spine, where I had scars inside from the surgeries. I tried every explanation to persuade myself that maybe I could still return one day.
But deep down, I knew this was it. It was over.
Yeah, my ego was kind of big.
My U19 team placed fourth at the World Championship in Pilsen, but my performance skyrocketed. Ondřej Pavelec and I made the All-Star tournament, two months before the NHL Draft. I got drafted in the first round by Phoenix, No. 17 overall. I felt like everything was working out for me on the brink of adulthood.
I had played in České Budějovice since I was 17, the second highest league, during the NHL lockout, but at least I could play with players like Václav Prospal, Radek Dvořák, Andrew Ference, Stanislav Neckář, Roman Turek, Luboš Rob, Petr Sailer or Petr Bělohlav. I remember it as if it were yesterday. We had a crazy good team and I was there with a cage on my face. Our coach, Josef Jandač, wanted me to continue with the team even after we advanced to the highest Czech league. So instead of going to Canada as did my friend and teammate from juniors, David Kuchejda, I stayed with the team. Our manager, Jaromír Látal, insisted on me staying, telling me that my place was safe.
Alright, I thought. First round of the NHL Draft, a place in the highest Czech league. No matter what, I'll play. I'm a superstar after all.
The truth is, I could have put more work into training. And it was all my fault. During that time, that was my approach to everything: What do they want from me? They should be happy they have me.
The reality was different.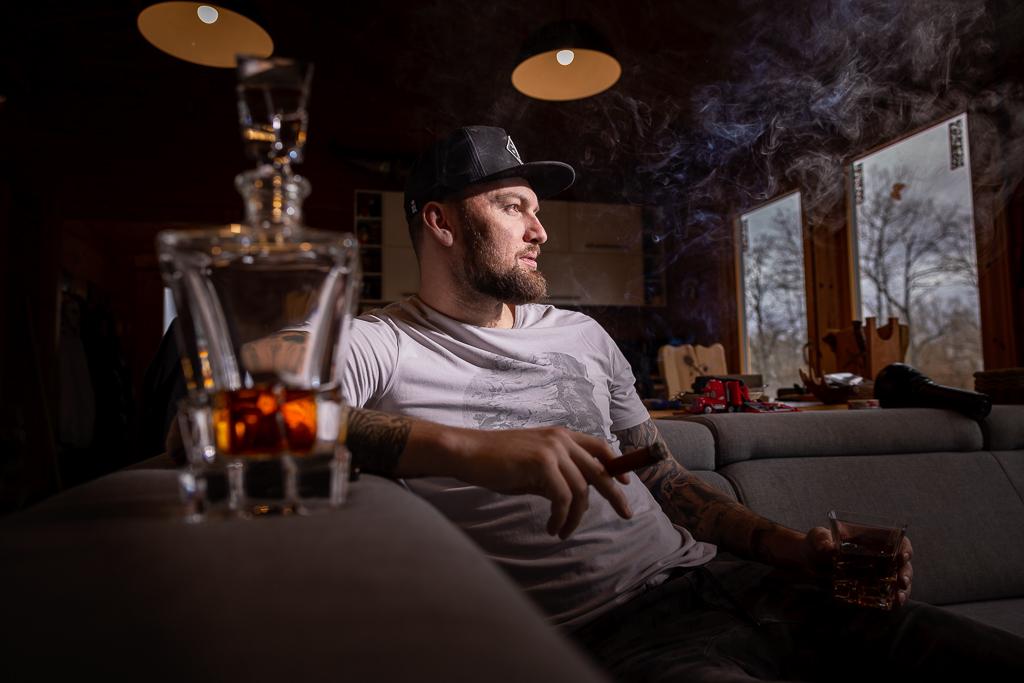 In the first game, which was played in Kladno, all of the young players including me spent the first period benched. I remember sitting there, asking myself, 'Why?' Two chances to show what I can do in the last period went horribly wrong because I was not in the tempo at all. That was my premier in the highest Czech league. And it was the same for another twenty games.
I knew I couldn't go on like this. During the World Junior Championship in Canada in December, we were already discussing the possibility of me staying there. I wanted to play anywhere else rather than have four minutes of ice time per game. After talking with Phoenix, it was decided I'd join Omaha in the USHL. The year there was not outright bad, but it was weird, maybe the worst in my career. It was the time when I was supposed to work hard and play the most right after being drafted, but instead I either spent my time not playing or just looking for what to do with myself.
But every cloud has a silver lining. I had the time to sort everything out in my head. Instead of being a big guy in my age group, all proud about somewhat playing with adults, I decided to leave for juniors next year, to Red Deer. There, I was doing great. Coach Brent Sutter was amazing, and I improved. I was leaving for Worlds that Christmas as one of the WHL's point leaders.
Later I found out how lucky I was.
At the beginning of my career, I often compared myself with Jakub Kindl. He got drafted two picks after me by Detroit, a great team full of veterans. On my side, Phoenix was last and coach Wayne Gretzky decided to get rid of everyone and rebuild from scratch. While Jakub, an amazing player, had to wait four years in juniors for his chance, I had ice time from the start, got an assist on the game-winning goal in my first game and I never left the NHL roster if I was healthy.
But that was the catch: If I stayed healthy.
After my first season in the NHL during which I played great — I had points, played on the power play and penalty-killing units — David Krejčí and I were picked as two greenies for the Czech national team. The 2008 World Championships was in Quebec. I was 21 years old and even though I did not play much at the end of the tournament, I enjoyed every second of it, sharing a room with Marek Židlický, and watching Patrik Eliáš or Tomáš Kaberle.
Already through this tournament I could feel my back and leg hurting. I told Prof. Pavel Kolář, widely respected Czech medical expert who was there with us, and he immediately recognized it was related to spinal discs. He showed me different exercises, what to do so it did not become a problem in future, but I ignored his advice.
What could possibly happen, right? I'm still young, it's going to be fine!
Month after the championships I started with training, and it only got worse. The sharp pain in my leg was getting worse and worse, and it got to a stage where I couldn't even bend over or get up from bed. I called Phoenix to tell them about my condition, and they told me to fly over immediately.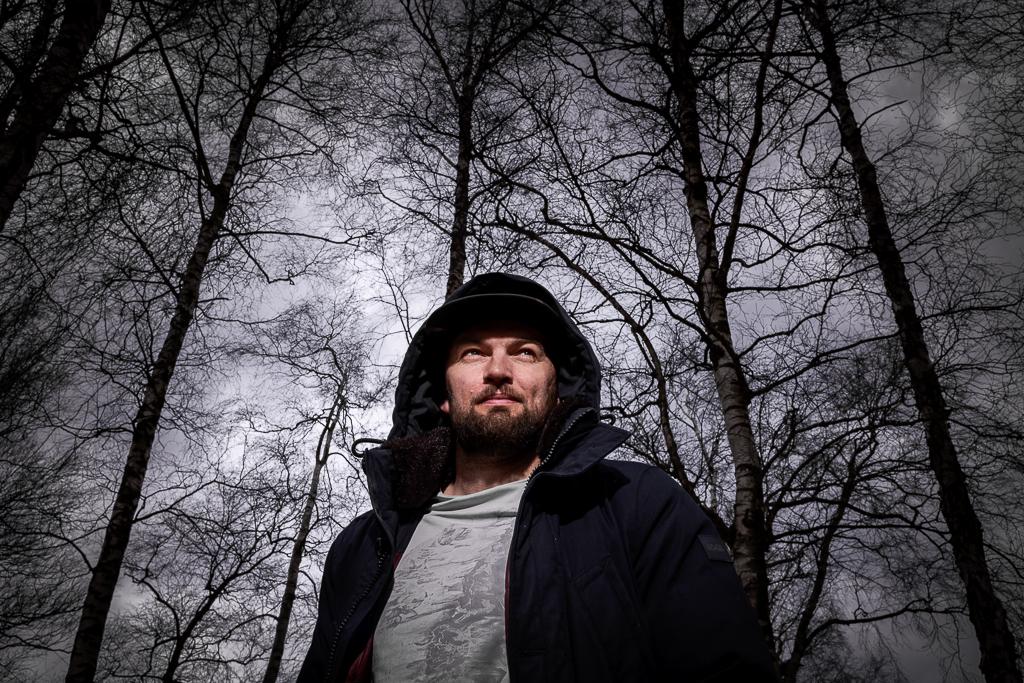 I arrived on July 13 and had surgery on the 15th in Los Angeles for spinal disc herniation.
The doctor explained that because of my taller body, my back absorbed more stress. You skate bent over, and you take some hits to the lower back in front of the net so it's important to focus on your core, your abs and back, to strengthen the problematic parts, he told me.
And I was like: "Alright, cool. The surgery was a success. I'm gonna be fine now."
I began doing some of the exercises, but not nearly enough. My focus was to get back into shape before the season started, which I did. I was back in full training a month and a half post-op. I don't understand how I managed to do it, remembering it now. Young bodies regenerate exceptionally well.
It's a shame I did not take better care of mine.
I didn't have to work out very much, not in the Czech Republic, nor In Canada. I was naturally taller and stronger than the rest of them so I could dominate on the ice thanks to my physique. How to play more, score more, get more points – that was all I cared about. I didn't have the habits of working out in the gym throughout the season. I thought that was just something you did in the offseason to build muscles.
After returning to the NHL, I had instructions from Gretzky to make it hard for our opponents on the ice, using my height. He'd put me into important situations. I played against our opponents' best players so I knew this was going to be my role and Itried to do it as best as I could. It was mainly about tough close matchups with other big guys from the Pacific Division. I would fight with Ryan Getzlaf and Corey Perry from Anaheim, with Anže Kopitar from L.A., with Joe Thornton and Patrick Marleau from San Jose. Back then, ice hockey was much more brutal than it is today; not so fast.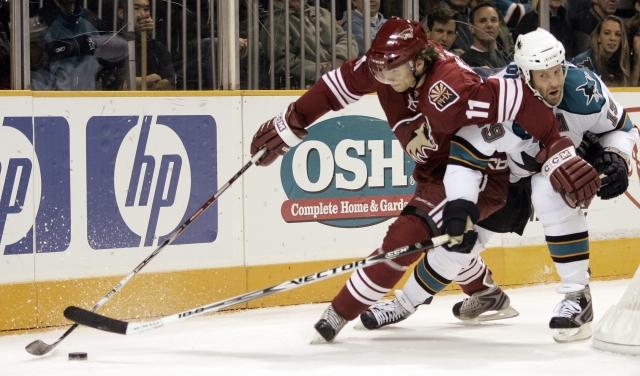 I had to do this to keep my place. I came from juniors with the aura of a crafty player, but there were players much better than me in the NHL, and because of them, I had to adapt. I always wanted to be the one who scored but I realized I must play differently now, do what the coaches wanted me to do. That was the only way to keep my place and keep moving forward. I became more and more confident in my new role and all those stars whose lives I made harder started to remember me. They developed a respect for me.
"What's up greenie, wanna fight?" they would ask.
"I'm not in the mood today, but if you are..." Ryan Getzlaf used to say on faceoffs. Joe Thornton always wondered where my team picked up such a loser. He hoped he would not have to play against me again.
I heard from Jakub Kindl, who played with him in Detroit, that even Pavel Datsuk didn't like playing against me. He was an extremely unpredictable player for me. Not that fast or big, but it was like he moved a second before you in just the right way. He knew where you would come from and he would just feign in the opposite direction, bounce off of you with his shoulder and continue. He was unbelievable. It was a nightmare to defend him.
From what I knew thanks to Jakub, I tried to catch Datsyuk off guard once. I faked between his legs.
A moment of truth.
He saw it, obviously, kicked the puck where he needed it, went through and scored. I remember Radim Vrbata returning to the bench, looking at me with such a serious tone saying: "Damn, that was amazing. Don't do that again. Ever."
I listened.
What worked against all these top players was just hard work. Keeping up with them. Whenever you gave them just an inch, they used it. Best case scenario, it was just a chance. Worst case, it led to a goal. I needed to breathe down their neck nonstop, just so they'd know I was there. To be even a little insidious. That was my job, to get in their top players' heads so they couldn't focus. I had to use every chance I got to bodycheck or even worse. To show I was watching them. Some subtle slashing, a little holding after a lost faceoff. I had to use all this to make them care more about me than the game.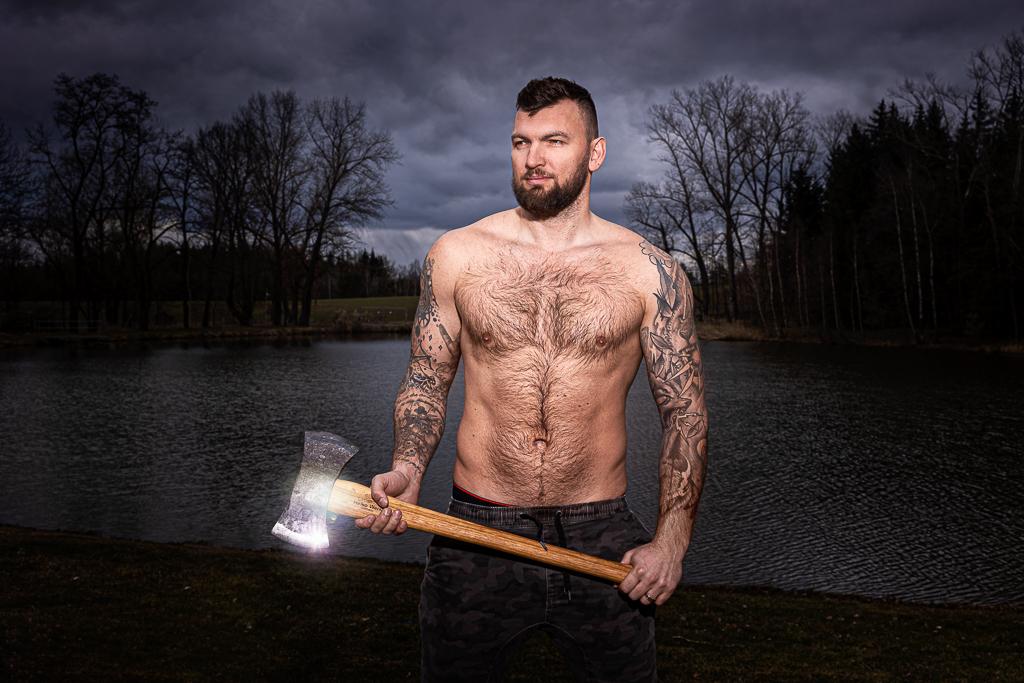 After the whistle, if someone shoves you in front of the net, you slash him and suddenly everything is exploding around you. I understand why they didn't like me. It was also because I wasn't a purely defensive player. I got in front of their net, trying to score. I had to endure the abuse much more there – slashing, shoving, fists in the face. Everything I did they returned. Them or their teammates from defense.
And I absorbed many hits to my back. I even bought a special lower back pad, but it didn't help much. The hits were crazy hard.
It was just my own fault that I did not focus more on it during my preparation. I did not keep in shape during the season. I was glad to play, to get a lot of game time. That was the only thing I cared about.
And you know what, the first three years after the surgery, everything was fine. Nothing hurt. I had no reason to think things would go south.
They said I was Gretzky's child. They said he was easy on me and gave me everything for free.
Radim Vrbata and Zbyněk Michálek made fun of me all the time in my early years. It sounds so ordinary here, but they really couldn't stop. We had a lot of fun with each other.
The truth is, I was really lucky with Gretzky. I was favored by the best ice hockey player in history; a man who had an incredible instinct even as a coach when it comes to working with players. He didn't like ordering players; something which was not natural to them. He was amazing at reading players, who is good for what, and what to expect of them. Then he used them for specific situations accordingly.
And if you wonder if he had some kind of aura around him, being the legend of the legends, yep, he had it. Nobody dared to oppose him. He entered a room, we all got quiet. Even the older players had a huge respect for him. I waited about a year and a half before I took my collection cards from childhood to ask if he could sign them.
He also had a great sense of humor. Once I missed scoring into an empty net against Toronto. After the game, he brought me a goalkeeper's stick saying that maybe I wouldn't miss the next time with this one. Or there was the time when I already had a hat trick at the beginning of the second period, and he told me on the bench that his record was five goals in a game and that I'd surely beat him that day.
Obviously, I did not score any more.
I could not wish for a better coach for my NHL start. And when he was later replaced with Dave Tippett, the team results came as well. Dave knew me very well because he led Dallas before, and I always defended their superstar, Mike Modano. He put me on a line with Radim Vrbata and added Ray Whitney once he joined us. We played together for two whole seasons. Playing with them was amazing. They both scored a lot of points and we reached the Stanley Cup conference finals in our second year.
While Wayne Gretzky's coaching was based on the individual responsibilities of each player, Dave was a master of video analysis. He was able to work through every single detail. We knew what to do after a faceoff in any zone, whether we lost or won it. If it was right or left. I liked this very much because everyone had his job and did it very well; we could rely on each other on the ice. That was our team's recipe for success.
Thanks to Dave and his preparation, I tasted playoff games for the first time. It's an entirely different game, just as they say.
Before the very first series, I was shown a video by our captain Shane Doan. It was an old video, from an old hall, from the very beginnings of Phoenix in the NHL. A guy went on the ice, knocked down one player, a second, a third, a fourth… And then he went back to the bench.
"This is playoff hockey, this is what I want from you," he told me.
I was laughing, curious how it would look, but it was truly just like that. A massacre, both teams and the fans pumped. Beautiful… I really enjoyed playing like this.
The only thing was that year we played L.A. in the conference finals. That's when I started to feel my back pain again.
It was always the same. First, a sharp pain in the glutes. Then it moved to my left back thigh, further and further, until it reached my calf and foot. It was a light pain at first, then it got worse until I couldn't feel my leg at all. In planes after games, if I got up, I could barely walk.
People often asked me if it hurt during hits with other players, but that was not really the problem. The issue originated in my spinal discs. Once they pressured a nerve which led through the back of the leg to my foot, the pain began. I can feel it even today when I spend too much time in one position.
After the first surgery, it was alright for two years, but then it returned. Slowly at first, my left side, waist down, was somewhat stiffer. But week after week, month after month it only got worse. A tight NHL schedule, flying to games, not enough sleep, sitting in the airplanes, a different bed in each hotel… Each was one piece in my mosaic of pain. The mosaic brought me back to the hospital five years after my first surgery. It got so bad that I couldn't even get to my car after a game. My left leg was as if it was not my own.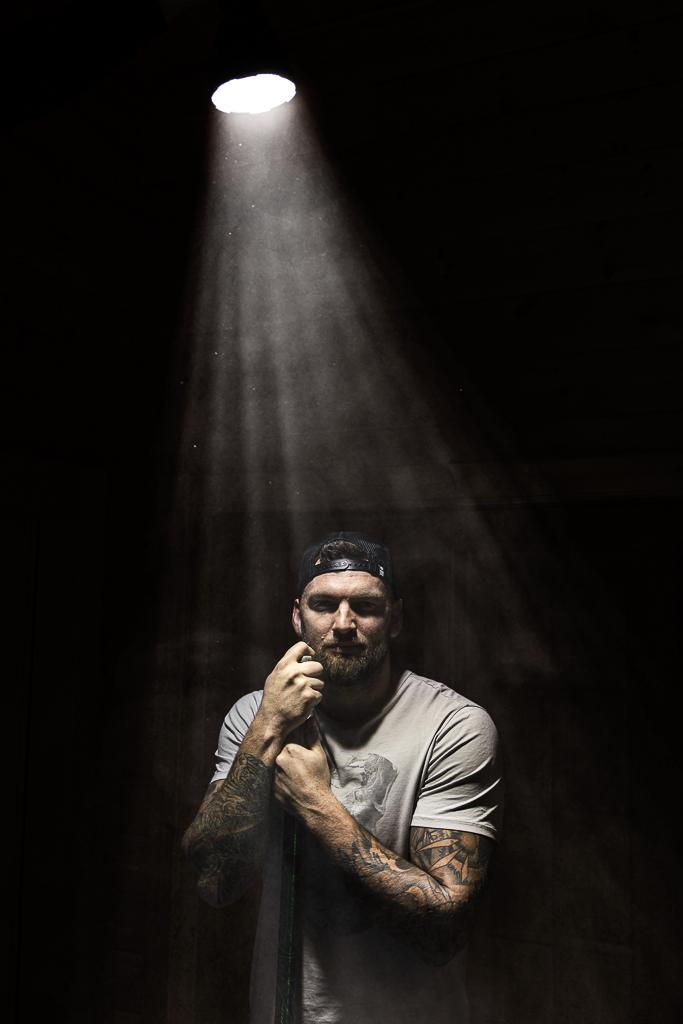 I managed to get through games, thanks to pills and injections for pain. But once they stopped working, it was all back and even worse. I started exercising much more, just to run away from the second surgery. I'd arrive at the stadium before others, like three hours in advance, just to get my body to move took me an hour and a half. First, I got warm in a jacuzzi, then warmed up with exercise, a bike after that, a massage, stretching – and only then the rest of the team started showing up. But it still got worse.

I got to a point where I didn't even practice. Vrbata and Michálek made fun of me, saying that they should lower my pay because I only played games. That was the only time I laughed through the pain.
Tippett made it work for me, for which I was grateful. I was an alternate captain that year. I had his trust, plus he knew he needed me. He told me: "I'll leave it to you; you have to tell me. You're the only one who knows how you feel. If you need a break, I'll give you a break. Just be ready for the game."
Most of my time on the ice that season was during games. While the rest of the team practiced, I had physiotherapy in the room, trying to get back to a state in which I could play the next game.
It was okay at first because I could rest and the tempo of the game itself will keep you in shape in the NHL, but as the time went by, I could see others getting faster and stronger than me. Even just the half an hour they'd spent on the ice during practice was enough.
I tried to keep going like this for some time. I didn't know what else I should do. I could see how missing practice hurt me, but I couldn't join them because of the pain. Once I couldn't even play, so Dave gave me a free week, without practice or games. I could function normally again, but once I started playing, the pain was back. It all led to the second surgery in January 2015, after almost three years of playing under the influence of painkillers.
It became a routine. Epidural and Toradol were pumped into me almost automatically. I would limp from the car, telling our doctor that it was pretty bad. He just said: "Take a pill and you'll see." He always moved the responsibility on me.
Of course, it always worked. Warming up was fine and I obviously wanted to play. It worked for a while, but once I got back home and the effect of the pills faded away, I was laying there in excruciating pain.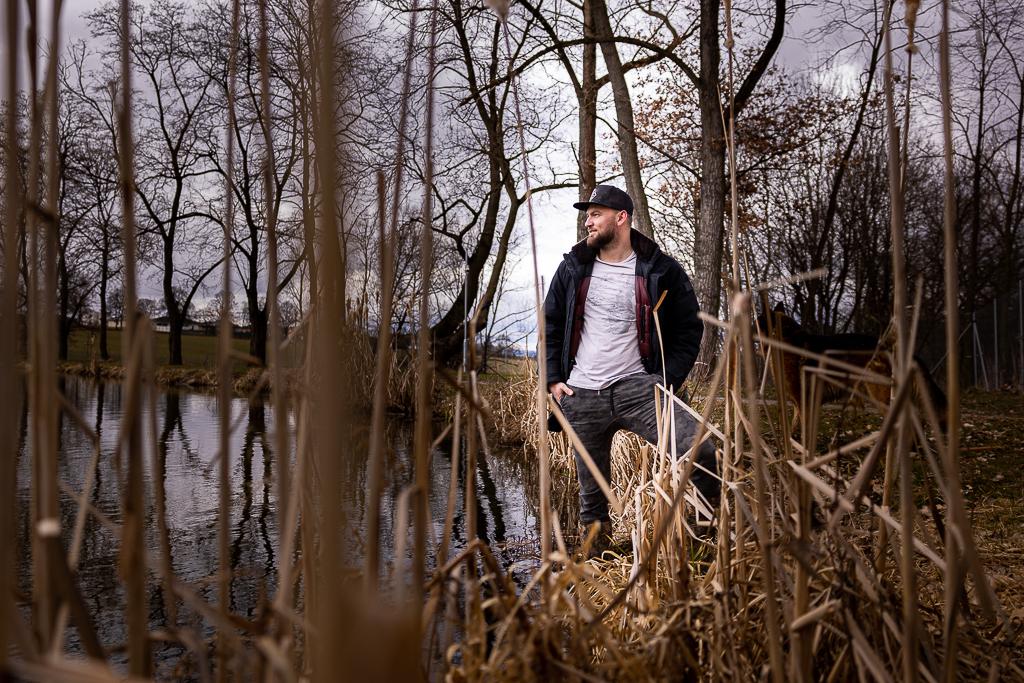 Thinking about it now, it doesn't seem fair. Sure, the club paid me to get the job done in games, so they needed me to play. But three years under pills? I don't need to be a doctor to realize what effect it had to have on my body. I didn't get addicted, I didn't even take painkillers at home, but still. Was it worth it? Did it make sense? Would it ever get better?
How many times have I asked these questions without finding any answers? What I always decided was that my team was counting on me, that I'm a professional hockey player and I have a contract for big money, so I must play. These thoughts were more frequent the older I got. Doubts and resentment at giving up.
Maybe if I was someone on the end of the roster, someone with a smaller role, it would have been easier to decide. But I could barely put my skates on – and I still played all the important moments. Sometimes 18, sometimes 20 minutes per game. What would some players give for so much game time?
That was why I always went and played. I couldn't give that up.
I was feeling amazingly well at the beginning of the 2016-2017 season. I had a good time at Worlds with Ondřej Palát and Milan Michálek. It was only three games, but a hockey player knows right away if it's good or bad.
My back was doing fine, and I was completing my exercises on point after the second surgery. From my point of view, I had a successful season behind me, and my contract was supposed to end after the next one. Coach Tippett and our new general manager John Chayka approached me during training camp, saying that they'd like to extend my contract before the season started.
I liked that idea. Let's do two or three more years and see how far my health allows me to go. I'd like to spend my whole career with one club; that would be nice.
We agreed on money and length, the offer was sent to my agent and then... nothing.
Guys from other teams told me afterwards that it was a perfect example of amateurism from the club's side. I never found out where it got stuck, whether it was the inexperience of young Chayka or if it had been a trick from the start. I checked with my agent regularly to see what was going on because the season was starting. He didn't understand what was going on. No one picked up his calls for months. Chayka was avoiding me. I didn't even get the chance to talk to him. Coach told me during Christmas that I was great and I was really pushing the management to sign me. He told me that I belonged there, that I was his important piece.
But no one was talking to me or my agent.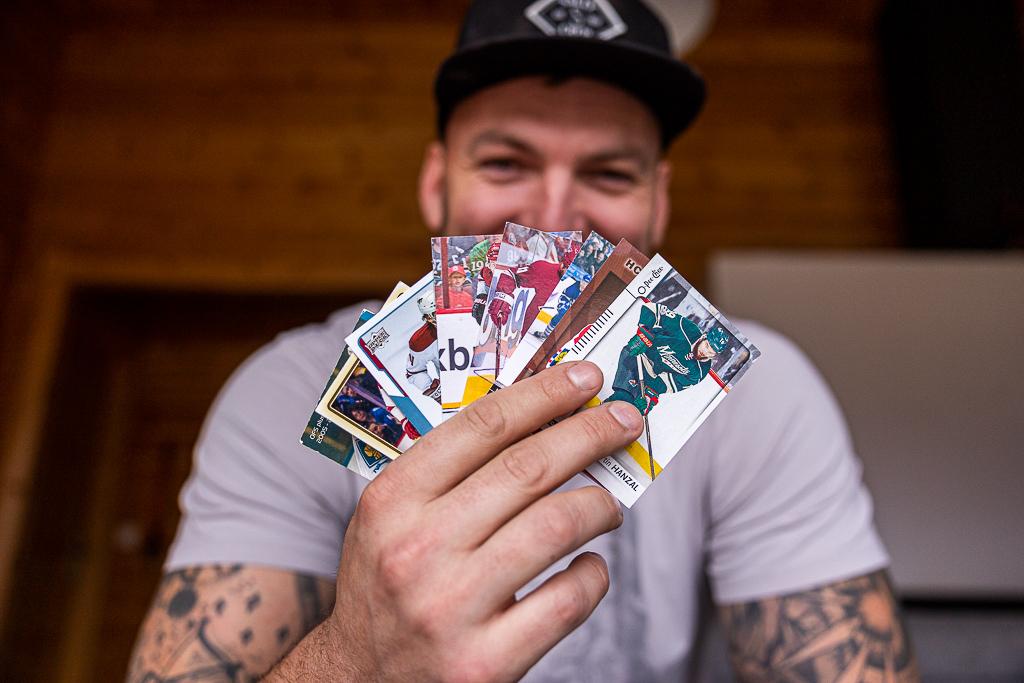 As the trade deadline approached, I promised myself I'd stop worrying or I'd go crazy. Plus, they had sent me a message in January that they would sign a contract extension with me.
In February, I got traded to Minnesota.
It was so weird. I don't know if there were some behind-the-scenes things, but I guess that is how it should've been. At least I got to know a new club, a new city. I saw the NHL from a different angle.
I had no back problems that year, hockey was fun and for the first and last time I scored 20 goals in the regular season. When I was choosing where I'd go next as a free agent, I had interesting offers: San Jose, Buffalo, Dallas. The conditions were pretty much the same everywhere. I picked Dallas because in it I saw the biggest possibility for success and I had a clear vision of my place on the team.
I was 30, I knew what the NHL was about, I was looking forward to playing on a strong team. The worst was behind me, and now I could begin to use all of my experience.
But it didn't go so smoothly.
I injured my ankle during training camp and once I returned, my back started aching again in the fall. It got so bad that I had to undergo a third surgery a month before the end of the regular season. I returned at the beginning of December.
It lasted until the Islanders arrived before Christmas.
I left the stadium and went home, there was no point in trying to figure it out in the evening. On Christmas Eve, I went for a CT scan which showed doctors that there was still something pressing on my nerve.
I still don't know if my last surgery was done badly or if something in there just moved again. They told me I had two options. First: I go for another surgery; a fourth one. They'd open me up, from front and back, clean the spot and then there would be a lengthy recovery.
Second: Leave it be. It might get better, or it might get worse.
My third surgery was already pretty much the limit. All procedures were done by the same surgeon, and he told me after the third one that if the pain returned, he did not recommend me playing again because it could end really badly. The injured area was near my spinal cord.
In the first two surgeries, they removed a piece of my spinal disc with a laser; the piece which was pressuring my nerve. The risks were not that high. But during the third surgery they replaced the whole disc with a titanium one and screwed two vertebrae together. That was more complicated. I knew about an amazing Swedish hockey player, Henrik Zetterberg, who had the same surgery two years before me. He ended his career right after, saying it was just impossible to continue. That did not reassure me.
That's why it took 10 months before I returned to play. ten months of nonstop physical therapy and exercise. Ten months in which I couldn't even play with my kids because I had to avoid any sudden movements.
And suddenly the pain was back. Good old pain. I took the CT scan pictures and went to see some other doctors. My question was always the same: If I submit to another surgery, can you guarantee I'll play again?
None of them could.
They said it might help, but four surgeries in one spot? That is a scar on a scar, none of them properly healing. No one could guarantee anything.
When I heard this in New York from the last doctor, it was like a breaking point. I knew it was the end. To go for another surgery with such risks made no sense. How would my body react once I was done with hockey? Would there be limitations?
I've had these questions in my mind 24/7. I also had to look at my current contract. I was still signed for two years. I cared about my teammates who trusted me. I knew I could still do it, that even after three surgeries I could still play with a great team and help it. Of course, I also considered the financial side of things. Thanks to me being paid an experienced NHL player's salary, my family and I have everything we need. But did I want to risk my every-day health for more and more money?
No, you only have one life.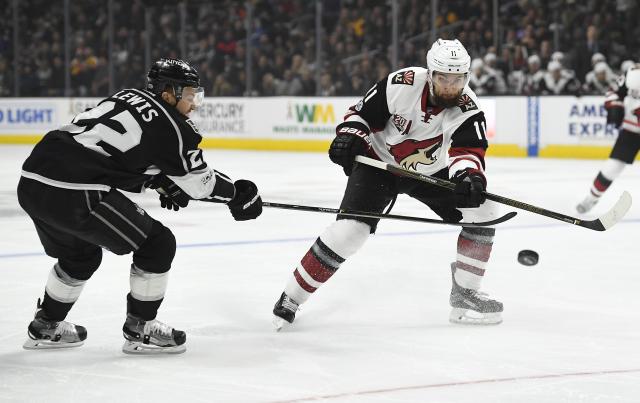 I also wanted to carry on for my children to see me play, especially the older son (Marty Jr.) who started to watch and enjoy ice hockey while watching me play. It's a shame that I couldn't finish those two years in Dallas, so he could remember me as an NHL player. But on the other hand, every time I think about this, I remind myself of all the pain and suffering I had to endure.
I remind myself of those doctors who told me it's simply not worth it anymore. I remind myself of the promise I gave myself before the third surgery, that if it ever comes back, I'd stop playing. I wouldn't risk it any more. I was ready for retirement, but when the time came, I had to remember all of this to avoid backing out.
I remember realizing at one moment that I was actually tired of it all.
I'm grateful for being able to function as a regular human. Without the extreme conditions of being a professional hockey player, it's enough if I work out a few times a week. Everything is alright. I can go on the ice with my son, who is starting to develop important ice hockey skills. I can be here for him in this important time. I can shoot with him, play with him, and advise him.
I still like to play hockey for fun with the boys, and go for a beer afterwards. I don't sit at home feeling sad that I can't walk. I ended my career at just the right time.
Sometimes I wonder what emotion is the most present in my NHL memories.
Joy? Pain? To be honest, it's 50-50. The more time has passed, the more I remember only the good things. I'm proud that I could play in the NHL for 12 years, playing an important role on the teams. There are not so many Czechs who can say this.
I consider the pain a tax for all of this.
Everyone's hockey journey is different. I don't think you can find a player for whom everything went smoothly; who played 20 years, made big money, and ended on his terms. Everyone paid a price, be it physical health, mental health, or the situation in a family.
Some players must fight their way up through a farm system, searching for their place in the NHL. I came and played right away. And I played a lot. And this was my price for such a privilege.
I suffered in times around the surgeries, before and after them. I told myself I'd never go back on ice. But as the wounds heal, you start to look forward to that thing you have done since you were a child. To play hockey, to be with your team. Such feelings overcome the pain, even though the suffering was immense at times.
Was it worth it? Maybe I should've chosen an easier path at some point and gone to Russia or even some lower competition. But I'm sure I made the right decisions.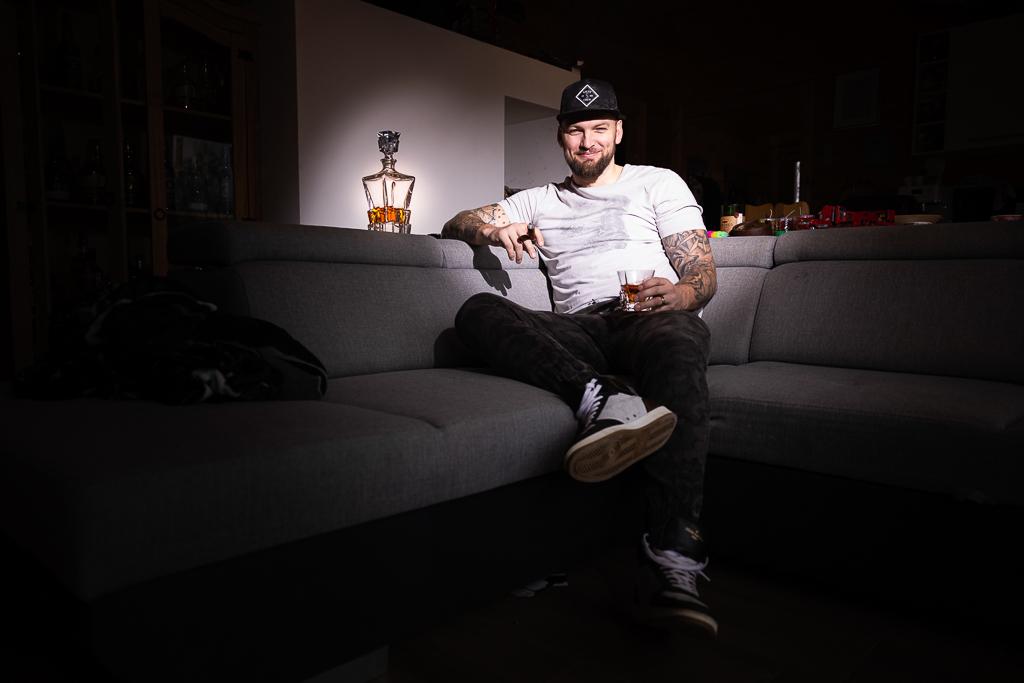 Maybe I will experience some long-term effects of what I've done to my body once I'm older. But I've fulfilled a dream that every little boy who starts playing hockey has. I played in the NHL. I played for the national team at the World Championships and the Olympic Games. It's a shame I've never achieved any big success, I don't have a trophy or a medal at home, but in a collective sport, you don't have control over everything. I'm content with my career. Despite my back problems, I've enjoyed the NHL years and I've left a mark there; I wasn't there just to fill the roster.
I've managed to get where I wanted. I've secured my family financially. And that pain along the way is just a part of the whole story.
Would it be different if I had taken better care of my body in my youth? Quite possibly so. Even though the doctor told me that my problems are more innate, the first thing he told me after my first surgery at 21 was that I must exercise every day now, to strengthen my back.
I was just sitting there saying "Yeah, yeah," while thinking "Chill, you've just finished the procedure, it's gonna be alright now."
I did not do everything I could have done to mitigate my troubles. I needed a strong core rather than big shoulders and strong legs. Maybe my career would look differently then if I had focused on that. My genes probably would have caught up with me eventually, but maybe it wouldn't be so bad, and the pain wouldn't be so excruciating.
On the other hand, even if someone had pushed me at age 18, would I have listened? I don't know. I can't say nobody ever told me how I needed to exercise and to take care of myself or eat right. The coaches always told us to stretch, but we thought it was somewhat pointless. I got drafted in the first round, what do you mean go stretch? Or go ride a bike? Who are you to tell me what to do?
Boys have their own opinion at that age, and I was no different.
However, those who understood the importance of correct strength training and regeneration were sure to see how influential it was for their careers eventually.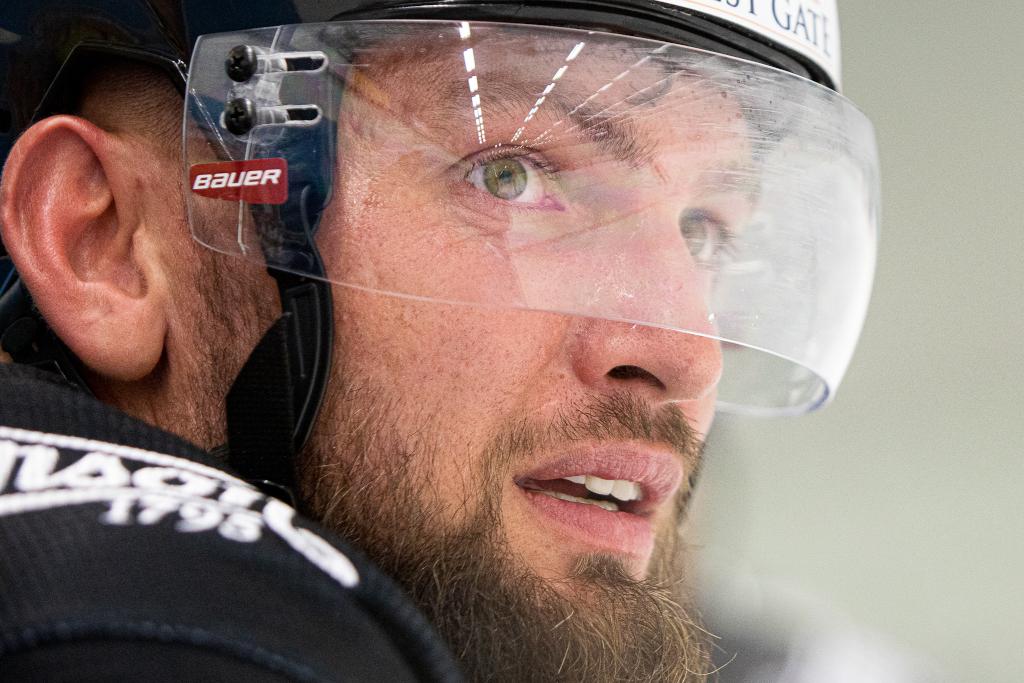 It's my fault I've spent half of my time in the NHL in pain and had to fight my body first before I could fight my opponents. Maybe I could've still played at a high level now if only I had realized that there is an important part of hockey life which may seem annoying and pointless in youth but is just as important as fast skating and an accurate shot.
I don't like to push my opinion somewhere but if someone asks, I'll tell them everything I've learned. I'll tell them what I've been through and how every young hockey player should take care of his body, how his lifestyle should be changed accordingly, and how to exercise.
I'll tell them that they need to invest in their body as much as possible; do enough correct exercise. Know when to eat and what. Rest enough. That you only have one body, and it is every athlete's tool, so they must take good care of it. If someone hits your knee and tears your ACL, now that's just bad luck. But how you prepare for a long-term load, that's just up to you.
Even parents should know how to raise their children if there is a possibility of a sports career. If you have the means, invest in specialists in the aforementioned fields, because one day you'll see the return. It ensures young athletes the best possible starting position. And as a parent I want to say one day that I did everything I could for my kid to fulfill his dreams so he can see how he fares against the world's best and not suffer while getting up from bed, like Hanzal once did.
If my story helps someone to realize this and work on his health, then all of that pain I went through was worth it.
Jana Mensatorová, ČTK/AP/Ben Margot, ČTK/AP/Mark J. Terrill