I wouldn't change a thing

It's always great to be featured on lists and compared to others. Unless it's a list of the biggest letdowns.
In June 2002, the Phoenix Coyotes selected me with the 19th overall pick in the NHL Draft. Columbus took Rick Nash first overall and other big names like Alex Steen and Duncan Keith went in the first two rounds, but there was me at No. 19. That's the first round: a stamp of success and promise. A confirmation that you are on the right path.
Not that many Czechs have been chosen higher than me, but I never played in the NHL; not even one game. Instead, my name has appeared on the lists of biggest draft mistakes. That's not how I feel about my career.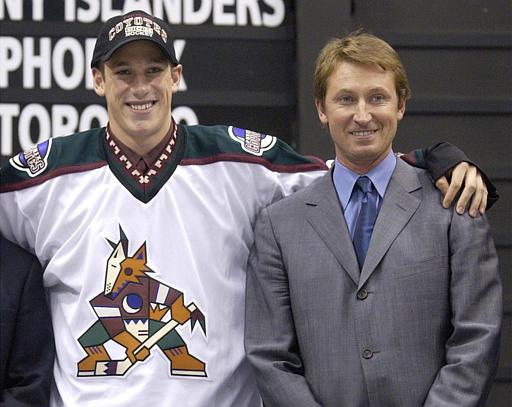 I can still feel the euphoria that spread through my body when Phoenix picked me. Imagine your dreams coming true at age 18. That's how I felt the second my name was read by Wayne Gretzky at Air Canada Centre in Toronto. Yeah, that Wayne Gretzky: the greatest player in NHL history.

He was the co-owner of the Phoenix Coyotes and by the time he went to the stage, my agent had already turned to me to tell me to be ready. Oh, and my agent at the time was Bobby Orr. I had two absolute giants of my sport around me at that time.

I was sitting very close to the stage, excited and nervous. All of my feelings were mixing inside of me as I watched Gretzky on the stage, like the generations before me had watched him work his magic on the ice. He called my name. Well, not exactly. He mispronounced it as something like Kourelse, but I didn't care. Wayne Gretzky wanted me to be a part of his team! For the first time in my life, I had a feeling of absolute joy.
The next few moments of my memory are lost behind a fog. I know I shook hands with Orr and went up the stairs to the stage where this hockey god was waiting for me. It felt like a movie scene; something that just couldn't be true. I realized the whole stadium was watching me. All of the eyes and cameras were on me and the only thing I could think of at that moment was not to trip on the damn stairs.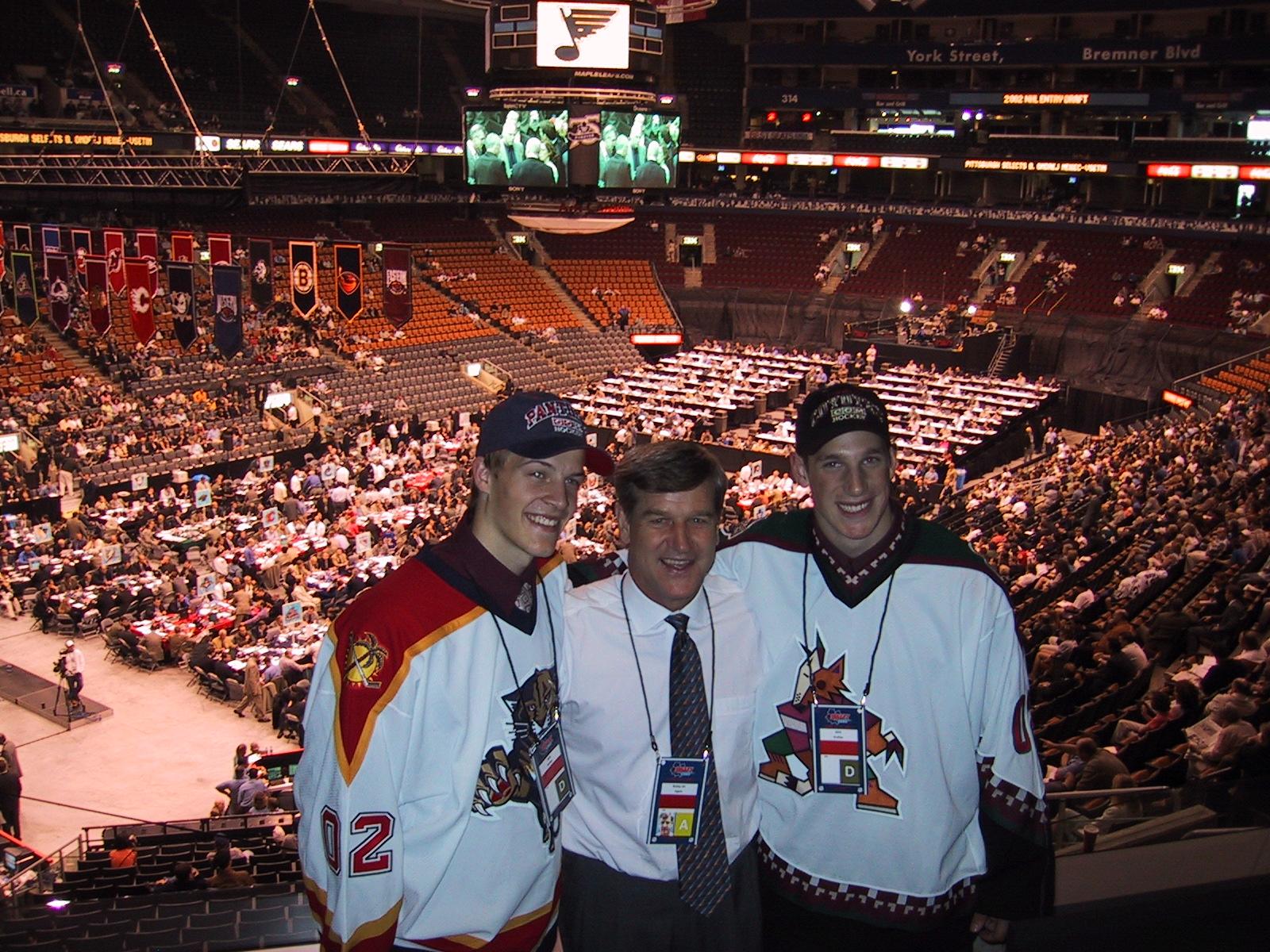 Gretzky shook my hand, I put on the jersey, I accepted congratulations, I heard the words that were welcoming me to the Coyotes. 'Stay calm, you will probably meet Wayne every day in the stadium now,' went through my head. Before I could even grasp the magnitude of the moment, I found myself in interviews, photoshoots and whatnot. I felt great and relieved that it was over.

After arriving at the hotel, I immediately called my dad, Jiri: my hockey idol. I admired him for all my childhood when he played for Pilsen. It was unimaginable to call from Canada to the Czech Republic using a mobile phone back then. I had to use a regular telephone and the internet was just a baby at the time, so my dad had no idea what was going on. He waited until the middle of the night before I called him.

"Dad, I got picked by Phoenix as the 19th pick," I told him, excited.
"Nineteenth?" was his first reaction.
That just shows how little was known back then about the draft in the Czech Republic. Just a few people knew what it meant to be chosen in the first round. I didn't even understand how important it was until I started playing juniors in the States. It just showed how good I was; better than other players at my age.
Instead of accepting this fact and getting a confidence boost from it, I still had some unnecessary doubts about whether or not I really belonged there.
Unfortunately, this is a character trait that I have carried since I was a child. I tend to overthink things and come up with absolutely unreal possibilities. At the time of the draft, I reminded myself that it was just the beginning — that being drafted is a success but nothing more had been achieved. This was obviously true, but a little bit of confidence wouldn't have hurt me.
All I had to do was realize that NHL clubs had been watching me all the time, throughout the season. You wouldn't even know it, but they gather information about you from so many places and if, in the end, they pick you, there has to be something special about you. Phoenix believed that I was the 19th best player in my year, but I wasn't able to figure this out and use it to my advantage. I know this now, but back then I just focused on working even harder to get better.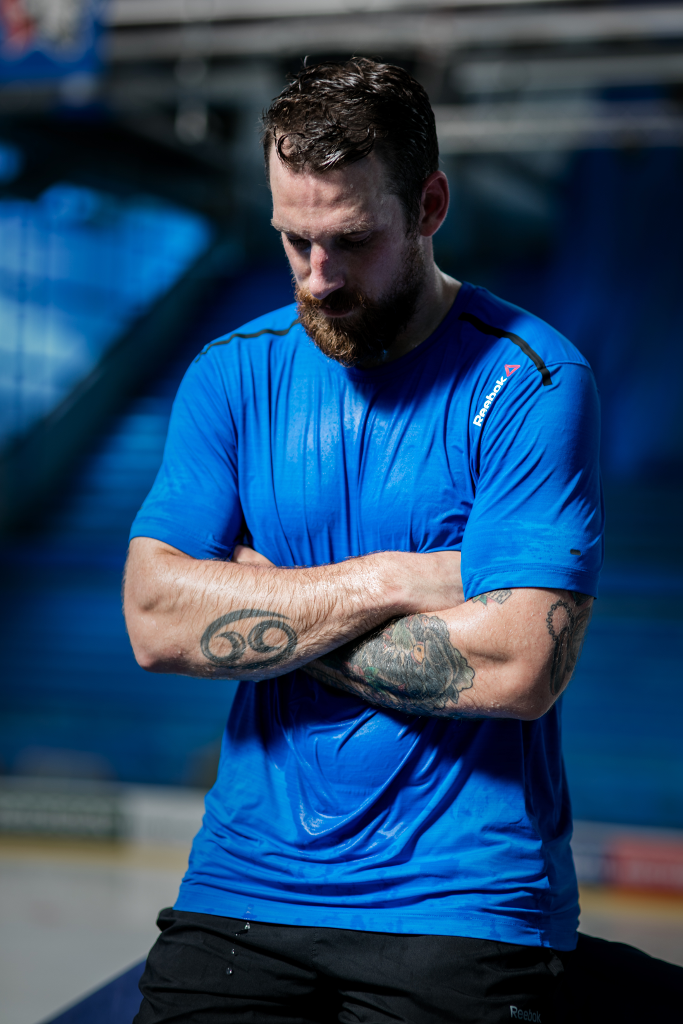 I've never had problems with working out. I'd even say I did it more than others. During the summer after the draft, I felt like I was working harder than I ever did, but when I arrived at training camp, I realized it wasn't enough.

The intensity of the practices was way above my level. Sometimes, I felt like I just couldn't catch up. It was obvious that if I wanted to play here I had to find someone who could show me the correct preparation methods and how to improve.

I got sent to juniors in Guelph, so I spent my next summer with a conditioning coach and was in the best possible condition. But the 2004-05 NHL season never started due to the lockout. Not only did myNHL opportunity get pushed a year down the line, but the farm team in Utah was filled with other ambitious players.
I was still just 20 at the time. There was still time to move up. My first season in the AHL was good. Everyone felt like I was knocking on the door of the NHL team, and that I should be ready when the next camp started. When I look back, I realize this was when the NHL window opened for me, during my second year in the AHL — during the worst season of my life.
I had really grown up physically during the summer and when I arrived in the AHL, Gretzky, our coach at the time, and general manager Mike Barnett told me to continue what I was doing and I'd be one of the first to get called up. I wanted to go up so badly.
I remember coming to the bulletin board during camp and this was our roster. Left wing, Shane Doan. Center, me. Right wing, Brett Hull.
I wasn't there the next time, but in the only exhibition game that I played for Phoenix, I shared the ice with Doan and Brett Hull. Brett freakin' Hull! That was the first and last time I wore an NHL team jersey.
Even today, I can't explain what happened that particular season. I know that I was well prepared. I practiced more than usual and I wasn't that bad in the first game, but I didn't get any points. Points are everything in the NHL. If you don't get them on the farm team, they start to look for flaws in your game. Pressure follows, and I didn't take it well.
I can still see myself sitting at home, talking with my agent on the phone, or calling my father pretty much every other day. It was hard for him to give any advice across the ocean when he couldn't even watch my games. I still gave it my best, but it didn't work out for whatever reason. And if it doesn't work after a while, you get pushed lower in the lineup. You get put on the fourth line, on the very edge of the roster and it gets really hard to climb back up the hierarchy. Every year, there are new players, guys like you, from the first round of the draft.
In time, because there are more and more of them, you realize you missed your chance. The next year when I arrived, I got sent straight to the farm team and even there, I didn't get to play in the first four games.
I stayed patient and my chance did come. In 15 games, I had 10 points. But it was too late. Maybe I would have fallen out of their plans anyway, but at least I could have said that I played in the most famous league in the world. Today, I know there were three reasons why I didn't become the hockey player who I was supposed to be.
First: I was always pushed forward in age groups. I was always bigger than others my age. At 16, I got put in an older division. At 17, I went to the A-team. In juniors, I managed, but playing with adults while I was 17 was too much. Usually, players hone their offensive talent around this age.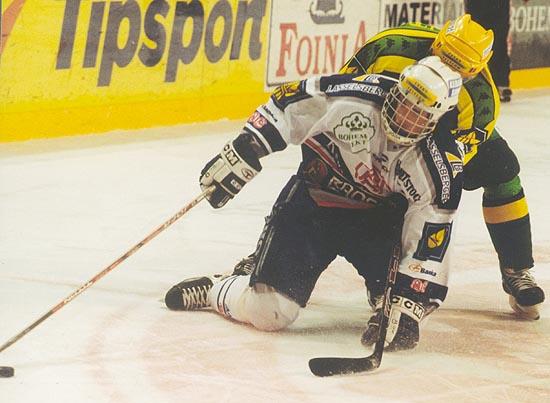 I don't blame anyone. I was eager to play with the adults. If they hadn't picked me I probably would have been angry. There was no way you could have explained to me then why I should not advance. But instead of playing nonstop on the first line in juniors, I got stuck on the fourth line.

There were situations where I traveled for a match on a Thursday, played five minutes for the A-team on Friday, played with juniors on Saturday, with the A-team on Sunday, plus some extra days. A regimen like this is too much, even for a fast-recovering, young metabolism. You end up being everywhere and nowhere. None of the teams is really yours.

I know now that at that time, I was supposed to be improving my offense, but my only job then was to prevent our opponents from scoring, and if I did my job right, I'd play again. Maybe the offensive talent wasn't in me at all. But if it was, this time in my career just killed it.
That something was not right was apparent when I got to the juniors in the States. I was one of the older ones there and I wasn't as dominant as I should have been. If I stayed for another year, I would have to get an exception. Maybe it would have been better – I'd dodge the NHL with players from the lockout year and that would give me some more time to gain extra experience, but that's a lot of ifs.
Plus, my role in the Pilsen A-team was defense. That shaped my mindset more towards the back end of the ice. In the NHL, they don't pick a good defensive player to play the same role on their team. They can teach pretty much anyone how to defend, but the offensive creativity has to be in you. Even for a defenseman, it's important to be productive and have the technical qualities. The team will shape you for what they need.
Time for reason No. 2 that my NHL career never happened: Injuries.
Every day, in every pub, you can probably hear at least five stories just like this. I'm not using it here as an excuse, so all I'll say is that just like any athlete, I had to battle with some health issues. Full stop.
Reason No. 3: Being overly honest.
As I mentioned above, I tend to overthink things. When a coach tells me to defend I'll absolutely change my game to defense, even stripping it of any offensive approach. That's why my stats were not that good.
This has a positive side as well because thanks to this, I still played hockey professionally after I left the States. I don't give up on anything. I'm reliable, and I feel like the coaches that I had in the last few years of my career noticed that and appreciated it.
And that leads us where I ended up.
After my contract with Phoenix ended, it seemed my best option was to return to Europe. I wanted to try my luck in Finland where I got a pretty nice offer, and then maybe try to get back to the NHL. I didn't know then that it was over for me in the States.
After a year with Ilves spent mostly with a knee injury, I returned to the Czech Extraleague. I still had ambitions. I wanted to play for the national team. I wanted to be seen. My second year with Sparta looked promising; it looked like I'd finally found myself. But it ended during the playoff quarterfinals against Vítkovice when I jumped headfirst into a barrier and spent the next three months in a bed with a fractured vertebra.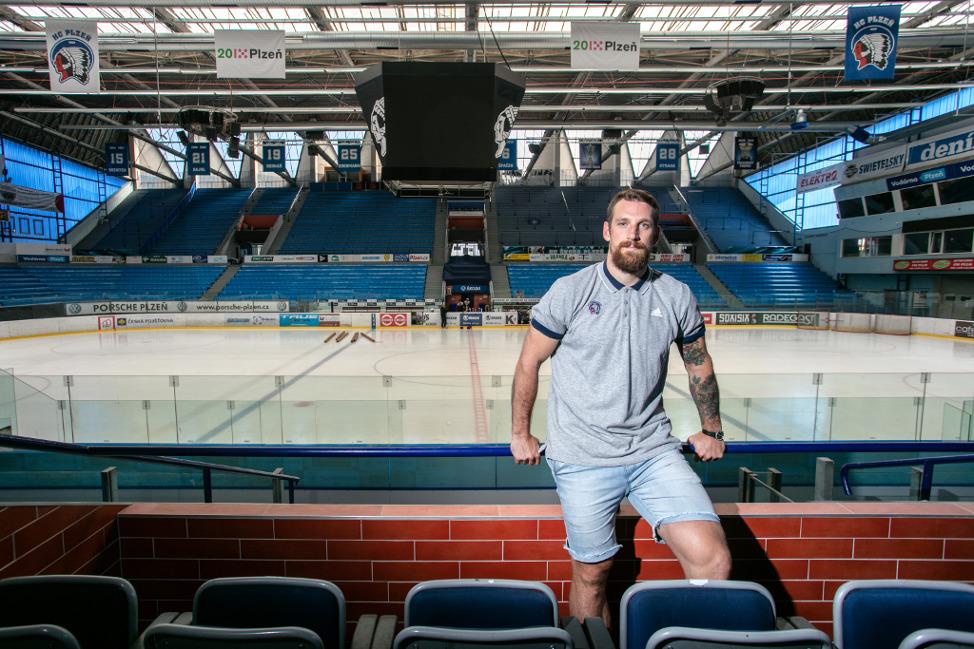 I'm 37 and I keep thinking about what I did for a living and what I managed to achieve in hockey. I don't like being labeled as the guy who failed in the NHL but I'm over it now. Would I change anything? Maybe I'd be more selfish, but when I consider what hockey brought me, I feel nothing but gratitude. I played in Sparta Prague and Kometa Brno. Both organizations have a great history. I found a second home in Brno during my five and a half years there. I had everything I needed; people loved me. I had the luck to be present at the transformation of the club from an Extraleague novice into a favorite. Despite not winning the title, we had our successes. I was happy, I had great teammates and I fell in love with the city.
I spent a few weeks in Austria, but when I returned I always felt like I really belonged there. And I knew that I should be thankful for all this because not everyone gets to play and work in such great conditions.
One time, we were sitting in front of stands full of our fans, who were thanking us for a victory. Seven thousand people standing, singing, and all you felt was the adrenaline pumping through your veins.
I realized then that I may have failed at what I dreamed about as a kid, and that some people would doubt my abilities because of it, but that my career was, and still is, great. I've achieved things many of the older juniors dream of and 99 percent of them will never experience.
All of this was punctuated by my return to Pilsen. All it took was to return to the stadium and smell it. It was still the same. Nothing had changed over the 13 years I was gone. As a 5-year-old kid, I watched my dad play there, and I would always run from the stands along the boards to the dressing room after each game. I can still see it so clearly. I would always look forward to the moment when I could put on my dad's sweaty gloves, his wet helmet, which wouldn't fit me at all, take his hockey stick and run around between other players, who were changing from their gear.
Ivan Vlček, Milan Volák, Josef Řezníček, Petr Kořínek. It took 12 years to meet with them all again as a player on the A-team, and with my own gloves and helmet.
I remember how my dad lost all his front teeth. It was during the semifinals in a playoff game against Vitkovice in 1992. I felt so angry because the player who did it wasn't even penalized.
To wear the nametag Koreis on my back was what I always wanted. To be like my dad. There was nothing else but hockey. I've spent my days either outside, playing with my friends, or at practice or at least shooting home in between the legs of my table, pretending it's a net. And I've never broken anything. I guess I was more accurate back then than I am now.
When I see the kids in the stadium I know exactly how they feel. Because I've been there just like them and it was the highlight of the day when some player gave me a high five, or he just said "hi," and patted me on the head. Kids can get so invested in the game and even just a fist bump is enough to make them happy.
Games in Pilsen were always special for me. I'd always be so overly motivated. I took my whole family to my first match in the Sparta Prague jersey. I bought about 25 tickets. Everyone wanted to see me.
I had a fight with Michal Dvořák in the seventh minute of the game and we both went out until the end. And to top it off, people were yelling at me "Fuckin' Spartan!" My granny probably didn't enjoy it very much, but it's the nice memories that usually come up; the short moments of euphoria which you get through your years of hard work.
The seventh game of the 2014 semifinals for Kometa, we managed to come back from down 3-1 against Sparta. Fifteen seconds before the end of the game, I was standing on a faceoff in our end. We had a one-goal lead. Pretty much our whole season rested on those fifteen seconds. And when our whole bench jumped on the ice in ecstasy, the tension fell off me in an indescribable way.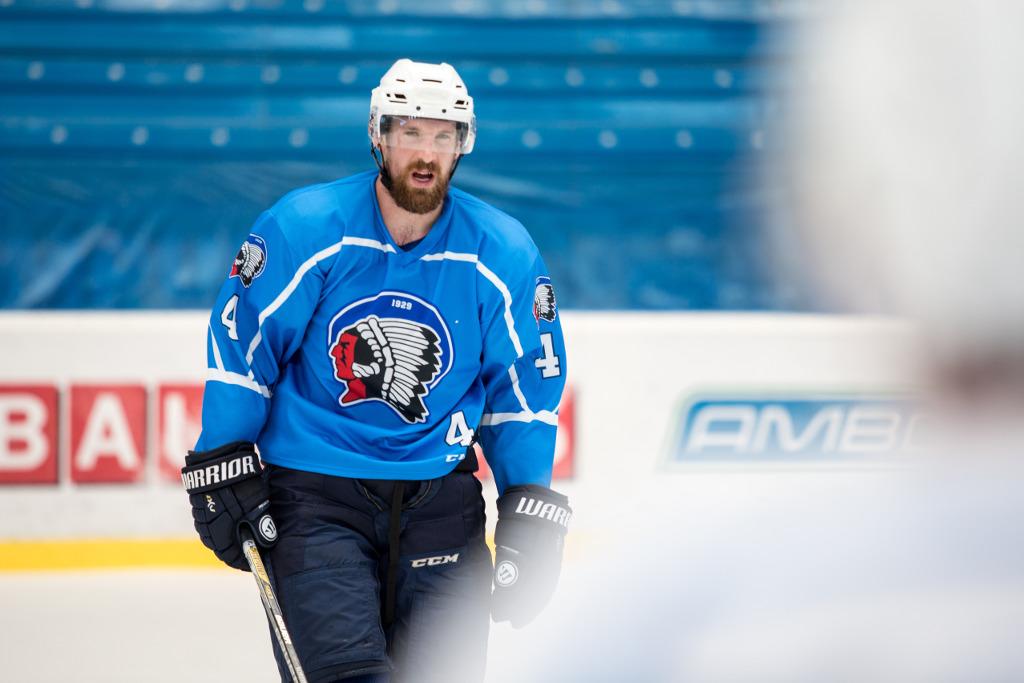 Or in a seventh game against Zlín a year later. We won 5-0 and I scored the important second goal and managed to add an assist. We were really just enjoying ourselves during the last third, feeling the fans and how we made their day better.
And the overtime in the sixth game against Pilsen. We ended the series there. I managed to win the puck along the boards over three opponents and then send it to Hynek Zohorna, who went in alone and scored. That goal moved us on to another round.
This is what the reward for all that work, pain, and even disappointment looks like. I couldn't have wished for more: To be back home, on a great team full of young boys. I was in great condition, I still had the drive and I believed I could stretch my career for a long time. When people on the street stop you just to tell you that they're glad to see you back, it keeps you going.
I may have missed my chance in the NHL, but I'm still proud of what I achieved. I got to play in front of my parents and my childhood friends. In time, I realized that's the greatest thing I could have achieved. I wouldn't change a thing.
Jana Mensatorová and the archive of Jakub Koreis