The day was weird from the start. Sometimes you just feel it.
The coach sent us out for a morning skate and I thought I'd much rather not go; just rest instead. I should have said I wanted to take the morning off; that I'd be there for the game. It's quite common nowadays and like I said, everything felt off.
The hockey stick in my hand suddenly felt alien. My skates felt as if they were not properly sharpened. Every hockey player has experienced this sensation — you don't feel comfortable in your own gear without any objective reason. It's just… a hunch. But this hunch can become a problem in the back of your head. Especially for me. I've always been a gear freak.
I frustrated the Edmonton Oilers equipment managers. I needed my skates sharpened differently, based on that specific arena's ice. I'd customize my skates and try out different fits. I'd send about 70 adjustments to the hockey-stick manufacturer and yet still before the game, I'd file the blade or shorten it at the top, simply because I felt it wasn't right.
That's why it's sometimes better to skip the warm-up and come straight to the game. You avoid distracting thoughts about sharpening your skates or preparing three new hockey sticks.
Or four.
Or two.
This was on my mind all day. I was not in the right mindset to play.
And then we lost game 7 of the Stanley Cup Final against Carolina that day.
But I was young. So much had happened during that year and a half in my career that I didn't care that much. I was 22 years old and everything had happened so fast. I had a fresh Czech title with Pardubice during the NHL lockout season. I had a gold medal from the World Championship with the Czech national team where I had the opportunity to play with the guys from the so-called "Golden generation." And in the middle of the season – which for me ended with the latest possible Stanley Cup game – I had a bronze medal on my neck from the Olympics.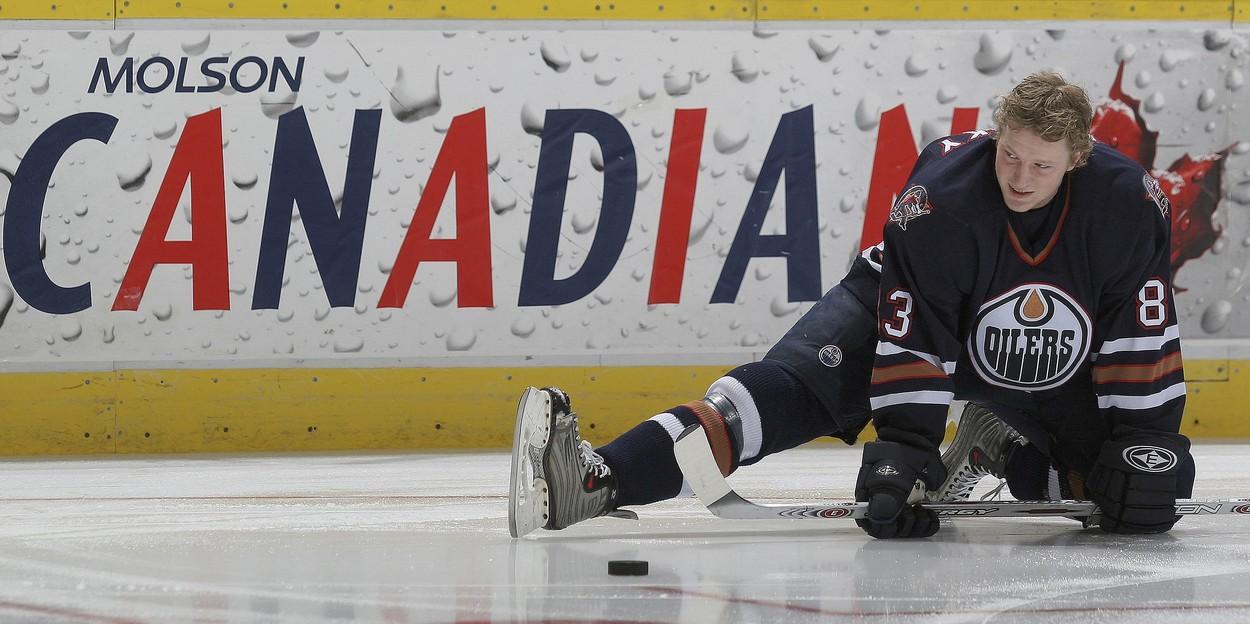 I thought that we'd win the Cup with the Oilers some other time. Never mind, let's move on. I was tired from that intense period but I thought it would go on like this for my entire career. I felt untouchable; I could do whatever I wanted.
It wasn't like that.
Early in the summer of 2006, as a world champion, Olympic medallist and Stanley Cup finalist, I didn't realize that it was probably going to go downhill from there. There isn't much more a player can achieve in the hockey world.
I didn't realize that apart from the successful playoff with Pardubice, where the coaches let us play our own way, I didn't contribute that much to the other teams with which I had success. I was too young to add anything apart from a few goals and assists; to make a difference.
I was maturing more and more with each year and in my eyes, I was improving, but it didn't lead to any success. The season after the finals we didn't even make the playoffs with Edmonton.
Okay, shit happens, I thought. But we didn't make it in the next season either. Even in the third one.
Suddenly, nine years had passed and my last NHL playoff game was still a Game 7 loss to Carolina.
I didn't give the situation much thought. In one of the games back in Edmonton, I got hit by a loose puck on the bench. Somewhere between the temple and the ear.
It hurt but I finished that game.
But during our flight home, I began to feel as if I was sailing on a ship in rough seas. I felt sick as if I were to puke. My eyes were darting back and forth and I was losing my balance. I almost didn't make it to the stadium in the morning. I didn't think it was a good idea to sit behind a wheel and drive a car while the whole world around me was spinning, but somehow, I managed and once I got to the dressing room I rushed to the doctor.
By then, I already had some experience with concussions. Getting ambushed on the ice was nothing exceptional in the NHL at that time. Even though it was annoying, I could at least recognize the symptoms and knew when to take a break and skip a game. But this was different.
This was really weird.
The old Edmonton arena had nothing around it. The hotel in which I was staying stood right in front of it so you just had to cross the parking lot.
I spent the days in my room, getting VHS tapes downstairs at the front desk. My food was all crap.
I was 19 years old, I had just signed a contract with the Oilers and I thought this was what my life in the NHL would be like. Shortly after, however, general manager Kevin Lowe called me and said they wanted me to live with the owner of the club.
At first, I didn't want to do it. I felt like it was just because they wanted to keep an eye on me because I was young and wild, but I agreed to at least go check it out.
What I saw amazed me. The house was a regular castle. It even had a little tower.
There was a pool in the basement, a jacuzzi, a bar, fridges full of drinks and food. We were greeted by an assistant and Bruce Saville himself, a philanthropist and a former owner of the Oilers, welcomed me into his office where he had memorabilia from Wayne Gretzky on display. He gave me a tour of the house.
"This floor would be yours," he told me.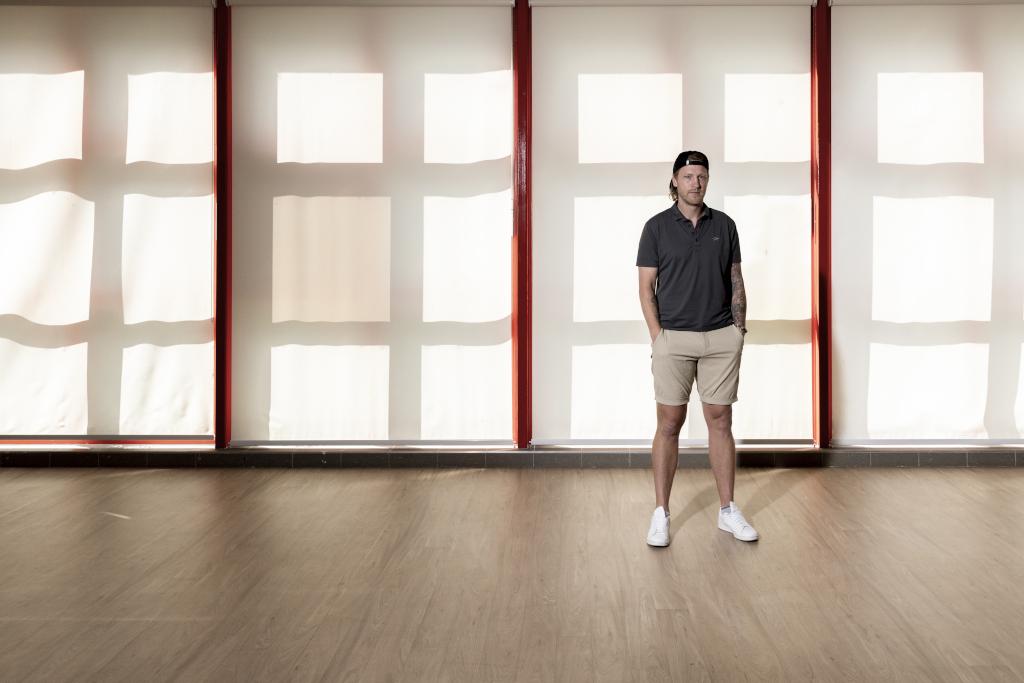 And so I said yes. I was a little worried about all the luxury, but then again, who wouldn't want to try it? I figured I'd give it a try and it was one of the best decisions in my life. Bruce became like a second dad to me. He did absolutely everything for me. I could ask for anything I wanted. I didn't pay rent or food. I felt at home and my only concern was playing hockey. If not for that, I'm sure I would never have become the player I was. I would have struggled alone in the group of older players, trying to fit in. But Bruce created an environment for me that felt like home.
Just like when I was a kid. All I did was focus on hockey. I was lucky.
At the same time, I never felt any pressure from Bruce to behave a certain way or repay his generosity on the ice. He has a good heart. He saw a shy European boy and tried to help him feel comfortable on his team.
More than anything, Bruce was a fan. All he cared about was how the game went. Whenever we talked, it was always about every-day things. He even tolerated my occasional parties. If it was too much, his assistant would throw us out, but it was all good. Even that one time we woke him up with noise from the garden and he got out, sleepy and in his bathrobe, and thought that the guy riding the bison statue was his son who lived somewhere else.
"Kennedy, what are you doing?" he said as he squinted into the darkness.

"Bruce, it's alright, it's one of ours."

"Oh, alright. Have fun then, boys…"
When the NHL banned owners from housing their own players due to violations of the salary cap, Bruce still asked me if I wanted to stay at his place; that we would figure something out. I thanked him, but I knew that I needed to start taking care of myself so I could grow as a person as well.
It should be no surprise that I never wanted to leave Edmonton.
The club was a family. Bruce, general manager Kevin Lowe and coach Craig MacTavish raised me. Literally raised me. They were handed a boy with maybe some hockey skills who was scared of everything around him and they protected me. I'm not sure if there ever was someone as lucky as me in such a position at the start of their career.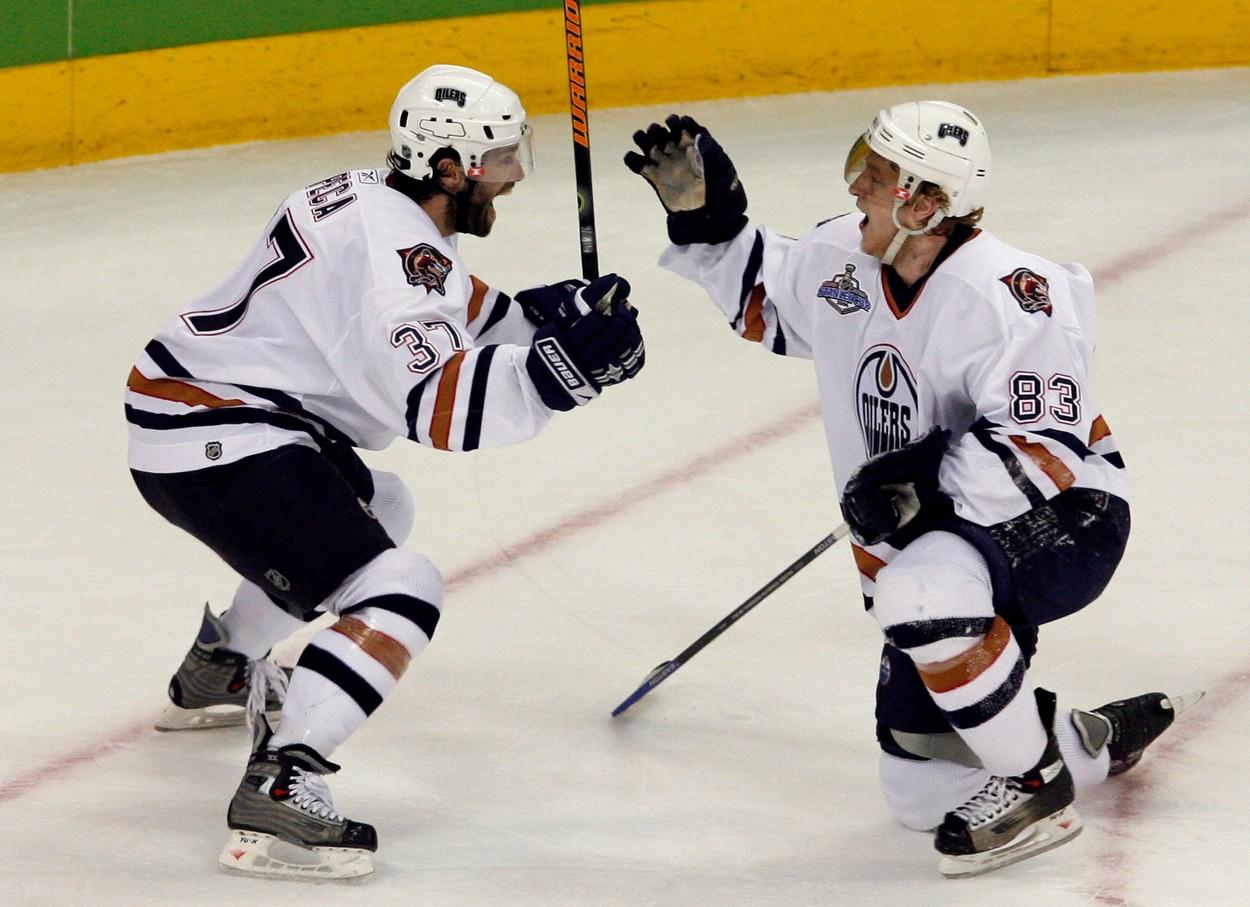 I'll never forget how Kevin, who won six Stanley Cups as a player, called me into his room before my first playoff. We sat down and talked for an hour about what was to come so I'd be ready. It was as if he was talking to his son. He didn't try to force something on me; to tell me that they expected goals from me when they drafted me in the first round. He told me because he cared about me playing my best game. He cared about me feeling good.
I know that's how he worked with everyone on the club. He was a good leader.
When you read the news about how bad things were with the Oilers, you thought, 'Those people have no idea what it's really like.'
I should have left anyway. Five years before I left. I should have done it like Ryan Smyth, who just decided to go and left. I could have. The options were there, but I told myself I couldn't do this to them. I was grateful to all of them for helping me in the beginning and making me happy. It was my first club. I didn't know anything else.
To be such a good guy in the NHL is not a good thing. Not when you're playing a lot of games which don't really matter and you know that you need something else.
Team doctors had no other explanation than that it was another concussion. They tried and tried but couldn't figure out any other explanation for why my whole world was spinning. We were flying to New York where our doctor knew a specialist. I travelled with the team and paid him a visit.
Just one examination was enough for him to know what was wrong. I laid down, tilted my head backwards and just as my eyes started spinning, he knew.
Vertigo.
It was indirectly connected to my concussions because the constant hits had affected a centre in my head which coordinated the sensations of sight, hearing and touch. To this day, whenever I'm sitting on a plane with headphones on, I feel weird. As soon as I turn off one of the senses, the rest don't work together and I get sick.
Back then, I rested for some time and once the acute problems disappeared, I played again. But I never managed to shed this strange feeling. It was as if it was still back there somewhere in my head like I was still one blow away from being in huge trouble.
In the end, trouble found me.
I've been like this since I was a child. Wherever they put me, I would play quietly with no complaints or worries. My brother is just a year and a half older and he always brought me along with his friends. I grew up among older guys which made me feel like I was somewhere safe because those guys always took care of me. I had my path where no one could hurt me. They were protecting me. Protecting little Hemy.
It was like that until I turned 16 and showed up for the A-team.
Suddenly, in the dressing room, I was afraid to even say a word. One reason was that my dad was the assistant coach and I didn't want to give anyone a chance to say that I earned my spot unfairly. But mainly because back then young players were expected to be nice, greet everyone and then sit down and wait for the older guys to tell them what to do.
I felt that I had to act this way and show no initiative.
Guys like me were common in professional Czech hockey at that time and I'm sure this is the exact reason why they got stuck in one place. Simply because they were afraid. If you, as a coach, could choose players from a pool of 50, someone always stood out, but the rest simply didn't make it because no one helped them. Even though there were good players, they simply didn't get the chance to mature mentally. No one invested their time in them.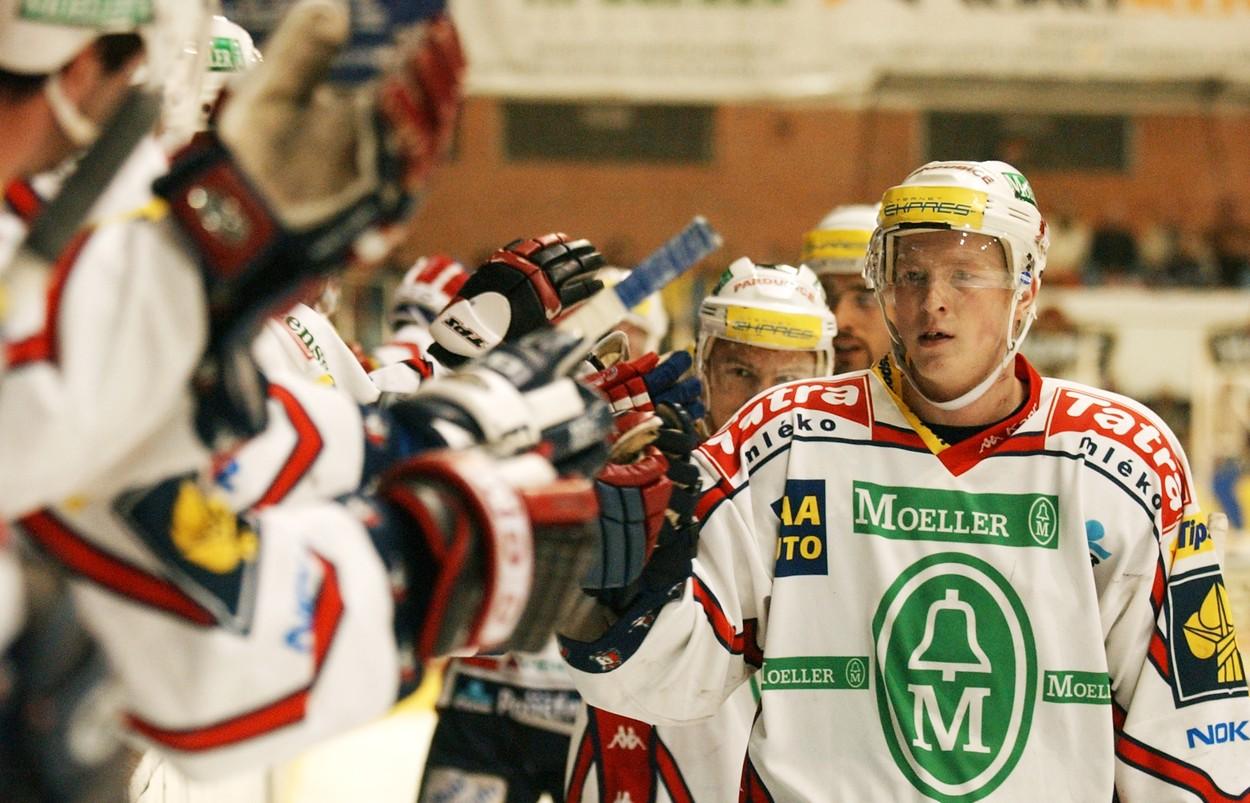 From a hockey perspective, it was an incredible experience. I watched at practice what all the older guys could do. I'll never forget Tomáš Blažek passing underneath his opponent's stick. He always waited for the right moment and passed the puck perfectly. You can bet I was trying to do the same.
However, I'm pretty sure I could have learned that by watching it on TV or from the stands. If you like something, just by watching it you can learn a lot. I'm sure my hockey growth would have progressed the same even if I hadn't made the A-team back then.
The issue was that I — and many more —needed mental help. We needed someone from the older generation to accept us; to ask how we were doing and to give us some simple advice so we could feel like part of the team. A few words would have been enough just to join them. "Don't just sit there, come join us." Little gestures that would help our self-confidence.
But that's not how things worked back then in Czech hockey. I'm not saying the players were bad or mean. That's simply how it was. Show you can make it or bye-bye. It's up to you, kid.
How different it was in Edmonton!
But I was hesitant there at first. Everything was fine at the rink. I could be myself, but everything around it annoyed me.
Even before the first playoff game as a junior in Hull, when he handed out some papers and I didn't understand them, the coach yelled at me about what kind of idiot I was that I still didn't know the language after one year. All I could say was, "sorry" and it almost made me cry. I felt stupid, it was embarrassing, and I thought to myself that maybe I was that dumb. Even an experience like that marked me and added a piece to the mosaic that caused me to be afraid of speaking up.
A great example of this was interviews in English. I was terrified of them. I focused so hard on not making a mistake. I didn't want to look like an idiot so I didn't say anything at all.
Thanks to my therapist, I recently found out I'm dyslexic. I had no idea when I was a kid, but at least now I know why I had all the problems. I struggled in school. Whatever I read I couldn't remember. Back then, no one really cared. I was simply not very bright. Fortunately, my parents were amazing and didn't push me to do something unnatural to me. They let me focus on hockey. I finished elementary school and didn't even pursue further education.
I see that it could have backfired. As a father myself today, I realize what a risk it was for my parents. But I'm looking at it from the angle that they knew what made me happy. So what? I eventually learned English in Canada and travelled throughout the world thanks to hockey. The lack of education didn't limit me. My nature did. I was a small vulnerable kid tossed into an environment that didn't go easy on me.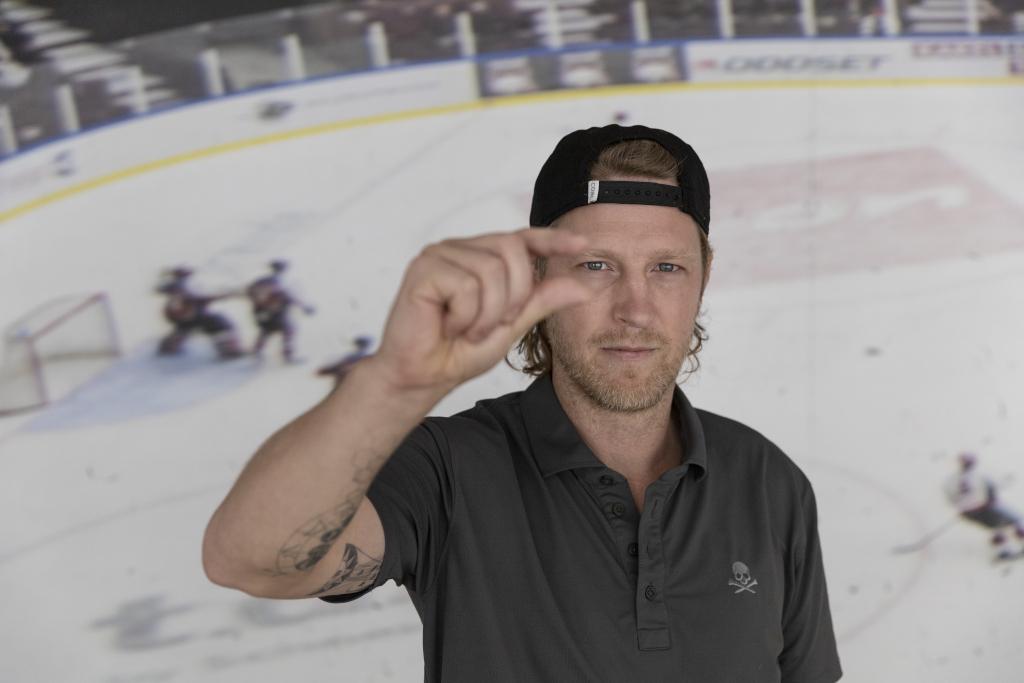 It didn't concern me until I learned in Edmonton that there are other ways to do things.
Even in my junior year in Hull, I didn't play at first. They were testing me and I had no idea what was going on because I was the only Czech there. There were no mobile phones, just telephone cards with $5 which usually ran out of money in the middle of the call and that was it. That was my only connection to home. It wasn't until my dad flew over about a month later and stayed with me for a while that things started to improve and I started playing more and better. But I was still kind of an outsider to my teammates.
All I needed was my one small suitcase of clothes. I kept changing three shirts and two pairs of pants. I never cared about clothes, but others thought I had no money and started to bring me their own stuff so I could wear something else. I tried to explain that I could buy something, but I didn't need it.
I felt like a beggar, but they meant well.
It was because of these beginnings — and how different it was in Edmonton — that I later focused on helping younger players and made sure no one had to go through the same troubles that I had experienced. Luckily, there were more of us. The environment that Kevin, Craig, and Bruce built with their co-workers was set up so it helped the most vulnerable ones.
We tried to take the young ones into our group. As soon as we saw one of them struggling, we took him out for dinner. We involved him. Not everyone of course. If someone didn't care then you might have advised him once or twice and watched his reaction. If he didn't want to be helped then we let him handle it himself. But guys like that didn't last long.
It was interesting to watch boys who reminded me so much of myself when I was 18. Take Ryan Nugent-Hopkins for example. He was such a nice and quiet boy that it was actually bad for him. We needed to show him he belonged with us to make him feel better so he could play his best.
It's entirely different with us Czechs. More experienced players who came to the Oilers were a huge help, especially Radek Dvořák. From the moment he appeared in the dressing room, he did exactly what I needed from him. The man didn't know what a bad day was. Even if World War III was raging outside, he would come with a smile on his face and an attitude that all was going to be well. And then Jaroslav Špaček joined us after the trade deadline. We were going out for beers together and I could go to their homes where they cared for me like their own son. They became my safety net in an environment in which I had no parents or friends close by to show me the things I didn't know yet. They supported me so much that I could go to them whenever, whether to talk about a bad game or just life.
Later, when I accommodated young Radek Faksa in my home in Dallas, I was only repaying what I had learned from my young days; what I learned in Edmonton and what helped me grow as a person.
I should have left the NHL and gone somewhere in Europe. I had undergone two shoulder surgeries and I had long-term problems with both of my hip joints. After the World Cup in 2016, one of the hip joints needed surgery so I missed almost an entire season and was pondering what to do next.
When Montréal called, I wasn't sure, but I took the chance. I didn't want to leave the NHL just yet. But just as the season began, we played in Anaheim and I took a couple of hits every shift; the hardest one from Corey Perry. I had to leave the ice for the dressing room. Suddenly my vertigo was back and worse than ever. The whole world was spinning.
Luckily, Montréal has top-notch medical support for players, even by NHL standards. They took great care of me and tried to figure out the cause of my problems. They even got me to visit a college doctor who treated veterans from war with PTSD to figure out how to get rid of my vertigo.
He began by measuring how bad my problems were. He gave me glasses that monitored the eyes to precisely record what they were doing during my vertigo episodes. How they darted back and forth. He projected various 3D objects which were spinning around me to induce vertigo.
It still makes me sick. It was as if the whole planet was spinning around you, and you were flying upwards at the same time. It made me feel sick as never before. I panicked and felt like my life was in danger. I held onto the table there and begged him to call an ambulance because I was going to pass out.
He took me outside for a breath of fresh air where I lay for about an hour before I was able to function again.
"Shit, I guess I'm not okay," I realized.
I don't know what I was thinking but I guess I was feeling confident about that game or maybe the atmosphere of the Battle of Alberta derby. When Calgary's Chris Simon hit me, I hit back.
He could have crushed me if he wanted to. He was a mountain of muscle and a madman who was able to go way over the edge.
Back at the bench, I realized what had happened. What had I done? "Holy shit," I thought. "He'll want his revenge now." Then Georges Laraque, our goon, leaned over to me. He was a huge, muscular dude. He knew how to fight and he was smart enough to do it in front of our fans, strengthening his own image.
"Chill," he told me, smiling. "Just watch."
At the faceoff, Georges was on the wing across from Simon. Simon didn't want to fight, but Georges dropped his gloves and it was on. Georges got him good; blood was spilled. And then our fans cheered for him.
Our line went out for a faceoff just as Simon was leaving the penalty box. "I'm gonna kill you for that," he shouted while he was passing me.
I was this tiny kid. Back at our bench, I rushed to Georges and asked him what I was supposed to do now.
"Gimme a minute," he said.
Every time Georges was on the ice after that, he went after Simon, not giving him even a second of rest. I was scared that even in the years after that, Simon might remember me and he was going to beat me up somewhere, but for that one day he gave me a break.
But I was always getting beat up by somebody in the NHL.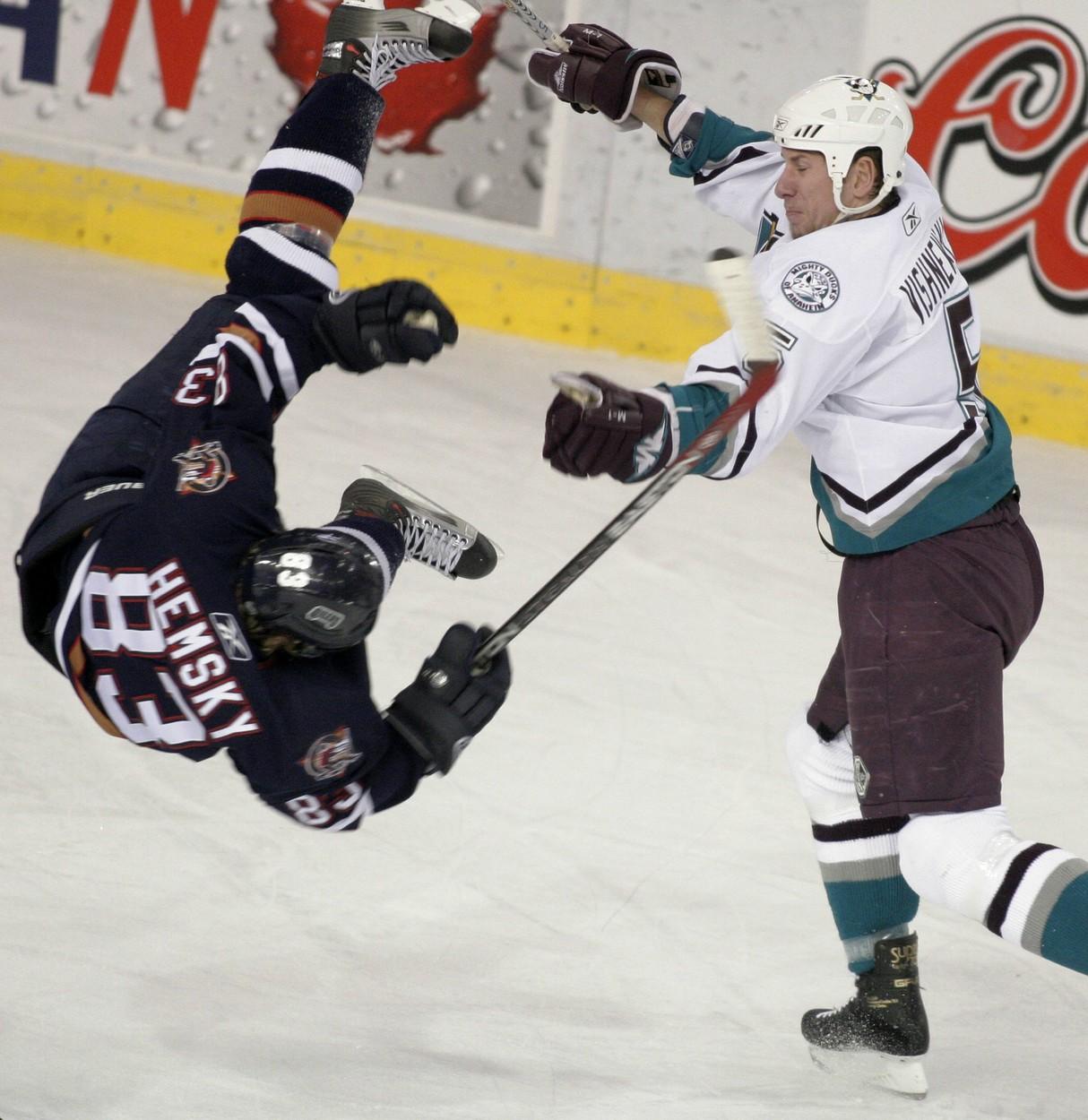 People said I was soft, but I wasn't scared of going in front of the net, where it seriously hurt sometimes, and I never complained. I just didn't fight.
Why would I fight when we had boys like Georges on the team? It seemed pointless to spend five minutes in the penalty box when I could play and help my team in the way I was supposed to help.
I would like to show anyone calling me soft my bloody hands when we played against someone like Chris Pronger or Al MacInnis. Or in Calgary when we were up against the defence of Denis Gauthier and Robyn Regehr. The first one got me with an elbow to the head as soon as I got close, and the second one played fairly, but once he got his hands on you, he shoved into the boards with incredible strength. That man destroyed my body like nobody else.
Playing against them didn't seem very soft to me.
Do you think tough play discouraged me? On the contrary. When someone got me angry, I was more inspired to make him look like a fool. A gorgeous feint, take his puck, fly by him for a scoring chance. The more someone beat me, the more I wanted to play against him and defeat him.
Let him beat me, I'll show him.
"Are you trying something? Alright, I'll try something as well. You weigh 40 kilograms more? So what? I can still make you look like an idiot. I'll defeat you in a different way. My way. My style."
That's what I liked. Challenge someone on the other side, just like when kids are playing football on the street and they don't care about the score, they just want to be better than their opponents.
I didn't mind if someone was going after me. I was bothered more when it was too quiet and nothing much was happening. Those games when you're just sitting on the bench, not much is going on, people in the stands are quiet and made you wonder what this was about?
Some guys would still want to score, again and again. It doesn't matter if the game was already decided, they'd still want more. Truth be told, I didn't have that mentality. I was not one of the players who would give it his all when the score was 7-0. I couldn't push more just because it was the right thing to do. Once the game was decided I was already thinking about the next match and how to best prepare.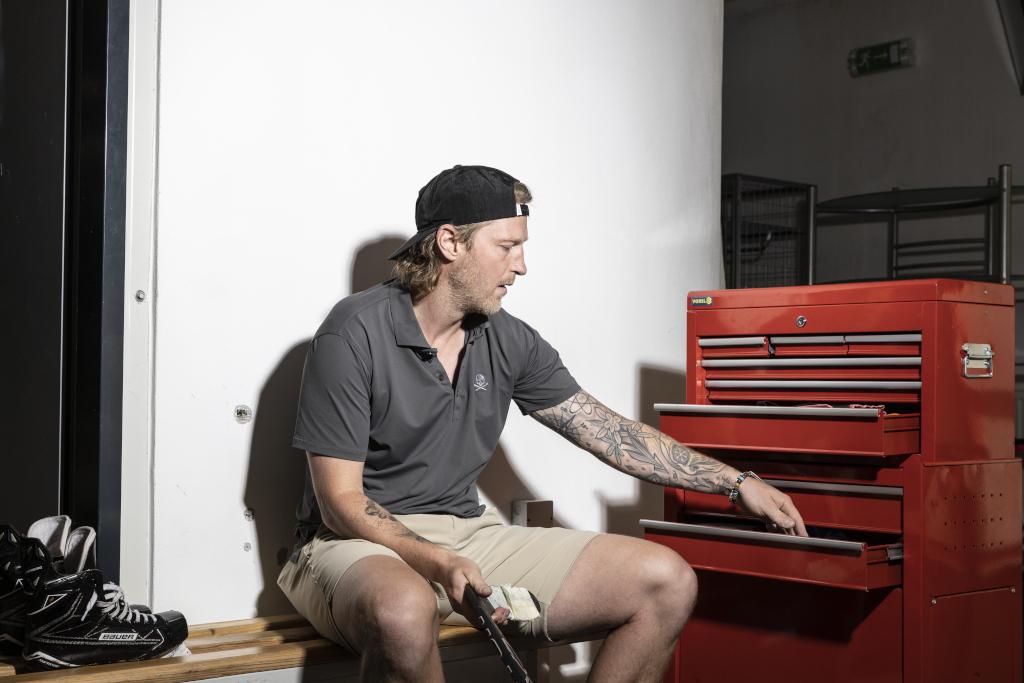 My head wasn't in the game. When we knew from Christmas that we would miss the playoffs, I just wasn't into it, I have to admit. That doesn't mean I would just go there in my NHL jersey and skate around. I'm not crazy, but once there was no trophy to play for and the games meant nothing, I couldn't push myself beyond the limit. People blamed me for it, rightfully so, but I think once you're born like this, there is not much you can do to change it.
On the flip side, I was at my best in games that mattered. Once the game was at a turning point, once something was going on, I wanted to be on the ice and be the one who took responsibility and figured something out. When it was 50-50, win or lose, at that moment I wanted to turn the tide. Or when we were losing, I was that more motivated to turn it and try something new. So what? Worst case scenario we allow another goal if it doesn't work.
I loved tense moments. While some stressed out from it and the people around me got shaky hands, I was fine.
Finally, something was happening!
They said I looked like my nerves didn't exist and truth be told, it even felt that way to me. I never thought about what could happen; what could go wrong. Since childhood, hockey was a place where I was myself, where I was shielded from all the problems and bad grades from school, where I could always just play a game. Nothing changed in that regard over the years, whether in childhood or later in the NHL or on the national team. I was always playing hockey just to have fun.
You probably saw one of those moments on a highlight reel. We were down a goal against Dallas and were trying to come back with an empty net. Marc-André Bergeron wanted to start our last attack but he lost the puck and Patrik Štefan was attacking our net alone.
I and others from the offence just shook our heads and turned to our bench, thinking it was over.
Suddenly I remember the stands began to cheer. I don't even know what happened — whatever, all three of us turned around and said, 'Let's go.' And here I am, I'm alone with the puck on my stick right in front of the goal, in such a trance I don't even know what I'm doing.
My hands moved with a mind of their own. Score.
I don't know Patrik personally and we never talked about the moment, but I felt sorry for him. The puck just jumped over his blade. It happens to all of us. We lost in the overtime anyway.
Marty Turco was Dallas' goalie. We later became friends. He told me that had he not been drinking the night before, he would have caught my shot.
Nope, he wouldn't have.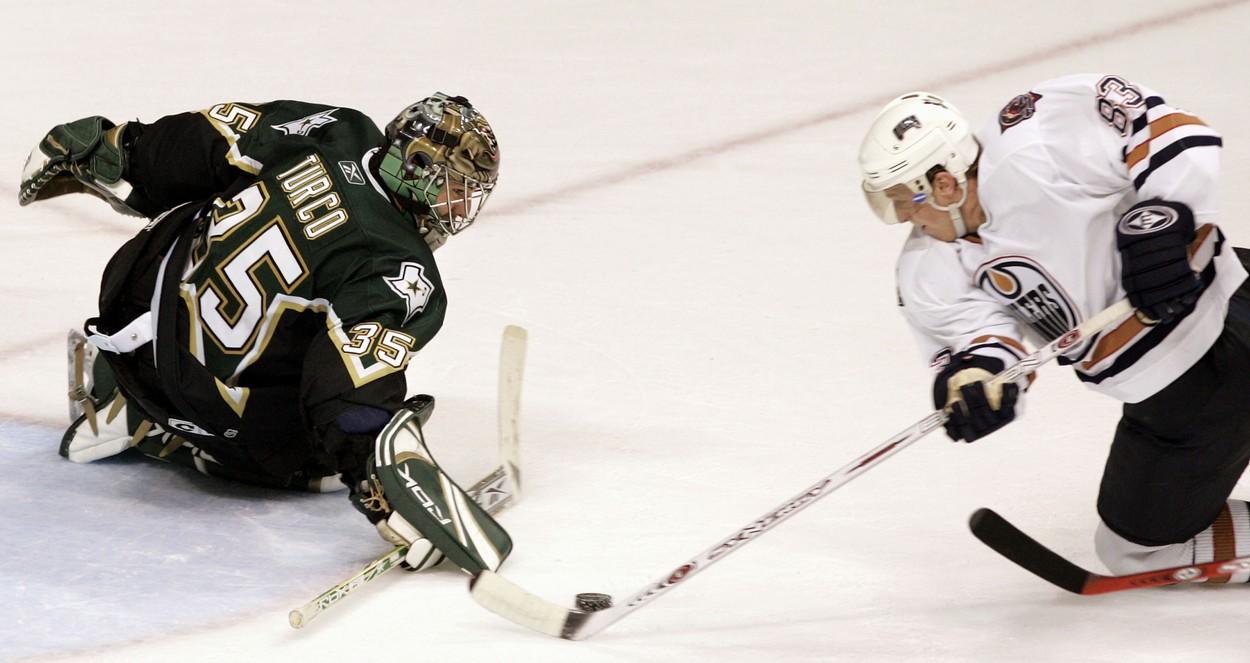 This was the moment for me. A tense moment where you just need to keep calm.
I remember one more moment like this: the quarterfinals of the World Championship in 2005. It was the third period, we were down 2-1 and after a power play when we pinned the Americans in their zone, I got a pass from behind the net close to the right post.
I'm sure there was someone already shouting: "Shoot!" as had happened many times in my career before.
In front of me was a scrum of players. Now what? Shoot it just so I can say I tried and watch the shot end up in the goalie's belly? I saw that happen with many other players. Shoot so no one could say they did wrong, just to get a tick in the stats or make the coach happy.
But what good is that?
Maybe if I had this mindset, I could have scored more. Sure, others were often right and all I needed to do was to take the shot, keep it simple, but I saw it differently.
This action was an example of that.
Their goalie was way outside his net. I wanted to go around him but there was no space. On the other side was Jaroslav Špaček who would always push forward from the blue line.
What now? Either I just shoot and get a tick in the stats or I try to somehow get the puck to Jaroslav.
I made so many similar decisions in my career. Before the issue with my head started to get worse I always felt like I could see in my mind what was going to happen. Who moves where, and who does what. One or two seconds before it happened, I already knew how the situation would unfold as if my thoughts were moving faster than reality. I cannot describe it but it felt like the world around me slowed down and I didn't even need to think. Thanks to this ability, I was able to zigzag through my opponents, get through the best D-men in the NHL or make such passes as the one I made to Jaroslav Špaček, who had a clean shot into an empty net.
I just knew the outcome.
But of course, I also messed up in many of these situations and people were angry with me, suggesting that I was holding the puck for too long and losing it.
Yeah. When you have the puck a lot, you also tend to lose it a lot, that's how it goes. But I always left for the bench looking forward, thinking about what comes next. I never worried too much about what went wrong. I was able to leave the bad in the past. The worst thing that could happen was my teammates criticizing me, but if they were honest with me, I had no problem with that. I don't get mad or offended and I could admit when I was playing like trash.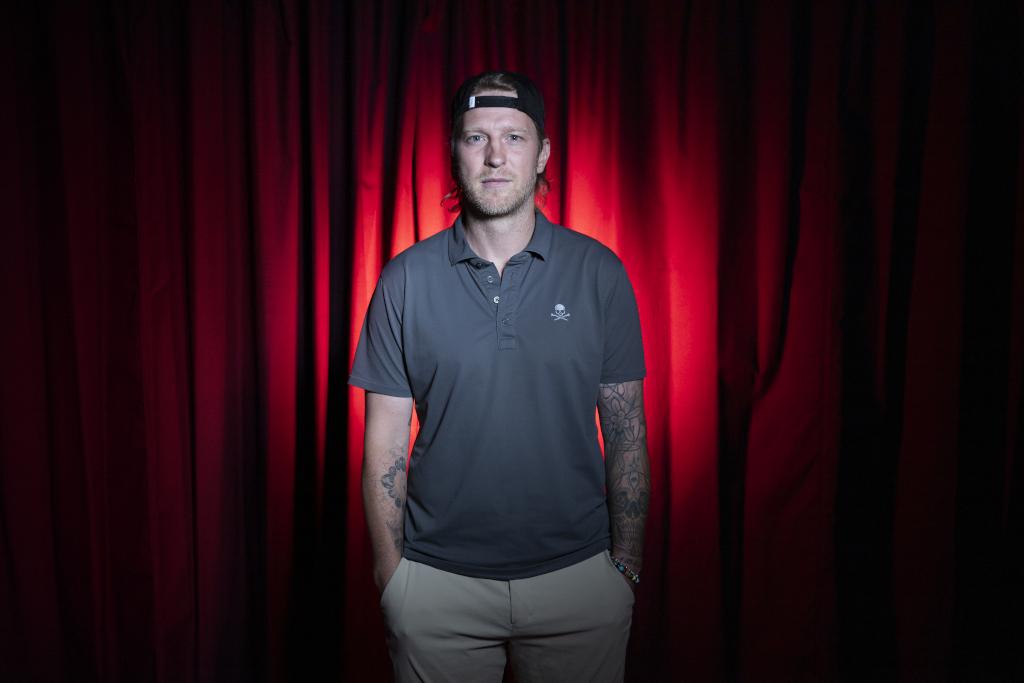 I was able to argue even with our coach, Craig MacTavish, for whom I have huge respect. Both of us had egos, but the next day, I was able to go to him and talk to him about it calmly because I could admit when I did something wrong. We sat down, talked through what was wrong, and moved on. I mean, if you feel like jumping off a bridge after every single mistake, you would never be open to trying something new. That's not how it works in sports. You'll have plenty of time to analyze what could have been done once you retire.
I had this mindset my entire career.
I had no idea how the draft worked. I didn't care. I didn't follow it. I didn't watch it. They simply told me one day that there was a possibility to go play juniors in Canada so I went and played. I guess my game interested somebody so they drafted me. I left for some camp without even knowing where Edmonton was. Suddenly, I made the team. Instead of warm-ups, I got my coffee, adjusted the blade of my stick and thought, 'Let's do this. Why make such a fuss about it?'
I'm simplifying things a bit here, but that's basically how it was. I played hockey and I didn't want to care about anything else. My first few years in the NHL were pretty joyride in that regard.
I could have easily made it through my medical tests which you need to take after a concussion. I had done it so many times that I knew exactly when to press what.
But I didn't want to pass. I was still feeling terrible.
The CT scan showed one part of my brain wasn't functioning properly. To return to the ice would not have been smart.
I continued skating with the team, but as the season progressed it was getting more and more obvious that I wasn't going to play. When my then-pregnant wife returned home to Dallas, Montréal offered me a chance to leave early and return with her, but I stayed and finished my rehab so that I knew that I did all I could. That's how my contract with Montréal ended.
I didn't look for a new one that summer. First, I wanted to make sure I could play and be useful as a player. But the head did not improve and my post-op hip started to ache as well. I realized this was starting to get pretty bad. I couldn't do what I had done all of my life. I could not play hockey; my body wouldn't let me.
I began to feel completely useless.
I got to a phase where I stayed locked up at home, almost never leaving the house. I didn't want to talk to anyone, not my family, not my friends. I didn't want to leave for Czechia because that would mean answering questions.
Even when my son was born, I didn't feel properly happy.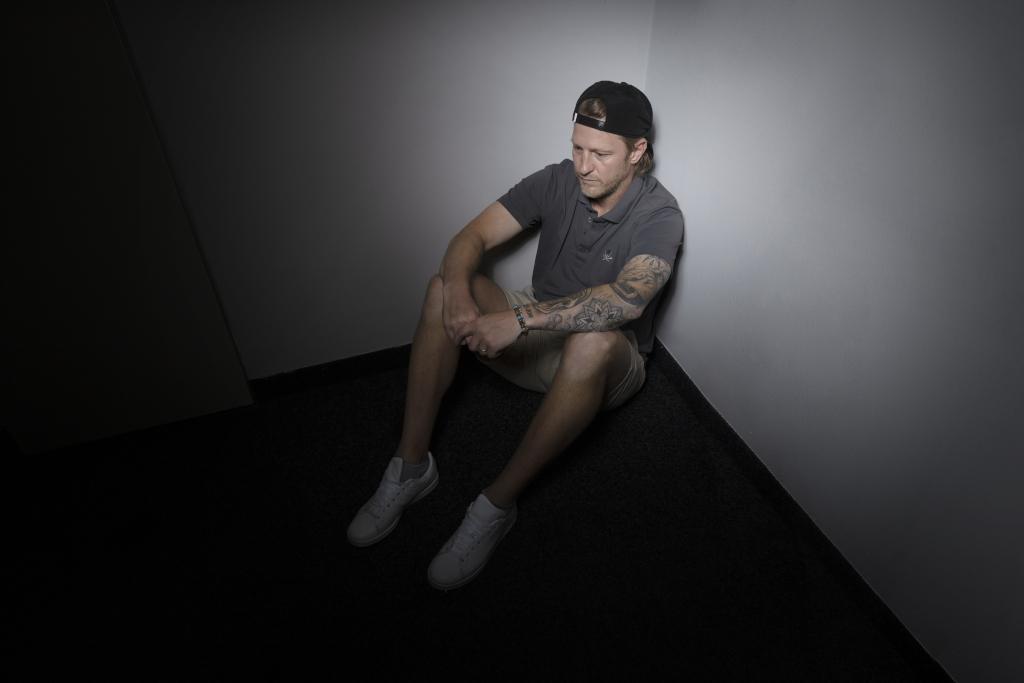 I was 35 years old, an age during which I still wanted to play. And I was just home, aimlessly changing diapers, refusing to admit that my hockey career was over. When the baby cried, I was irritated by it, even though I'm not normally like that.
I met pretty much all the symptoms of depression.
Even my wife saw it. She had already told me once that she was worried about me. She said it in such a way that I had to admit it wasn't normal. That it was bad because I was already having suicidal thoughts.
Really.
Never before would I think such a thing was possible. I had no idea what could drive a person to such thoughts. Before, whoever committed suicide seemed weak to me. But I suddenly got to a point where I really thought about doing the same. It should never be a solution for anyone, but now I see why some people may have thoughts like that. I couldn't get rid of those repeating questions in my head. What good am I? Who am I? Why am I here when I'm of no use?
I couldn't cope with the way I left the hockey world. It was not as I imagined it would happen.
People were asking me what I was going to do and I had no answer. I was hiding behind the concussion that triggered it all, but the concussion was gone after a few weeks. My problem was psychological. All I could see was emptiness all around and nothing to hold onto. Sure, I made great money during my career but what do you do with the money when you've lost something you have loved your whole life; something that made you who you are? It's hard to explain to someone who hasn't been through a similar experience.
I felt like I had lost the meaning of my life. Even though I had a healthy son and an amazing wife.
In the end, my wife saved me because she made me look for help.
Everybody who played and won the title in Pardubice at that time probably has fond memories of that NHL lockout season 2004-05. I actually prefer to remember the second lockout season seven years later when we had a beautiful period in Pardubice with David Krejčí.
How good we were probably caught the attention of someone from Russia because the following summer a guy who led Lev Praha, the KHL team from Prague, came to see me. They wanted to more or less get rid of me in Edmonton but I still had a year left on my contract and they couldn't do anything with that. Unless the Oilers paid me off, which we were discussing because even though Lev offered only a one-year contract, the salary was insane.
But Edmonton didn't agree with the buyout and that's how this episode ended.
We didn't make the playoffs that season and I watched the news during the last day for trades and suddenly saw Ales Hemsky to Ottawa on the TV screen. At first, I was mad. I had a hunch they would want to trade me, but they sent me to a team where I could achieve something. And the Senators were not the team with chance to win Stanley Cup.
But they were playing that evening in Calgary, which is driving distance from Edmonton, so I packed my bag and went to play, for the first time ever, for a different NHL team.
It turned out great in the end. They put me on a line with Jason Spezza and Milan Michálek and I lived through the best two months of the second part of my career with them. It was like I went back to my junior years, and not just because Ottawa is just across the river from Hull where I used to play at that time. I lived in a hotel, alone, because my wife stayed in Edmonton. I did whatever I wanted, playing with boys with whom I clicked together. Hockey was once again just regular childs' play. Spezza and I got along so well that when we were later both thinking about the future and he left for Dallas, I took the Stars' offer as well, just so we could play together.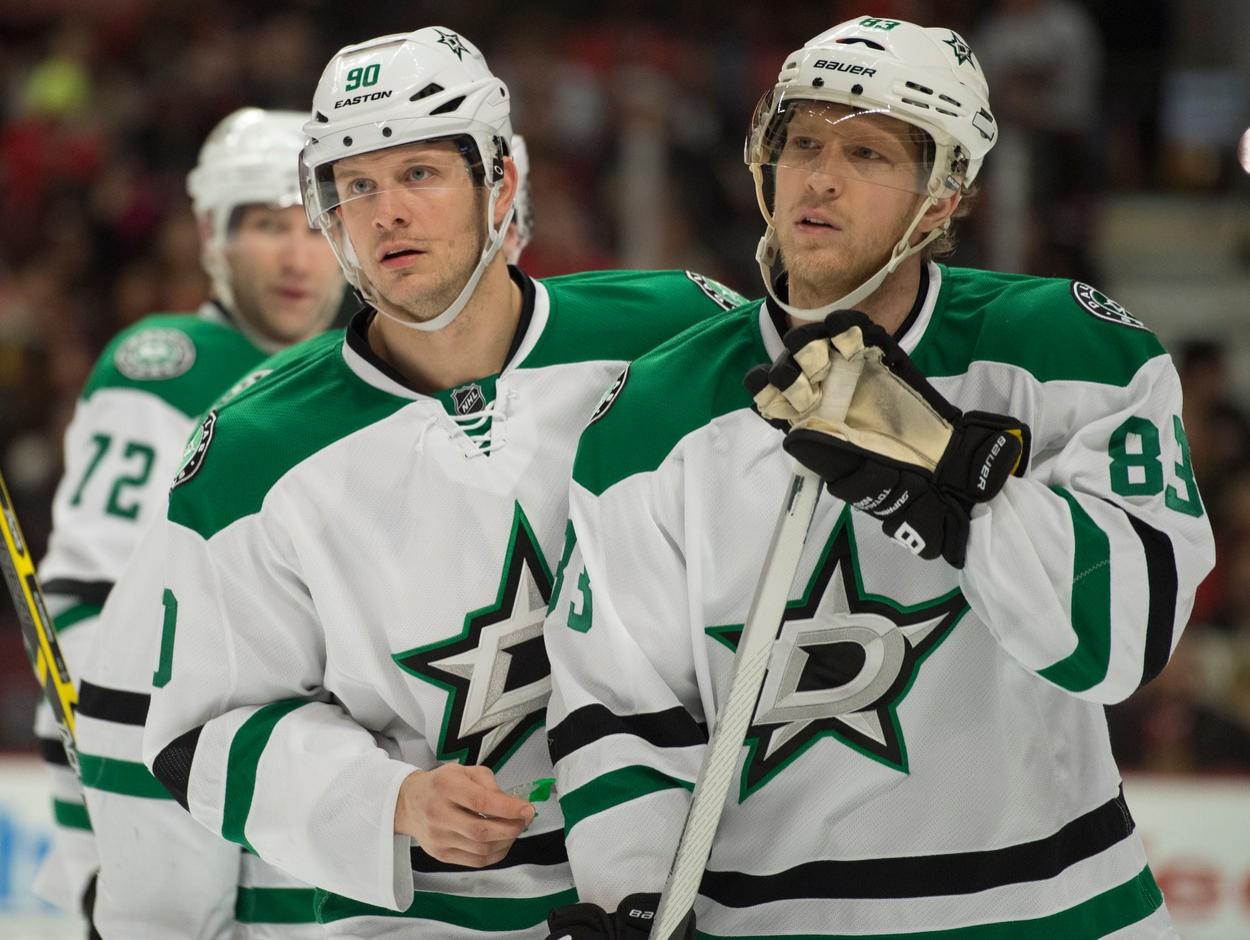 With a strict coach there in Lindy Ruff, we both learned something slightly different than what we were used to, but on the other hand, I learned to feel hockey like never before under him. With Spezza, we played mostly on the third line and went on the ice when we were guarding our lead in the last minute. I never thought I could play in such a situation but I realized that if I wanted to stay in the NHL, I had to adapt.
So I adapted.
Partially because I noticed that my hockey sense, which used to separate me, was disappearing. I got to the puck and it was as if I was frozen. What used to be automatic suddenly wasn't. I had to do all those things consciously now, with clear intent, thinking about my next moves. I noticed how many parts of my body hurt.
It is said to be normal development, that your brain begins to think more responsibly around the age of 27. I was noticing that in myself, my behaviour in that regard gradually adjusted, on the ice and in everyday life. Maybe it was this, maybe it was the many injuries, which took me out of the games where I had to work hard to return healthy again. Either way, it hurt my game. Suddenly, I was doing something on the ice that I never needed to do before; thinking about what could happen next.
Still, I wanted to keep playing in the NHL. I had what it takes.
We called the Players' Association; I explained my issue and they recommended a therapist in Dallas.
I wouldn't have forced myself to do it if it weren't for my wife. Asking for help was a sign of weakness for me. Why do it? I could handle it on my own, right?
How many people like me are out there? How many of them then follow through with the idea of suicide? You're in this state, you have a few drinks and boom, you're hanging somewhere.
You can't control whether or not you get into this situation. What you can control is how you deal with it.
In sports alone, I've seen many cases similar to mine, which ended in tragedy. The trigger could have been anything. Debt, relationship, depression. Who knows? Everyone's different.
Nobody should get into a situation like this, but if you do, you have to tell someone. Always. Find at least one person to tell that you have a problem. You don't need to describe everything in detail. I know this is incredibly hard. I used to keep everything to myself, too.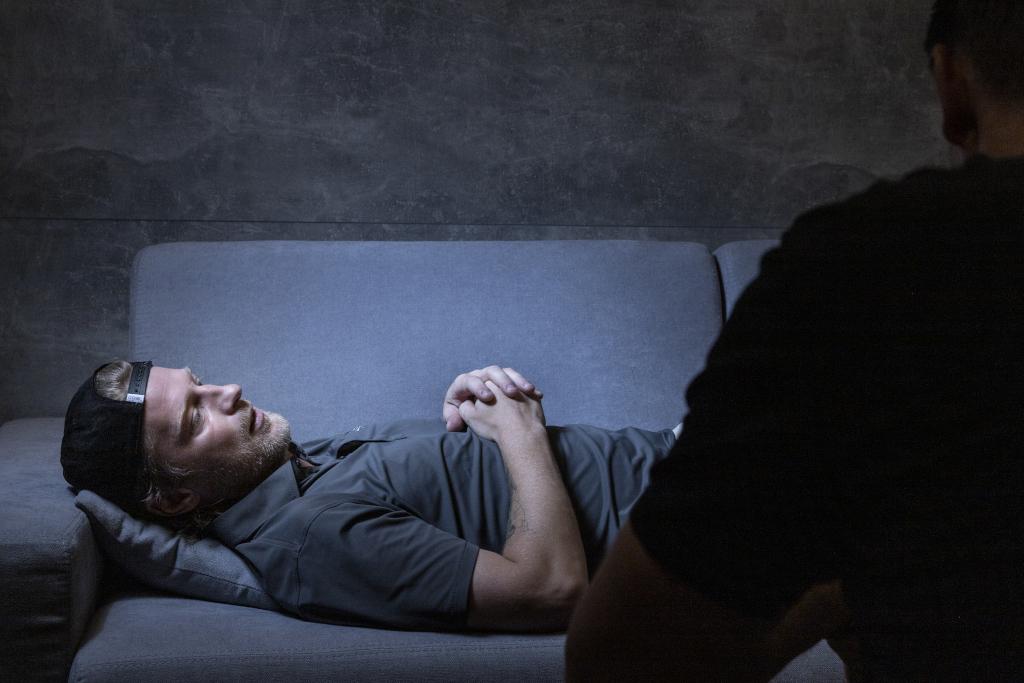 But if you ever find yourself this deep, it shows. People who know you will find it strange that you're suddenly withdrawn and acting weird. Asking for help is the only possible way out. It is a sign of strength.
Even when you sit down with a therapist, they don't force you to do anything. It has to come from you. You go for a while, and you talk about yourself, but you don't yet fully understand what is going on. Then you stop going, but soon it gets worse again and you're irritated and you don't want to do anything. Then you soon realize that if you don't start working on yourself, it's going to get bad and it's going to hurt people around you, mainly your family.
Fortunately, therapy made me realize that nothing was over. On the contrary, it was all beginning. I may have quit hockey but I already had two sons at home and now was the time when you didn't have to follow a schedule given to you by someone else. You could do whatever you wanted. You could live the life you always wanted with your kids.
It sounds simple but it took me two years of regular therapy sessions before I came to this realization and began to function normally. I returned home to see the boys from hockey in Dallas. At the same, I continue seeing a therapist for one hour a week. I didn't even have to be experiencing problems.We could chat about anything. It's always the best hour of my life, I come back a different man.
And I really am. Without hockey, but with a newfound purpose.
Newfound meaning of life.
And with a feeling that I used to have in the dressing room. That it's my time now to be an example for others and protect them from the bad things I went through.
Jana Mensatorová, ČTK/AP and Profimedia