April 7, 2004. This date will remain etched in my memory forever. I may forget someone's birthday or some other important date, but not this one. Not the day my father died.
It was a Wednesday morning. One Sunday before, I had played the final game of the season with the Carolina Hurricanes. All that was left were exit meetings with coach Peter Laviolette and general manager Jim Rutherford. I wanted to stay a bit longer in the States.
Early in the morning, the phone rang. "Someone calling me at 7 o'clock?" I thought. "That doesn't happen very often."
I picked it up. It was my brother, and he didn't beat around the bush. He simply told me what had happened.
My dad had suffered a heart attack behind the wheel of his car. Not a slow one where you still have time to do something like call a doctor. Nothing like that. His aorta had ruptured. It was over in an instant. He was driving, suddenly accelerated and then crashed. The same thing might have happened at home on a couch, and the outcome would have been the same.
I was shocked. I didn't know what to think or how to react. My dad and I had spoken just before that final game in Florida. There was no sign that it would be our last talk. He was 47. That call with my brother changed my life.
I was 23 years old, I had just finished my third season in the NHL, my wife and I had been married for just a year. My life was perfect. In a few seconds on the phone, everything changed and I was forced to grow up. Up until that point, my father had done everything for us, and then, out of nowhere, I couldn't call him to ask for advice. I'd lost a person to whom I had always turned on even the tiniest issue.
I remember him daily. I think of all of the things that he might have experienced with me. How he would have played with his grandsons. How he'd be happy to see the life that I have built.
I have his photo on my night table and every time I'm gearing up for another day, I look at the nametag: VRBATA. It reminds me how I got that name. For a moment, I remember my dad; try to picture him, and whenever I enjoy successes, it saddens me that he is not here to experience them with me. I know that he would be proud.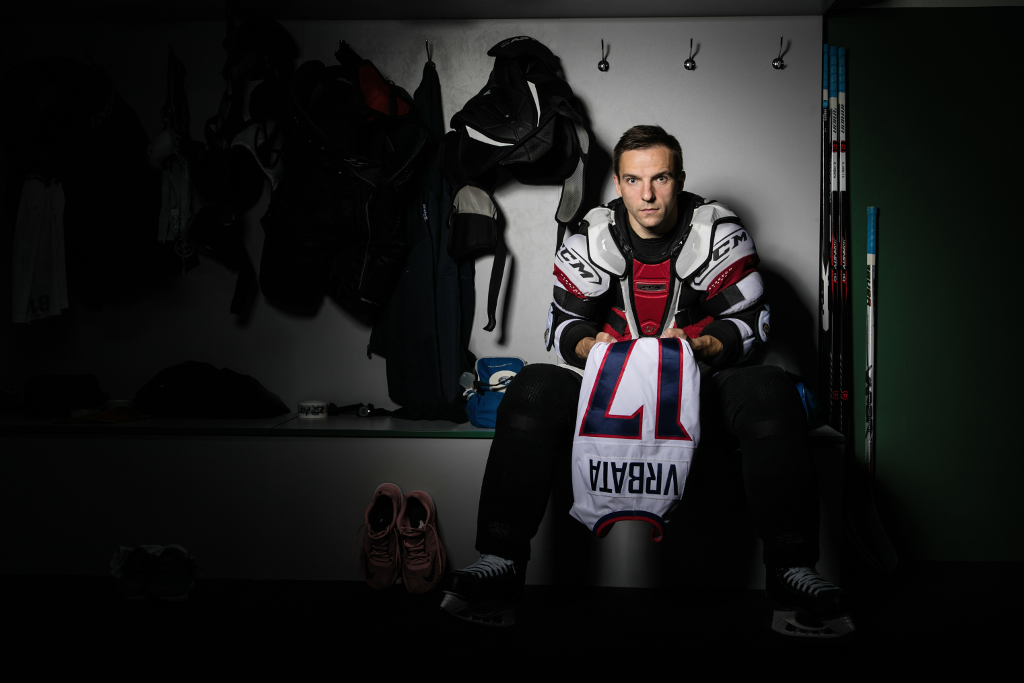 I'm glad that my dad was able to watch at least my first three seasons in the NHL. I was young and stressed that I'd get sent back to the minors, but my dad wasn't. He would come to Colorado to watch his son play in the best hockey league in the world. He saw things and places that he wouldn't even have dared to dream about a few years earlier. He had the chance to meet people we used to watch on the TV together. It was at least a small repayment for what he had done for me.
A year after he died, I was lucky enough to be a part of an incredibly strong Czech team at the World Championship in Vienna. I won a gold medal at that tournament. I only regret that I could never show it to him.
I remember how he celebrated our U20 title from 2001. He had a group of friends in Boleslav and they would always go to the stadium for a beer or more. After I'd returned from Russia, there was a ceremony with me during an A-team game and my dad was so proud.
Everyone knew my dad. He was always with us. He would help with coaching in my brother's class. Boleslav didn't have an Extraliga team at the time but he wasn't afraid to chat, talk with others, and offer everyone his opinion. All that came with one purpose in mind: To give my brother and me the best opportunities that he could. A lot of people didn't like him for that but he didn't care. If he didn't like what the club had in store for me, we would have gone mushroom picking instead of playing.
We played hockey because of him. Because we were not a wealthy family, he worked wherever he could to provide us with the proper gear. You should have seen his reaction when my brother broke his hockey stick after just one week.
My dad played amateur football, but he got injured and stopped. We didn't have the opportunity to watch him play, but what was more important for us was his all-around sports knowledge. Skiing, tennis, football – he could do anything and he could talk about any sport.
We lived in a block of flats and we had a field right in front of our entrance. It was dad who put up poles so that we could play volleyball or tennis. It was dad who painted the lines. Everyone from the neighborhood would come to our home to borrow the net that he bought. Every winter, he would make sure that the field was covered in water so we could play hockey. He helped all of the kids from the neighborhood.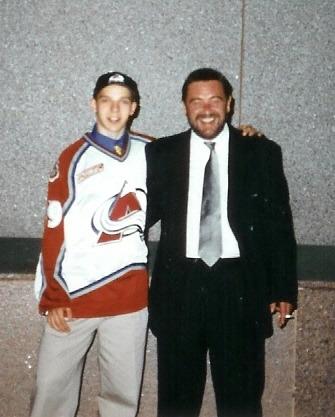 We were never an emotional family, but when I signed my first contract in the States I told him that it was all thanks to him. I told him how I appreciated what he has done for us. When I think about that today, I'm glad I thanked him in time.

Our dad always believed in us. That doesn't mean he never judged our performance. He didn't just tell us how great we were. Whenever we slacked off, he was the first one to say something and he wasn't afraid to be very frank, but he was always supportive.

I always looked forward to our drives home when we could discuss and analyze every play in the game that I had just played. Even when I was a junior, he would still give me advice. He only stopped once I moved to Canada and then to the NHL, because he realized it was a whole different level and that I had the right coaches to look after me.
What's incredible is how often his analysis proved true. There were many times where I thought he was just messing with me and I didn't take him seriously, but he was always right.
The Czech Republic played miserably at the U18 World Championship. I wasn't there because I was playing with Hull in the QMJHL and we were headed for finals. I couldn't have come even if I had wanted to.
Despite that Czech performance, my dad said we would win the U20 Championship. We did.
The same thing happened in my draft year. Colorado picked me in the seventh round and I thought someone would pick me sooner. Patrik Štefan went first overall that year. Number four was Pavel Brendl, then Martin Havlát, and Michal Sivek went in the second round. Eighteen Czechs in total.
"You'll be the first one to play in the NHL and you'll stay there for the longest time," my dad told me.
I wasn't the first one to play, but soon enough, I had signed my contract and I have the highest number of games played of all of them, and the seventh most by any Czech player.
I remember calling him when I got called up for the first time by the Avalanche. He was playing it cool but I know how happy it made him. I could picture him going for a beer with his friends and saying something like "My boy did it." He felt satisfaction and he liked to tell everyone that I had really made it to the NHL -- something that he always believed would happen, but others did not.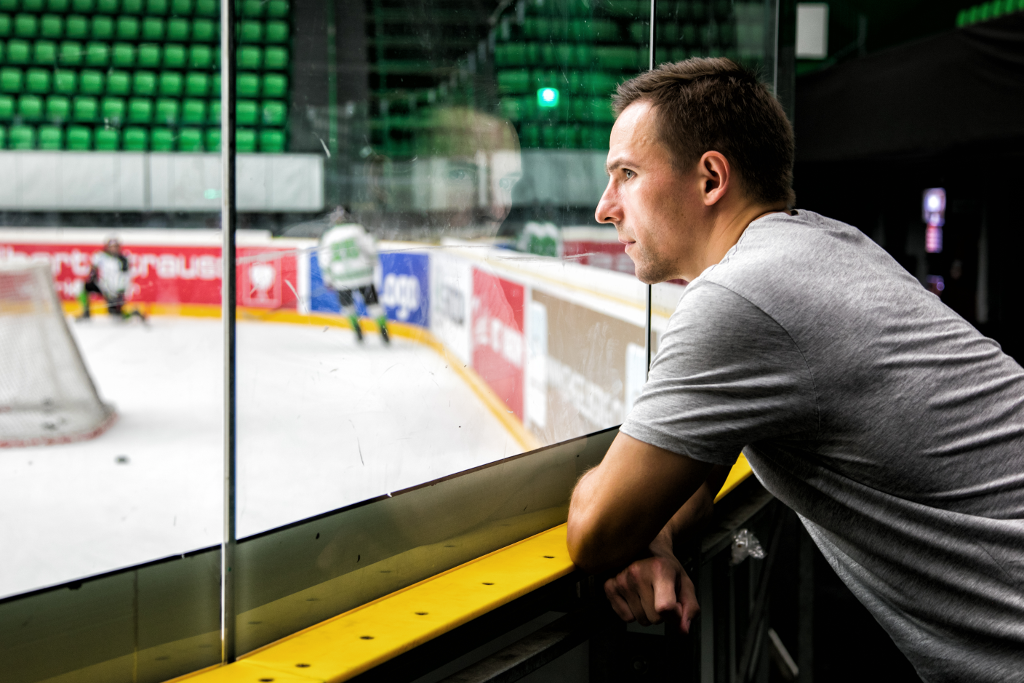 I started my pro career in the AHL with Hershey, but I had immediate success. When the Avalanche had injuries, they called me up and I never returned to the AHL.
My dad came to visit for Christmas. Teams have Christmas parties. My former teammate, Václav Nedorost, and I didn't really like them, especially not during our first year when we had no idea what was going on.
That year, we were all invited to Adam Foote's house. Whole families were invited, so I took my wife, Petra, and my dad. Václav and I left pretty quickly, but I could see that my dad wanted to stay so I left him there with two other Czech boys, Milan Hejduk and Martin Škoula.
The next day, I heard that as the evening turned into night, a pretty interesting and small company gathered around a glass of wine: Patrick Roy, Adam Foote, Joe Sakic and Pavel Vrbata. It must have been something to watch. I have no idea how he did it. He didn't speak great English. He had Milan and Martin there, but it still amazes me. I was afraid to talk to Roy or Sakic, even though they were my teammates. They were legends, winners of the Stanley Cup. But my dad was different. He could talk with anyone. He was never afraid.
I'm the opposite, I don't talk much. My brother inherited his nature. It goes on a straight line from my grandmother to my dad to my brother, David, and now to my son, Kryštof. He can't keep his mouth shut for two seconds. Sometimes, I see our father in my brother. They're very similar, especially when David lets his beard grow.
I wish I was more like my dad when it comes to standing my ground. I catch myself falling back just so people don't think that I'm an idiot who thinks he's something more because he plays in the NHL. At least when it comes to an important decision, I stand firm. I guess I at least inherited some of his common sense.
My father's dad died pretty young, too. He was 56. It was also heart failure. I have wondered if my brother and I are at risk as well. But then, their lifestyle was very different. They both smoked and they were never afraid to raise a glass or two. Plus, they endured the stress and hard work of trying to provide for their family.
Dad used to tell us it was a shame that our grandfather couldn't see us now; that he would be proud. My sons hear the same thing now. I know he would love them and I know they would love him.
When my own children were born, I finally understood what my dad had come to understand. When I come home tired, but the boys jump on me and want to play, it's not easy until I remember my dad opening the door to our apartment and my brother and me jumping on him. We didn't care whether he was tired or not.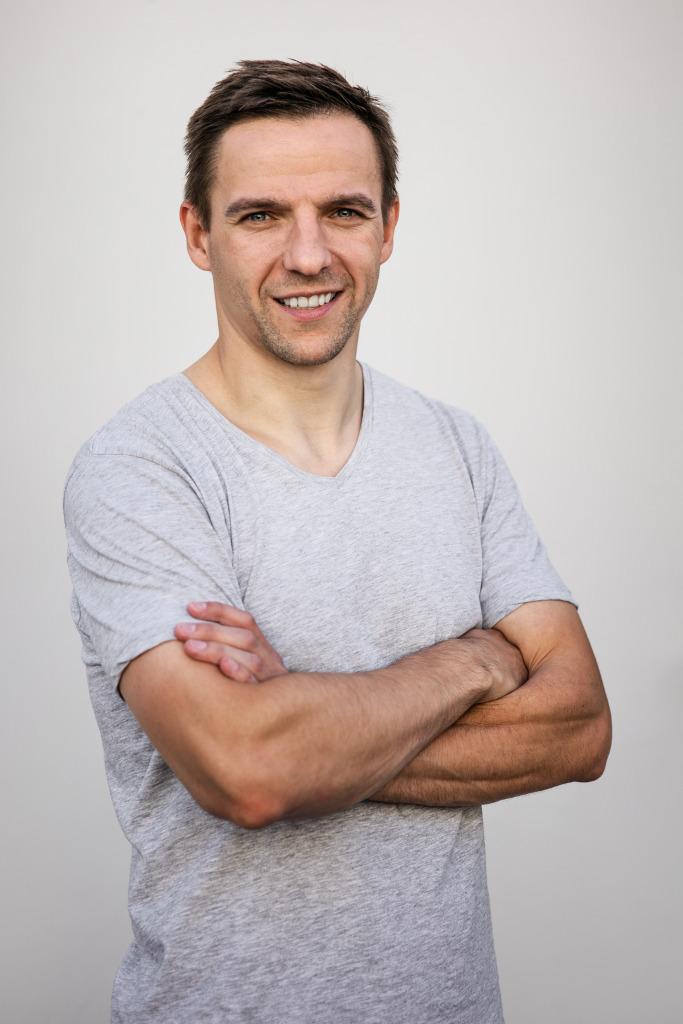 It doesn't matter who you are or what your job is. For your kids, your first and foremost job is to be their father. Kryštof understands that I was a professional hockey player and he could always tell if I had a good game or not. He wasn't even afraid to say it out loud.

"Dad, last season was amazing, but this one was not that good," he told me. The way he would say it was so funny.

The NHL world had already caught his attention while I was in Vancouver. He watched all the highlights in the morning on an iPad and knew what was up. In the end, none of my boys will care if I scored 20 goals in one season. They just want to know whether I have time to go outside and play with them.
Even though Kryštof is an NHL expert already, he doesn't care about games that much yet. He's more interested in playing with other players' kids in the cabin after the game. He didn't fully appreciate the genius of the Sedin twins but he liked to play with their kids. And that meant a lot of kids. The Sedins have two other brothers and all of them have plenty of children. All of them are Kryštof's friends.
Sometimes I'd watch them and think: "Sure, a career is important. It is what provides for my family and I gave it my all. I could not have done it any other way" but at the same time, I see there are more important things in life. This thought occurred to me for the first time when Kryštof was born.
While I was playing I wanted to give it my all; I wanted to be a professional by preparing as best as I could and treating my teammates and the team staff with respect, wherever I was. But children don't care about game stats. They want a dad.
Toward the end of my career when everyone was asking me about contracts and salary, I was much more interested in whether my first one had had his afternoon nap, whether the second one had had his lunch, and what the third one wanted to do in the afternoon.
I know this all is easy to say when I don't have to deal with existential problems, but I'm in this position because I worked hard for many years. I didn't get here on a free ride.
I knew when I signed my second contract in Arizona that it could be my last; that the end was near. But that's OK because my priorities were shifting anyway. More and more, I wanted to be a great father. It was devastating to see the sad faces of my boys whenever I was packing for another two-week trip.
If my dad could sacrifice his free time to provide for us and teach us to live an active life, why shouldn't I sacrifice a year or two of my career to teach the same to my kids?
Jana Mensatorová and the archive of Radim Vrbata