Made of marble
Pavol Jablonický
body-building

"Ladies and gentlemen, welcome the legend. Divine, perfect, seven-time champion Mr. Olympia, the greatest action hero and governor of the state of California."
The speaker introduced Arnold Schwarzenegger and the crowd went crazy. Just the way he entered the podium was rousing. It took a few minutes. He put on a bright smile, waved to the audience, pointed a finger at someone here and there, and hugged the moderator, even though he didn't know him. He picked up the microphone, walked to the edge of the stage, and was silent for several long seconds before asking: "How are you?"
It didn't matter what he said. People were going crazy.
Mr. Olympia 2004. I was standing on the same stage with a man who made bodybuilding a global show. He had come to announce the winner of our competition. That night, at the most prestigious event where only the biggest personalities of our sport received an invitation, I achieved the best result of my career. I was 41 years old and I had 15 years of professional experience. My form was enough for 11th place. Twenty people with a carved figure stood side by side in the final, where American Ronnie Coleman had just made history with his seventh title.
But Arnold stole most of the energy, even though he had been in retirement for a quarter of a century. No one could match him. Schwarzenegger was a symbol of something bigger: the embodiment of dreams. In the 1970s, he started the golden age of bodybuilding. I admired him when I started going to competitions. As soon as I could go overseas after the Velvet Revolution, my first trip in 1990 led to California's Venice Beach near Los Angeles, where Gold's Gym stands. It was there that Arnold worked out and transformed it into a mecca of muscle men.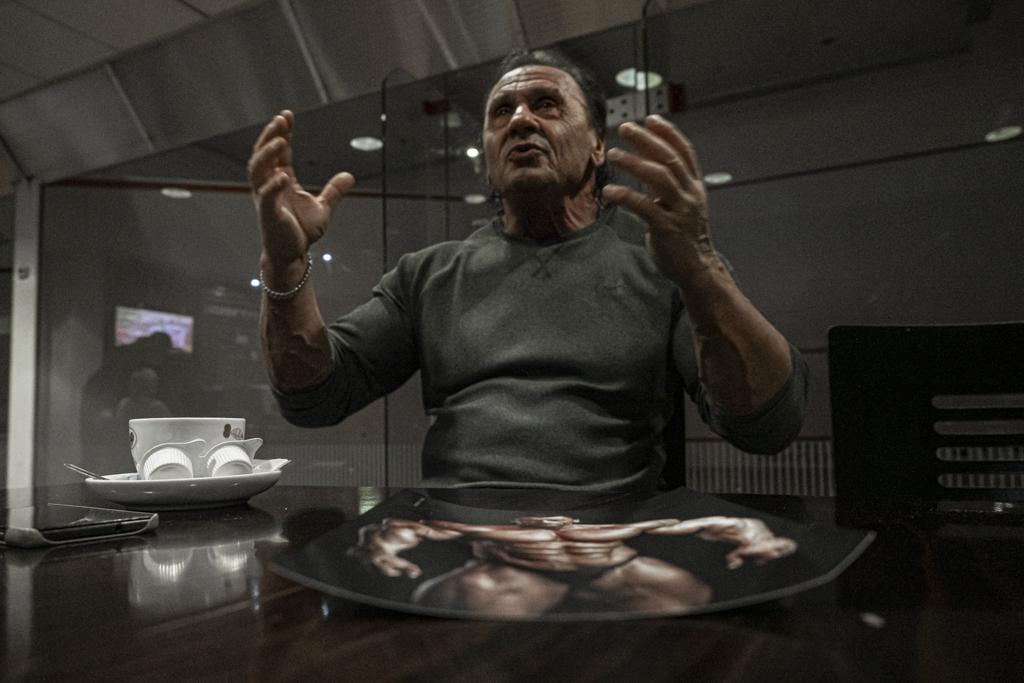 Unfortunately, the last time I was there, the beautiful beach had become a place for the homeless. It had lost its luster, which is the same thing that happened to my sport, in which I won two amateur world championships, a Grand Prix and received six invitations to Mr. Olympia.
I started at a time when aesthetics dominated bodybuilding. The champions looked like racehorses, but over time the desire shifted towards as much mass as possible. If you had a circumference of fifty centimeters across the biceps or calf, you were just a beginner. In my eyes, it changed for the worse, transforming to absolute unnaturalness. You see the stars on the covers of magazines now and you don't think it looks good. You can't admire it and there's no way you would want to look like that.
I say this as a person who loves the sport and was at the top in the early 1990s. I tried to represent bodybuilding as a culture. There was no one better in Europe than me. My posters were on the walls in almost every gym, not only in the Czech Republic and Slovakia. People recognized me in the Bahamas on the beach, in Mexico at the pyramids, in the Louvre in France. I enjoyed it.
Bodybuilding was my lifestyle and it still is to this day. I'm 58 and I still work out twice a day in my gym in Olomouc. Wherever I go, you can see at a glance what sport has touched my life. I enter the Hungarian spa in my swimsuit and everyone notices. I know it, and I know exactly who's looking at me. Mostly, it's my peers who look like seals. They wonder how I did it.
I would be lying if I said I wasn't flattered. There's a bit of narcissism in what I do. A pretty big piece. Going on stage and inflating your muscles? It seemed stupid to me, I couldn't imagine it. When I was first convinced to try a competition, I didn't understand what they were all about. Only when you stand on the stage do you realize why others are doing it.
Bodybuilding is difficult to grasp, that's why only a few people do it. Most competitors will not get what they expected. The desire for perfection destroys them. I speak as one who succeeded, knowing that hundreds of others failed. I have two children, a boy and a girl, and I wouldn't want them to follow in my footsteps. Once you choose to become a professional, it's like signing a contract with the devil. You have to be willing to sacrifice.
It's hard to explain. It's like explaining sex to a virgin. How to train, how to keep a diet. You have to do it first. Only then will your thinking change. The feeling when you are almost sugar-free for several months and you can't sleep from hunger. The feeling when you are lying on a bench press, you have to push out your maximum, your whole nervous system is tense and it's just you. You can't convey such things.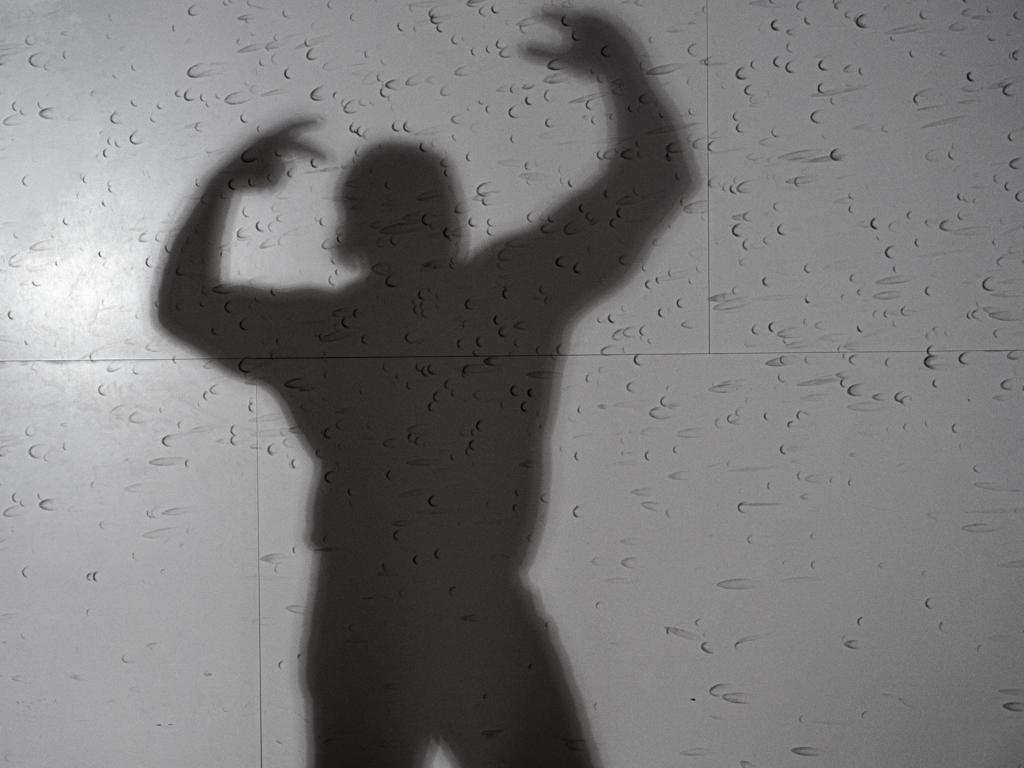 The barbell isn't just a piece of iron, it merges with you. You enjoy the food as a ceremony with precise procedures. To endure this, you must have strong inner motivation and discipline. Some will understand right away; others never. I had the advantage. I competed in athletics in high school. Javelin, ball, strongman sports. But I got my physical foundation elsewhere, in my native region Záhorie, in the village of Borský Mikuláš. I was always working at it. We heated our home with wood, so I carried it and chopped it. We had a big garden and I had to work it with a spade. Already at the age of 16, I differed from the others in my physique.
The Záhorie core influenced me in other ways as well. People here are a little too honest, they don't lie to each other, and after everything I have seen, I realize that they are happier than in the "big world" I later encountered. The ordinary happiness that everyone seeks is much easier to find in my parents' village. There are no shops or factories in Borský Mikuláš and its surroundings, only forests and fields. The locals care only for their layer hens; they hope for rain and a healthy cow. They are not stupid or simple; they are just at peace with what they have.
Thanks to my roots, I realize that it's best to take care of myself. The more you know, the more worried you get. There is too much to handle for one head. When you watch TV, they show the horrors happening in the world, in places that most of us have never seen or will never see.
I decided to live differently than others, because as a boy I fell in love with airplanes. Thinking that I would be a pilot, I enrolled in a military school in Prešov. Mom cried as soon as she found out, but it didn't change my mind. The second option was to buy a pig, a cow, get a job in an agricultural cooperative and spend my life where I was born.
I became a soldier, and I agreed to train to kill other people. I let them brainwash me. It was hard. They let us go home only twice a year. Twenty-four boys slept in one room, and our superiors always found some reason to yell at us. I still fold my clothes in rolls because of it. Everyone cried into the duvets at night, me included. I kept a diary to handle it. Thinking about it today, I think it was a mistake. On the other hand, it gave me discipline, because I started going to the gym. For the first time when I was 17, I picked up a pile of iron and I felt at home; I was good at it.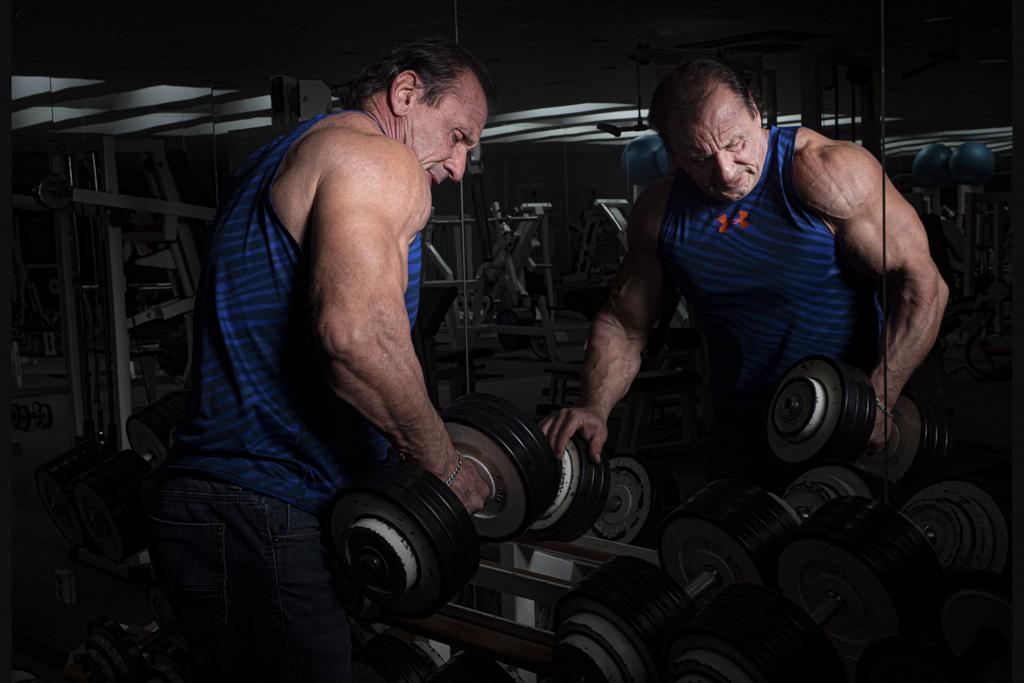 After school, I moved as a professional soldier to the base in Hradec Králové. I didn't go to the pilot tests. I worked as a mechanic. I was in charge of two planes, fixed their engines, and signed a paper for each screw. I had to be precise and I always watched each plane after its take-off for a long time. There was no room for even one mistake.
There were two options when I was not in service: Go to the pub or go to the gym. I'd spent my first two months in the pubs, but then I'd realized that I couldn't go on this way. I started working out every day at half past four in the morning. I woke up and went to the gym. Even though it was freezing and the gym at the football stadium was covered in hoarfrost, from windows to the machines. I put two sweatpants on and worked. I never skipped a workout and I came up with everything myself. I learned to train and eat according to various books and tables, which I collected wherever I could. I ate half a kilo of meat a day. Fish, whole chickens, beef. I dived into this and speculated on what and how it could move me forward.
Gradually, the exercise was becoming an addiction. It's all about emotions. The more you understand, the more you need them to feel good. It doesn't matter if you are a huge bodybuilder or a marathon runner who sets off with a headlamp into the night at minus fifteen. They would both be missing something without it.
At work, I kept it a secret that I was working out. Others thought that whoever was lifting dumbbells at this time had nothing to do. I wore a lot of loose clothes to keep my muscular body a secret. I eventually left the army, more precisely I was fired a few years after I started going to competitions: Officially for contacts with the West. Which means, I was fired for having an imagination, that I traveled abroad as a national athlete, while knowing nothing about the big world.
My coach, Pavel Zobač, the head of the sports research laboratory center, contributed to that situation. He was a man with many contacts. He arranged everything for me, but two weeks before I became world champion for the second time in 1988, he fled to Germany. The communists were probably afraid that I would follow him, the counterintelligence still present around me. They let me go to a competition in Switzerland, but only under one condition: that I would not praise what I saw upon my return. Others thought that I had to be part of the State Security (StB) with so many benefits.
It was a strange atmosphere, all one big theater.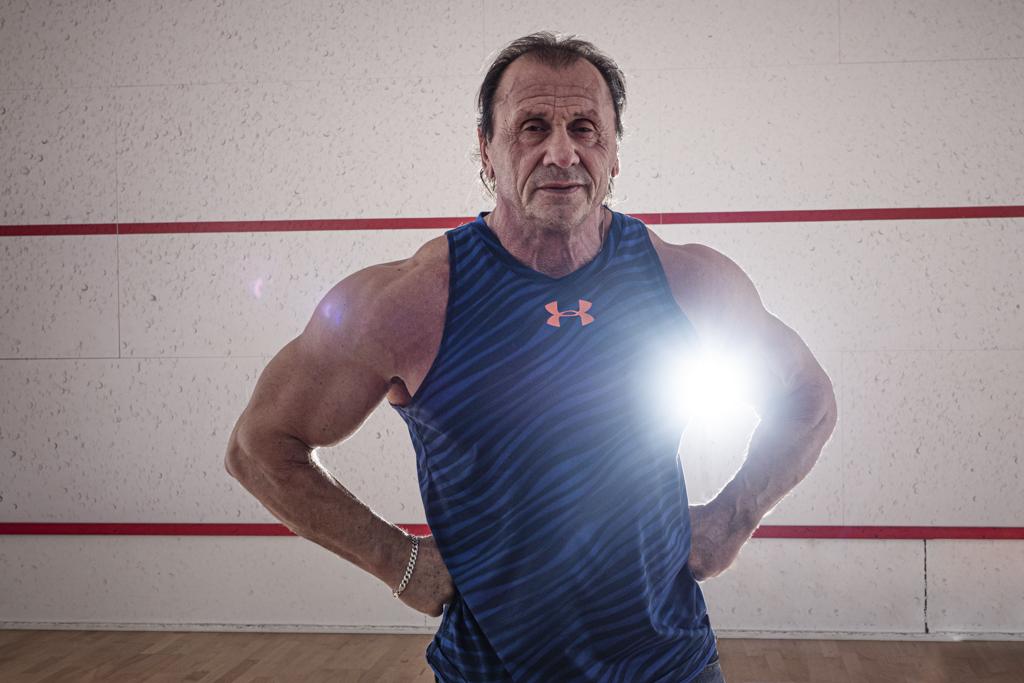 In these conditions, I became the champion from the Eastern Bloc. I came to Australia and learned from others how to behave. I was without a coach, only accompanied by an official, who pretty much didn't know what a barbell was. In just one pair of national team sweatpants I felt stupid compared to the well-fashioned Americans, so the first thing I did was buy sweatpants for 110 crowns. My eyes nearly popped out of my head, and in the end, I forgot to pack a swimsuit for the competition, even though I had seven of them in my bag. Big problem, but I shouted at the Italian who was already leaving the stage to lend me his. And I won the gold.
The comrades back home tolerated me, even though they didn't like what I was doing. I even got An Order for Excellent Work ("Vyznamenání Za vynikající práci", discontinued in 1990; transl. note). Me and tennis player Miloš Mečíř were chosen as representatives of Western sports, so that the regime could show how modern it was. We stood there, accepting the medals like idiots and laughing to ourselves, but over time I saw that it was actually nothing. The era and conditions in which I started my career had their advantages. It looked very strict in some aspects, but at the same time everything was relaxed. You had time and space to do the things that you enjoyed.
Big muscles. You want them so much and at the same time they are terribly bothersome. Living with them is not fun, and you can't just take them off. They are like a backpack that you always carry. You just go for a walk and after two hundred meters your legs are like stone. A big muscle is quickly pumped with blood and gets stiff. You want to get dressed and can't put on tight jeans. You go to sleep and have trouble lying down. After training, your body is tired and every part of it is quickly bruised, so you wake up stiff in the morning.
I had the honor to meet the first winner of Mr. Olympia, Larry Scott. This dude, even in old age, squatted 300 kilos with a barbell, but then we were in a competition where there was a gym on the first floor without a lift. He saw the stairs and said he couldn't climb up.
You think differently. You have a moment in your head when you set your feet to the podium and show up next to other people who, like you, have sacrificed for their dream in exactly the same way. It's just one moment and you've been preparing for it for maybe half a year. You are like a climber in the Himalayas who knows that he can die a thousand times on the way to the top. That's the hard work and diet. It's worth losing twenty kilos. Your goal is not just beauty, but beauty that shines.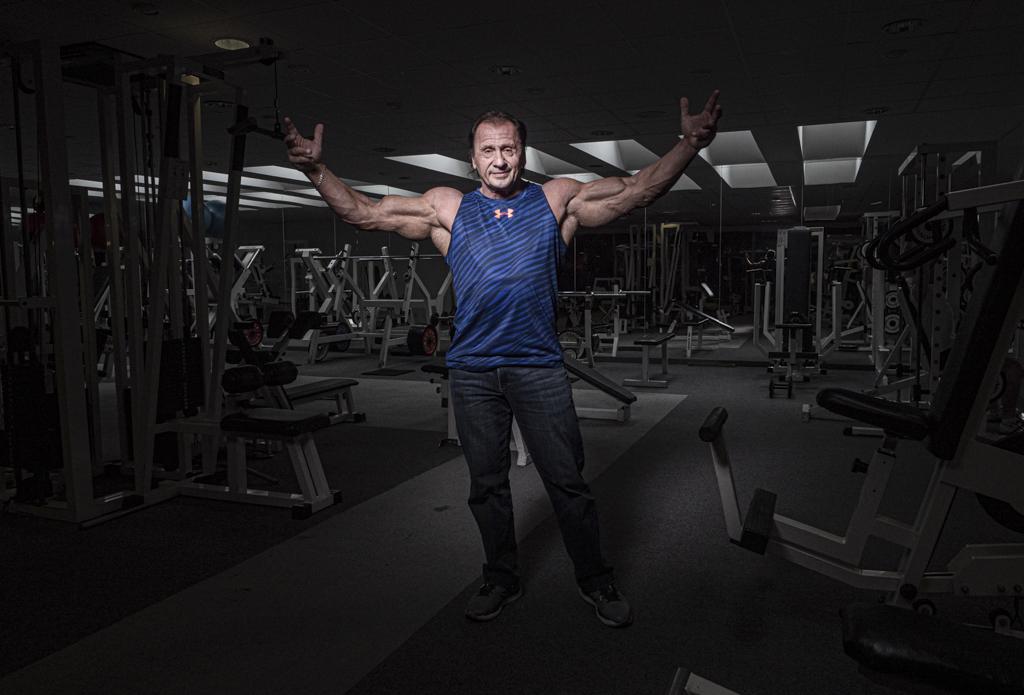 You find out how to live so that you have the greatest possible muscle tension. Colossal. You don't want to have a body made of wood; that's just not enough. You want it made of marble. This is the difference between the good and the best. You have to bring everything to a state where you can distinguish wood from marble with just a glance. Both look good, but you can immediately see what's harder.
It's like playing football when Barcelona and Real face each other. Twenty-two perfect athletes run around the field, but Lionel Messi still has an imaginary light bulb above him. He's different and you're amazed. It's the same in bodybuilding. It's not just about muscles and irons, every pro has his own charisma. You exercise a minutes-long set, in which you show not only your form, but you reveal your personality. The principle is the Greek ideal of kalokagathia: the harmony of mind and body.
Every tiny detail will show, including your confidence that you have worked hard enough. You have to learn to be slightly feminine and be able to shave your legs so that you don't end up with a shaving rash.
Arnold was the best at this. He had perfect sets. He visited a ballet master so that he was able to position himself precisely and convince others that he was flawless. He thought of nothing else and was willing to sacrifice everything. He was always preparing for a competition. When his father died in Austria, he did not go to the funeral. In my eyes, that is too much.
I realized this when I was on a strict diet for several months and suddenly my daughter came running up to me, offering me chocolate. I couldn't say no to her. It was at this moment that I found out I was more a dad than a bodybuilder. I never liked the opinion that a champion in my sport couldn't have a normal life. I was very hard on myself, yes, but only so that my body and my surroundings would not suffer. I could tell the difference between obsession and professionalism. The former will destroy you, the latter will give you the ability to function long term.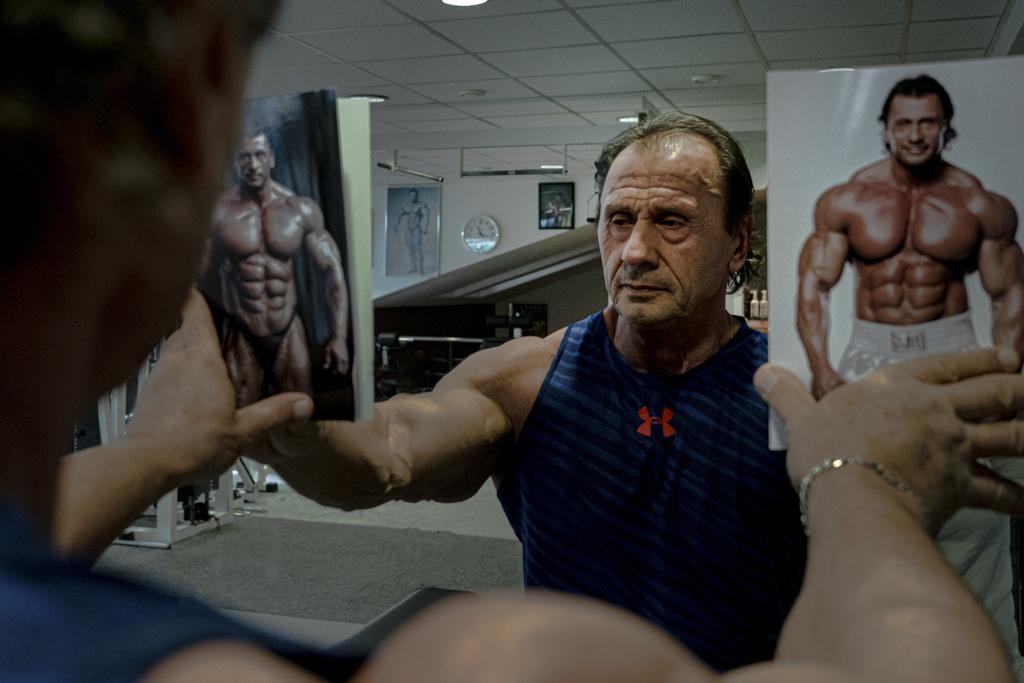 I knew that the outcome of the competition was determined by whether you managed to have your best day, but it was also about the art of keeping my head calm and focused to show my ability. The first rule was not to look at others and not to compare myself with them. Some guys approached me, admiring my form and aesthetics, but it was all just a tactic to throw me off. You may be the best, but if you let yourself get thrown off, you will lose your ideal muscle tone and you are out of the game. Everyone was aware of this, so it was a mental war as well. Just 30 minutes before taking the podium, the competitors were dressed and pretended like nothing concerned them. At the same time, they examined each other's faces. It wasn't until 15 minutes before the competition that someone lost his nerve and started taking things out of his bag. Others then joined in.
Mr. Olympia has always been special in this sense. Everyone undressed and it was fantastic. It was almost scary how perfectly everyone prepared. Sometimes, I watched my opponents, thinking that it wasn't even possible. Watching the best, I felt like I had entered the Sistine Chapel. I just looked at the beauty and asked myself, what artist did this? They looked completely different. You would almost thought that such people could not exist. I've always been amazed by Dexter Jackson. He was only 168 centimeters, yet he managed to put on 87 kilos of perfect muscle. He completely dazzled me. He was American, just as most of my opponents. They were the ones who perfected bodybuilding.
The sport is difficult to understand here in the Czech Republic. Even in my best form, I was viewed as more of a guy who does a sport with strange, overgrown people. That's how it is today. I'm not saying that everyone has to admire me, but it's not a bad idea to look at things without prejudice. Many people look at bodybuilders suspiciously because of doping. I'm talking about the need to distinguish between recreational, amateur and top professional sports. The latter works completely differently and has different laws than everyday life.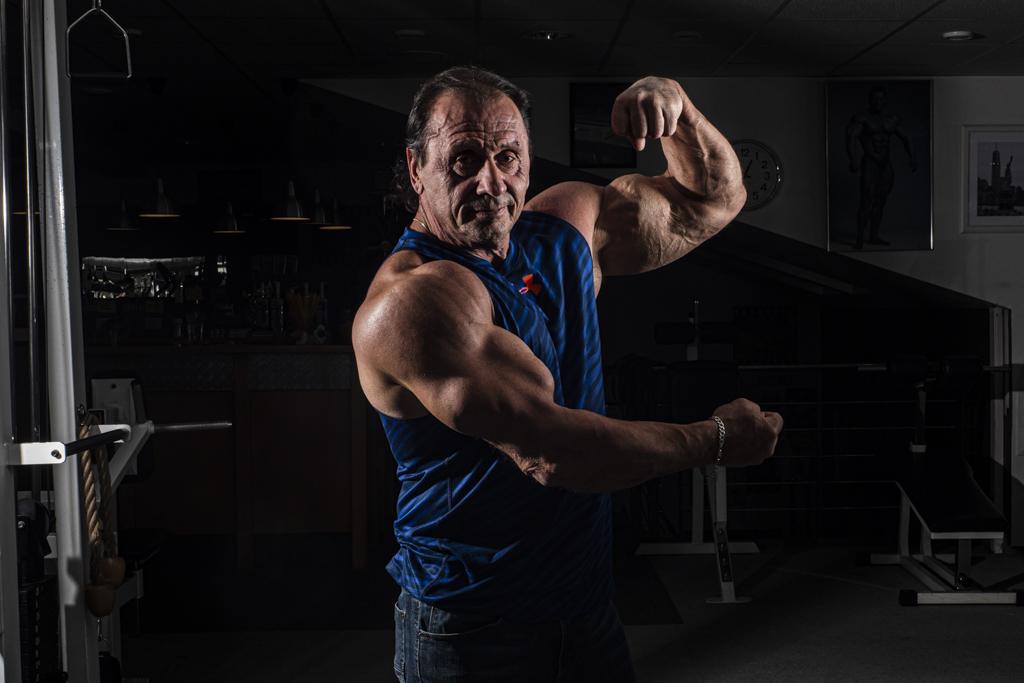 Genetics matters a lot in what I do. I look at a person and I know right away what his options are. The bodybuilder must have a well-built chest and shoulders, biceps and triceps. All in conjunction with the muscles connected where they need to, so that they can develop into real beauty. If you have not received a good belly or a calf from God, you will not find material to complete them anywhere else. Many racers have a problem with their biceps and cannot do anything about it unless they undergo surgery.
It's not just about size and design, but also about the shape and ability to present everything beautifully. This is achieved through a combination of training and diet. The skin must fit tightly on the muscle to make it seem like it's precisely cut. I knew my belly and shoulders could do this; parts that others often didn't have so perfect.
The performance at the competition was the culmination of a long journey for me. Just like when you're trying to get a woman for a few months and then you finally get her. You have a bit of respect, but at the same time you are happy. You go and show off, then everything eases and you look forward to finally relaxing, which for us means that you will eat. A lot.
When you get off the stage, it is your duty to go and eat pretty much anything. You don't know where to start. You overeat whatever you smell first. You want any sugar that you missed for many months before, and a bagel is sacred for you at that moment. After the competition in Odessa, they offered us the best caviar, but no one was interested in it because everyone just needed to get full of something ordinary. The Americans were only interested in where they could get a hamburger in the Ukraine.
I once entered a McDonald's in Manhattan at midnight. Everyone was watching me binge eat everything, and my big figure probably aroused fear. As soon as I raised my head, the others looked away from me, probably wondering if this was the material the muscles were made from. Again, I was just thinking about satisfying my hunger quickly and then running back to the hotel to do one last important thing: wash off the tanning color from the body, which had to be removed within a few hours to prevent it from drying. I always left the hotel tub so dirty, so I'd leave the cleaners $20 so they wouldn't hate me that much.
This is bodybuilding, too.
My wife was gorgeous, but she was an anti-athlete, she didn't even have running shoes. We met at 19. She was a cashier in a store, I loved her and that's it. That's right, there were two pretty girls in our village and I married one. We had two children, a boy and a girl. It lasted 18 years, nothing was forced.
My sport was not a topic at home and I didn't mind. I didn't go crazy thanks to that. I came home and we didn't talk about how well I worked out. I had my trophies in boxes on the balcony. I lived two lives: one with my family, the other in the gym, and I liked both of them. To the gym in the morning, then to the kindergarten for children. This is life.
Jarda Jágr, my friend, may have several truck loads of money, but eventually he'll find out that it means nothing because he has no children. Children won't allow a person to become obsessed. They're not an obstacle for an athlete to succeed. In May 1988, my daughter was born and in three months I won the World Cup for the second time.
The Velvet Revolution shook my world much more. Shortly after that, I received a letter from a well-known coach, Luděk Nosek. He wrote that for the skills I had, I had nothing to show for it. He offered to monetize my position. I had muscles, he had the know-how.
He knew the ropes. He was twice the mayor of Mariánské Lázně, created the legendary Sandow studio, led the national team and organized the Grand Prix, which was attended by thousands of people. He had great contacts abroad, and he was invited as a judge to Mr. Olympia. He arranged for me to train and compete in Germany. At the beginning of the 90s, a decent salary was four thousand crowns. For my first competition after my move, I received German Marks and suddenly I realized that it was 30,000 crowns. I had never seen so much money in one place before.
Ever since the 1990s, I made my living off bodybuilding. I always had it in my head how the Communists gave me an Order after the gold medal, so I wanted to explore all the more. I got to lead a completely different life. I was finally doing well, making a great living. I had a Mercedes, the top position in Europe, I was 28 and it seemed to me that I could do anything. I had loads of money, I had the admiration of fans and women, and so I found a girlfriend abroad.
I remember the day when I said to myself that I would not return to Czechoslovakia, but then my daughter called. She asked when I was coming home. I ended all of my affairs and came back. I was a dad in the first place and I couldn't stop caring about my children. They were the most important. I tried to make it work so we could enjoy things. We could afford to pack our bags from day to day and fly to Florida to Disneyland.
But one day, something changed and my wife and I agreed to divorce. That's how the situation evolved. It was never filled with any toxicity and I'm proud of that. We had two court hearings and my wife and I drove there in one car. We didn't try to punish the other and we didn't blame each other. That would have only made things worse. We didn't argue, there was no hatred.
My wife and I agreed that our son would stay with her and I would take care of our daughter. It's unconventional, but that's how it was. The boy was more attached to mom and the girl was tough, she took it well. I remember when she brought an end-of-the-year diploma from the ninth grade, her last, and we moved from Hradec Králové to Olomouc, where a friend of mine, the owner of a hockey club and a casino, offered to open a gym in his building.
We arrived in a brand new apartment, totally empty. That's how we started. I left everything to my ex-wife.
That summer, I received my seventh invitation to Mr. Olympia and I immediately wrote back that I would not come. It was as if a tennis player had rejected an invitation to Wimbledon, but my daughter didn't know anyone in town, and I realized that life was not about how one's muscles grow. Originally, I was supposed to have the hardest preparation phase from June to September. Instead, we went on trips together, having fun. The next year, I took her with me to New York. I took her out of school so she could get to know my world.
Fortunately, she is absolutely down to earth and was not impressed by having a VIP ticket to the front row or sleeping in a five-star hotel in Manhattan. She didn't care at all that her dad was admired by crowds of people at competitions. She was much happier with the $1 T-shirt on sale. She learned to be independent. Over time, I didn't check what she was doing at all. I just came home and she told me had finished her high school or that she passed her driver's license exam. She also found a job at the district court.
Today, she is 32, and every time I look at her, I realize we did a good job. She is a gorgeous, well-dressed lass on high heels, who takes care of herself. She looks so good that people used to point fingers at us quite often. They thought that I had a young girlfriend. Men thought I was a bastard and women thought I was a pervert. She may have had the same boy since she was 17, a tattooed dude with a Harley, but why should I explain that to anyone? I was proud.
I have a healthy family and a confident daughter who doesn't get scared easily. At the same time, I didn't expect to ever have another relationship. It didn't make sense to tie myself up again, but as it happens, I have had a girlfriend for 16 years.
Today, the world is such that people want everything right away. Too few people are interested in the hard work that precedes something. Almost everyone wants me to tell them what I described at the beginning. How I met Schwarzenegger. How I was one of the best bodybuilders on the planet. How I lived at the competitions in the best hotel in town. How they drove me in a black limousine that made people on the streets turn around. How hard I had to work for years and figure everything out on my own before I built something is not interesting.
I also see it at the coaching school where I lecture. I ask students where they would like to go on vacation. Their dreams are Hawaii, the Seychelles, Mauritius. They talk beautifully about the places until I ask where exactly those destinations lie. Then they'll say they're going to California. And what is its capital? Mostly they guess Los Angeles or San Francisco; few people know it's Sacramento. And so it is with working out.
Every person, especially a bodybuilder, should know the anatomy of the body, where the muscle begins, where it ends, where it is connected, what movement it makes. It is also important for those who just want to feel good.
The body was created for physical work. The key is to understand how it works. It needs three components: sugars, fats, and protein. Protein must grow into a stable mass, carbohydrates are energy and fats are needed for work. The next chapter is vitamins, minerals and supplements.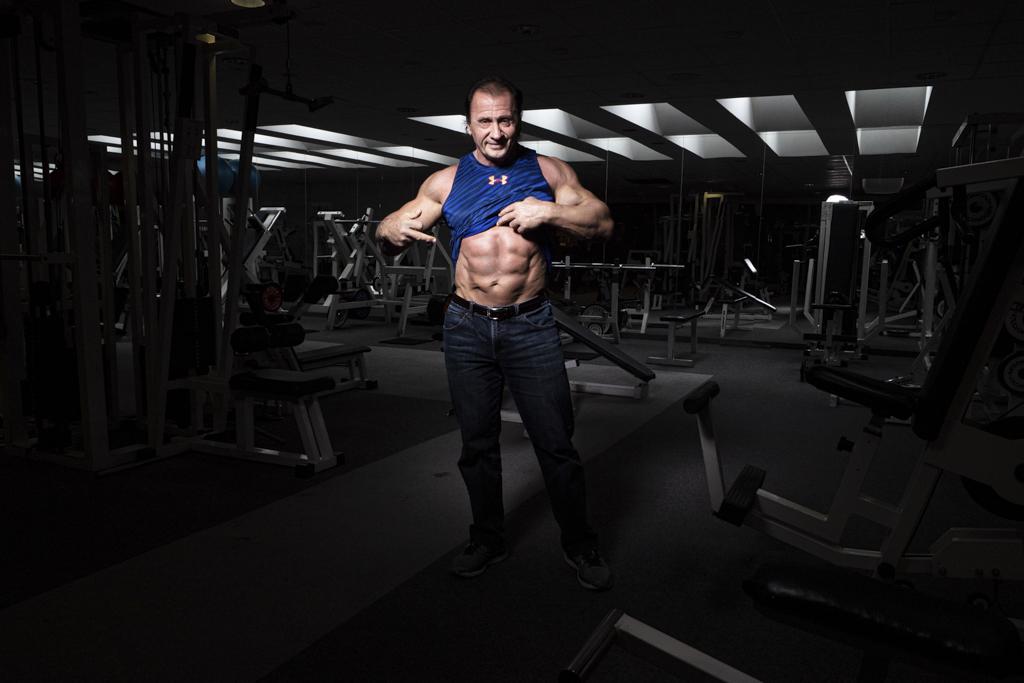 The skeleton is held by the muscles which must work hard to gain the right tension. If you don't have physical work, your muscles will become mud and you will start to fall apart. That's why people work out today. If you were working in a field or with a pickaxe, running in the woods and climbing trees, you wouldn't need it.
But today, almost no one works physically. People are becoming distant from their bodies. They have no desire or time to think about how to live to feel good. For many people, physical activity is associated with unnecessary hard work. It's the opposite for me. In my gym in Olomouc, I feel at home and I still work out twice a day, once alone, once with clients.
People today usually don't want big muscles and great shape. They're there to relax with someone who understands them. More than as a coach, I feel like a pastor to whom others go for confession. My job is to make them feel better. Some are built to pull heavy loads, with others I have to be careful. But the barbell is beautiful in that it straightens up everyone when they understand how to grab it, at what angle.
I have experienced that if a person finds a relationship with working out, then he will begin to understand himself better as well. In addition to exercise, he decides to address other areas of his life. Diet, work, privacy. Everyone has the dilemma of whether or not to take care of themselves, mainly because it's not cheap. I have an easier position because I've been living in the gym since I was young, my children are adults, I live with my girlfriend and we only take care of ourselves. We like to travel, but we don't want to buy the best car or apartment at all costs. This is what people who put the material side first do. But they usually look that way, too. They try to have everything, until they finally find out that there is a bit too much of them as well. Then they end up at my place. With a faith that I will cure them. They need help in a form they used to despise.
Thanks to that, I know all sorts of people, big businessmen or a violinist from the philharmonia. They live for something else, so the key is to motivate them differently than I'd motivate myself. Most people are united by the fact that they like to overeat, which means they have to move and work out more to expel toxins from the body and start up their metabolism. Otherwise, they are suffocating from the inside and they end up with no energy left for anything, business or art.
I am expected to lead by example. I can't imagine lecturing someone about training, or nutrition, and then drinking a beer around the corner. It makes me furious when someone confronts me, a world champion and first class coach, with anonymous opinions. It happens in lectures. I'm talking and someone interrupts me, saying that they wrote something different on the Internet. This annoys me. I would never dare to advise someone remotely, who I have never seen in my life.
And let's be honest. Who else should people listen to? Who else in the Czech Republic and Slovakia can say what it's like? It's not a pose. I know how it is! I know that I have reached my maximum in a certain field. I know that sport, in my case bodybuilding, is a personal thing that must be experienced.
Jana Mensatorová, ČTK/AP/Molly Riley, ČTK/AP/Nathan Denette and ČTK/AP/LM Otero