From the scrum in front of the Swiss goalie, out flew the puck. It bounced right to me and I had a chance to shoot. I felt, rather than saw that the only place to shoot was a tiny window next to the post on the ice. I shot it immediately. I wasn't aiming, I just hit it.
Behind me on the bench was the national team GM, Zbyněk Kusý. After the game he told me that he had never seen something like that in his entire life.
"I clearly saw the tiny spot, it was just about big enough for a puck," he said. "You hit it so well! There was no other way to score."
That goal put us in the lead in the quarterfinals of the 2001 Junior World Championship. The Swiss were tough opponents, though. They turned it around and it was 3-3 at the start of the third period. And then I scored again, this time the game-deciding goal. Václav Nedorost found me in front of the net, and although I had an opposing player on my back, I fired a shot past the goalie.
It never bothered me when someone chased me and chopped my legs. It was the other way around actually. I scored more in situations like that because I followed instinct and I always seemed more focused. It was worse when I had too much time to think. If I could re-evaluate the situation three times, I would just shoot into the goalie.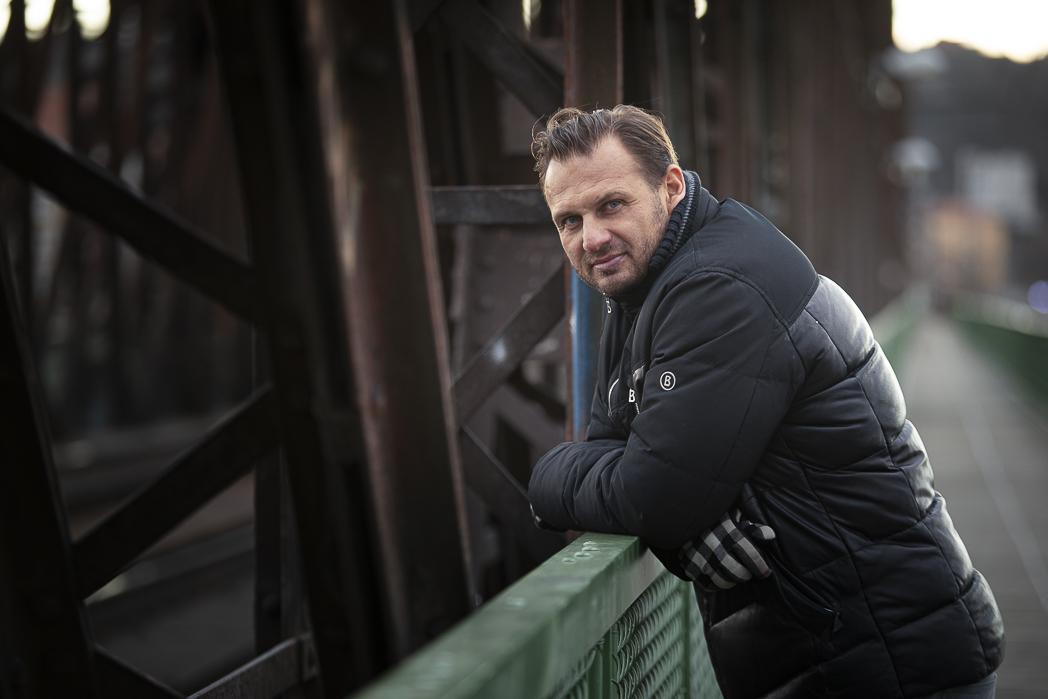 I enjoyed that match against the Swiss. It was a do-or-die game, and I was on the ice all of the time. The semifinal and final were a different story. Although we managed to break through and win the gold medal, I had mixed feelings in the end. I was delighted that we were the champions, but on a personal note, the finale of the tournament didn't satisfy me in any way because I barely played. The coaches moved me around as if every second I spent on the ice would threaten the outcome.
If there was a faceoff in the defensive zone, while my line went on, I was left sitting on the bench while someone else was on ice, most often Martin Erat, a kid who later experienced a fantastic NHL career. He was one of the best Czech hockey players ever in the NHL. I cheered for him and wished him the best. It was just that at that given moment in my 20s, I couldn't understand why the coaches were taking me out and giving my spot to someone else.
It was only when we went on offense that Martin came off and I could jump back into the game. Twenty seconds on and I'd go right back to sitting again. I pretty much didn't play in the gold medal. I had been the most productive player of the championship; a guy whose plus-minus rating wasn't bad. There was no reason to be afraid to send me on the ice.
We got a lead early in both of those games, and in the end, played out tight wins and won gold. It was awesome, but I wanted to play and I wanted to decide the games earlier, not to play it safe so someone scores on a power play and we'd have to go to overtime. I didn't want to settle for the 1-0 result and just defend it. I wanted to win 4-0. At moments like those I used to be at my best. The opponent pushing us, the puck thrown away from our net, me breaking off and putting it in. I loved those situations.
That's when, at the famous golden U20 in Moscow, coaches and their approach started to ruin hockey for me. I got downright disgusted. They started making me a power-play, offensive specialist who was not worth using in different situations. Power play. Are we losing? Okay, Brendl, go and score. Are we leading? No, wait, you're not going out now.
While everyone was celebrating our win, I slowly started losing interest in hockey. Not the game itself. I've always loved it and I still do to this day. I was tired of the way the coaches were treating me; who I was in their eyes: A one-dimensional player.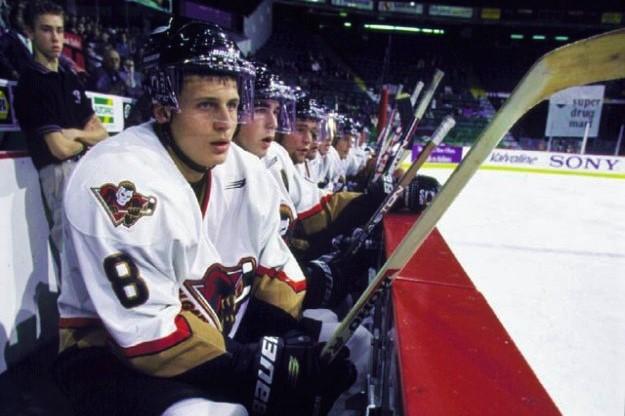 The transition into adulthood strengthened this more and more and I only remember short moments when I felt like I could play the way I wanted. Such moments didn't exist in the NHL, with minor exceptions, and I never played anything close to a complete season there. After the results I had in juniors, after being drafted fourth overall in 1999, and after my performance with the youth team, there was a lot more expected of me. I believed that I would make a much more significant mark on the league. It didn't happen, partly because of some things that I couldn't affect, partly because of mistakes I made.
It was a combination of bad coaches and my bad decisions. And that look of mine. The expression on my face where I cannot hide anything. Coupled with my desire not to be seen in the news, I earned the reputation of a weirdo.
I don't think what was said about me was true. I don't think being private or secretive is a reason for condemnation. I don't even agree with the notion that I had a miserable career because the NHL didn't work out, as others often perceive it. But I stopped worrying about what others thought. I knew who I was.
I wasn't the type of guy to celebrate goals with showy antics, but I do remember two that ended in straight-up euphoria. One was in Sweden while playing for Brynäs. I hadn't played well for a couple of games in a row and I simply couldn't hit the net. The day before one particular game, I was telling my teammates that I was just going to push the puck in the net no matter what. And that's exactly what happened. I pushed it through with force and it was an important, break-point goal.
The other was in February 2004 for Carolina at home against Washington. I evened the score at 3-3 in the 55th minute. Every line was pushing, fighting, and there was me, being chopped at on all sides, literally pushing it through a cluster of hockey sticks into their net.
Both of those goals were hard and ugly; the kind I had to work for on the ice. Goals like that made me burst with emotions. Ever since I was little, I was used to scoring goals. That's why they were nothing special for me. That was my role on the team. I was one-timing pucks, hitting top corners, scoring from counters down the wing. I was just good at that, it was expected of me, and that's what I expected of myself. I celebrated more in my head every time, and I felt relieved that I had fulfilled my role and the team was going to have it a little easier.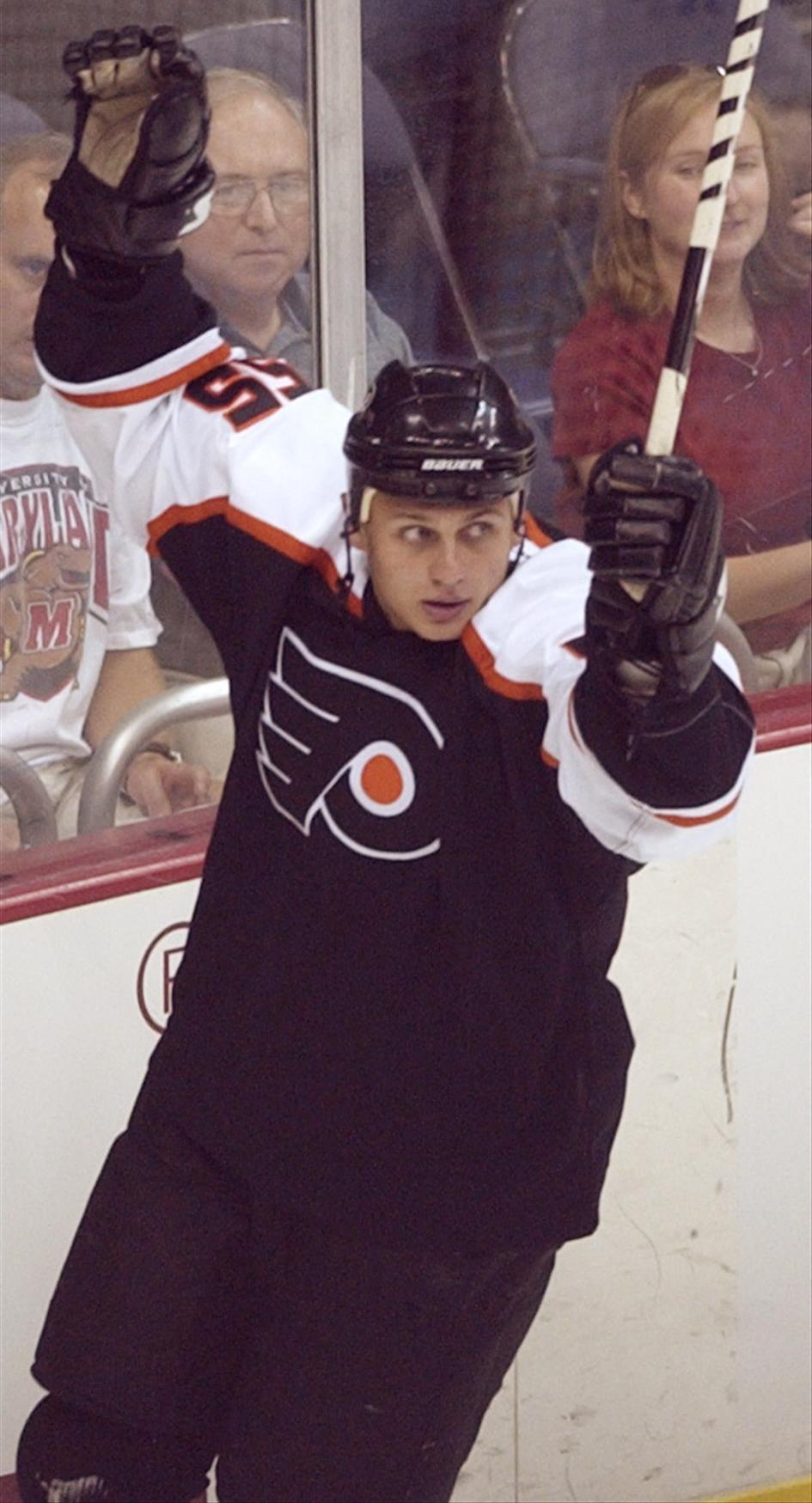 Most of my goals came from being skilled. I knew I could do it when I got the pass I needed. I knew that if I got the puck in a certain way, I'd score; that if I had 10 two-on-ones and my teammate gave me the puck, in seven cases it would result in a goal. There are guys who are nervous about situations like this; I just knew where to shoot it without looking.

I didn't need to aim. I knew where I was on the ice and how the goalie was positioned. I've never tried to fight with anyone, or win a staring contest. My way was just about whether I hit the open spot in a goal. I chose my spot, one from my favorites, and when I didn't miss it, I had such a good shot that I just scored unless a part of the goalie's hockey stick nicked it or he pulled off some insane save.

My strong shot originated from hard training. You can listen to a lot of talk about who has innate talent and gifts of nature, but I know I had such an accurate shot thanks to my dad. As a kid, I had to practice in front of our house every day and shoot 200 pucks. If I didn't, my dad would levy some form of punishment.
I didn't always want to. I didn't always do it when there was bad weather, but the reality is that as a child, for most of my days after school, I took a stick and went shooting. At home in Nové Město nad Metují, we lived in a classic row house, so I didn't even have the comfort of my own yard. My dad placed my goal on a strip of grass between the sidewalk and the field and put a metal square a few meters in front of it. It wasn't so big that I couldn't learn to pull the puck too far, rather it was to put a quick snap in my wrist in a small space.
Because there was no net or barrier behind the goal, whenever I missed the 180x120 centimeters hole, the puck flew 60 meters across the field and I had to walk and get it back. Sometimes, when it bounced off the sidewalk at a weird angle, it ended up in a nearby crossing. Then I had to look for it under parked cars. So my best choice was to be precise and accurate. I practiced so often that it became second nature. Puck on stick, goal. Just an everyday routine. But when I managed to put the puck behind the goal line, it was always special for me.
Back then in Washington, I let my emotions flow freely because it was the only time when I had the feeling that I was finally getting a solid opportunity in the NHL, and that I had what it takes. We had a lineup full of young guys like Eric Staal, Justin Williams and me, and it was evident it was going really well. The team took me in, I was getting a lot of game time, my performance was good and I scored a lot. as was expected of me. Everything was starting to click. The coach told me that if I carried on like this, he expected me to have 35 goals every season. I was on the right track. Finally, after all these years.
"Have any of the players here caught your eye?"
We were in the grandstand at one of the first junior practice sessions in Calgary, and this question was asked by a guy who took care of me in the beginning. We practiced in two groups and the core of the previous season's team had just been on the ice.
"I don't see anyone standing out at first glance," I replied, in truth.
"What about that one, No. 20?"
Small, skates weird, and from what I had seen, he couldn't even shoot properly. Not a good player, I thought. It was Brad Moran. He became the best teammate I've ever had. He was an incredibly smart player. He never managed to assert himself in the NHL, only appearing in eight games, but at least he had a nice career in Europe and had many points in the AHL. For me, he will forever remain a player with whom I immediately clicked. We were downright hockey-hooked. With this kid playing center, I was able to score 93 goals in 88 games as a 17-year-old during my first season in Canada.
Brad understood what later in my career, a lot of guys didn't: That if he passed to me, I would score goals, he'd have assists and the whole team would benefit. He scored 77 points in that season as well. It certainly wasn't that I had to do everything by myself. But when I was in certain areas on the ice, Brad knew what I needed. And when I passed the puck to him, he was right where I wanted him to be. That's what it was all about. I don't think I was ever a solo player, I just never felt the need to pass to someone who didn't have a shot like mine. In that sense I was selfish. But only because I believed we had a better chance of scoring a goal. I always passed if it made sense.

My connection with Brad confirmed this. The coaches at first looked for someone who could be our other wing. Few were able to play with us until they put a player from the T'suutina Nation there. Brent Dodginghorse was his name. The kid was skinny but pure warrior material. He didn't know pain. The better we were, the more opponents would try to use goons on us. They wanted to intimidate us, and especially me as a European. I wasn't really scared, fighting was just not my role on the ice. And it didn't even have to be, all conflicts were always reliably resolved by Dodginghorse. He flew in between us and smashed everyone. He had that in him. He also played a more defensive role for us and got pucks out of our zone. He understood what his role was and that if he did it well, everyone would benefit from it. That's exactly the type of hockey I used to enjoy. Everyone on the line had a role and was committed to it.
Even then, the coach didn't initially put me in when we had to defend against our opponent's power play. I scored 12 goals in the first six games of the season, nobody could stop me! And yet, the second we took a penalty, he was taking me off. As time went on, I got more and more sour, and once on the way off the ice, I smashed the door behind me.
"What's the problem?" the coach said as he ran straight to me.
I explained to him that I wanted to play when we were short handed as well. That I was tired of just sitting on the bench. And that back home I used to play them in youth and I scored goals there as well. He understood. We started to play like that along with Brad, and I ended the season with about 10 goals in just those situations. There were even situations in which we were losing, and the coach sent the two of us on the ice against the opponent's power play with a simple command: score. It worked. It was similar later in Sweden where they used me just like that.
I went to Canada to play juniors in Olomouc for two years, even though I was technically still a youth. I was the best player there, so at the end of the season they put me in the first league with our A-team and I was pretty impactful there. I thought of my overseas transfer as a return from men's hockey to youth, where people couldn't miss me. I was doing it to put myself in plain sight of the NHL.
After a season where I demolished every possible WHL rookie record and we won the league, I got drafted by the New York Rangers at No. 4 overall. It gave me a taste of something that I decided I did not want: fame.
Petr Nedvěd and I went out for a beer in Prague during the summer. We hardly had time to say anything to each other before a bunch of guys ran up to us and started asking: "What's uuup, my men?" They were high-fiving and they wanted to talk with us. Instead of chatting in peace, they joined our table, and our get-together was over.
Peter later told me that he didn't know them at all. They just felt like getting to know us. I was in my early 20s and I knew I didn't want to end up like that. In my junior year in Calgary, I had already been through that experience pretty intensely, and I soon found out that it just doesn't suit me. I handed out so many signatures and photographs that requests for them gradually began to seriously annoy me. Most of the time, people would approach me during dinner, just at the moment when my food arrived. I thought that was downright rude. The worst thing was that when one came, another 10 stood up to join him.
I couldn't pretend it was cool. It bothered me. Like, just wait 10 minutes for me to finish my meal, and then come over.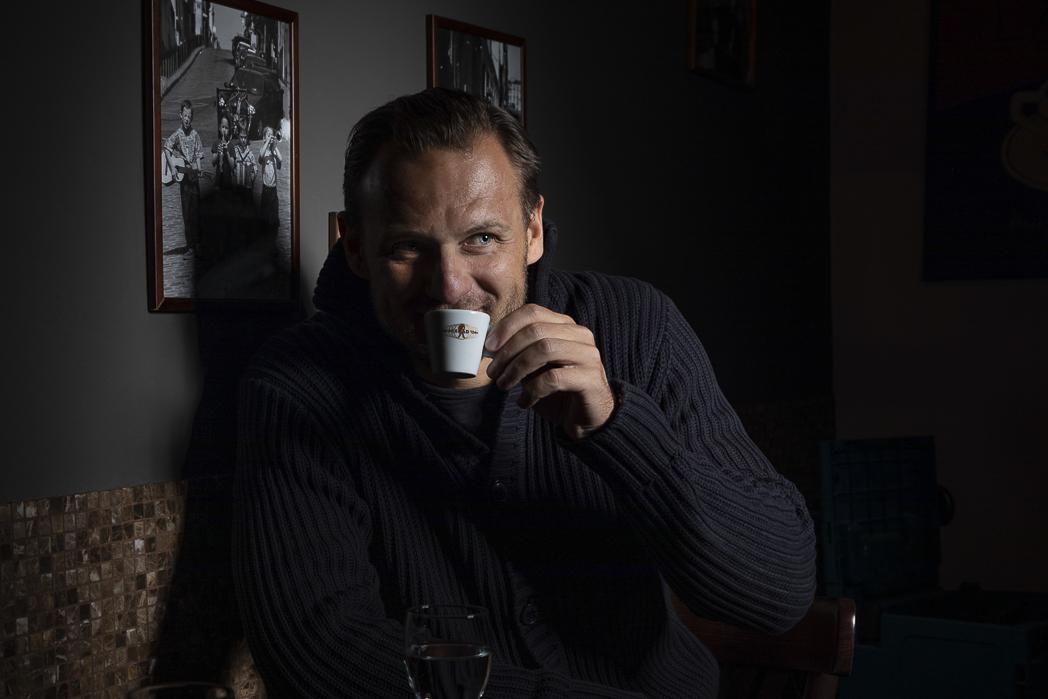 As a boy, I was no different than my peers. I wasn't sitting in a corner somewhere, we were having fun with my gang and I liked being the center of attention. But the first two years in Calgary, plus what happened after the draft showed me that I didn't want to be popular. I had my moment of glory, and it was just enough for me.
That's why I gradually stopped talking to journalists and didn't agree to any photo shoots. I didn't want to be known as a media face. What for? So I can't go out with my friends for a beer, just like Petr? Thanks, I'll pass. I haven't had a good experience with newspapers anyway. They were writing nonsense about me. Someone in America would just mention something and reporters in the Czech Republic just copied it without asking anyone how it really was. Some have written such things about me that I would probably slap them if we met. They never even saw me in real life, but portrayed me in their articles as if I was some kind of asshole.
The thing that finally led me to this decision happened during the lockout. When I left both Třinec and then Olomouc after a couple of games, "a joke" appeared in one magazine that I had finally found my team and that I had been traded to Dynamo Ulaanbaatar for a herd of yaks. Something like that.
Sorry, that has crossed the line. Whoever wrote it knew nothing about me, as well as about the situation and why it didn't work. No one wondered then why I didn't want to talk to journalists anymore. There are people who would rise above this, but not me. This experience just hardened my belief that I'd be better off living the way I wanted, outside of the media eye. I didn't need anyone to praise and adore me. I thought it best if the only thing written about me was that I scored three goals in a game and that would be it. I didn't need to show off.
But that still doesn't mean I'm the weirdo they say I am. It's also a lie that I'm lazy and I eat nothing but hot dogs, which, of course, appeared somewhere as well, and it's been taken as a fact ever since. My approach to exercising and diet is probably obvious enough today when I haven't played at the top level for a long time, yet I haven't really gotten fat. When I don't do anything for three days, I'm already feeling anxious. I have to move all the time, play tennis or at least golf. I can't imagine a life without some physical activity.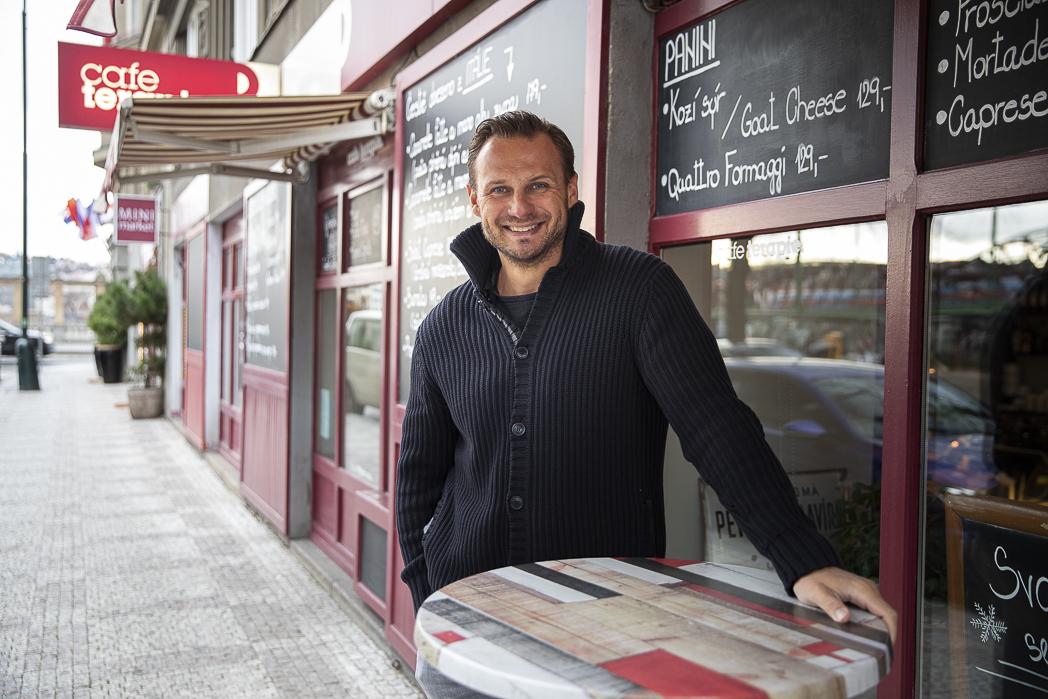 I actually enjoyed summer workouts every year. Sprints, gym, jumping. I only hated long tracks, but I'm not the first nor the last hockey player in that regard. And on the ice, I wasn't really into those exercises that I thought were useless for my style of hockey. But still, I always did them without hesitation. I never said a word. It would never happen that I wouldn't do what was asked of me.
But my public persona was created by an incident that my former agent, Henyš, told about me — that I supposedly told Mr. Holík at U20s that I wasn't going to morning training. I would never in my life dare to say that I'm not going to train. Never! I'd just imagine my dad coming and his reaction.
In reality, that situation went like this: Mr. Holík told us that we had a training session at 8 in the morning. He asked what we thought about it. I told him: "You've gotta be kidding, right?" It was a little inappropriate, but that's how it went on that team and Mr. Holík was a down-to-earth guy. You could talk to him like that if the team was playing well. And we were.
But to refuse to go to training? If someone told me that it was starting at 6 in the morning, I'd be there at half past 5 no matter what, getting in my gear. On that squad back then, nine out of 10 guys were downright pissed that we had to get on the ice so early, but they kept their mouths shut and just got over it. I was the only one who spoke the truth; that we'd rather get some sleep. But because the training was already set at that hour, I got over it. I just had my classic facial expression while doing it. I'm just not one to wake up in the morning with a beaming smile. And that's my next problem. My face.
I've never made any excuses, and I haven't had to. My face can't hide anything. I can't act happy when I don't feel like it. You just need to look at me and you can tell if I'm sour or not. I know that's the way it is. Everyone tells me this, including my closest friends and family. I've tried to do something about it, but I just can't do it any other way. That's the way I look, always a little pissed. What am I supposed to do about it? I'm 40. I'd have a hard time changing my face at this point.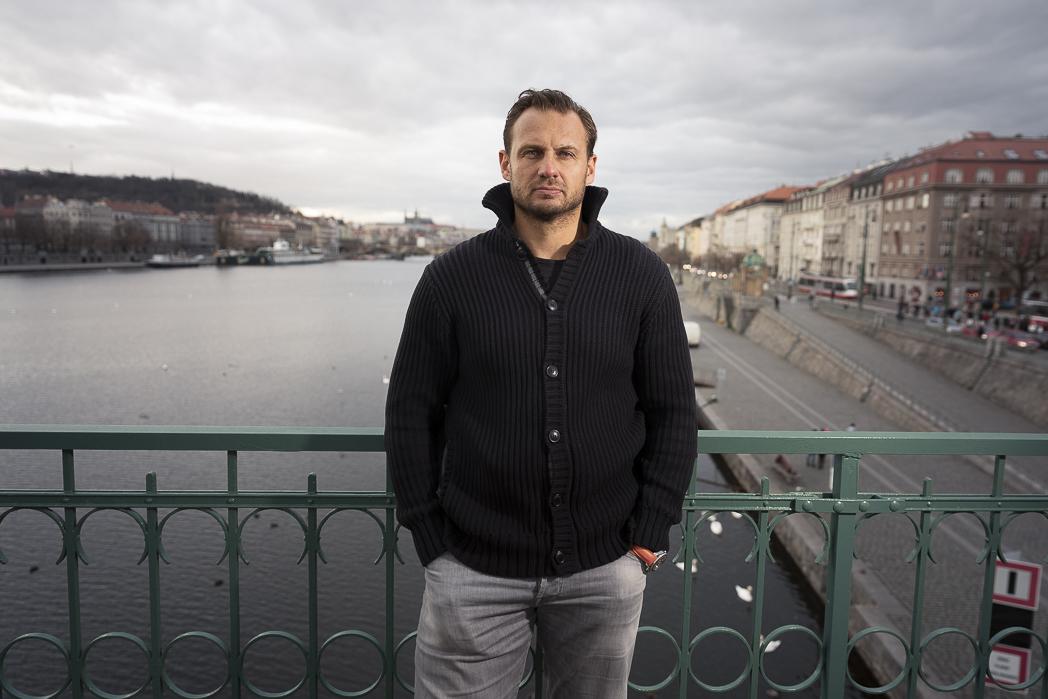 They say it bothered people with the Rangers back then. Nobody approached me, not a teammate, not a coach, not anyone from management, and confronted me. I was supposed to figure it out on my own, which I couldn't, so for my superiors, I became that comfortable European with a weird face who didn't want to work.
I never slacked off. Yeah, I guess I could've done something extra sometimes and with a smile, too, but it's not in my nature. I have never sold others on how much I work because it is more fitting for me to show what I can do without unnecessary flamboyance and boasting. I was doing my prep, but somewhere on the side. I didn't want to be seen doing it. And that was a mistake, because if they ever saw me work in the gym, they'd have looked at me differently. America is just used to this. You have to fool others about how happy you are and how hard you work. Whoever shows it more, ends up better. That's not my style.
In Philadelphia, they often asked me why I was so angry all the time, and why I didn't smile at least a little. I wonder why...
At least in Philadelphia, I finally believed I would get a proper chance in the NHL. Instead, they left me on the AHL team. And when they called me up, it was just to spend four or five minutes on the ice trying to play offense with fighters. I wasn't happy, and I couldn't pretend to be. I felt miserable at the start of the first training camp with the Rangers. I arrived admittedly with a post-draft pomp as a player the club was going to build a future around, but also with a fever.
I didn't tell anyone how I was sick, because at your first NHL camp you just go and play, even if you get your leg ripped off. That's how I was raised: never complain and work until you're dead. But it was so obvious I was not alright. In the opening preseason game, I was skating as if I had weights on my legs. My skating was suffering and I played badly, from which they deduced that I had most likely not trained all summer. So I admitted what was sick, gave myself two days rest and then got back for the next game we played. I had three goals and two assists.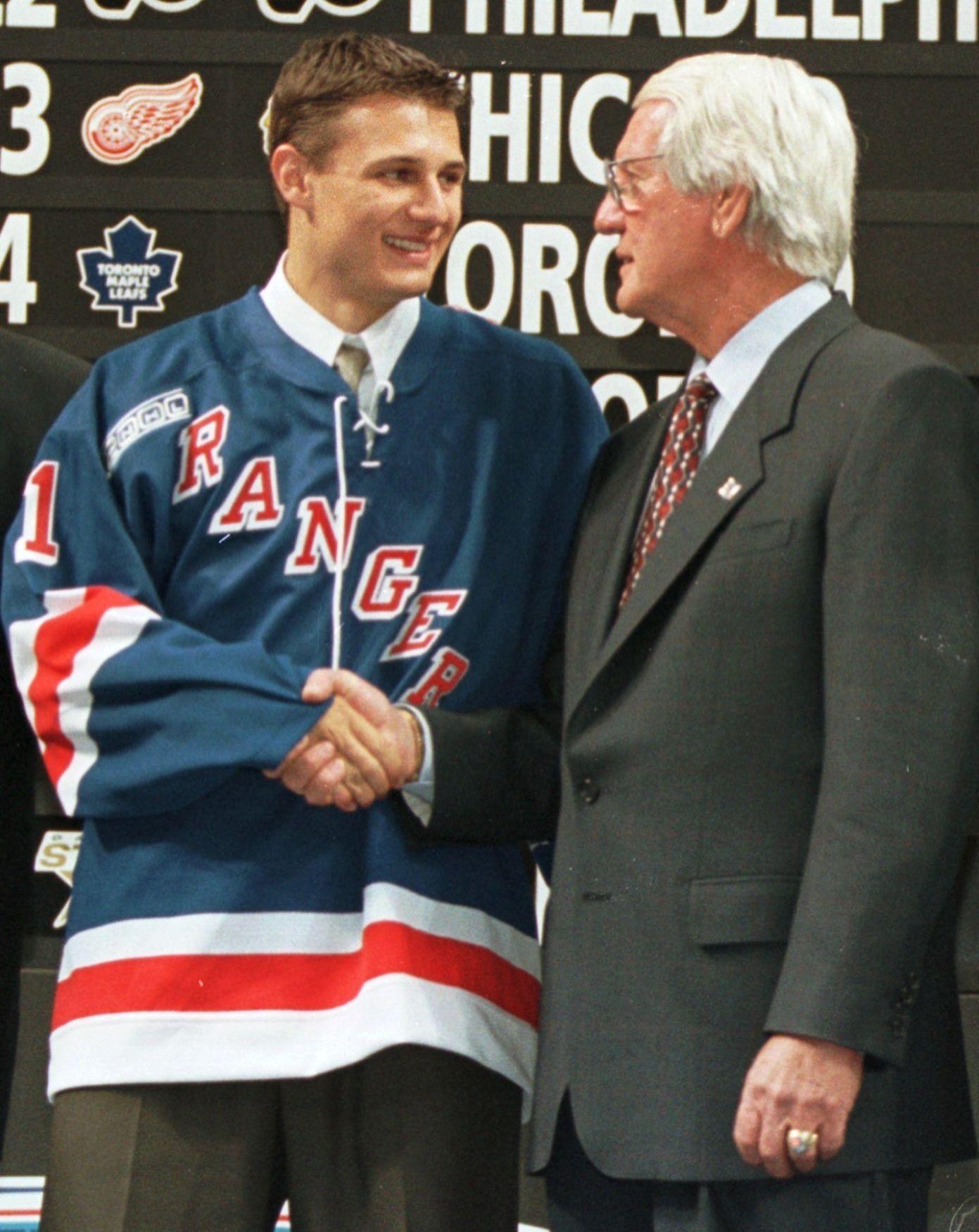 Even then, they sent one fighter on to test if I'd get scared. He sped at me, trying to hit me, but I didn't flinch and cross-checked him back. How lucky was I, not being interested in hockey personas that much, so I didn't know that it was Todd Harvey, who had been playing in the NHL for a couple of years and was a renowned fighter. Had I known that, I probably wouldn't have fought back.

Despite that, the awkward start stuck with me. They put me in two preseason games, I scored a goal, had an assist and an overall good performance but nothing too to earn myself a place among the greats like Mark Messier, Theo Fleury, Adam Graves, Brian Leetch or Nedvěd.

Just to be clear, I know them now. Back then, besides the biggest names, I didn't know anyone. I didn't look around and speculate who I had the chance to replace. I believed I was so good, I simply deserved a place. But I got sent back to juniors. That year, Theo Fleury, a tremendous player, got one power-play goal for the Rangers. One.
Journalists told him that with a salary of $8.5 million a year, it was a little short, and that the club had better let young Brendl out there to score more of those power-play goals. The club was in a serious crisis then, even with other stars, and after the season, Neil Smith, the long-time general manager who had picked me, was fired. He was replaced by Glen Sather. He didn't really like Czechs and certainly not me; certainly not after our misunderstanding.
I still don't think I was rude to him, as people say. I just laughed at something he and his colleagues were telling me in his office after our first camp together. They were feeding me absolute nonsense, trying to explain why they were sending me to juniors again. They said that they needed to keep this player and that player and this one and that one had to play in the AHL so they didn't lose the others. It wasn't even about the first team, it was about the farm!
Why not just tell me: "Alright, we don't think you have what it takes. We think another year in juniors would do you good." I would have only reacted with a simple: "OK." But that bullshit they were feeding me?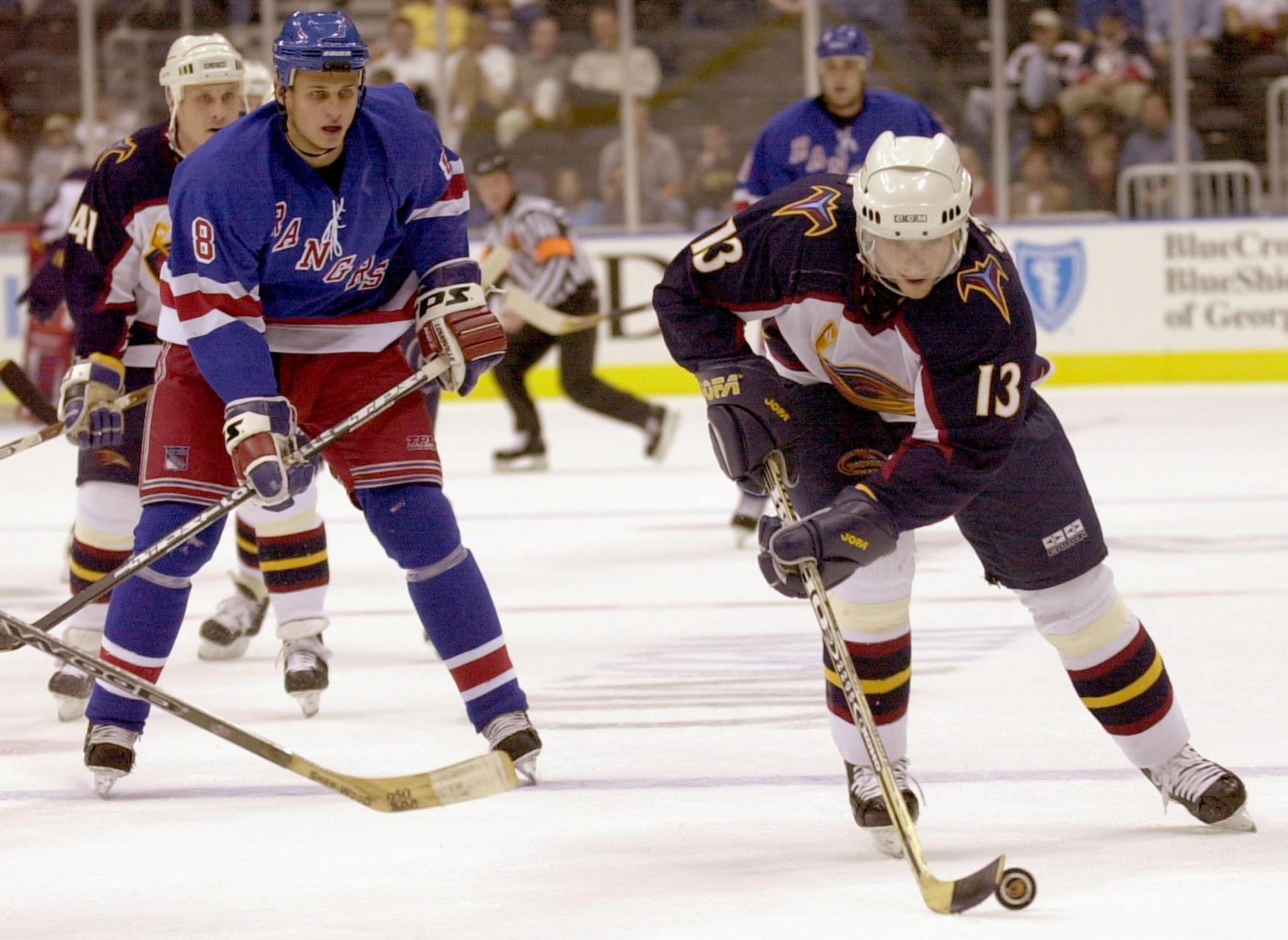 I thought that Sather was almost joking, and everyone in the States told me that I should be positive, so I just started laughing, which they took as disrespect. They thought that I was mocking my superiors. I meant no harm at all. I didn't mean to be rude. It just made me laugh how hard they tried to explain it instead of simply telling me that I was not playing well enough yet.
That started my inevitable end with the Rangers before I'd even really started. I immediately gained a reputation as a lazy-ass. A weird Czech who mocks the great Sather. People in the league will tell such things to each other.
The last season in juniors was really just wasted on me. I did whatever I wanted on the ice, and still scored almost a goal per game anyway. I was tired of it. And before that period, Mr. Kusák from Pardubice called me, telling me to let go and join them for a year. I had been considering this option a lot. I wanted to finally play adult hockey, but I stayed in Canada on the advice of my agent.
However, my development there basically stopped for a year, and then they traded me to Philadelphia. I had all of my firsts with the Flyers — my first game, my first goal, my first feeling that they let me play what I'm actually good at — but everything went wrong right at the beginning as well.
I had a great training camp, got put on the offense with Jeremy Roenick and John LeClair, but I sprained my ankle in the opening game of the season. I did come back after a couple of weeks, but I couldn't skate properly. Any change of direction hurt horribly, a cross step was a no-go for me. What hockey could I play when the only way I could skate was back and forth. I suffered until January, but by that time I was already back on the farm.
And because the Flyers were playing aggressive hockey at the time, it was even harder. They had seven Czechs and Slovaks in the organization, which I just couldn't understand. It was an absolutely crazy situation. We fought with each other over one spot, and even when they pulled one of us up, there were already two elite lines set in stone.
I got put on a power play every once in a while if someone got hurt or dropped out.
"Pav, go and do something there."
And when I actually played in the NHL, for most of the time I was just on the faceoffs next to the fighter Donald Brasher. I respect guys whose game is based on skating and toughness. I know those are needed for the team as well, but I just didn't enjoy playing with them. I needed something else.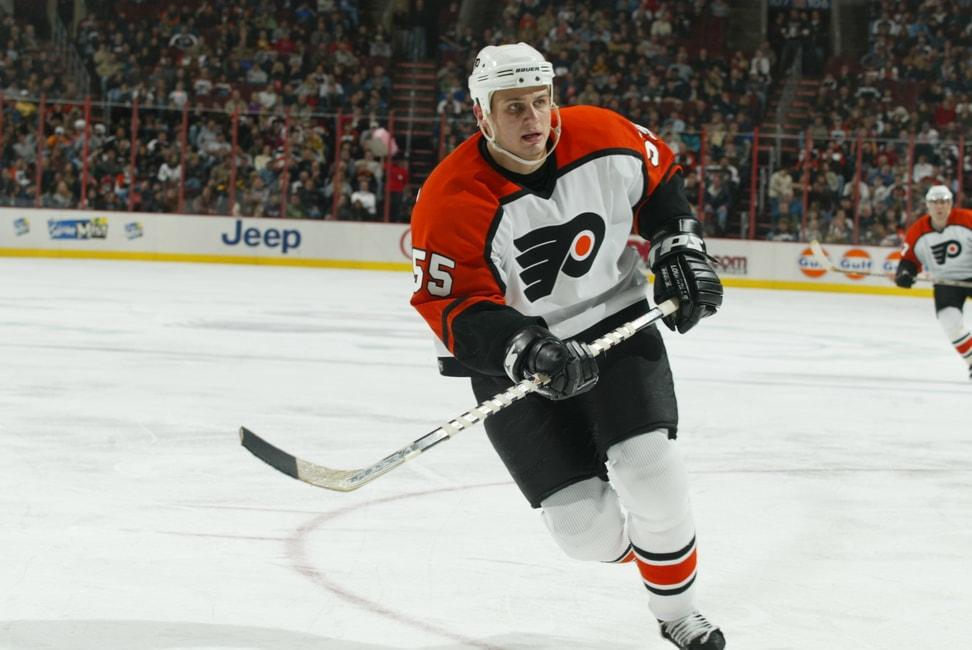 Even though this lasted for another season, I still didn't feel like I had missed my train. I was 21, and I still believed I would find my place; eventually I'd get the chance to show what I could do, and that it would just take time. I even understood why I played so little in the NHL because our team was stacked. But I played so little even on the farm. Even there, they treated me like a player who has only one purpose. Even though I was fed up with it, I wasn't going to run away from the fight. I would have felt like a coward. I didn't think I was losing my skills. I was doing well in training sessions, the right chances kept coming and I scored some goals even with so little opportunity, so I was still confident. I knew that I just needed to wait for the right moment.
I have to admit that I probably didn't exactly send positive signals to those around me. After I finished what I had to do, I packed up and left, knowing that if no one saw what I could do, I couldn't do anything about it.
I remember situations where, after practice, I wanted to practice shooting on my own, and then suddenly 10 dudes appeared around my net and started putting pucks into corners so I couldn't really shoot with my full force because I could hit them in the head. I had to wait half an hour on the bench before they were done just to get thrown off the ice by the staff. Meanwhile, I just got cold.
Thanks, guys.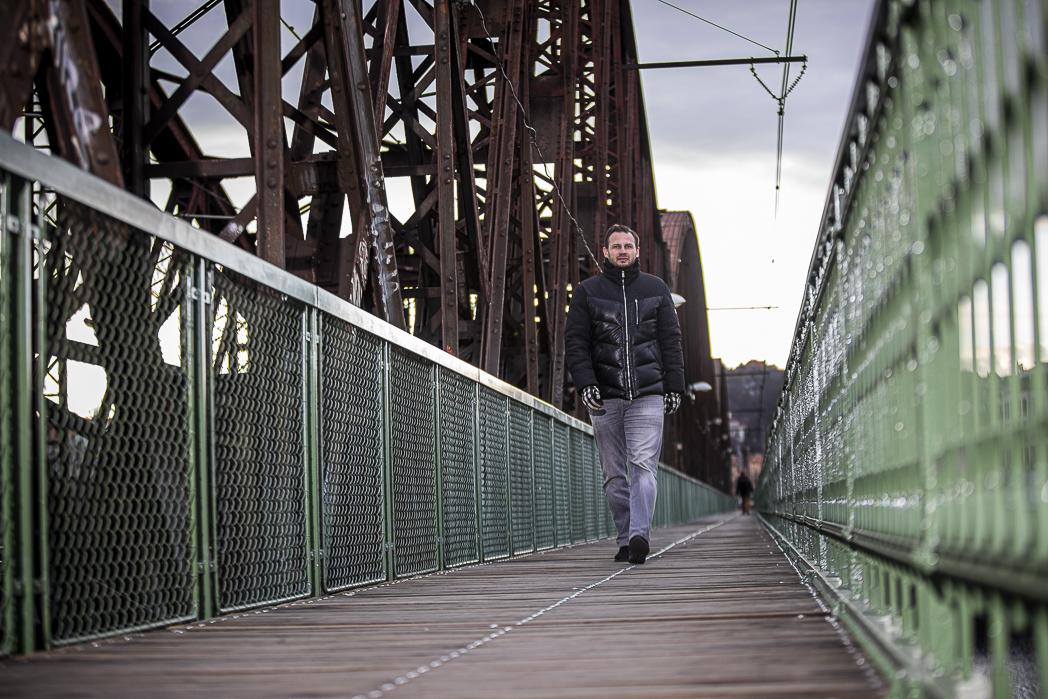 Of course I was supposed to hold on, and I should have shown at least a few times how much I cared. No doubt. But no one made me do it at the time. Teammates were playing for their spots and my superiors didn't ever give me the sense that I had a future. I had this feeling most of the time that I could do more than everyone around, so why the hell didn't anyone give me the opportunity to show it? Why didn't they at least work with me in the AHL to make me better, instead of just making me a single-use player who they could only put on the power play? Why did I never get 20 minutes per game where I could get into a rhythm and feel important?
"You have to earn the right to play more," the coaches told me.
Unfortunately, that's not how it worked with me. The more you let me play, the better I was. But if you only let me play a little and tell me how I need to earn it, I just won't be good. I understand that a lot of hockey players have had to go the same thing I did — and they managed. I didn't. I couldn't deal with it, and I think of it as another one of the mistakes which fundamentally affected my career. But when I went on the ice four shifts a period, I wasn't really into the game and every touch of the puck became magnified because I didn't want to screw it up so no one could say anything bad. I was stiff. I wanted too much and thought too hard, and I just messed up. A pass that I'd normally make hundreds of times would end up in a guy's skates.
Some players are able to show their full potential in moments like these, but I couldn't. I needed trust and then I would return it, I'm sure of it. Scoring goals was my style. And my team was able to win because of that. Instead, most of the time, I was cold, stuck on the bench and didn't enjoy hockey at all. To this day, I don't understand why even on that stupid farm team they used me as a power-play specialist. Why didn't they try me more so I'd feel a part of an organization that cares about my overall improvement?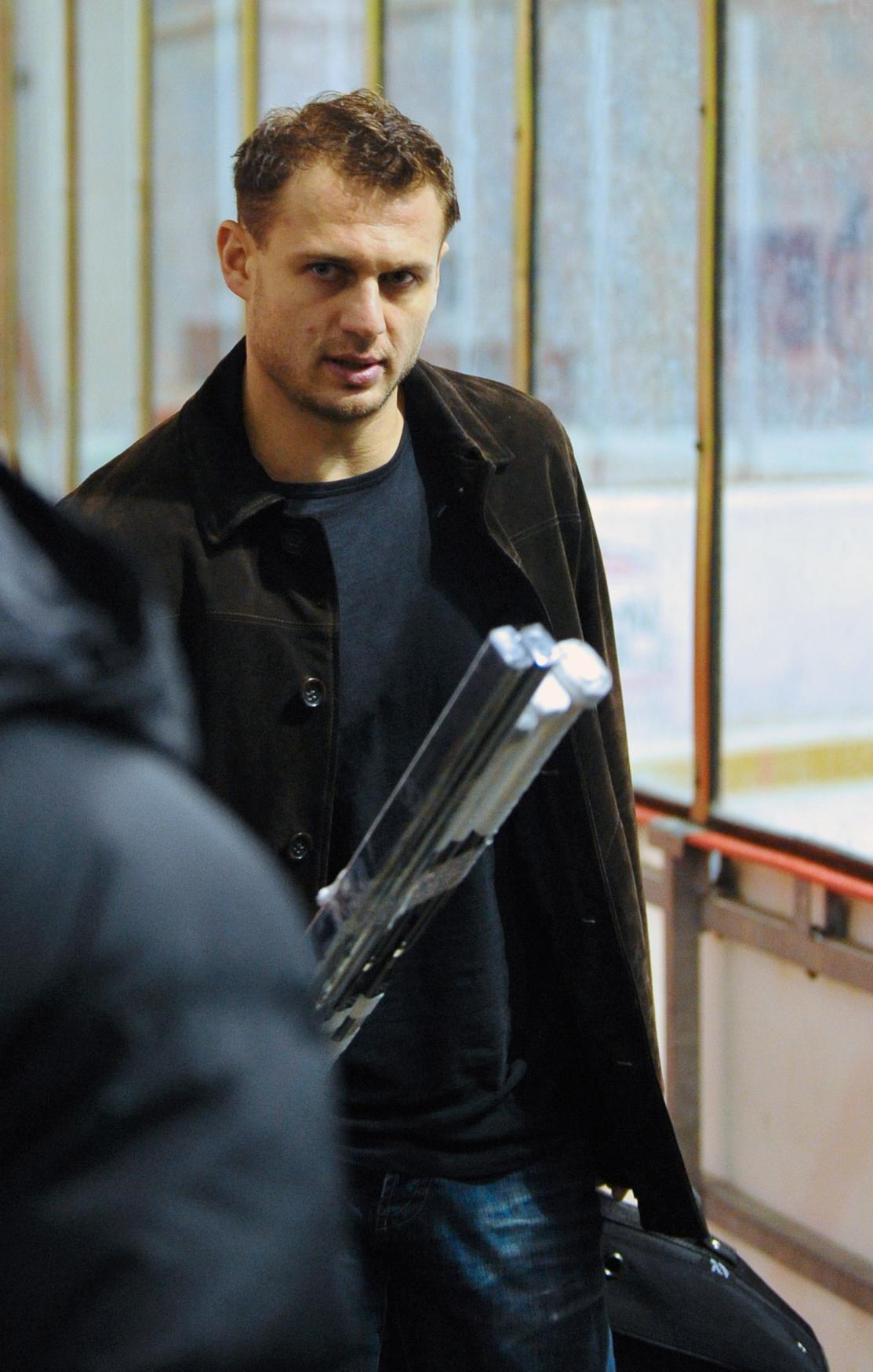 I totally understand that each team has players designed for specific roles. I understand the need to have some sort of checking line, someone specifically on defense and so on. But what I can't fathom is the fact that the coach didn't put me on the ice just to at least stay ready. Why, when the potential to decide games I have is greater than other teammates, didn't he try to keep me in the game?

The reality looked like we had a team full of butchers and we were just spending most of our time in the penalty box. And since Brendl's skates must not touch the ice the moment that we defended or played shorthanded, sometimes I spent half a period on my ass before another shift came.

I never needed to be on the ice for a minute, but why not use me just for 20 seconds while playing shorthanded so I'm not just stuck on the bench. And then someone else would just take another penalty so I'd sit there without having the slightest impact on the game. It happened to me later in Russia as well, where I didn't get on the ice even in overtime. The coach's approach was that we could lose instead of putting a player out there who was capable of getting him a win.
For this reason, I've just been pissed a lot of times. In juniors, I built up a reputation as a player who could make a difference in any game. But even with my offensive talent, I could not score the first chance I got when I was cold and stiff. I'll score a goal once I'm drawn into the game.
This remains an unfathomable thing to me even after all the years. Not that I had to play by myself all the time, but that a coach could let me cool down and then want me to work miracles. A good coach must sense that he can't let one of his players get so disgusted by the game. If I spent 10 minutes on the bench, I simply did not feel like an important part of the team, as a player who decides games. It doesn't make sense to me that I was looking at guys who objectively didn't play as well as I did, and yet they played.
It was pure frustration.
"Why didn't you go to the coach and tell him that?" People asked me when I told them this.
"Because I didn't feel it was appropriate," I replied.
I was raised differently at home. As a kid in the Czech Republic, I had to come to the dressing room, shut up and listen. All of a sudden I'm supposed to go to my coach in America at 21 and tell him how to treat me? I couldn't do that. Especially not a coach in the AHL who couldn't see what I could bring to the team. What was I supposed to say to him? I could go to him if I had a solid spot on the team and I felt like he would listen to me. Not when he treated me the way he did.
Above us, we had Ken Hitchock. He was a good guy, but with plenty of experience and a Stanley Cup. Should I have told him how I needed to play more? No, that would have been inappropriate.
Or when I got on the ice during the power play with the Flyers, should I have told LeClair and Roenick how it would suit me if they played? Should I, a farm kid, advise the stars that I needed this and that? If I did that at 17 in Olomouc, teammates would have just destroyed me. That's what I kept in mind.
And so I just had that look of mine, trying to use the moments I had on the ice as best as I could, and not very successfully.
Toronto-Carolina on Feb. 21, 2004 was an even, quick match. I was getting a lot of game time, which finally became the standard. Shortly before the end of the second period, we went on the ice for a faceoff in our zone. We won it, passed it back, I moved to the left D-man, skated from behind the goal, and he passed it to me.
But the pass was bad. Okay, the ice was bad, warmed by a stadium where there were 20,000 people. It happens, but there was a wiggling puck flying at my ankles which I started hunting in my feet. The center of the ice cleared and Eric Staal flew in between Toronto's defensemen. If I had managed to pass it on his stick, it would have been a breakaway.
At the same time, I could see Bryan McCabe heading toward me; a big guy who was then a key defenseman for the Maple Leafs. I knew I was about to get hit. It never bothered me, I'm not that small myself, and when I expect it, I have no troubles dealing with it. I love to get hit in that place, too, because there might be a chance out of it. I just had to kind of slap the puck in Eric's direction, and I tried to get ready in anticipation of the impact.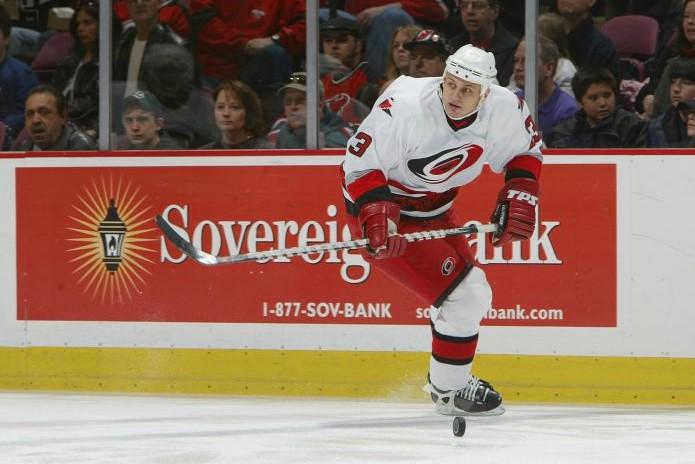 Unfortunately McCabe was just so big and heavy and he hit me on the shoulder so hard that he broke my collarbone. He literally rolled me up on the ice. I couldn't catch my breath, such a hit it was, and as I rolled over, medics were already running towards me. I got my knees underneath myself and leaned on my hands to get up. But my left one was dead, like I didn't have it at all.
I didn't feel any pain; adrenaline worked its magic. Then in the room, where they took the gear off me, adrenalin ran out, and it was suddenly so painful it made me sick.
I was pissed more than anything. Pissed that just as I was just starting to do well in the NHL this happened. The injury was going to make me miss a long period of time. With a broken collarbone, you can't do anything. You can't practice. You can't shoot. I was back in a month, but they just let me finish training and heal properly because in a few days our season was over anyway.
The next one didn't start because of the strike.
I'm far from the first or last hockey player whose career has been affected by the lockout. I'm not going to complain, but the fact is, whatever chance I had of following up on what I had been doing in Carolina at the beginning of 2004, it was gone now and there was a huge divide between me and the team. On top of that, I made a bad decision when I didn't want to spend the lockout year in the AHL. Tomáš Plekanec in Montreal did so at the time and laid the foundation of his position with the club.
This is one of the biggest mistakes of my hockey life. I did it for one simple reason: Lowell, where the Hurricanes had their AHL team, was in the boondocks. It's a ghetto near Boston where one could hear gunfire on the streets at night. I spent so much time there during the previous season that the idea of my return scared me. Had Carolina had a farm back then in San Antonio or Chicago, I would have decided otherwise, but when there was a chance to play at home after some years, where my parents could watch me, I set off for Europe.
Eric Staal stayed on the farm and got used to playing with other guys. When the NHL got going again in a year, they gave him a chance rather than Brendl. Brendl didn't make the first team, and ended up, guess where, in Lowell again. What an irony.
In retrospect, I remember meetings with clubs before the draft, where their managers told me they would pick me and let me play right away. San Jose, Nashville, but they always added right away that it was obvious to them that when they picked, I wouldn't be there anymore. And that's exactly what happened.
When I ended up on Carolina's farm again after the lockout, I was pushing my agents. Why weren't they trying to do something about my situation? Another agent told me he had a great deal for me in Finland. I was really considering it, trying to find out if Carolina would let me go. But there were just a few days until Christmas when there's an agreement in the NHL that no transfers can be made. As soon as they could release me, I got a message that they had traded me to Phoenix. I don't know if it was just a coincidence or if it happened because I finally spoke up. But there was no way I could leave for Finland when I suddenly saw the light at the end of the tunnel again.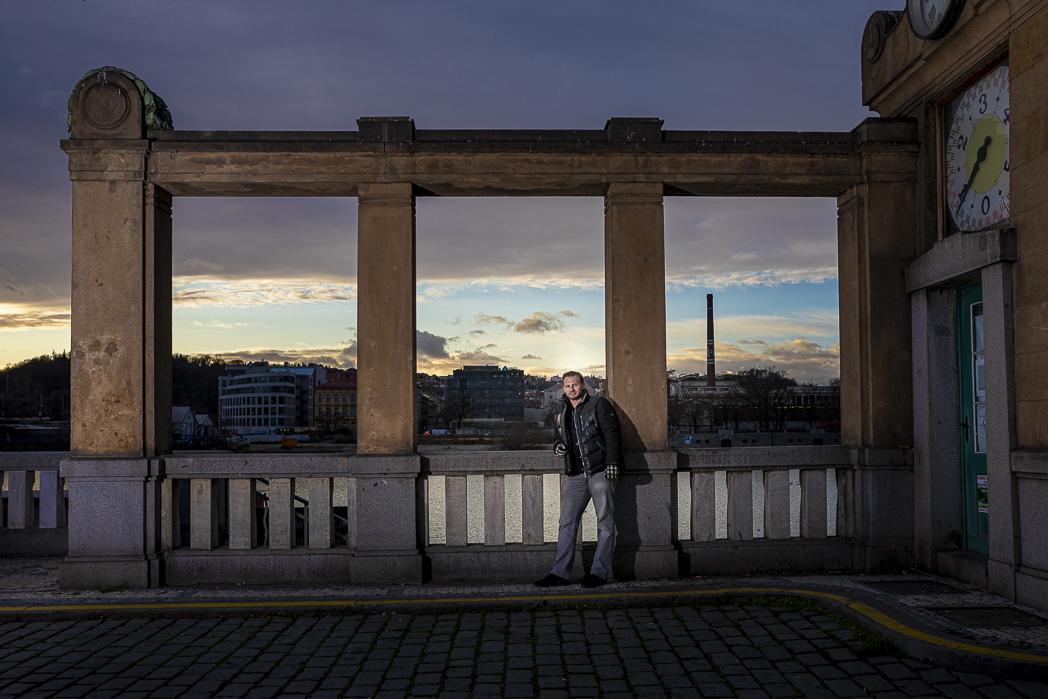 I was going to try this one season and then see, I told myself. But it was good for nothing. Once again, I went straight to the farm team, and I didn't play much there. I found myself in the middle of a pot of players. There were more than 50 during that one season, and it was still the same song. Someone was still trying to remake me. I knew that the best thing was to let me do what I'm best at. They were able to do that in Sweden, and it was the best country for me and my style of hockey.
Swedes didn't care about my facial expression. They trusted my abilities. It is said that they're cold fish, but I don't think it's true. They're just not as effective at smiling as Americans. When you find your way through to them and show them you're good at something, you'll find people with golden hearts who would do anything for you. They don't get up your ass right away. They let you find your space and express yourself. And if you do what you're supposed to, they leave you alone.
That's why I experienced my best years there.
Even later in Russia in Novgorod, I came across an amazing environment; a coach who understood me, as well as a teammate with whom I had great synergy. Too bad he was injured all the time because otherwise they trusted us and I became the league's top scorer in the first season, just as I did in Sweden.
The problem arose again when someone wanted to coach me too much and teach me something. According to one, I had bad skating technique, and an assistant coach in the league then even claimed to teach me how to shoot properly. I looked at that guy with an open mouth, wondering whether I was at the stadium or in a travel agency.
I was having a beer with guys from Sparta the other day. The younger ones remembered me when they were starting in Beroun, where I trained over the summer. We ended the evening a little tipsy in the centre of Prague. While saying goodbye, one of them came to me and said this: "Brendlik, you're so cool. You're great, it's super fun with you."
Before that, he thought I was an arrogant idiot weirdo. Why not say it as it is.
Like a lot of other people in Czech hockey, he had heard God knows what about me; something that they were told by someone who might not even know me. My friends, athletes but also innkeepers, heard questions: "You're friends with that Brendl? He's weird, isn't he?"
Because I like my peace, I don't talk to journalists, and if someone writes anything about me, it's just that I'm a prick who screwed up a career in America and later got traded to Ulaanbaatar. That's why I'm weird? Because I never liked Czech groups on foreign teams, and I preferred to have fun with the local boys? Yeah, the way I thought of it was that if I wanted to hear Czech all the time, I could have stayed home. To integrate into the squad and understand the place where I played, it was better to have fun with the natives.
I learned things about myself that I have never done in my life. One person heard something about me, told another, he told it to another, he added something, another one exaggerated a little, and since it all fit into this profile of the weird dude, the whole story started to live on its own and just confirmed to people that I was "the moron" they had heard about and read about several times before.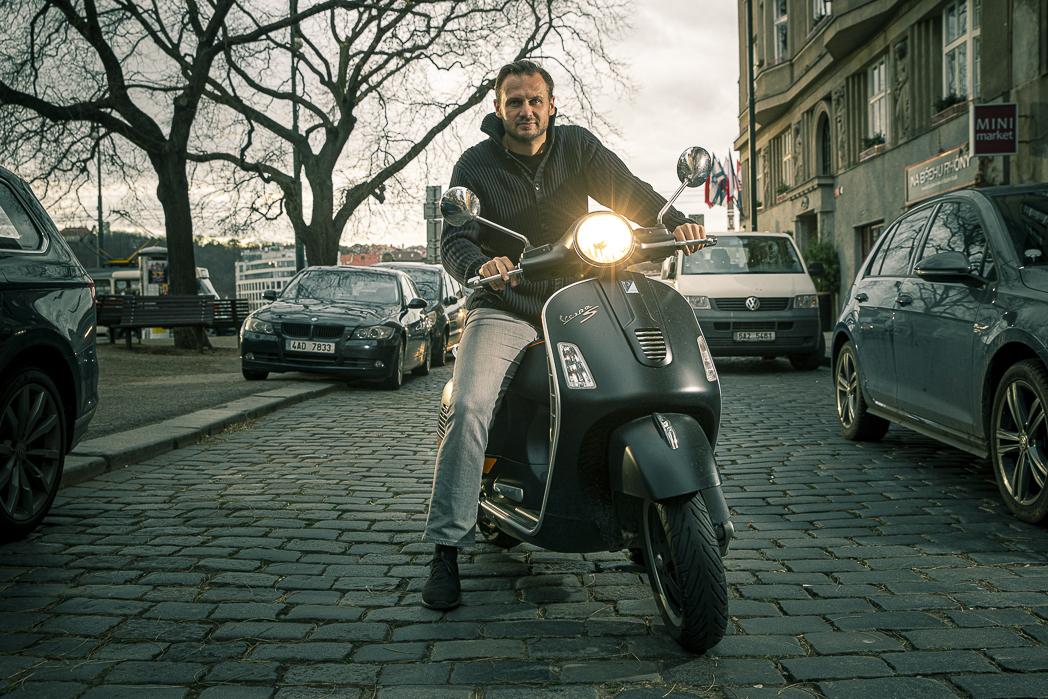 There was a time when I didn't care. I was like: "Why should I care about you?" But when I came back to play in the Czech Republic, it started to bother me because I realized that because of this, people were giving me weird looks. Now, after my career is over, I don't care again. I have my own life and I'm very happy with it.
From a hockey perspective, the NHL is still stuck in my head, and the fact that I didn't make it there. I can't tell if it should have been different, but it annoys me that it could have been different. I'm sure it could have been.
On the other hand, I calm myself with the knowledge that I was the top scorer in the KHL, the top scorer of the Swedish league and wherever I went in Europe, I played my game and nobody kicked me out. They still wanted me everywhere. When I see the Czech guys going into European competitions today as stars of the Czech league, and in two months they're back crying that they didn't play and score enough goals, I have to laugh. I'll look at what I have been through, and I'll say to myself: "Which one of you has it like I did?" I'm not counting the goalies we have who are decent, but if three lads have made it in Europe in the last 10 years, who are they? Kovář, Kubalík and Červenka?
Yeah, the NHL didn't work out for me, but otherwise I think it wasn't bad at all. I left clubs for better terms elsewhere. And when the paychecks started going down, I told myself one day that it no longer justified a nomadic way of life. I figured it was enough. Twice I was talked into the lower leagues by my friends — one from Sweden and the other from Finland, because in both cases, unlike the Czech Republic, I left a good impression — but that's over as well. I've closed out my career and I can judge it now. I can see what I could have done differently, how I could have acted differently and what I messed up. Years later, a person can look at his own life from a distance.
Yes, with the skills I had, my career could have developed better, but it could have been worse, too. I left behind some good results in Europe. My loved ones and I are healthy and I've earned enough money for a nice life. Isn't that enough?
I came to this opinion years ago after the plane crash of the Yaroslavl team. The year before, until December, I was waiting for work, because my agent was unable to get me a suitable job in Russia, even when I had scored over 60 goals there in two seasons. But when that accident happened, I thought: "What if the money I wanted were given to me by Yaroslavl?" I would have died there with those great guys who just had the misfortune of being in the wrong place at the wrong time. Every time someone feels the need to tell me where I should have been, I remember this and it gives me peace.
I didn't score a thousand points in the NHL. So what? There are hockey players who won the Stanley Cup, they've got half a billion in the bank, yet they're just wrecks today.
Who's better off? Me or them?
Jana Mensatorová, Nick Wass/ČTK/AP, Erik Lesser/ČTK/AP, Michal Doležal/ČTK and the archive of Pavel Brendl