I sat down on the bed and looked around. Four white walls, a table with a television and one wardrobe. No kitchen or even a refrigerator.
An anonymous, plain, unappealing room.
For the next few months, it was to become my home, my retreat, my base, and my place for recovery, but also a prison and a restaurant because Covid was raging and everything was closed.
There was nowhere to go for a hot meal. In the morning I went out to buy bread. We ate lunch in the cabin, but dinner was again mixed from whatever I could scramble together from a shop.
I was supposed to spend the spring season here in Senica, Slovakia, but I can't say I wanted to be here at all. They told me straight up after one friendly test match that they would take me as a number two, to have me ready if the number one goalie got injured.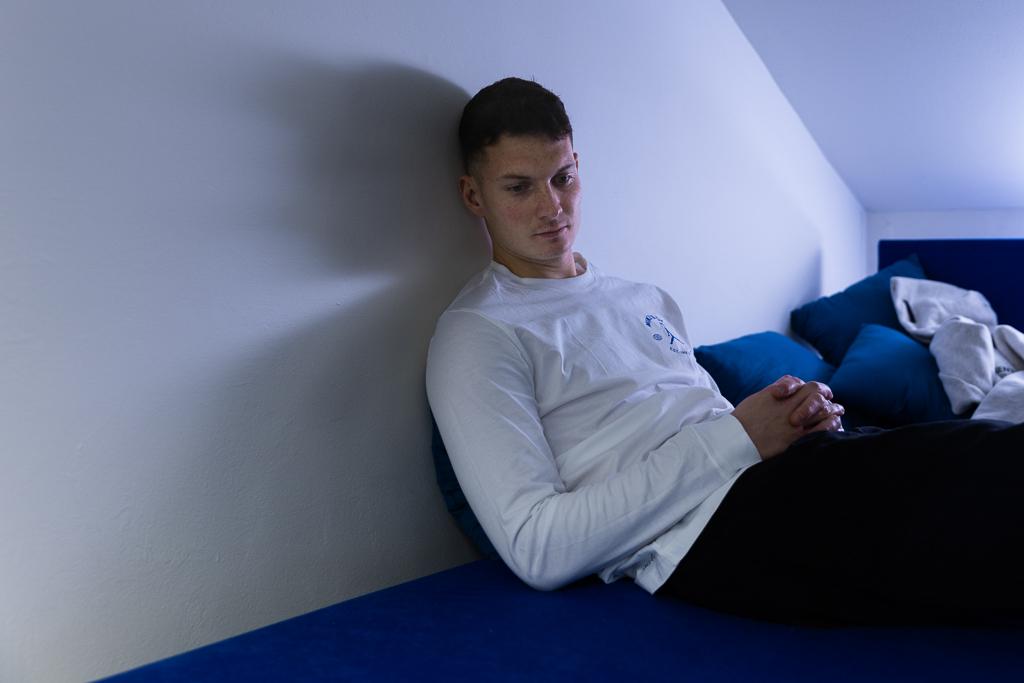 That didn't seem enough to me. On my way back to Prague on the train I sat in deep thought. Or rather in doubt.
What am I doing here?
Why am I going through this?
Am I even supposed to be a footballer? Is there a point to this?
They don't want me anywhere and then I end up here…
I watched the passing landscape through the window, opened a can of beer and couldn't get rid of the feeling that this might be a sign telling me to return to Belgium and start doing something else with my life. It's a thought I had many times before.
What swayed me was talking with my agent who offered a different perspective. As a number two, he said, I was one step closer and with some luck, I would be playing in the first league soon. In Liberec, to which I belonged at the time, this seemed unrealistic. I was fourth in their hierarchy. My only option was to train and watch the games from the stands.
So, a few days later I sat down on a bed in a hostel in Senica and surveyed the place that might offer me my first real chance for a breakthrough in the football world.
A prodigy.
It's not a term you would have used to describe me as a child. I was still playing in our village at 14. I became a goalie because I was tall and not afraid of jumping under my teammates' feet. Representatives of bigger clubs came to watch me but for example Genk, which was closest to us, refused to take me.
Football is by far the most popular sport in Belgium. Pitches can be found almost everywhere, and many boys play it, so the competition is great. Still, from a very young age I had the desire to do something big and even my stepdad supported me and encouraged me to become a professional. He wanted me to work on myself, saying that it would pay off.
The first step on this path was leaving for Standard Liège and beginning high school. I had to live in the dorms there and learn French because I come from the Flemish part of Belgium where we speak a language based on Dutch.
It was all a sort of preparation for my future in Czechia, which of course I couldn't have known at the time.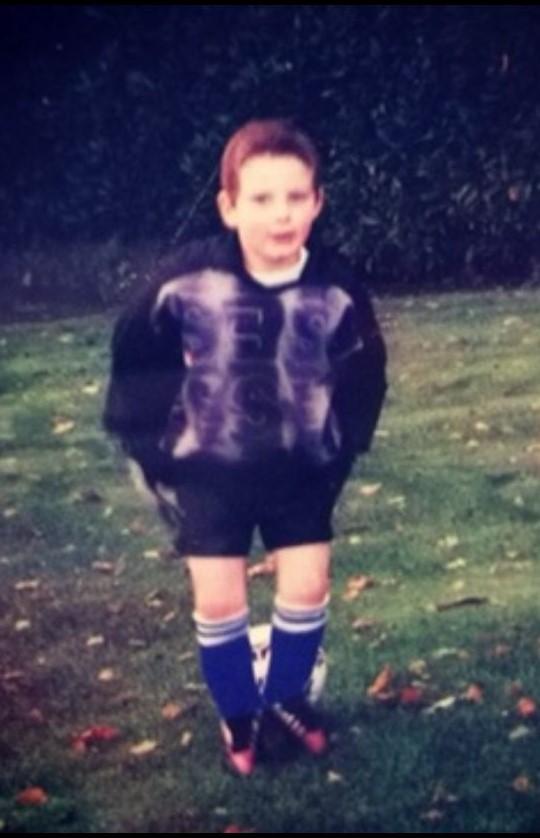 My mom encouraged me to be independent ever since I was little. We were on our own and she had to work while I was in elementary school. I had to wake up and get to school on my own. For a 10-year-old kid to bike to school on his own is not common. But we had no other choice. For me, there was no radical change in Liège and after a year, I got word from Genk, saying that they were impressed by my progress and would be interested in me now. I could move closer to home again and even got a peek at the A-team as a third goalie at age 17, while I mostly played for the B-team.

It was great, but at the end of the year, they came to me to tell me they didn't need me anymore.

"We're sorry Olie, but we have many more young goalkeepers, and you just don't fit into our concept anymore," they told me.

Even so,I was lucky because in my last game for the B-team I played in a junior cup against Anderlecht and their coach asked ours if he knew about any available goalkeepers.
"Sure, take Olie here," they said.
Instead of being left unwanted, I transferred to the most famous Belgian club and played in the Champions League against PSG or Bayern Munich.
Honestly, back then I wasn't acting like someone who aims for a professional career. It was a wild ride for me that I tried to enjoy as much as possible. My childhood friends were living in the neighboring town, and we often partied together or visited nightclubs. I would crash at their place and get up early in the morning to catch the morning train to make it on time to the morning practice.
I laugh now, shaking my head a little at my past self, but I simply needed to get out and have fun. Otherwise, I don't think I would be able to handle what the future held. Like the first months in Liberec for example.
I played regularly in the B-team at Anderlecht, but I didn't see any chance of moving up to the A-team. It was also a turbulent year for the club – the ownership changed, and I had five different goalkeeper coaches. My agent knew the previous owner so if I had a small advantage that I soon lost. After a year, I was right back where I had been before.
"We won't offer you another contract, you can start looking elsewhere."
"Well, that's nice," I thought, "but where?"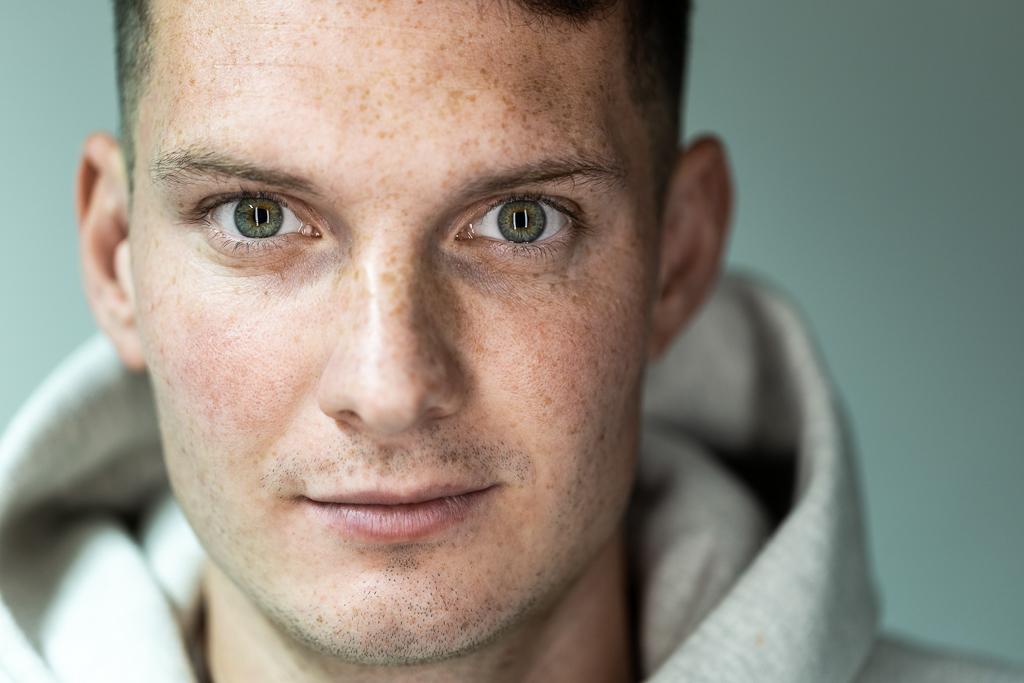 At that point, I didn't really believe I would continue playing football. All of the league clubs were full, and the only offer came from a third league, but only in an arrogant way from the owner who told me: "For some five hundred euros a month you can join us."
I didn't appreciate such an attitude and at that moment it didn't make sense for me to focus on a goalkeeper career. I was already thinking about what to do next when I got a call from a well-known football agent. He was helping a Czech agent Martin Říha bring foreign players to Czechia. He asked me if I would attend tests in Sparta Praha.
Sparta Praha?!
Sure, why not! I knew the club and it felt amazing to have such an opportunity.
I was impressed by Sparta's facilities alone, even after my experience with Anderlecht. And I was equally impressed by Prague. I trained in Strahov in the morning and spent my afternoons sightseeing and exploring the city. Nicolae Stanciu, who had been one of the team leaders during the season I spent at Anderlecht, was also at Sparta and was kind and friendly with me. However, the fairy tale ended after one week when I returned to Belgium with the news that Sparta was not interested in me.
I understood. After all, it is a rich club with its own good academy. Why would they need me? They'd rather grow one of their own or buy a ready-made goalie.
I had a great trip, but my football perspective was still limited, just like before.
When Martin Říha contacted me after my return from Prague to tell me that Liberec was interested in me, my first reaction was: "What is that? Where is it?"
I had no clue about the city. We were looking for it on the map at home, but we agreed it was worth a try. I had nothing to lose. I was never really a study type, I wasn't going to any school and this way I could try to live on my own abroad. Not a bad experience at 19.
The club and I were talking about a three-and-a-half-year contract which meant that even if things didn't turn out well, it would be too late for me at 23 to start a business in Belgium or start a job somewhere.
Most importantly, this was simply my last real attempt at a professional football career. I went into it without knowing what I was exactly getting into.
For start, Martin picked me up at the airport, drove me to the other side of Prague to Černý Most and put me on a bus.
"How do I know where to get off?" I asked.
"It's fine," he said. "The bus stops only at Liberec."
And really, getting there was not so hard after all. After that, the club helped me arrange a hotel. To be frank, I think my biggest advantage in Czechia was my Belgian origin. In Germany or France, I would be one of many, but here I attracted attention and Liberec thought they would give me a chance.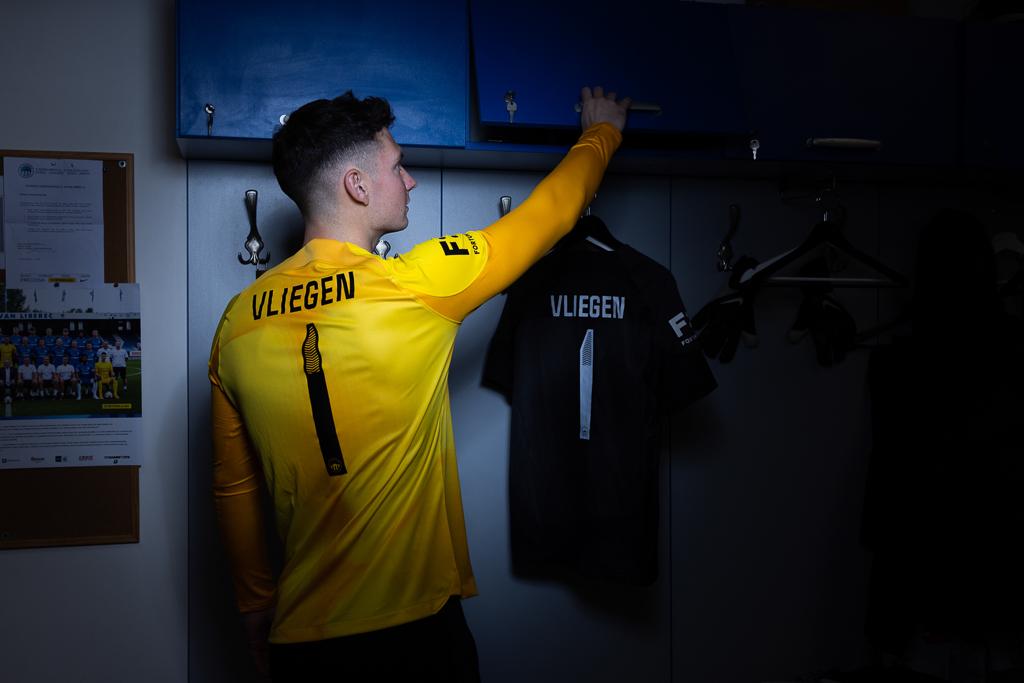 I spent the first two weeks with the team on tests and then we agreed that during autumn I would practice without a contract, just with pocket money and play for the B-team. Then we'd see.
It wasn't easy for me. The local practice surprised me with its focus on strength. There, you faced harder shots than you faced in a game.
I'll never forget one of the first goalkeepers' practice sessions where we had to make rolls. I didn't get it. Why? I'm supposed to be a goalie! In Belgium, goalkeepers are taught correct techniques from a very young age and juniors already have individual goalkeeping practice. It's not just about catching the ball or knocking it away; you always must know what you're going to do with it. You also have to make a quick and accurate throw-in. I still have these Belgian basics in me even after four years in Czechia and I truly believe that they make me somewhat different. Otherwise, I consider myself to be a jack-of-all-trades goalie without any particularly strong sides, but also without any noticeable weaknesses.
But it wasn't just the differences in football technique that I needed to deal with. As long as it was the end of summer and it was still warm and there was light at the end of the day, it was fine, but when it began to get dark earlier and winter arrived, which can be harsh in Liberec, I fully realized where I had ended up. When it began to snow, I just sat at home after practice, calling friends from Belgium, because I had nothing else to do.
Those were the moments when if I didn't have the experience from my wild years in Anderlecht, I might have given up. I would have just packed my stuff and gone back home. At least this way I had something to remember when I was spending my days alone, one just like the other, with no chance of getting on the pitch.
What saved me was my Czech girlfriend Kateřina. She studied philology at Liberec University and after one random meeting, I sent her a DM on Instagram. We chatted for a while but stopped. My old friends from Belgium were visiting and it was them who pushed me to DM her once more when we were on our way to dinner and met her in the city.
She replied. And this time we didn't stop chatting.
It was she who gave me the confidence and drive to not give up and fight for my chance in Liberec. In return, I persuaded her a while back to follow her dream and start working in radio.
It's a paradox that we still talk to each other about in English. We met when Czech was still new to me, and it stuck with us. She was a bit afraid of English at first but now she's glad that she got used to it. And while I'm able to talk in Czech at practice or anywhere else, I switch to English whenever I talk with her.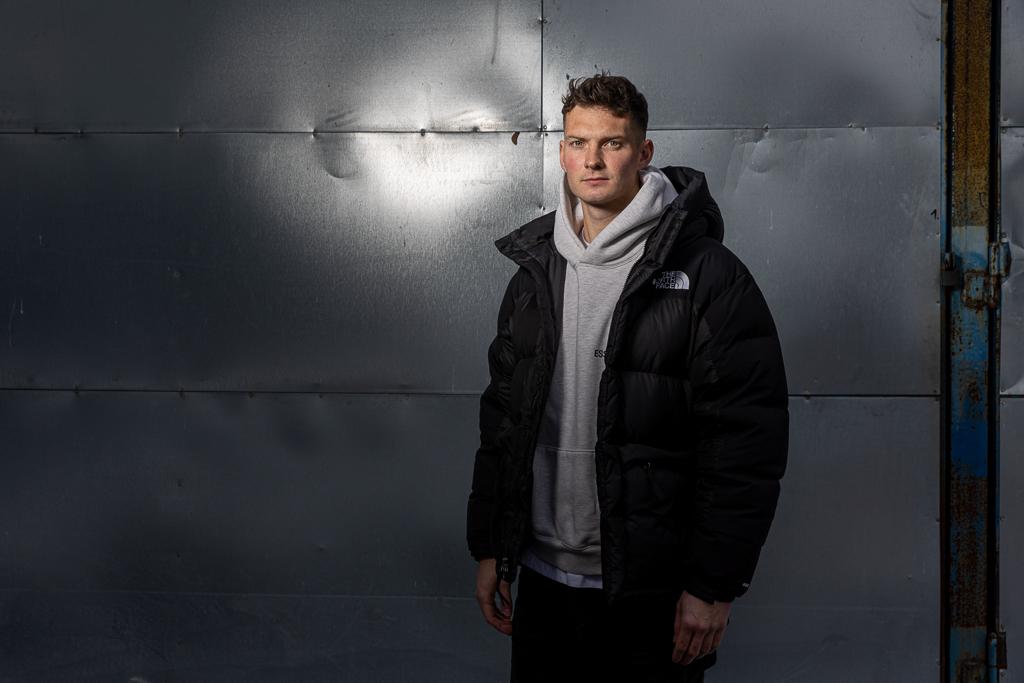 Maybe you've heard me speak Czech on TV, and people praise me for learning the language well, but to me it was natural. After all, when I live somewhere, I need to understand, I need to be able to say what I need to say, to talk to the guys in the cabin. It makes me happy when people around me can see what kind of person I am, that I can be myself and just "that Belgian."
Next to Czech and English, I know Flemish and French, but I don't feel like I have a talent for languages. It has simply been a necessity in my life, plus it's pretty common in Belgium to know at least three languages because the country has two official languages on its own.
I was introduced to Czech through obvious football terms. "Left! Right! Alone!" I'm quite vocal on the pitch; it's a part of my game. The biggest step was commuting to Vlašim with my teammates, where I was playing as a part of a loan deal. We've spent a lot of time in one car with David Broukal and Filip Blecha so unless I wanted to spend the ride looking out of the window, I had to start getting involved.
Day by day I understood more and more. Should life take me and Kateřina back to Belgium or a different country, we would start speaking Czech with each other so I don't forget this language because that would be a shame. It's grown on me; I feel like I belong. The boys in the cabin sometimes make fun of me that I'm more Czech than Belgian now which is not entirely true just yet, but I feel at home here.
I could imagine myself playing for the Czech national team, seriously. Sure, there is still a long way to go before I could even think about such a possibility with my performances, but if I stayed here for a longer time, played European Cups with top teams and the national team was interested in me, why not? I know the language, I have a Czech partner and I spend my time here with her and her family. Czechia will stay in my life even if I ever leave to play in another country or if we move back to Belgium after my career.
This is the country that gave me the chance to play professional football. Although it was not nearly as easy for me in that regard as starting to use my first few Czech words.
It took me two years — two long years full of practice and a few games for the B-team before I finally got a chance to truly catch and become a number one in men's football. It was in Vlašim, in the second league. We had a great group there and especially with the aforementioned David and Filip, we got along perfectly. Today, as we all play in the first league, we laugh and remember how we traveled together to practice from Černý Most.
I had a good autumn part of the season; had a few starts and clean games. I was looking forward to continuing doing so in the spring part of the season but the club just closed a deal with Slavia Praha and they took their goalie instead of me on a loan deal.
That's when I found myself in Senica.
Back at the beginning. Alone again. Somewhere where I felt they didn't want me at the beginning. I was supposed to sit on the bench and fight for my spot every day. Even farther east of Belgium. Far away from Kateřina and all my Czech friends I already had.
That's why I didn't want to go there. It all crumbled just as I was starting to feel as if everything was working out and I was on the right path.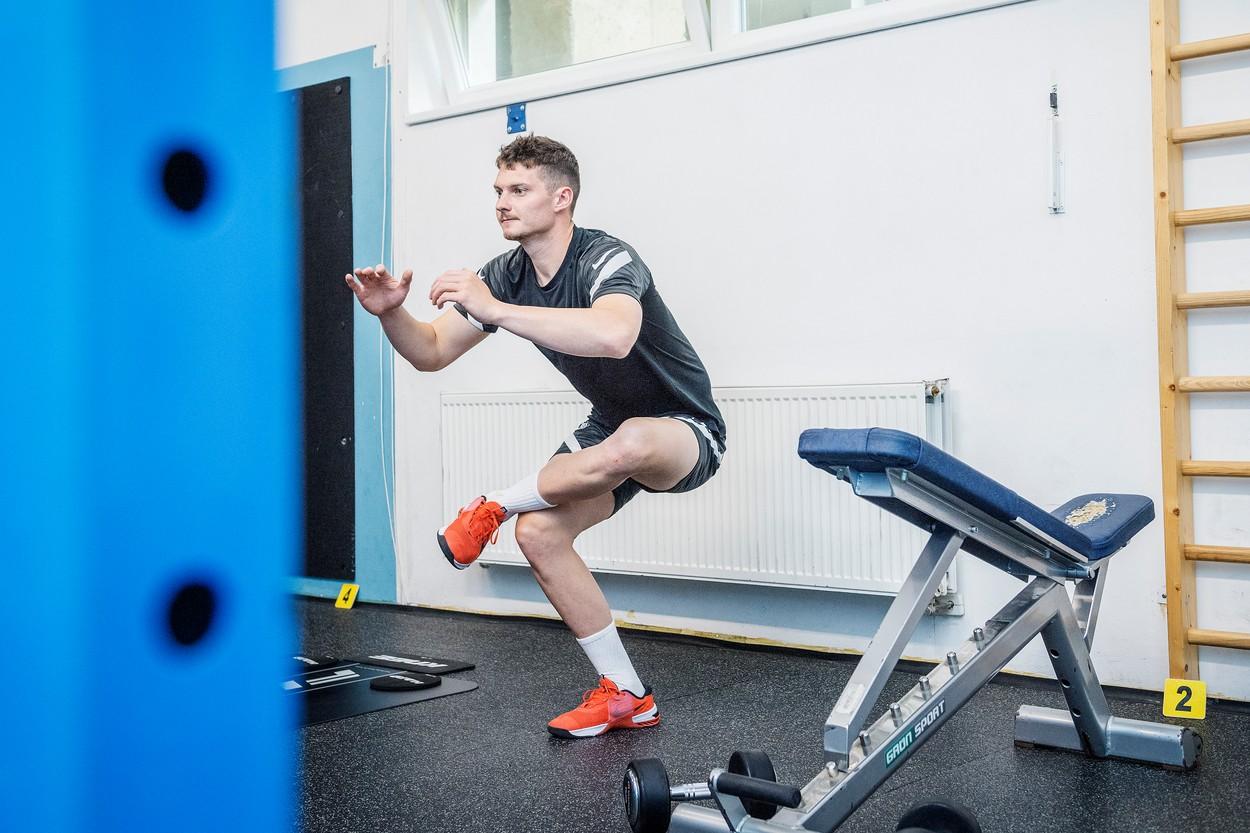 "I really don't feel like being a number two somewhere in Slovakia," I complained to my agent over the phone, but his answer was full of optimism: "Don't be stupid, as soon as cards or injuries begin to roll in, you'll get in and finally be catching in the first league."
What could I say to that? Senica was a step up from Vlašim. And no other offer was in sight, so I simply had to try it if I wanted to keep playing football.
I spent my first month in that terrible hostel before I found another place to live. I had to do with just a third of my salary from Liberec because Senica didn't pay their players, they didn't have the money.
Truth be told, I didn't feel like a football pro there.
But things took a better turn on the pitch. After one month there was a new coach and on the day of his first match, they told me that our number one Tomáš Fryšták had a back injury, and asked me if I felt ready.
Of course, I did!
I was super excited and went into the match against Sereď thinking I had to show what was in me. It worked out perfectly. I helped us win 1-0 and that win has helped us from descending. Since that moment I've felt like they've been relying on me. I didn't let anyone else into the goal, even though we had to fight for our sport in elite league until the very last minute of the competition.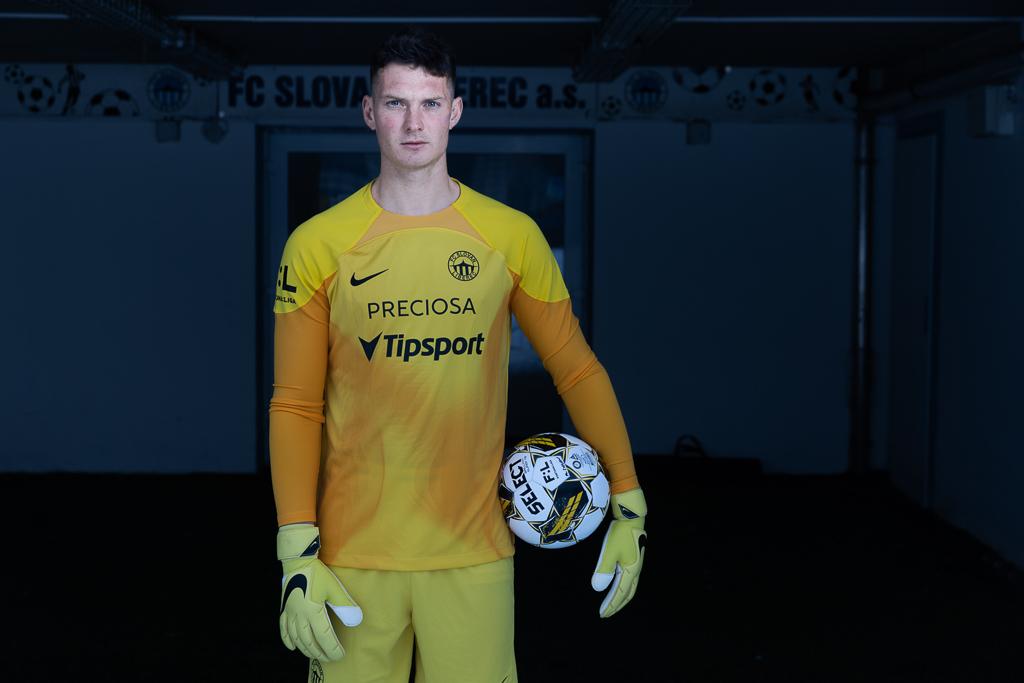 At that moment, in a match that began everything, it all worked out for me. I never really thought it should've happened a different way. That's just how I view it. I have no doubts.
Maybe it's because I had to take care of myself ever since I was a little boy, or that I have lived abroad from a young age, but I'm simply not the type of person to get nervous when the moment comes. Some people get weak in the knees. Why? I take life's challenges as they come.
When it comes to football, I've been catching since I was a kid, so all I need to do is get in the right mood and go out there to show what I've learned over the years. Show what I've got. I feel the pressure, sure, but I don't speculate about what could go wrong. And I'm not afraid to make mistakes. I just simply wait for the next ball, and I try to catch it as best as I can.
No need to make a big deal out of it.
You can't plan much in football life. You never know when a new offer will pop up and how well you'll manage to present yourself. That's why I work on things that I can influence. I work every day to fulfill my potential. I like football and I enjoy getting better, but at the same time, it's not the center of the world for me.
It often seemed like I would not get another chance elsewhere and that I would have to do something else, so I've been thinking a lot about what to do next in that regard. Even today I still have plan B, but I think I have a lot of time for that and I'm glad I don't have to execute it. If there is someone interested in me then I'm in and I don't care if I have to wear a jersey of Anderlecht Brussel or FK Senica.
I take what's here and now and make the most of it. I work on myself and move forward.
I think a person should be grateful for every opportunity. I definitely am. Throughout the years I've learned that one has to meet such opportunities with the right attitude.
I no longer take the morning train to practice after a party night.
I'm grateful to Liberec for giving me a new contract and that they want me in the goal and the team. That's why I push myself to train to the limit, I do things above my plan and I watch what I eat. I go to bed early, eat healthy and mostly avoid alcohol. In last year's physical tests, the results showed I have the weakest legs of the team.
Me! A goalkeeper!
I've been working extra on them ever since, so much so that even our physical coach is amazed. I no longer just sit in the dressing room before our games. I stretch and warm up which I didn't do before. A book by a basketball legend Michael Jordan's coach helped in this as well. There are numerous exercises which I began to do.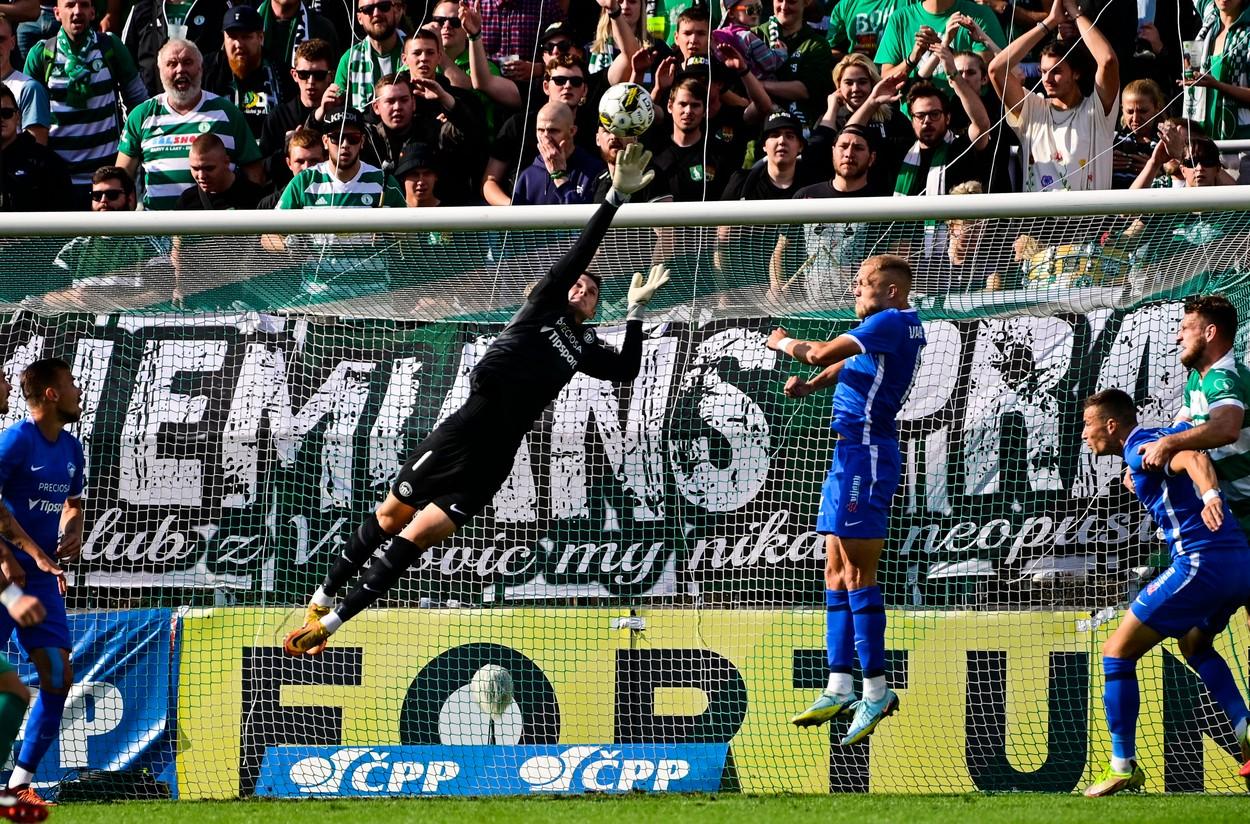 I realized that being a professional is not just that you sign a contract, no matter where you are in the world.
I realize that just now I'm at the real beginning. The Goalie coach in Senica told me: "You have to catch a hundred games to call yourself a goalkeeper." It's in my head still today, so I watch my stats grow.
To keep them growing, I need to work hard. Nothing comes freely in football.
I returned from Senica filled with experience from adult football and since Filip Nguyen left, the club has built goalkeeping around Milan Knobloch and me.
Milan had a head start, even a good summer prep didn't get me ahead of him at first, but I got my chance. During spring in the match against Bohemians Praha.
My debut ended with a draw of 0-0; a clean game. Just like when I had my first game in Senica. Calm and confident that I'd show what I've got. What I've learned over the previous years.
I know that once such a situation arises again, wherever that may be, I'll be ready. I'll walk on the pitch and show that I deserve to be right there, at that very moment.
Once the ball comes, I'll simply catch it.
Jana Mensatorová, ČTK/Radek Petrášek, ČTK/Roman Vondrouš and Olivier Vliegen's personal archive