Was this the last shift in my life? Really? Is it really the end?
After the first period against the Rangers in Madison Square Garden, I was sitting in the locker room and my mind was racing, but my thoughts were not about the game. I was terrified because I had just experienced a familiar feeling again.
It was a sharp pain in my groin. It was clear, without a doubt, what was happening.
At the end of the intermission, I got up to continue playing. I played the whole game, but it was weird. I couldn't focus at all. I don't even know what the score was and whether we won. Instead, a lot of thoughts raced through my head. Feelings of hopelessness. I started to realize that I couldn't continue like that. That I wouldn't help anyone.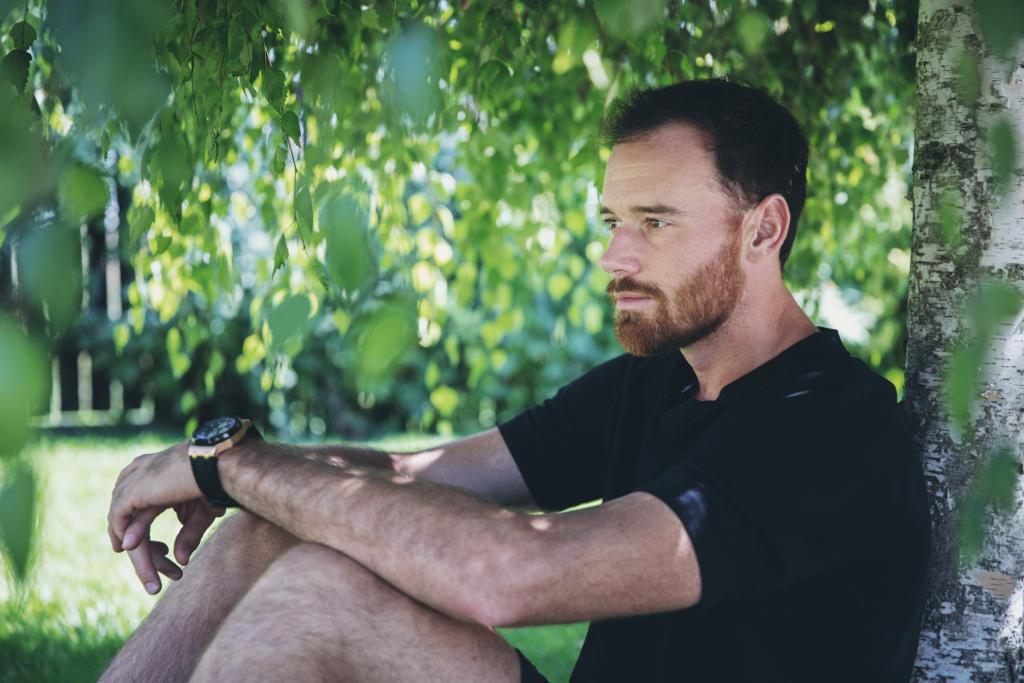 The flight back to St. Louis was probably the worst of my career. I sat alone in the back of the aircraft and did not communicate with the world. Was it the end? This thought kept flashing through my brain. On the plane, on the way home, before falling asleep. Even ehen I woke up and called my agent. The thought was always there.
Then I called Blues GM Doug Armstrong, and thanked him for the chance the team had given me, but I told him that I couldn't continue any more.
My final job in the NHL lasted exactly three days. One weekend.
We agreed that in order not to bring too much attention to my health, and to have a peace of mind, we would publicly state personal reasons as the reason for the early end to my season. Personal issues in America will ensure that no one is too interested. Of course, a lot of questions arose. People wondered what happened when I had returned to the NHL the week before with great pomp. They could think whatever they wanted. I didn't care. I mainly wanted to disappear and decide on my own what to do next. I wanted to know if there was anything else I could do about the issues I had dealt with more and more in recent years; the issues that finally caught up with me.
Salt Lake City. Remember those Olympics? We had an incredible team there. Guys from Nagano and on top of that, Patrik Eliáš, Petr Sýkora, Tomáš Kaberle. Me.
I was 20, I still skated with ease, I enjoyed being part of such a great team at my age, and I had no idea that I had 15 years left in the NHL. Back then, I would have taken such a career without hesitation, but now the time seems terribly short to me.
More about that later…
In Salt Lake, I started on the fourth line with Pavel Patera and Milan Hejduk, before the coaches informed me during the game against Sweden that I was going to join Jaromir Jagr and Robert Lang for the third period. I flew in, I knocked down Nylander in the first shift, I got a major penalty and a game misconduct and I thought it was over. I expected the guys in the locker room to take me down for such nonsense, but they consoled me. It happens, we move on… Against Canada, I was back on the first line.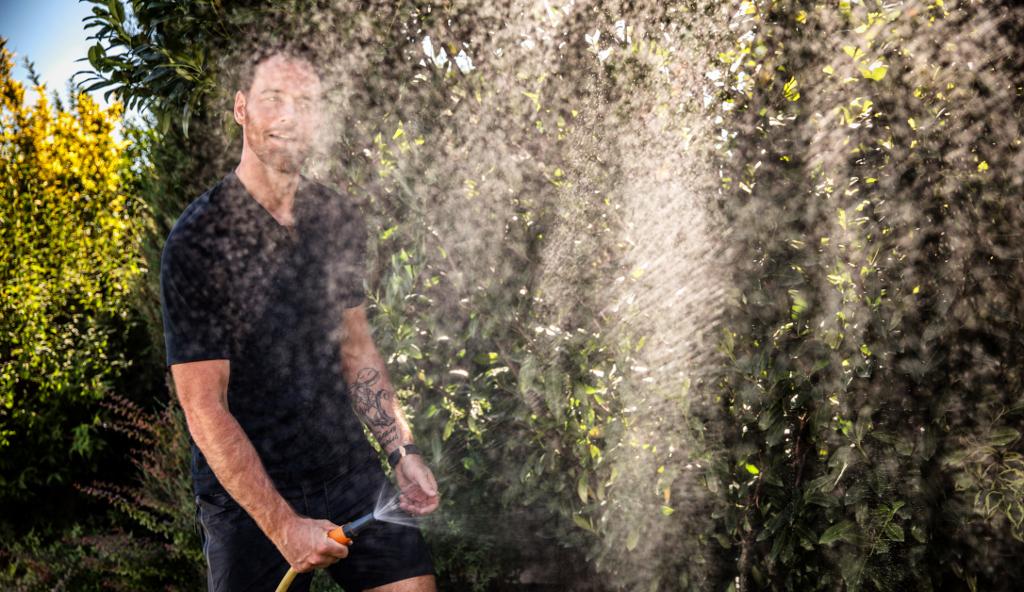 "Don't get in the way here. Go far from me, I'll manage it there somehow and pass it to you. If I have a problem, come help me, but otherwise just look for a free space."
Jarda Jágr instructed me exactly as he needed to. And he was always right. Once it bounced to me after his play, the second time I scored after Pavel Kubina's great pass, and I scored two goals against Martin Brodeur. Mario Lemieux scored twice as well. We tied the game 3-3.
It was a special game. Unforgettable.
To this day, I am annoyed that we did not go further in this tournament. In the quarterfinals Nikolai Kabibulin went crazy against us and covered for the Russians, stopping almost fifty shots, and we lost 1-0. This sometimes happens.
I have two stronger moments connected with the national team. The first is the World Junior Championships in Sweden, where no one expected anything from us and we won a gold medal for the first time in history. We played great, Mr. Holík put together an excellent team and his assistant, Radim Rulík, had a huge voice, if not the biggest one in what our hockey looked like.
That was the first time I had been part of something so important, and I had no idea what awaited me in the next four months. They took me to the championship with an A-team and we won there as well. In the final game, as a wing on the fourth line, I played only two shifts in the first period, maybe one more in the second, and then I sat on the bench. We quickly led 3-0 over the Slovaks, then 4-1, but at the end they quickly scored twice to make it 4-3.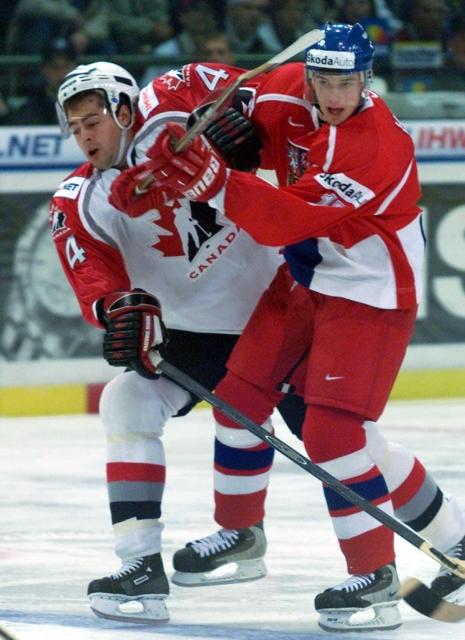 The seconds dragged on. I've never been so nervous in my life. ''Damn, sitting here, we could win after all, couldn't we? 'My mind raced. "It would be nice to have one more gold, wouldn't it?"

Ten seconds passed. Then another 10. And then Alby Reichel scored the fifth goal and the guys held on to win. Thanks to that, I had a second gold in a single season and the dream start of an adult career.

I haven't won anything since. Not even the World Cup in 2004, a tournament which we started badly, but in the end, I thought, we were better than Canada in the semifinals and we had more chances to score before Vinnie Lecavalier scored in overtime and ended our chances.

Mr. Hlinka still picked the team for this World Cup, but shortly before the start, he had a car accident in Karlovy Vary, which cost him his life. I only got to know him for a short moment. In fact we just greeted each other. All of the boys praised him. I'm sorry I didn't have time to experience him as a coach. His death also affected the entire tournament. We were constantly reminded of his loss.
At that time, I started again on the fourth line and after the first defeat against Finland we were losing to Sweden 4-0 after the second period when Vláďa Růžička switched the lineup and put me with Patrik Eliáš and David Výborný. Our line pulled the whole team, we beat Germany as well as Sweden in the quarterfinals and played an amazing game against Canada. We played the best hockey I have ever experienced on a national hockey team.
It was a pity it didn't work out in the end, but Eli and Vejba and I got along very well. I hoped we would play at my farewell game as we did back then.
My whole last season started strangely. Florida's general manager was interested in me, but only if I was healthy. The previous year in New Jersey, I suffered a major mouth injury that required 55 stitches, and I also had problems with my groin.
I arrived at the training camp full of strength, but during the first preseason game I injured my finger and there was nothing I could do about it but wait for it to heal. Not fully healed, I played another preseason game, the last one, but it wasn't a good idea. My chances were over.
I trained alone for a month before St. Louis approached me. They were a great, strong team that just had a lot of injured guys. They needed help, and coach Ken Hitchcock was very interested in me. I arrived with Danius Zubrus, another experienced player, and we got a week to prove ourselves. I convinced the Blues management to offer me a contract. Everything looked wonderful, exactly as I imagined. Great team, perfect guys, a vision of the playoffs. I even scored a goal during my debut in New Jersey.
I should have ended my career then. I could have left on top. Of course, I'm kidding.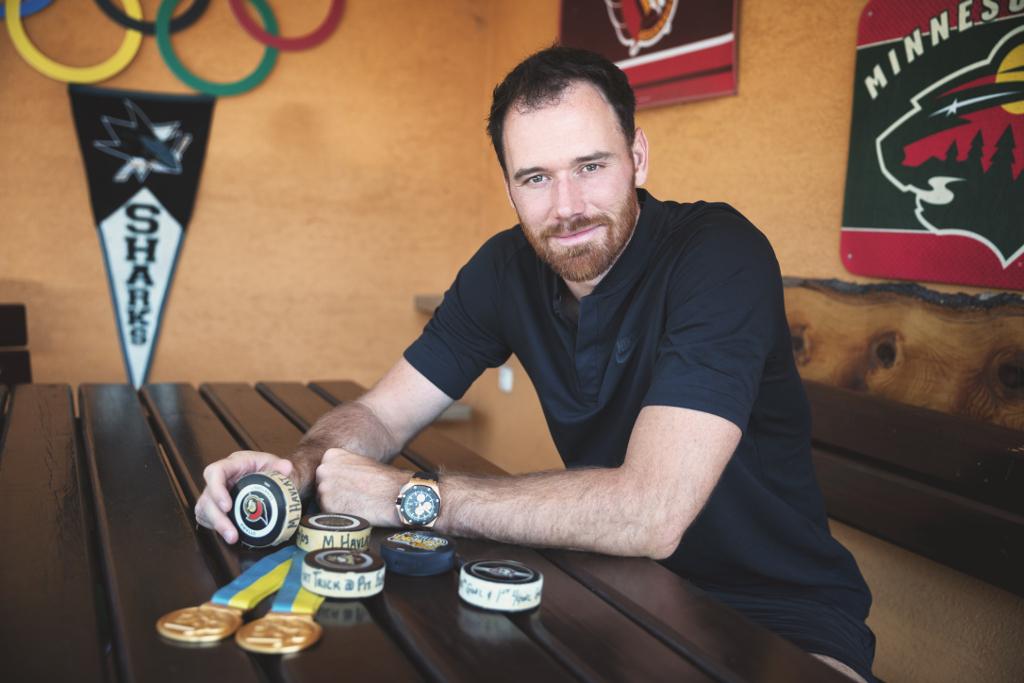 Two days later, during the next game, everything turned around with one movement and the pain was enough that hockey did not make me happy anymore. Like a snap of fingers, the frustration was back, the feeling of hopelessness, which is perhaps the worst thing an athlete can experience. We all do sports because we love them. As soon as we find out that we can't play at the level of performance we are capable of, it knocks us down.
The most visible of my many injuries were the shoulder operations, which required four to six months of treatment. What hindered me the most, even when I was playing, were the groin injuries. It's hard to describe to someone who has never had a groin injury. There are a lot of places in the body that even if you pull or hurt them, you can still play. Hockey players handle the pain. However, it is simply not possible to skate with a pulled groin, especially the closer you get to the bone. It hurts every time you move. You can't really skate properly, and then you're useless on the ice. You don't help the team, you don't play as you would like. Rather, you hurt your teammates, as well as your reputation.
I first injured my groin in 1999, a few weeks before I was 20. I managed to get healthy to play in a tournament, but since then, groin trouble has plagued me. For many years, I was able to take care of myself and function to give the best possible performance without acknowledging that something limited me. Throughout my career, I thought about how to get rid of pain.
I haven't figured it out to this day.
I was going on the ice in a few minutes. I would be playing in the NHL in a few minutes. The dream was finally realized. There were national anthems in the Boston arena, first the Canadian, then the American, and I was sitting on the bench, shaking with anticipation. It was my first game for Ottawa, my debut.
I immediately recorded an assist. I just moved the puck to someone and a goal was scored. I wanted to score a goal, too, but at least we won and I felt wonderful. In a few days in Toronto, during my fourth game, I grabbed a bouncing puck alone in front of goalie Curtis Joseph.and scored my first goal. I can still see it.
Karlík Rachůnek, who started in Ottawa at the same time, was the first to congratulate me, and we later spent four wonderful seasons together. Those were great times in general, with more Czech and Slovak guys meeting while playing for the Senators. Marián Hossa, Radek Bonk, later also Zdeno Chára, Venca Varaďa and Martin Prusek. All still young, we had a beautiful time.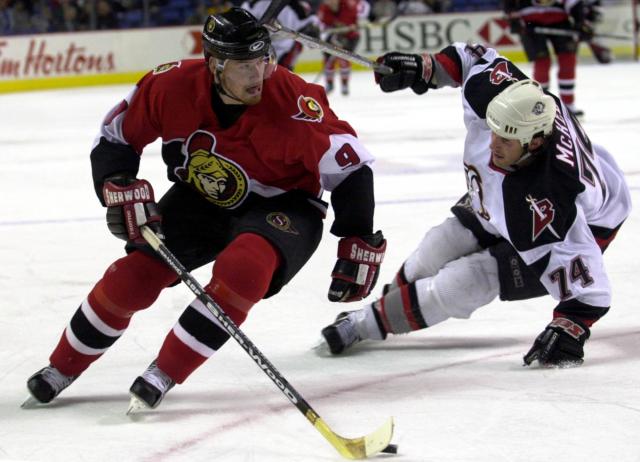 But I will mention one name separately. Venca Prospal. I owe him because he helped tremendously right at the start. He didn't score many goals, but he assisted on most of my goals. Unfortunately, they soon traded him, and we, except for a few substitutions on the national team, have never played together again. He will forever remain one of the hardest and most skilled players I have ever met in hockey. Terribly smart on the ice and in civil life. How he schooled me!
From the first preseason games, he criticized and coached me, and he did it like few others. He was always devoted and stubborn, and he hated losses more than any of us. When something went wrong, he wanted to grind even more. I loved that he was like that, so I took his advice to heart.
For the very first time, he yelled at me in my room during the first road trip when they let me share a room with him. I went to the city with other young guys and came back late when Venca was already sleeping. He did the things he needed to do and he rested. I accidentally kicked his shoes. slightly… Well, more than slightly because they flew around the room.
He always had everything carefully arranged and aligned. He shouted at me, "Are you kidding?" and asked if I knew what kind of shoes those were. He wore them at his wedding. He made me fix them immediately.
"So that's how we are going to work together?" I thought. Okay, I said to myself. And then I said out loud something like, "Yes, Venca, of course." And I put the shoes back in place.
I appreciated that Venca would always speak from the heart. Few people can do this. If he wasn't like that, and if he wasn't such a hard worker, he would never have had such an amazing career, and I wouldn't have had such an important guide at the start of my career.
Who would expect a 19-year-old, who had played less than two seasons in Třinec, to make the team in Ottawa at the first rookie camp? I didn't imagine it that way either, because the Senators were full of great players. I knew I was good, that I could bring something to the ice even among more experienced players, but this?
Of course, in the extraleague it wasn't too bad for me either. After the draft, Lojza Hadamczik promised to give me a chance next to the great players, and he kept his promise. I played power plays with Mára Zadina and Ríša Král. It was a pleasure, even on a line with Jirka Žůrek and Venca Pletka we played well together, but, in comparison, to succeed against Alfredsson and Jašin?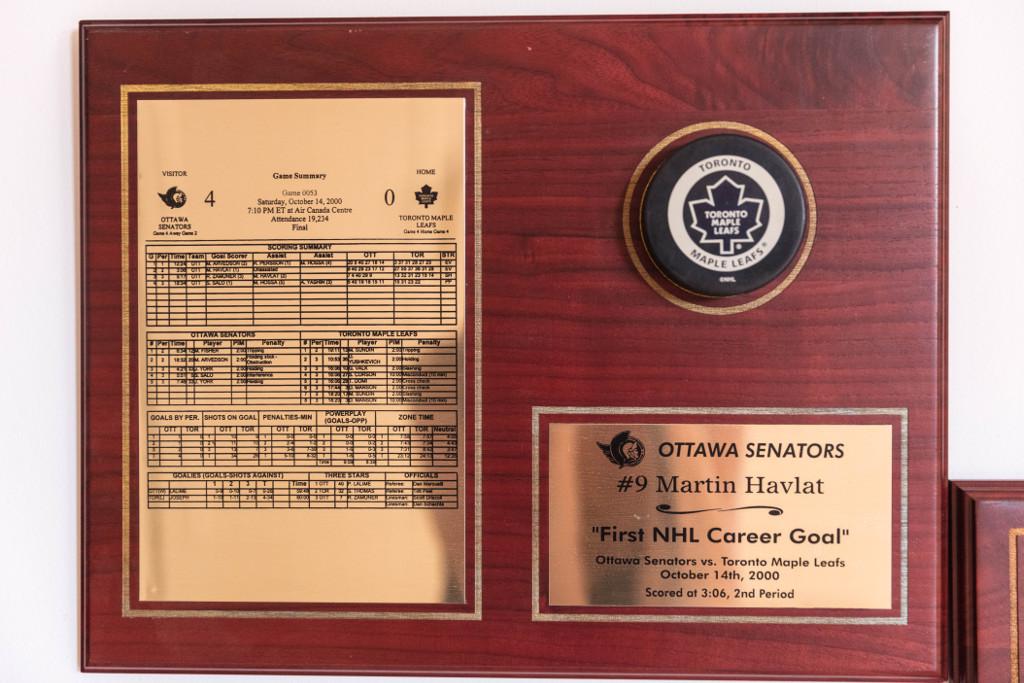 The number of opportunities that Lojza gave me prepared me for training camp as best as it could. What it couldn't prepare me for was the small ice rink in Canada. Before my first training camp in rookie camp, they painted the boards. I realized it because I was covered in paint. All I was doing was getting up from the ice after others smashed me against the boards. What a beating I took!
But in the second game, I had already scored a goal. In the third, I had a hat trick. I found a way to draw attention to myself among others. That's why they put me together with great players in the main camp and hockey suddenly seemed easier. I was successful. I finished the camp with the same productivity statistics as Jašin and they kept me. They said they would decide after the first 10 games what to do with me, but I never had to play on the farm team.
The NHL, in my early days, was still a very rough game. I got beat up with my style almost every game, probably because I liked to provoke guys. Nothing could stop me. I was faster, and I enjoyed challenging older players. Confront them a little, then skate away, hopefully with the puck. In recent years, I sat on the other side, watching young suckers make fun of us veterans.
Back then, hockey hurt much more than nowadays. It wasn't that quick, and players, in general, weren't that skilled, but they were much rougher. In my first playoffs, I received a proper cross-check from Tie Domi. The guy's nickname was The Albanian Assassin. Some fool from our team pissed him off in the corner, and even though I was close to the red line and on my way to the players bench, he hit me from behind. I flew all the way to our defending zone. This reminded me how Karlík, Daniel Alfredsson and I painted our hair yellow for the playoffs to show how serious we were. We looked like chickens, and what's worse, we lost 4-0 to Toronto.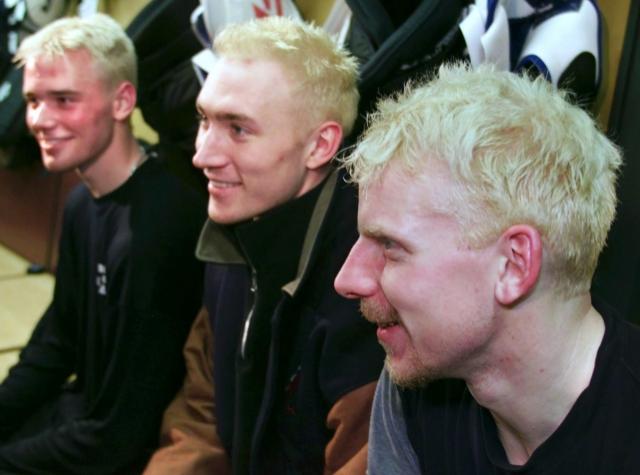 I've never painted my head again in my life. My neck ached for another week after Domi's hit. His playing style was based on skating around and crushing people, but other players who wanted to get in front of the goalie had to grit their teeth in that era. You would always get slashed. You could return it much more easily, which led to fights. I know something about it, because the NHL record for penalty minutes in a game, 419, came in a game that I was involved in.
March 2004: Ottawa at Philadelphia. You can find lots of videos on YouTube.
I had a few shortcuts that year, I must admit. I've never hurt anyone, but I kicked someone a few times, then cross-checked him. The famous brawl was caused by a situation from a home game against the Flyers when Mark Recchi was hooking me all the time. I didn't like it, and I wanted to let him know. I let him know with a hockey stick.
To be clear, I just wanted to intimidate him, but when I turned around, he was already too close to me and I hit him over his shoulder and chest. I was convinced that I didn't hit his face, but he fell into the boards and I received a match penalty and had to sit for two games.
As soon as I got back, we played in Philadelphia. I was sick, everything hurt, but it was obvious that I had to play. Otherwise, it would look like I was scared. For a long time, it was a peaceful game, even though I heard terrible things on the ice. Philadelphia had a tough, strong and unfriendly team with John LeClair, Donald Brashear and Claude Lapointe. Ten minutes before the end of the game, the outcome was basically decided. The Flyers led 4-1. It was clear that something was going to happen. When it started, I was sitting on the bench and watched with 1:45 left on the scoreboard.
One fight. After a faceoff, another brawl. Next substitution and a five-on-five fight that the goaltenders joined. I was preparing to get my ass kicked as soon as I jumped on the ice, but coach Jacques Martin knew very well what would happen, so he didn't let me play, although in a while both penalty boxes were full and the game was played three on three. There were only a few of us left on the bench. Me, Hossička, Peter Bondra, as far as I can remember. Otherwise maybe everyone else fought. Even those who never did it.
With 1:42 until the end of the game, Zdeno Chara received a double minor. Coach did the most sensible thing he could do. He sent me to the penalty box to sit for two of those minutes. I was saved. It was already clear that I would not get back on the ice. More fights broke out, four guys remained on the bench, the rest ended up in the penalty box or in the locker room, but I was saved.
In St. Louis, I stopped playing, but I didn't want to give up. I went to see medical specialists. I visited one, then another, to discover the real cause behind my troubles, or if it was all only in my head. I still couldn't believe that the same issues kept coming back.
The second doctor discovered that on one side of my groin I had about five spots completely torn; on the other side six. He was amazed that I had been playing with this for so long, because some of the tears were old.
At first, I was happy because it meant I wasn't crazy. There was something really wrong there! At the same time, damn it, I wondered how it was possible that no one could have noticed sooner? How is it possible that no one saw it? Moreover, I was at a clinic in Philadelphia for my sports hernia repair and they said that they cleaned my groin area at the same time. I guess it doesn't matter today.
Anyway, I was relieved, and I asked the doctor what to do next. The doctor said he could help me and named everything I would have to go through. I agreed without hesitation. It was an easy decision. After injuries, I had returned a hundred times before. I could do it one more time!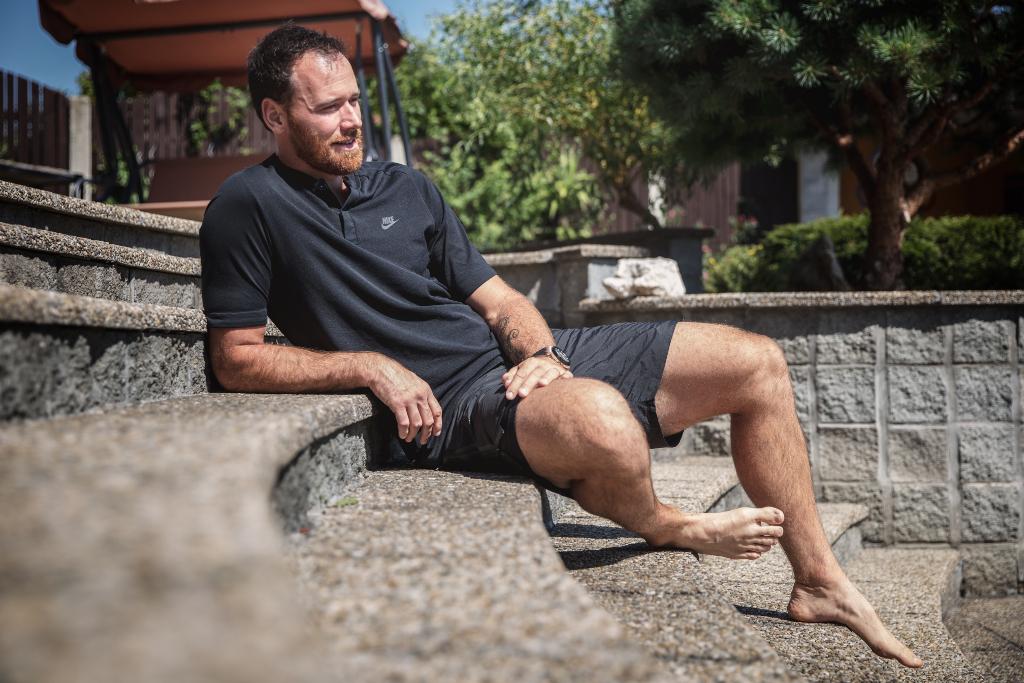 The next month, I flew repeatedly to Toronto for procedures. It meant that the season was definitely over and I devoted myself to preparing for the next one. It made me happy to see my old wounds healing one by one, and over the summer I started to exercise. Gradually, not to push anything. Closer to the end of the summer, I started to push a bit harder to find out how it felt under a full load.
It was better. Much better.
I trained in Brno with Kometa and then flew for a week to Montreal, where I prepared every summer. I even got an offer from an NHL club to join their training camp. However, I realized that after half a year's absence, when I was afraid of every movement, I was not ready for the daily load at a high level.
I refused. I was not yet ready for a daily battle with the best players. I wasn't ready to be the player I wanted to be. I was always expected to be an explosive, dynamic skater. The one who either sets up the goal or scores it. Such a player couldn't be only partially ready. Not in today's hockey.
There was a World Cup in Montreal at that time. The European team had a preseason game with a young team of North Americans, so I called Hossiček and Zdeno, we had a good dinner, and I told them that I thought it was probably over. I flew home. To me, my career was over at that moment.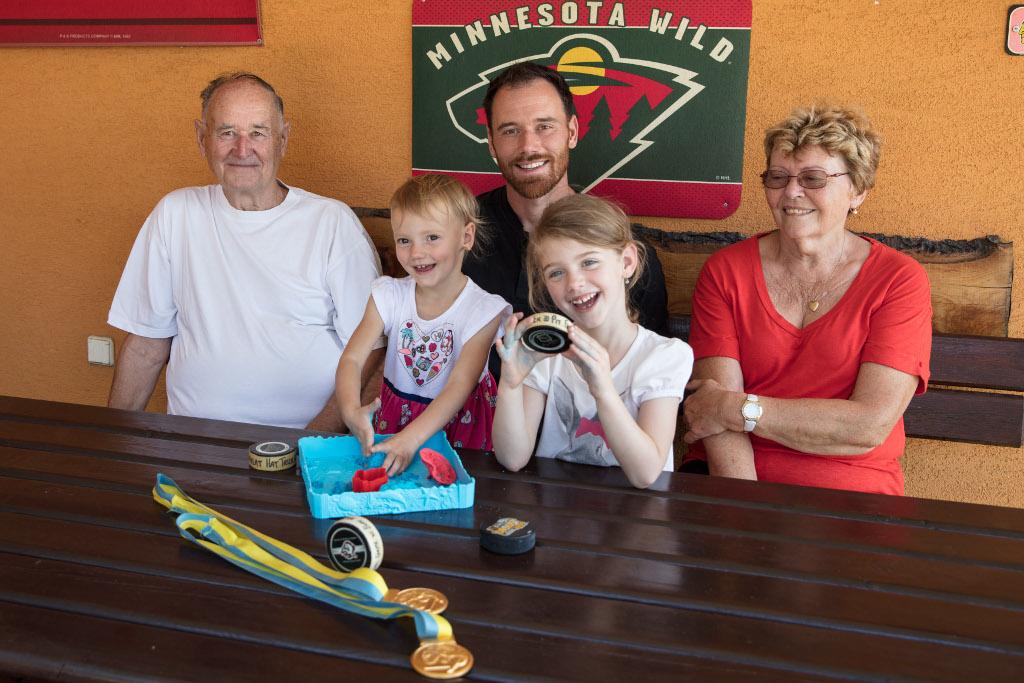 However, I was still postponing the announcement until Libor Zábranský, the head of Kometa, called me. I described all of my feelings to him, but he convinced me that it still made sense to try it. And he wanted me to help Brno.
It was very interesting. I was very attracted to it. One reason was that my dad was 86, he is from Brno and it would have made him very happy to see me playing at home. I also knew that Kometa had a good team led by Martin Erat. I felt a chance, at the end, to compete for the league title.
"Yeah. I'll try it," I told Zábranský. I started training and I was a week away from my official start. Then I felt the pain in my groin again.
At the beginning of my last season in Ottawa, I ripped my shoulder and didn't play the whole season. Because of that, I missed the Olympics in Turin and prayed that I would have time to return before the playoffs. We had a promising team, even though Dominik Hašek was injured.
I managed to get back for the last two games of the regular season and flew into the playoffs full of gusto. We beat Tampa, which was from my point of view my best series ever, then we immediately lost to Buffalo. But I played well, therefore, Chicago, which was rebuilding a team, reached out to me since I was a free agent. At the time, the Blackhawks were one of the worst teams in the league, fans didn't go to watch hockey much, and they didn't broadcast their home games on television, which was the decision of the former owner. We were supposed to bring the team back to its former glory. They gave me a high salary and built the offensive line around me. They expected great things from me.
We started the season with Radim Vrbata and Michal Handzuš and the first seven games were great. Our trio led the league in productivity. It was the best start I have ever had. Then I twisted my ankle in Dallas. The next day, Michal Handzuš got injured and everything went south, but the club had a successful draft. Two years in a row they chose Jonathan Toews and Patrick Kane, the old owner died and suddenly the whole organization completely changed. Everything changed. The service, the club perception from the fans, suddenly nothing was an issue, "no" did not exist, every game was sold out… I have never experienced such a turnaround.
But the most important change occurred in the locker room. In two years, Chicago became a top team. I started my second season in Chicago injured. At the end of the previous one, my friend Marek Židlický hit me behind the net in Nashville and my shoulder dislocated. To this day, I always remind him of that situation. He was no fighter but tackling him always hurt.
As soon as I returned, the very first game in Minnesota, the shoulder dislocated again in a collision. I was frustrated and played only 35 games with pain. In the next season, however, they fired the former coach right at the beginning of the season and Joel Quenneville came, who I think was one of the best coaches of all time. He was a coach whose feeling for lineup combinations was unique. Thanks to that fact I experienced my best season after a year of horror.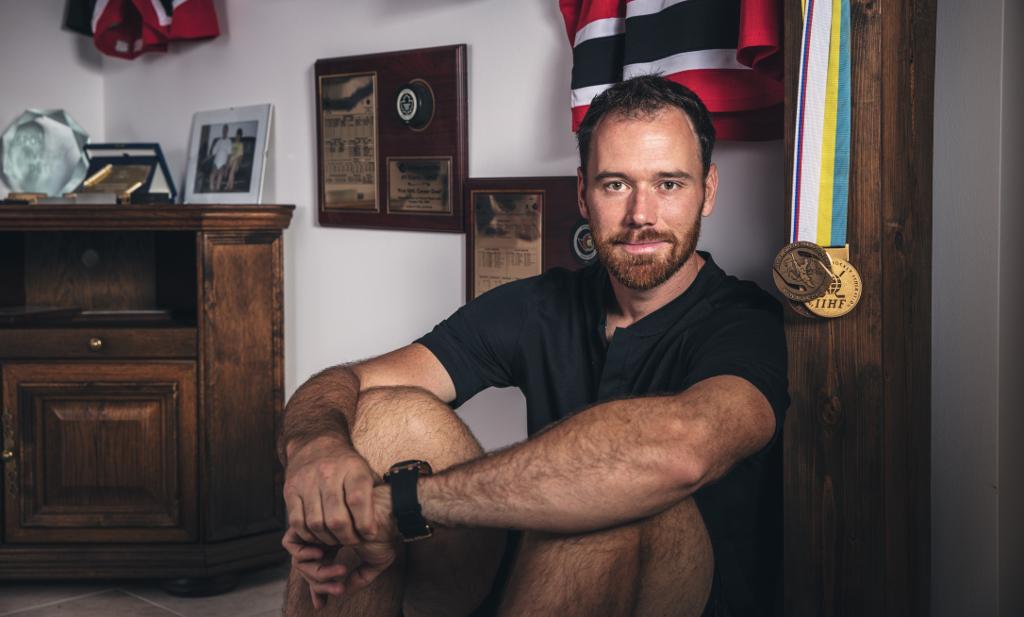 Kaner and Johnny were already showing what they could do, Duncan Keith and Brent Seabrook were top defensemen, Kris Versteeg, Andrew Ladd, Patrick Sharp, Dustin Byfuglien… All of them are excellent guys. I will never forget that year. We advanced to the conference finals and played against Detroit, when Niklas Kronwall knocked me down in his famous way.
You've probably seen the hit in a highlight. I don't remember anything. I mention it because those were my last moments for the Blackhawks. We lost the series and they didn't offer me a new contract after the season. For one reason only, my health. I hoped I could stay, but the club didn't believe I could stay healthy. I don't blame them. As a manager, I would probably make the same decision, but I didn't want to leave. I knew that sooner or later this team would win.
I moved to a cold Minnesota, while those guys went after the Stanley Cup. They won it the very next season. Then twice more.
Ottawa will always have a special place in my heart because it all started there, but if I must choose where I want to go back, it's Chicago. It even seemed once they would take me back, but it didn't work out. Hockey life is like that. The guys who are leading the Blackhawks today, I was watching their hockey growth and I wished them only the best. I knew they would dominate. With so much talent and a coach they had there, it was clear.
When Patrick Kane came as a youngster, you knew how unique he was. He did a lot of things in his personal life that people did not like. He was a troublemaker, he drank occasionally. He needed to mature. But at the core he was always a great guy, I really liked him. I tried to support him in his beginnings, we talked even though I didn't play in Chicago anymore, and you can see how much more mature he is today.
Johnny has always been different; a clear leader since his first year and extreme in this respect. At first, we older players helped him because at 19, he could hardly handle everything on his own, but it was unbelievable how consciously he was already behaving back then. The boy never really smiled! That's why we renamed him Captain Serious.
Now he smiles sometimes. Sometimes, he just doesn't recognize his old friends.
When the Blackhawks played in Florida a few years ago, I went to pick up Hossička and Michal Kempný to take them to dinner. Because I figured there would be more of us, I took a bigger car. I stopped at the hotel, where Johnny and Crawford were standing. Crawford looked at me and as I pulled down the window he told Johnny:
"Ah, Uber is here," he walked over to me.
"Are you fucking kidding me?"
"Oh shit, sorry!"
"Did you think I was a taxi driver?" I won't forgive you for the rest of my life… "
He laughed at that, too.
Each of the guys who form the core of Chicago Cup teams was different, but when they put it together on the ice and added their unique talents, no one could stop them. They have already proved enough.
In fifteen years, I was still looking for that. I'm not the only one by far. You need to be in the right place at the right time. I was lucky in my youth. I won two world titles. I wasn't lucky enough to win the Stanley Cup. The hardest path among all team sports is the one that leads to the Stanley Cup. There is no other competition that is so long and so physically demanding.
I know that at the very end I tried everything I could. I was searching for the cause of my problems as best as I could. I would love to continue playing. I would love to play right now. But my body just won't handle it anymore. Not the way I'm used to. Not at the top level. Not as I expect from myself and not as my teams expect from me.
When I finished in St. Louis, I couldn't even watch hockey. I hated it. For a moment, I switched on a TV channel to watch hockey, but I had to turn off the TV. I was upset, annoyed. How I wanted to be on the ice!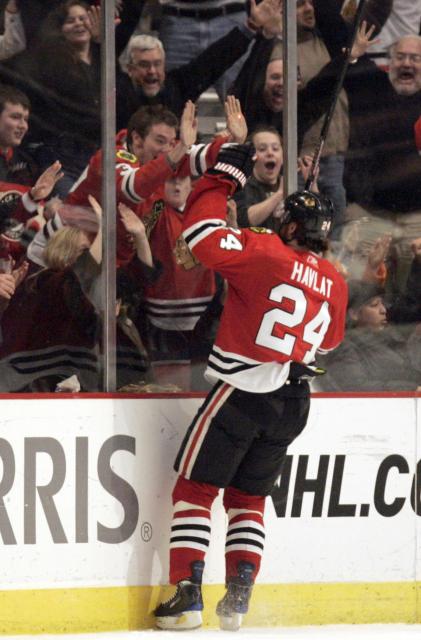 The following season, I was able to watch a whole game from time to time. I mainly enjoyed the playoffs, which are always a bit more interesting. But the role of the viewer still bothers me. Maybe it will be different in time. Maybe in time, it will stop bothering me that the same reason that ended my career was always slowing me down. An injury.

It is a part of hockey. Everyone suffers an injury; I just had too many injuries, and some of those were a little bizarre. "This is not possible," I often told myself. I was even injured in my last game for the national team, where I couldn't help the guys in the quarterfinals of the World Championships in Bratislava, another wonderful tournament.

It was part of my hockey career. The managers didn't only look at my statistics, but also at my medical record. I can't complain. I would never change the years I spent playing hockey. It gave me so much and I am very grateful to my parents, without them, I would never have such a career. Hockey introduced me to a lot of interesting people and allowed me to make a living in the USA and Canada, where I was able to spend more time than at home.
It was not easy to move on after every health complication. When you are laying on the ice with pain and inside you know that another unwanted break awaits you, the idea upsets you. Then comes the procedure, the hospitals, the examinations, the rehab, but in a few days, you believe that this was the last time; that you will finally stay healthy.
Until you are suddenly sitting on a plane from New York and you know that it's over.
When I look at the life threatening stories of others on this website, my pains seem trivial. People experience real tragedies and pains; mine were always only sports injuries. Despite all of the difficulties, I enjoyed many years of doing what I loved doing. Real troubles are something else. I also know that despite all the frustrations, it was a wonderful ride. It finished earlier than expected and I hoped for, but it was worth it.
Now I understand what the older guys meant, when I heard them saying many times: Play as long as you can. Now I say the same thing to the younger generation. Keep playing while you are healthy, and nothing bothers you, keep playing as long as you can. You never know when it will end.
Jana Mensatorová and ČTK/AP/Dusan Vranic and Nam Y Huh