Sometimes you choose the easiest path. You accept it and you use everything that is offered to you because you feel like you can. It doesn't occur to you that it might have been the wrong path until you look back and realize that it was more of an obstacle, that it took much more than it gave and that it kept your life off balance.
Luckily, it cuts both ways. The more you cleanse your problems, the more good comes your way. You live, you have faith, you follow your dream and you make your own path. Whatever happens, it's right.
It's karma. What goes around comes around. I've seen it happen many times.
Not so long ago, I was a maniac, a goon, a gym meathead, a beloved talent of Czech MMA. Recently, my friend showed me a video where I was driving home from the gym, windows rolled down, a pre-workout stimulant still in my blood, shouting swears at anyone around.
I used to be this pumped-up young dude with testosterone levels crazy high and I lived in this mode every day. I was impulsive and reckless from the time I was a kid. I used to do all kinds of stupid shit at elementary and high school. I took nothing seriously. I walked by a half-empty bottle in the corridor and kicked it right away. I didn't think I'd hit my classmate and knock her tooth out. We used to throw chairs or balloons at each other, but it was always me who took it too far and hurt someone or at least broke a window.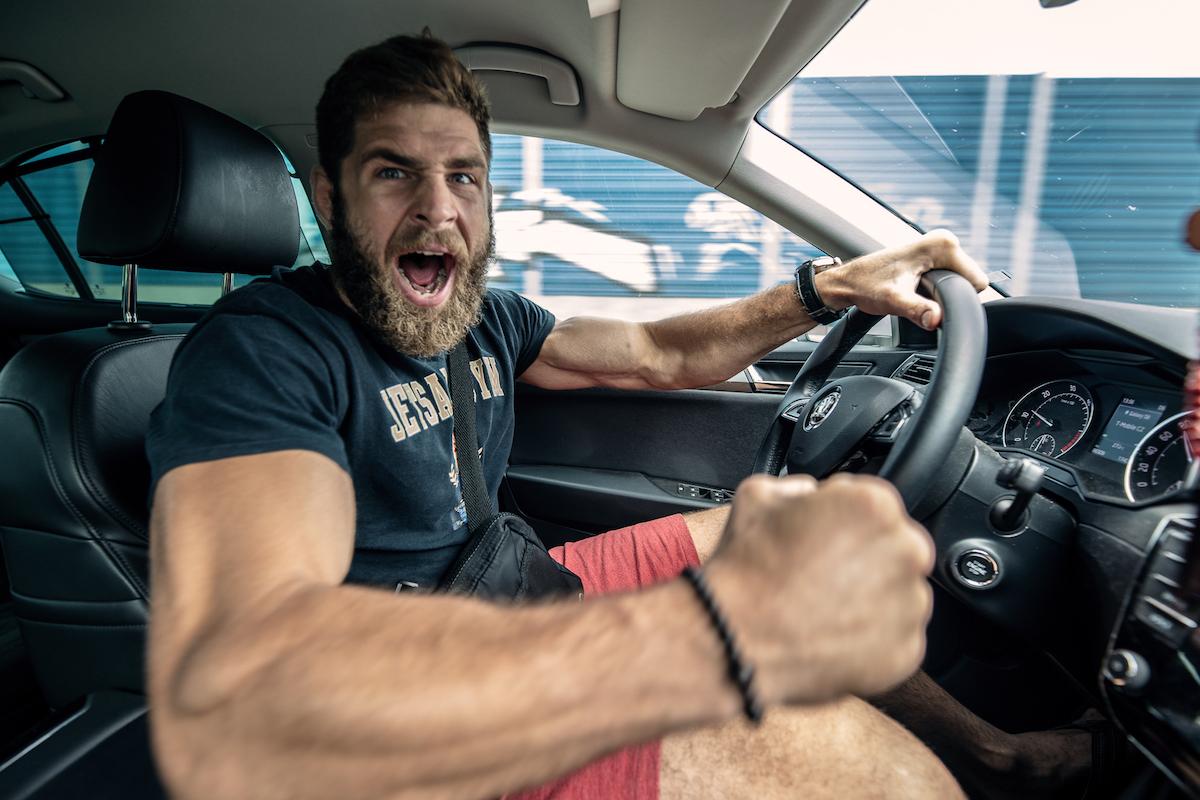 I did not see my way of life clearly. The only thing I cared about was where I could burn my energy. I come from Hostěradice, near Znojmo, and I stuck with a party approach that included nothing but working out and pissing everyone off.
That's how I got into Muay Thai with Martin Karaivanov. It was with him that I found discipline and moved to complex MMA, but before? I used to get in fights wherever I could. At every club. I used to wait until someone was passing me then I "accidentally" shoved into him with my shoulder and that was it. Somebody always swallowed the bait and outside we'd go. I took off my shirt and ran at him.
I was unchained. Somewhere inside I knew my actions were not right. At the same time, I liked showing off because there was no role model in my life. My mom is a decent lady, but my father died when I was 6. He worked at the police task force and died of a stroke at the age of 27, just two years younger than I am now. He had no life really, and I had no dad to point me in the right direction.
Sometimes I wonder what would have happened if he were here. I have a hunch that I would be a totally different person. I'd be friends with different people, my way would lead somewhere else. Every evening, I remember my relatives who are gone, yet affected my life. I spend moments with them in my thoughts, hoping they're all right.
Then I keep walking alone on my path, which took a right turn in May 2014.
Bushido is based on selfless being. It is just you and action, then you alone become action. It is a harmony with existence.
I remember the exact moment. I was getting a massage with Petr Beránek, my friend from Jetsaam Gym in Brno. Coach Jaromír Hovězák came to see us and gave us The Book of Five Rings, the life's work of famous samurai Miyamoto Musashi. I was pulled into the mind of a man who got so far in the art of battle that he was able to defeat anyone with just a wooden sword.
All this had happened during a time in which everyone had been patting me on the back because I managed to win the Czech title in a battle against veteran Martin Šolc. I KO'ed him with a flying knee and everyone went nuts. I enjoyed my fame. Then I began a diet before my 11th professional match against Viktor Bogutzki from Germany. I had 105 kilograms of muscle weight and was trying to push it down to 93 kilograms. I cut sugar and ate only vegetables and meat. Combined with training, I was often shaking and felt great fatigue, however, my perception was cleansed, and I could focus much more on my senses. What I say. What I do.
Suddenly, I started to see the lines of text in a different light. Up until that point, they made little sense to me, but then I felt the depth of them, reading about the way of a warrior, about the code of samurai called Bushido, which is based on selfless being. It is just you and action, then you alone become action. It is a harmony with existence.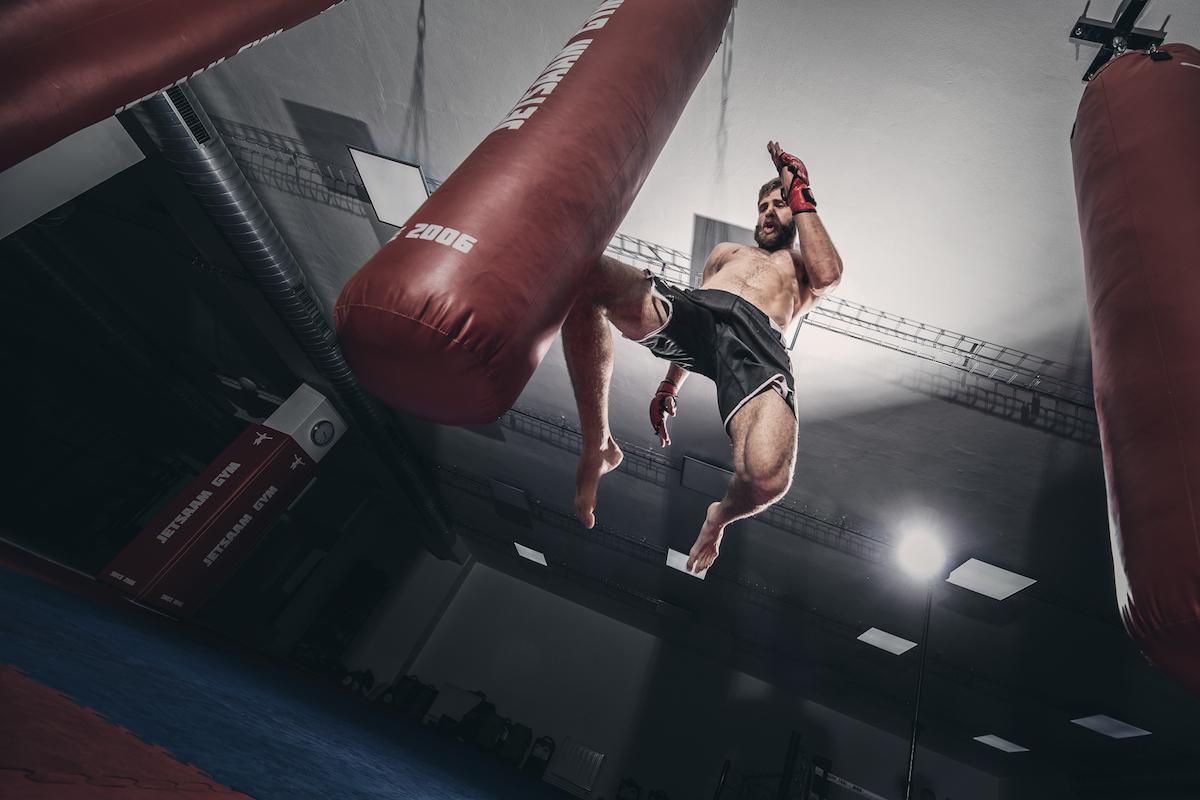 This thing transcended my previous experience and possibilities had entered my life. I saw it possible to devote myself to something which until that point was only seen in superhero movies. I began studying every word, accepting the thoughts as my own.
The match lasted two minutes. I strangled my opponent in the end, although this time I did not express my joy as usual. I was not unchained; I did not scream. Instead, I bowed and moved on.
Maybe you think now that it was just a pose, that I got hit in the head and started talking nonsense. But if you want, I'll tell you why The Book of Five Rings gave my life sense and order, so I can consciously live through every moment.
UFC is the most famous, wealthiest, and best MMA organization. It is supposed to be every fighter's goal, but I don't think so anymore. When my managers got an offer from UFC during a preparation for another match, I refused them. It was just after a yearlong recovery from a knee injury, and I did not care how much they wished to have me. I chose a different path.
This is my fourth year in Japan, in the Rizin organization, which follows the famous Pride tournaments where modern MMA began 20 years ago. Under the influence of The Book of Five Rings and the samurai teaching, I dreamed of being offered a contract there. When the offer arrived in the mail, I did not respond for a couple weeks. I thought it was a joke.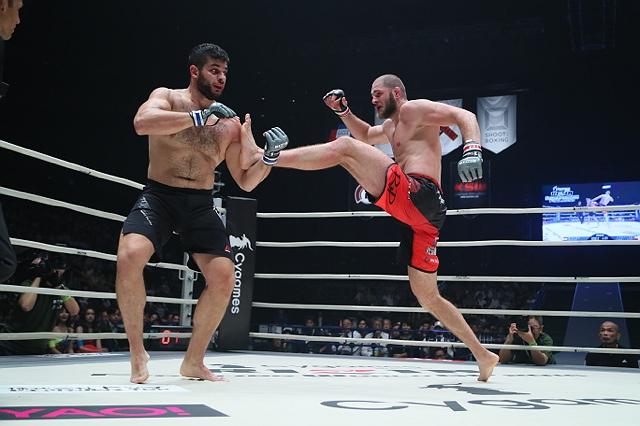 Six out of seven. That's my score in Rizin today.

The Japanese are devoted to MMA. They admire fighters and know how to value good technique. A well-placed arm wrestle, smooth moves, a fiery heart, but also a warrior's expressions. They view it differently than in the USA, where the show is the number one priority and you're either a god or a loser. I respect UFC and getting there used to be my dream, but once I got there and saw everyone just soaked in the business aspect of things, I disliked it.
I don't want to fight there right now. Instead, I wish to move to the highest possible level of fighting, so maybe in a few years I can go to UFC as a warrior with a reputation, with a chance to show my path like my role model, Brazilian fighter Lyoto Machida. He started with karate and people used to boo him in UFC because he just circled around his opponents, waiting for the right moment to strike. For the audience and promoters alike, he was just boring. Even though he was disliked at first, he managed to break through because most of the time his fights ended with a KO. Unexpectedly and brutally. One precise blow. Boom and it was over.
This is also my main focus – to keep improving, aiming towards masterful execution of techniques. It is my highest goal as well. I want my style to be hard, without compromises. I want it to be a style with which I can rule. The baseline of a fight is victory, but it's also about something more. It's about how you experience your moments in the ring, not just about how others perceive and judge it. I don't think about myself in these moments. I don't do things because my surroundings expect it. It is about connecting to the very core of the present moment, about eliminating the outside pressure. Then I can act with ease. Without fear, effortlessly.
For me, MMA is both a fighting sport and a martial art. The match is a trial in which I test what I learned. I need it for confirmation; to know that I'm on the right path so I can move forward.
My Japanese premiere at Rizin 2015 was most humbling in this sense. I had to fight in three matches in one week in a pyramid of eight. I KO'ed an Olympic medalist in judo and the local legend Satoshi Ishii in the first round. As he fell, I felt I'd win. I pumped myself to the max.
In the second round, I had to get through Vadim Nemkov from Russia. The fashion in which I defeated him gave me such a great deal of satisfaction that I no longer felt the need to continue. We both went to the absolute limit.
Usually, a round in MMA lasts for five minutes. In Rizin, it's 10 minutes and we fought for that whole duration. Both of us were trying to finish the other one up to the point of absolute exhaustion. I was this close to stopping breathing and passing out. At the end of the round, we were just struggling with one another on the ground. But then I got up, gave my opponent a crazy-wide smile and told him we could do this all day. He was laying on his back watching me and in that one moment it all clicked in him. I went back to my corner, and he stayed on the ground.
After this duel, I knew I had achieved one of my life goals.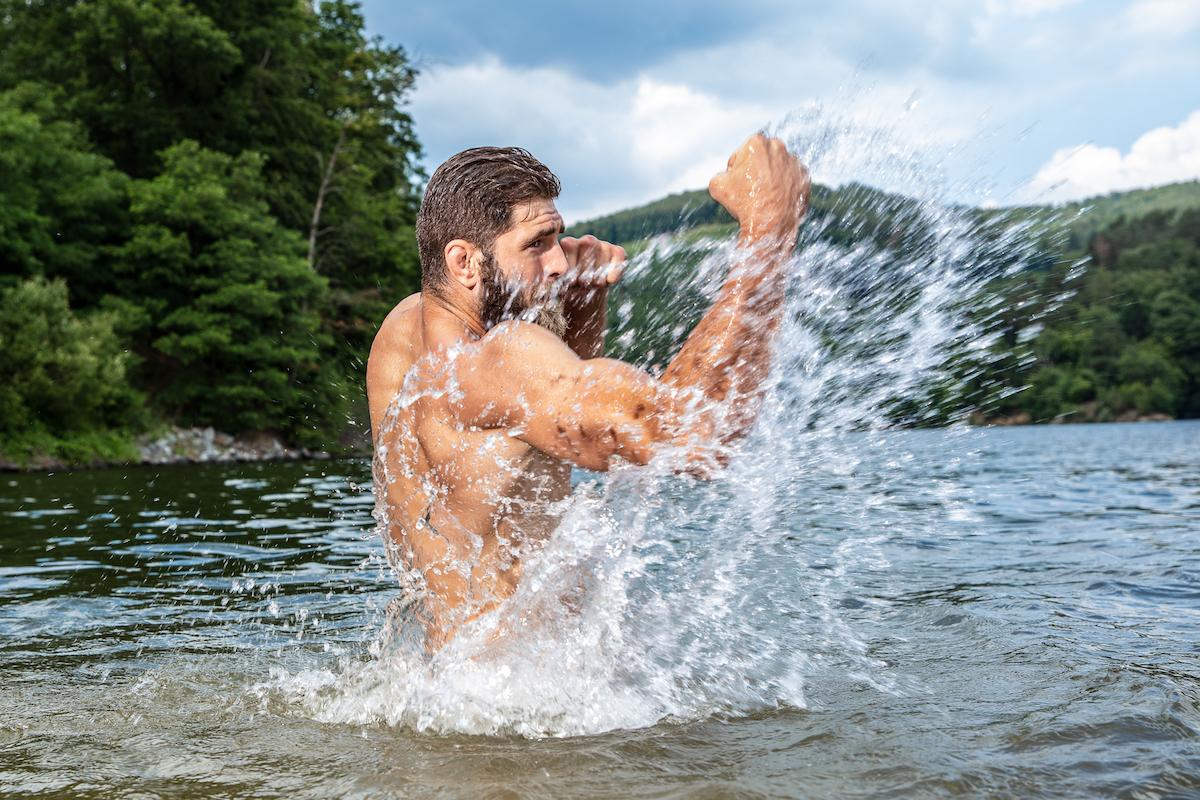 No match was like that one ever again. I had reached a peak of physical effort and I was sure that I could get through anything that came at me. Now, I'm testing myself in other ways. I want to show mastery and precise techniques in which I do not always succeed, and it proved important in the next match.
In the finals I got KO'ed by an American, Muhammad "King Mo" Lawal. The reason was that I went berserk instead of being present in the moment. The fifth minute was ticking, we both went all in. He couldn't match me physically because a few moments earlier he had tried to keep me on the ground, which exhausted him. I struck him, got up and screwed myself over because I was in a trance.
I threw punches like a machine.
Bam, bam, bam.
My fists flew at him from every possible angle and he got lost for a moment, under pressure. I stopped watching him, which doomed me. He stepped back, I followed and ran right into a crazy hard hit to the head. That took me down.
That lesson was necessary for me to realize what fighting is about. I won the next four matches and my goal ever since is to be focused and relaxed the entire time, leaving behind any disturbances. I'm not quite there yet, but I'll know when I get there.
My goal is to get to what samurai call Munen Musó. It's a state in which a word, a thought and an action are one and the same. No planning, no fantasy, no thinking. Nothing is in conflict; you reach harmony and there is no space for anything else. You create only what you want. You find your own paradise, your own kingdom of heaven.
Every person can have it. It is your essence, hidden in you since the very beginning and it's created by body, mind and spirit. The body is just a vessel. The mind is something pretending to be you. Your spirit is truly you, that which watches the world with pure perception. It's up to you which part will rule; an internal fight in each of us.
I don't want to say that I think something because the mind is only a story, an ego, your identity and past in your head. You can call it many names. It's a part which fears decay, therefore causing confusion and leaning on pointless things. The mind forms how your body looks and is trying to bewitch your spirit, your most natural part. I believe I understand this. Thanks to this, I began focusing on the present moment in which lies the essence of life. It's about the way I breathe, the way I move, the way I lay on the couch, the way I sit on the toilet, the way I enter the ring.
It's always the same plane of perception.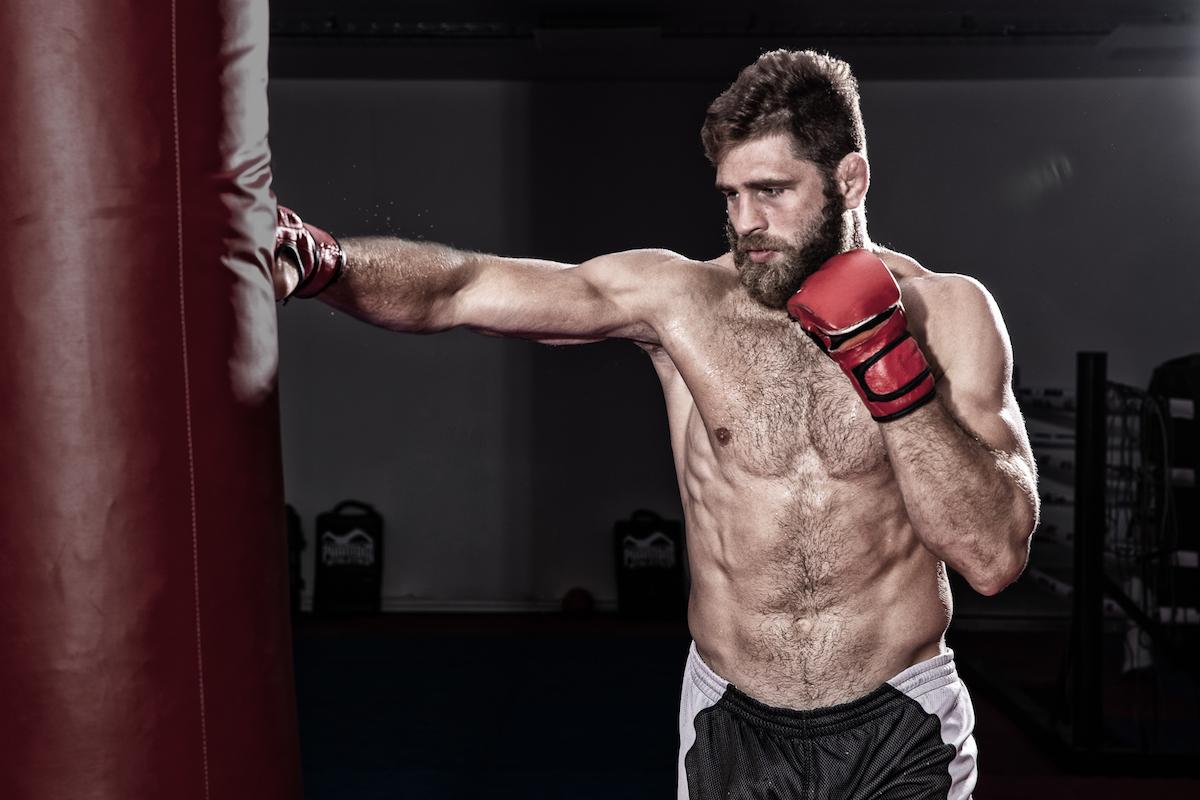 I'm not out of touch with reality. I can see today's society under the influence of mind. It surrounds me with material items and events that bring forth situations which are supposed to throw me off balance. What I'm trying to achieve is to, through my spirit, become an independent watcher of my body and mind. It's not easy. I'm working on it, but it doesn't always work. There are situations when I want to show the world all that I can do, cause a big show, be reckless like before.
In moments like this I remind myself of the most important rule: Never abandon the path of a warrior. Be honorable and act the best you can, whatever happens.
That's how I want to live, and I put my seriousness and responsibility into seemingly mundane tasks like a conversation with friends from my village. Whenever they start talking about their problems, they tell me every single detail. I stop them and ask them to use only words which they truly mean. Even in a debate with friends there can be misunderstandings. The words must aim precisely to the point.
What I say I believe. I'm fond of dealing in simple terms. From a young boy I'm transforming into a man who takes his life with responsibility. I'm aware that everything I say has consequences, whether I'm praising, criticizing or being honest, it's always me.
The Book of Five Rings is always with me. It is a piece that you can read again and again because it's evolving with you. You'll understand it differently every time. Once as a guide on the art of warfare, then as a guide on interpersonal relationships. Musashi wrote all of it at the end of his life. Feeling he was sick, he decided to leave to live in a cavern where he'd piece together his wisdom. I wonder how far on his path he must've been when he managed to put it all into words.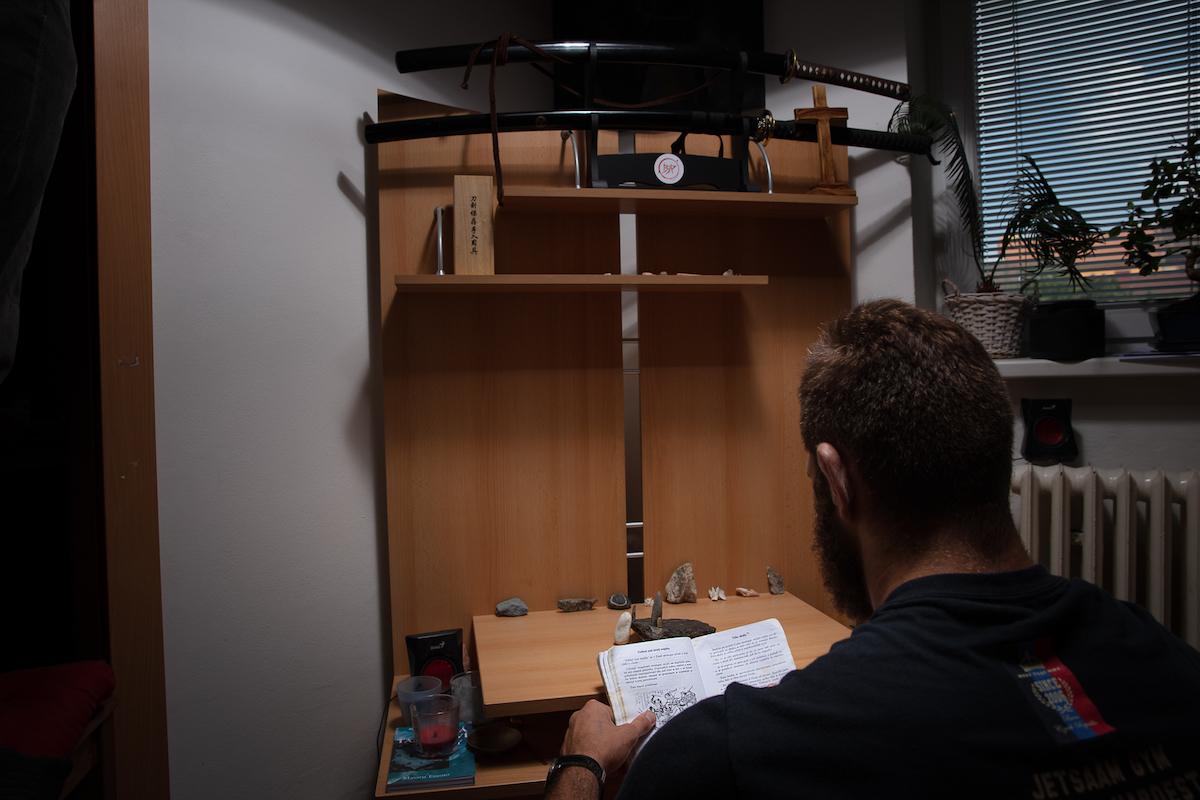 Sometimes it's enough for the book to be in front of me, I don't even need to read it. It reminds me that once you experience your life to the fullest, you want nothing else. It's pure joy, an intense flow of energy which you can redirect into anything. I see many things. People value their expensive cars or big houses, or beautiful girls and they derive their identity from this. But that is all just a pose; they're focused just on the surface.
I want to live my life to the fullest, to be able to rejoice even from little and simple things, from my inner feeling which is the most important for me. In exchange for that I'd gladly live on the street. For four years, I have lived in one room where there was just a refrigerator, a bed and a table. Then I moved into a one-room apartment and that feels like a huge house. I put a kamiza by the window, an altar with a katana; a gift from my sponsor. I often sit in front of it, candles lit, meditating, or reading The Book of Five Rings.
If I focused on different goals, I could make loads of money. I could have more cash, more sponsors. I'd probably seem really cool and meet with different sorts of people, but that would only take me further away from the essence. The path is more important.
You may think this is all just a pose, but I can't express myself differently. I don't use lies and deception to fit a certain image. I believe that one is here to serve his higher purpose. I'm trying to follow my instinct so that I can see mine, not to be disturbed by anything.
Every opponent I meet is my guest, not an enemy.
What motivates and satisfies me in MMA is that I can keep moving forward. It is a sport which people like to watch, and so I can show what my intentions are. Now, it's all about fighting and technique but once I reach the level I want, I know the time will come to pass this all to others, so I can help them.
That is the reason why strangers stopped existing for me, and I see it even in my approach to opponents. Every opponent I meet is my guest, not an enemy. They may see me differently, but I've thrown away these labels with which some fighters try to belittle their opponents. Yes, I need to execute a technique in the finals to KO my opponent and it seems harsh, but this is the direction I chose so that I can inspire others with my actions.
My fight in Brno with Michal Fijalka from Poland was game-changing in that sense. Before the match, he was walking up and down the hallway, warming up, shouting around. His energy threw me off, a sense of fear woke inside of me and the sentence "Jiří, maybe you're not so good" appeared in my head. I was already thinking I was on a different level at that time, but the path tested me.
It was a crucial moment and I suddenly switched. I lost all fear, went into the cage, and acted in the most natural manner. Nothing could move me, my body was made of solid rock, heaven could fall down, the ground could tremble, but I was standing firmly against my opponent. I was willing to do anything to prove it.
Fear pushed me to courage. I knocked him down so badly that he surrendered before the second round. The referee raised my hand.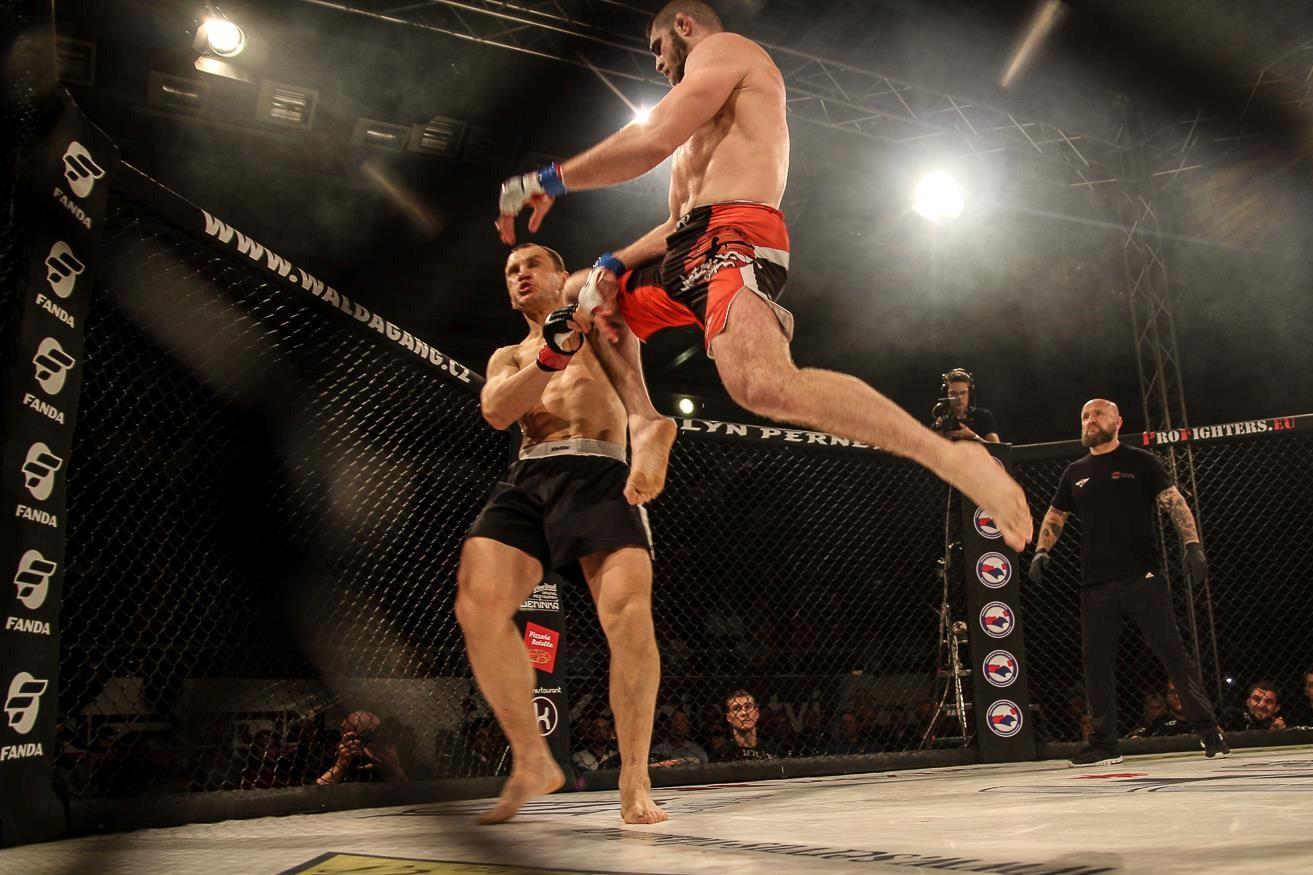 The world sees only victors and losers. Sport, MMA included, is not yet so advanced as you can see at traditional karate masters' duels. You have just two people standing against each other, they strike, both stop it one centimeter from their opponent's head without hurting each other and they know who won. They don't even have to speak with each other, they just know the result.
You can see this only at the highest level of fights. You could see it in the UFC in a fight between Connor McGregor and José Aldo. It took 15 seconds for Connor to win with a KO. No flashy moves, just precise technique. That is the true principle.
At the beginning of my career, I thought the champion was someone who worked nonstop. Again, and again, over the limit. Today, nine years after my first fight, I'm only 25 and I know this approach causes many problems and imbalances that I need to fix.
The most damaged is my right knee, the one which I use for the flying knee move. I partially tore it first, then tore it completely. I had to have a year-long break from fighting.
I realized I've fueled my self confidence with hard work because I feared losing. Defeats came anyway, but exhaustion accompanied them. I went over my limit multiple times a week. Practice ended and I would stay in the gym for a brutal 10-minute workout to get to my limit and cross it.
In reality, I just lost my ferocity, moved too quickly for my weight, and wasted energy that way and couldn't find any reason to keep going. I began to have doubts, asking myself if MMA was what I really wanted.
I realize I'm doing one of the toughest sports in the world, however, from a different perspective it may seem like a game. Samurai helped me again because they did not practice so hard. Instead, they were looking for duels. They won or they died. These strong experiences when they struck their opponent and blood came running from him left strong impressions. It was then easier for them to have absolute faith in their abilities, radiating an aura of certainty, so they did not need to practice so hard.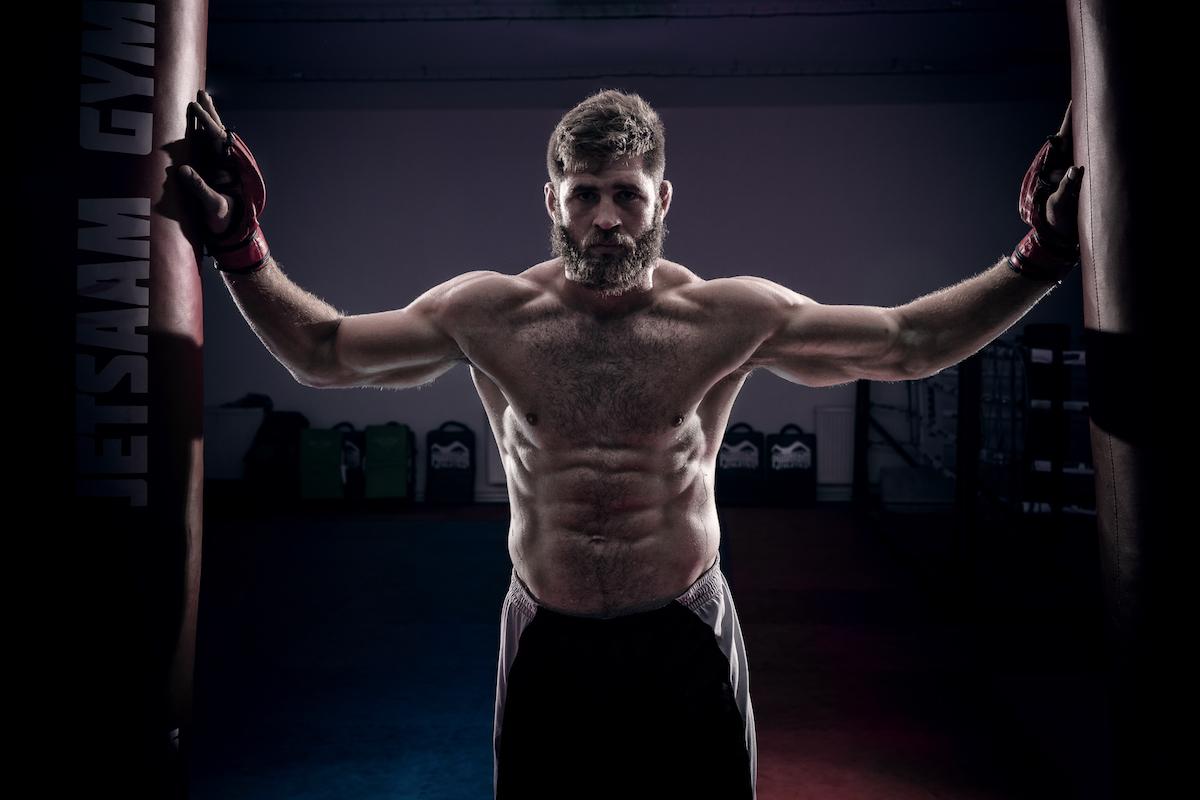 Ever since I returned, I have practiced differently. With confidence, so I feel good and light, so I feel my breath, so I can work with my life force. I go to practice to fully experience what I was made for. My moves are more accurate, not so wasteful, I have better strikes and evades. In a fight, I copy my opponent instead of reacting to him.
These are other aspects where I can still evolve. To feel my body, have control, see further ahead. Of course, even nowadays I sometimes go to complete exhaustion to simulate the conditions in a match. I call it HSF – "hits strong as fuck." I've had this since youth and I want to keep it, the only difference is I can control it now.
Even if I go for sparring, which is supposed to simulate fights, I do it very easily or to the max. There's nothing in between because that's what fight is about as well. You can't think about the meaning of life or death in it because then your execution won't be precise. You must believe you'll win and survive but be ready for death and accept it as well. You can't be unfocused, thinking "Shit, I'm dying." You can't let your mind take over, but you must keep your posture and discipline and say "It has come" and accept it as it is.
It may seem ruthless, but it has to be this way. In the time of decision, you shall see what is strength and what is weakness. As master Musashi writes in his book: A man and a woman sleep in the same bed, but they do not have the same dreams. A man walks alone.
If you say you're in harmony with your existence but at the same time you're looking for excuses for why you cannot do what you really want, because you have to take care of someone or something, you're only giving away your immaturity. If you really wanted to, you would organize your life as you wish.
Only then will you become a true warrior, who is mostly destined to be alone.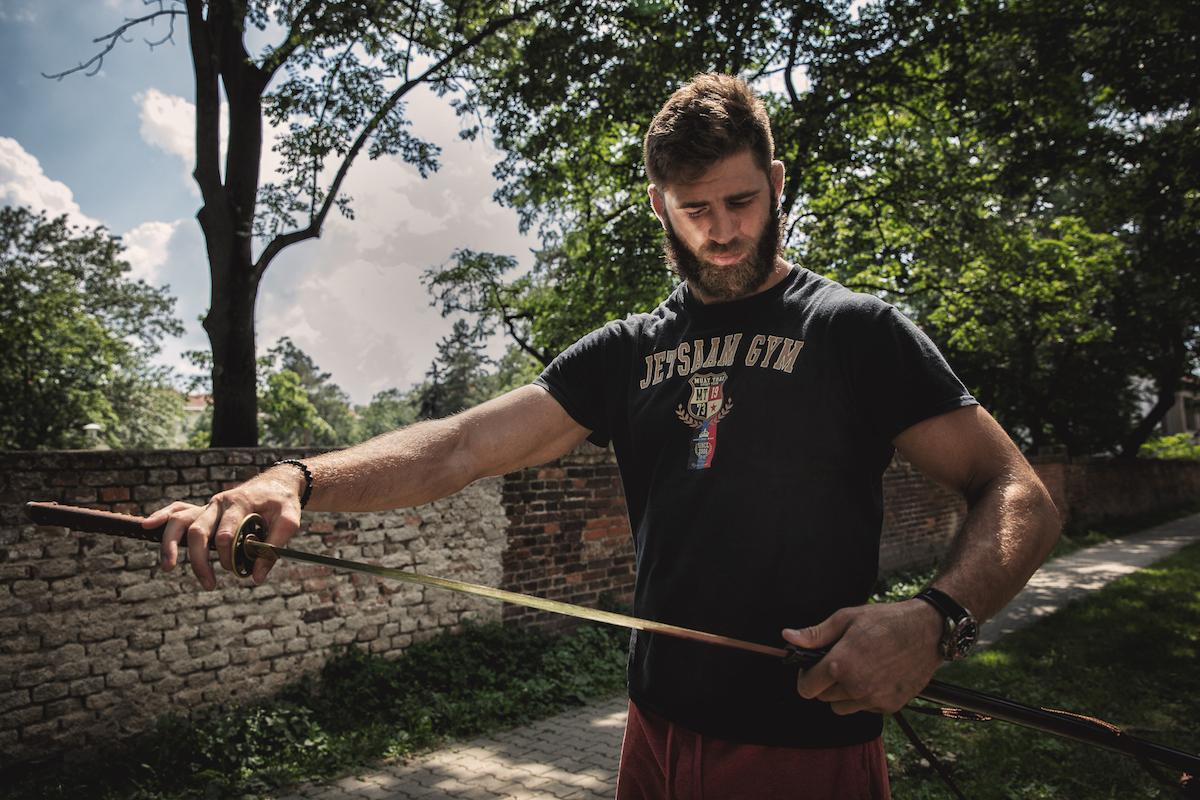 I think about this a lot. My girlfriend lives in Chomutov, I live in Brno. We only see each other on weekends. I talk to her about everything, and she was with me at every match in Japan, but she must understand that I won't fulfill her life dreams, because I decided to serve a higher purpose.
This comes with a price of often making decisions which many may not like. It's not all fun and games. Sometimes, you must face tests and temptations, but that is the path. If you walk it, it's not going to be easy. Sometimes you'll have to live entirely differently than you want. It may happen that under the pressure of circumstances you will be forced to leave what you were made for, only to find out how much you love it.
I'm in a phase in which I put up obstacles in my life and look for moments of discomfort. Sometimes, I completely disappear. It may seem like a paradox, but not so long ago, I bought a very expensive watch because of that. I had just returned from a hike of the Matterhorn, walking through the town center in Brno when I saw the watch with an advertisement with that same mountain behind it. And even though the price made my jaw drop, I bought it. Every day, it reminds me of what I've experienced there, as a symbol of that trip.
I planned to hike and fast for eight days in the mountains to cleanse my body and mind, but I forgot to take a sleeping bag. So I had to change plans. Instead of eight days, I was only there for three, but it was so cold at night that I couldn't sleep. I was just laying in my tent, freezing, trembling, experiencing unexpected states which, in the end, enriched me.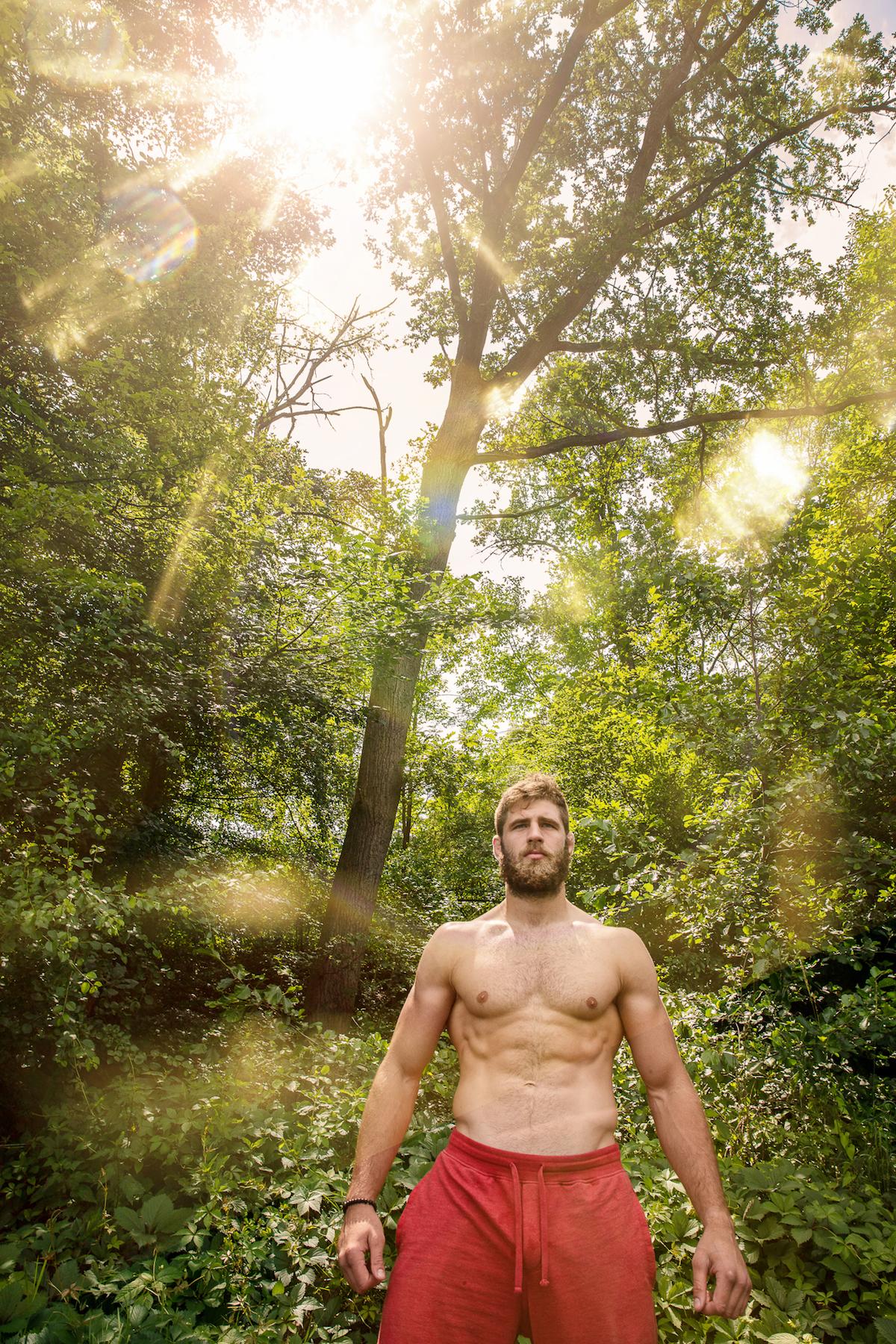 One night, there was some animal sniffing around my campsite for quite some time. I took out a knife and laid it on my chest, ready to act if it chose to get closer. I accepted it and was ready to overcome it.

Whenever I'm on a trip, in contact with nature, I'm trying to understand my essence and the surrounding elements, from which one can learn a lot. Most enriching was diving in the Maldives, where I was vulnerable, watching the undersea life, including sharks, just swimming around, not caring about me, even though they could eat me with one move.

I was nobody to them, as to the depths.

I was freediving and five meters deep I ran into a chasm. I knelt on the edge, staring into the abyss and suddenly, I did not want to go back up. Everything was all right, it was just me and a dark depth in front of me. At that moment, I had lost all fear. It was just for a few seconds, but I felt it.
I returned to the surface, took one breath, and realized that was life. For a brief moment, I was like a fish, leaving everything to its flow, but certain that I could do anything at any time.
Nothing is impossible.
Sometimes I feel sad that this is lost in most people now. Our society is based on identifying with a certain opinion and then fighting for it until death. It's different in MMA fights, because these people do not back down even after many painful defeats. That's why they can't live in peace but are mostly confused and lost. It's a shame.
I wish for everyone, even you, to discover that the essence of life is based on two days. One, when you're born. And the second, when you find out why.
Now I live this way. As time flows, I'm discovering a million paths that I could take, but I feel that this is what I want. I'll follow this path no matter what.
Jana Mensatorová and the archive of Jiří Procházka