Poor Martin Frýdek. As I flicked my foot in anger, my cleat slipped. My 15, big-as-a-ship shoe, which they had to custom make specifically for me, struck Frýdek right in the face.
At that moment, I didn't care. I was pissed like never before in my life. I got up, punched the cabin door, and it swung open.
"Kiss my ass, everybody!" I shouted. "I won't be here for another minute!"
Everyone was staring at me. The whole team and coach Petržela. Moments before, they had been nagging me about a huge chance that I missed just before the end of the half against Opava. Suddenly, there was complete silence.
Nobody expected this. I've never been like that. My nature is one of non-conflict. Until then, I endured everything quietly and humbly. All of the swearing and shots had started to escalate in the past six months. Their quantity and intensity drove me to this explosion.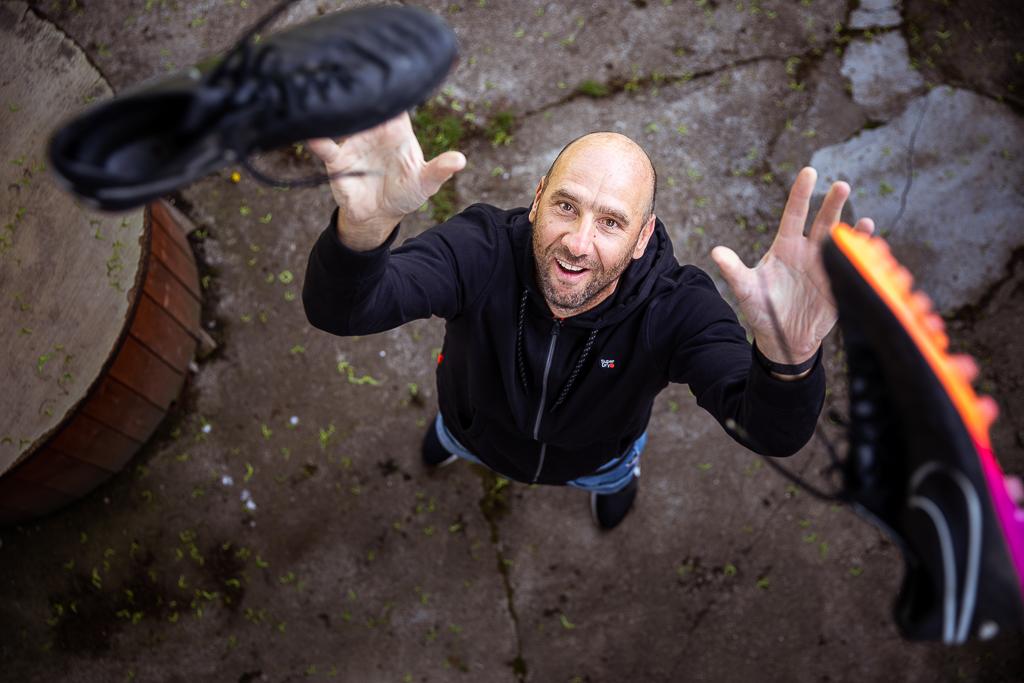 I was a boy from a village who found himself in a world that had seemed so foreign to him as a teenager. Through coincidence, the intercession of the right people, my work ethic and some football skills, I made it to the largest Czech club in the middle of its most dominant era, without any previous youth career. At first, everyone in Sparta was excited about me because I helped them as an occasional unexpected revelation on the field. As soon as I became a solid part of the team and threatened the positions of the existing regulars, they grew defensive.
My self-confidence was never too great, certainly not in the beginning, and it hit me way harder than I would have liked. Despite working harder and harder, I was getting worse and worse on the field. I burned my chances, my own fans whistled at me and what seemed a fairy tale became a source of annoyance and destruction. It was as if the big football environment was trying to show me that it wouldn't be as easy as I thought; that I didn't really belong in it.
Since my outburst after the match against Opava, I had peace of mind, and just over half an hour of game-time during matches. I was 23, and as soon as my league career began, it was threatening to end.
I can imagine how much the match must have bothered the boys from the Sparta A-team. They approached it only as a necessary evil; one in which they could possibly get hurt. The weather was disgusting — cloudy, cold — and if I remember correctly, it was snowing. That day, at the beginning of winter training in December 1994, we came up against them, a B-team full of hungry young boys willing to give it our best. An empty, but still majestic stadium in Letná motivated us even more.
We didn't play badly. We created some chances, but the difference was still clear. It ended 6-2. For me, however, it was of exceptional importance. I scored both goals behind Petr Kouba, who was the national team goalkeeper. Headers, after crosses. That was my style.
I know that the guys from the A-team did not play their top game, that they didn't defend me as intensely as if we were playing for real, but still, I was happy and after that match I realized it was good. If they didn't notice me now, I didn't know when it would happen. During the fall, when I started playing for Sparta's B-team, I watched the first team's practice gradually filled with subs who were not much better than me. Sometimes, it even seemed to me that they were worse, but nothing changed.
Until now.
In the evening at home -— which meant at my grandmother's house in Klánovice — my phone rang. At the other end was Mr. Borovička, assistant to Mr. Sundermann, who briefly led Sparta. He said that I attracted the attention of the coaches and that the next day I should report to Letná. Holy moly, I was suddenly so nervous. If I fell asleep at all, it was very late at night, because from that moment, the only thing I could think of was that this was what I had waited for all this time: I would finally train with Sparta.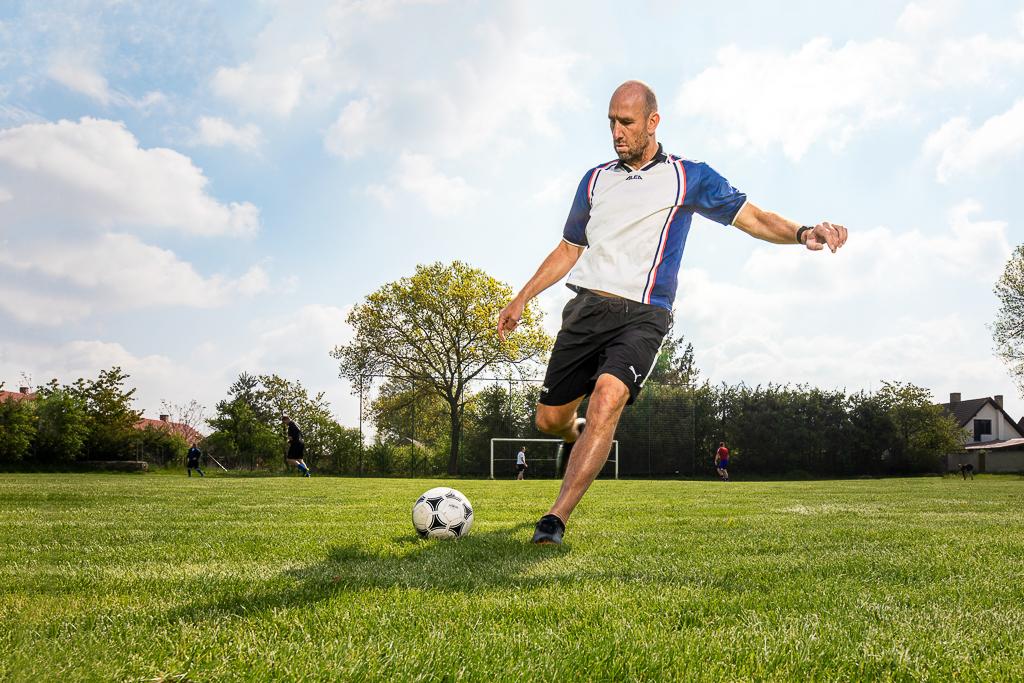 In the morning, I jumped into my brown-orange Škoda 105, which couldn't even be locked, and drove on with a boombox in the back seat because the car didn't have a radio. I didn't park it right next to the stadium, but a street away. I was ashamed to stand next to all of the Opels the A boys had. Those were some amazing cars back then.
I opened the dressing room door where Jirka Novotný, Pepa Chovanec, Pavel Nedvěd, Lumír Mistr and Zdeněk Svoboda sat. Fortunately, there were already boys that I knew from the B-team, so I sat down with them and tried not to draw much attention to myself. Being able to train in this environment was the best thing I could imagine. I didn't want anything else. I wanted to compete with these giants. I had no illusions that I could ever play here, because Horst Siegl and Vráťa Lokvenc played forwards and it felt like at least 10 boys would have to break their legs for me to get a chance; that they would always rather put a midfielder forward rather than me, a boy who emerged from nowhere on the reserve team. It was unimaginable to get on the field.
It never occurred to me at the age of 20 that I could make a living from football. After finishing my apprenticeship, I joined a collective farm back home in Smetanova Lhota as a technician. I drove the tractors in overalls, and although I didn't enjoy it, I thought that was my immediate direction once my military service had ended; that I would eventually find another job. Although I liked it in the countryside, my eyes were set on Prague, where there were far more opportunities.
I hadn't even come close to pro football since I was a child. I never had the opportunity to measure myself against my peers from the big clubs. There was nothing to compare. In Smetanova Lhota, they founded a youth team for the first time when we had enough children, and we played in the surrounding villages at most. The highest level we had nearby was Písek. The local Spartak always scored around 14 goals each match against us in various tournaments. We didn't even have any real youth categories. The 6-year-olds played with the 14-year-olds. The ball got thrown on the pitch and the fight began. Whoever survived, succeeded.
This in itself was great preparation for life, not just for football. For a long time, I was one of the younger ones, but at least I stood out thanks to my physique. At the same time, I was a little too thin and I couldn't rely on my strength, so I had to be more of a technical player. I didn't score many goals back then. I played midfield. I played in various regional selections and went to play for school, but to be honest, there were countless boys like me in the republic; at least three or four in each village.
We didn't have further categories after youth in Smetanova Lhota. You could only play for the A-team, but no sooner than 18, or a year earlier if the doctor signed your papers as an "older age," so I transferred to Mirotice, which is a neighboring village that played in regional youth competitions. I started there as a goalkeeper because they didn't have anyone at the time and I had the height for it.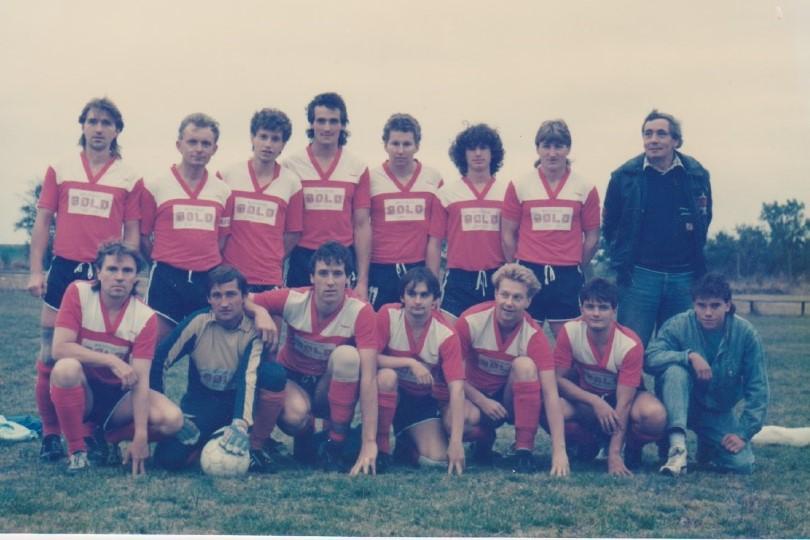 Many years later, I used this experience in Dortmund during a match against Bayern, but that is a different story. I wasn't a completely lost case at that time because I passed the test in Strakonice where they had a youth training center and a youth second league. I got to the club where we trained regularly for the first time at the age of 16. I commuted there for a year on my old motorcycle; half an hour in the morning to Písek to get to school, then half an hour to Strakonice on an adventurous road full of bends and hills where my machine sometimes fell apart and someone had to pick me up.
Thanks to the goalie training, I learned a different form of dexterity, but discovered that I didn't enjoy catching at all. I got a lot of opportunities, but in matches against the worst teams, I just stood there and had nothing to do. I needed to run, so I returned to Smetanova Lhota after a year, got the necessary medical permission to play with the A-team, and played forward next to my older brother. That's when I first started hearing talks about me being a cannoneer. Unfortunately, only at the regional level.
We had a great team and scored a lot of goals, which meant that for the first time in the history of the club we advanced to the first B class, which is only the seventh, yes seventh highest football level in the Czech Republic. We didn't have any practice, we just got together and played. The matches were followed by a so-called press conference in a pub, which in reality was just that we sat down for a beer with the old guys, who were standing around the field, and discussed the game. And then in the summer, we went to various tournaments, where it was more about fun than football. Remembering those times always warms my heart.
I won't lie to you about how disciplined I was and how much extra work I did because I was hoping that I would become a star football player. Not at all. From the age of 14, I drank beer, attended any party and went to the disco to Ostrovec or Kozárovice. Just as I played with the older players, so I stuck with them on weekends. They taught me everything. One time, I came to the match a little drunk and I needed to bend over the railing behind the net and throw up what was in my stomach. I spat and kept running. I was no saint.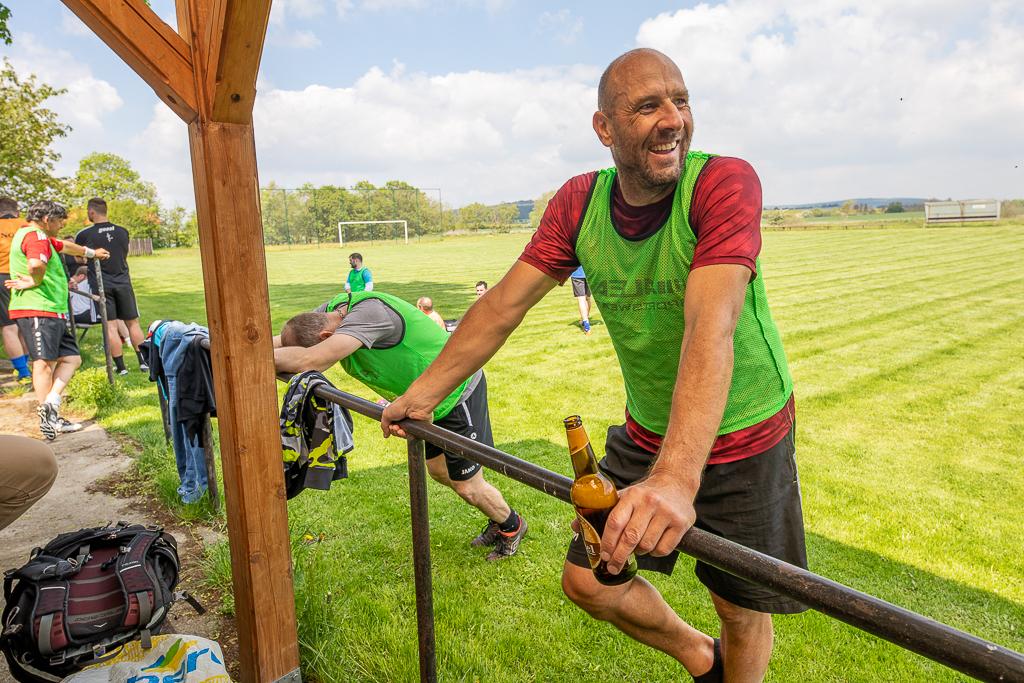 I thought it would be like this forever. I would go to regular work and play football for fun and thirst. I liked football from an early age, but I didn't look for anything more from it. Although I started to have a significant impact in our competitions, there was no reason to think that I was anything special. During my teenage years, my family's friends tried to get me to Spartak in Písek, where they were not interested in me at all. After a few training sessions, they sent me home. The same thing happened in the military service. The coach there decided that I didn't have what it took. I never blamed anyone for that. The competition in Písek was great at the time. Players who already belonged to Sparta or Slavia who did not make it into Dukla went there. Who among them would need a tall dude from Smetanova Lhota, who regularly trained for only a year as a youth goalkeeper?
I wasn't even the type of guy to push myself. I took it this way: If no coach saw anything in me, I had no right to persuade anyone of the opposite. At the same time, it didn't seem to me that on teams where they didn't care about me, the boys were so far ahead of me. They just had self-confidence; huge self-confidence, which I always lacked.
I completed the military service as an ordinary cook in the kitchen, and when they allowed me in the barracks, I went to play for Lhota on the weekends. Only then did my turning point arrive. Milevsko.
I scored so many goals that the secretary of Milevsko, who is gone today, showed interest in me. He wanted to see me at the winter tournament, which was played on cinder in Písek. Why not? I gladly accepted and I almost became the top scorer of the tournament, even with the second league's Příbram playing us! I even scored against them. I had never played against players at such a level, but suddenly I wasn't lost. I had the upper hand.
There was nothing to discuss. I transferred to Milevsko. That's when, at 19, I started making my first money playing football. Two hundred crowns for winning a match. Money played the most important role in directing me then, but not the way you might have thought.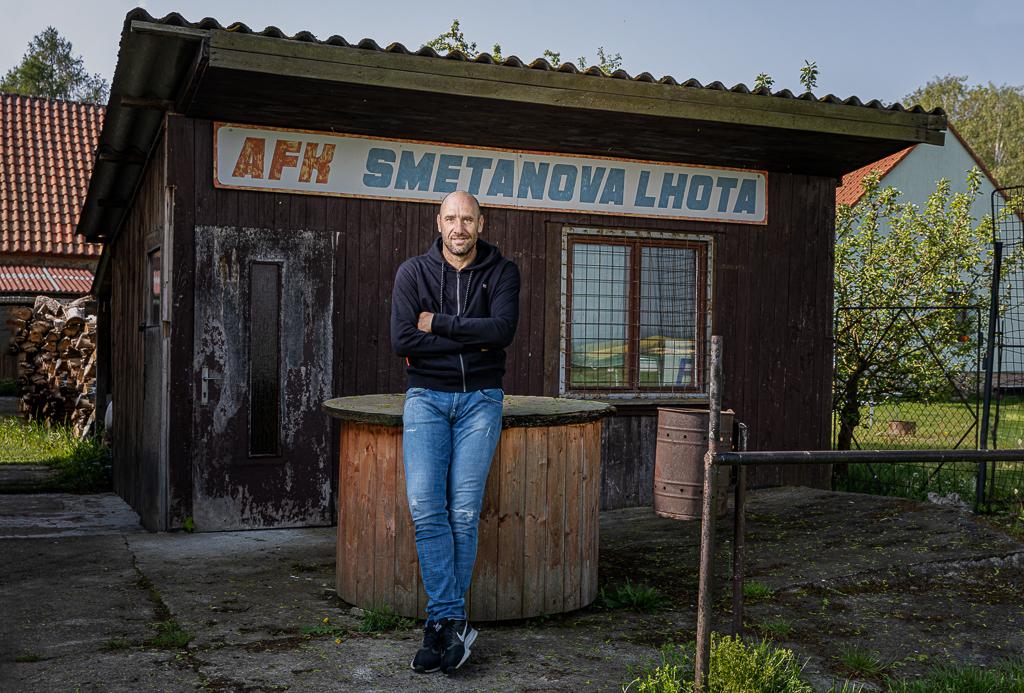 I took a part-time job at the national bank. The gentleman who worked there had a cottage in Smetanova Lhota, and we met drinking beer in the pub. He was looking for a couple of guys to help with the changeover. We agreed, and five of us went, including my brother. At that time, after the division of the republic, Czechoslovak money was withdrawn from circulation, and it was up to us to sort coins and pack them into bags in the anti-nuclear shelter at Černý. These were then sealed and transported to melt. Millions of crowns passed through my hands before I earned real money through football.
Because I still went to Milevsko on the weekends, but could not attend the training during the week, I needed a place to train with someone in Prague. So the club arranged for me to prepare with the third-league Sparta Krč. I thought it was out of good will, so I wasn't very active. I changed clothes in what was basically a closet, and because they had enough forwards, I did exercises as a sweeper. The local guys just looked at me with distrust because I couldn't attend the morning fitness practice due to my job.
That was the first time I met real footballers who did it on a daily basis, and I realized one important thing: that I could handle everything they did. I saw myself as a country boy, grateful to be able to test what he could do in this great football world and keep fit, but not one who belonged there. I did not fall behind, however. I was able to win 1-on-1 fights and the longer I trained with the team, the more I began to trust myself and instead of playing it safe, I began to approach situations more creatively.
I was hoping I would catch the interest of the local coaches, because Krč had ambitions for the second league. It seemed like an incredible opportunity to get close to that level. Instead, at the end of spring, they told me that I could no longer attend their training; that there was no place for me anymore.
I thought I might somehow finish with them. The part-time job was ending in the summer anyway. But at that time, my friends from work were sitting at lunch with an older gentleman who was riding a forklift in our warehouse, and the talk turned to football. I wasn't even there. They began talking about me and how I had nowhere to train.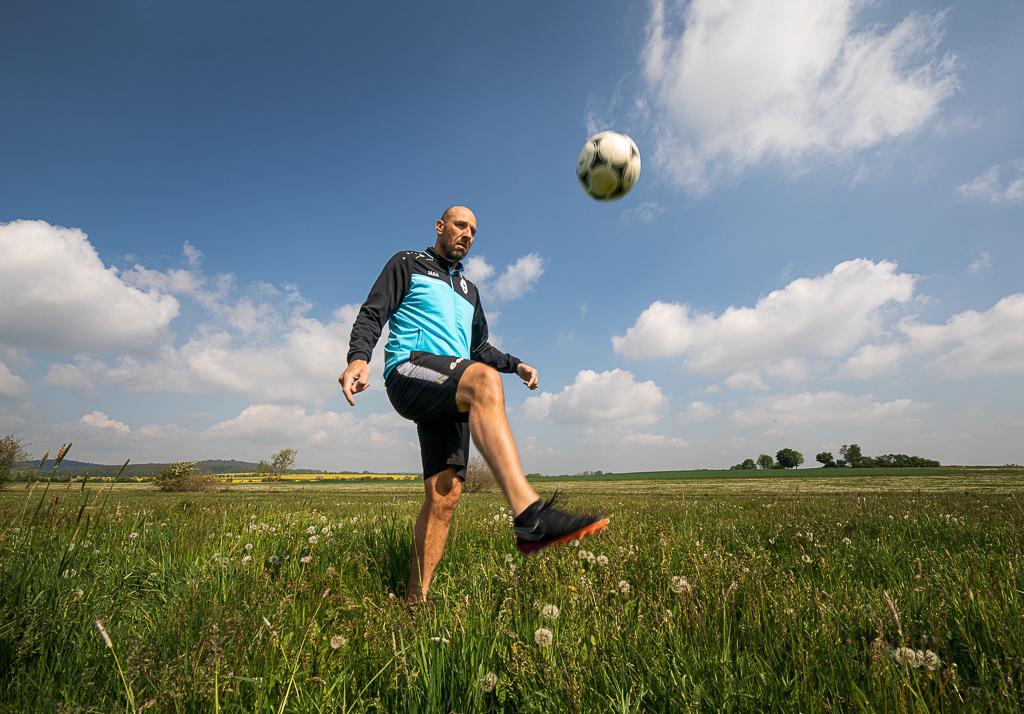 The gentleman said he knew the people who ran the Spartan B-team and that he would arrange for me to be able to train with them. The boys mentioned it later when we were having a beer at a pub and I said: "Yeah, sure." I didn't give it much thought. The next day at work the phone rang and it was for me. I ran to pick it up as heaps of coins rattled behind me.
"Hello, Koller."
It was Jirka Šíma, my later trainer with the national team, and then the leader of the Sparta B-team. I was to report to Uhříněves for training where the team had their facilities.
At first, I thought that the boys had played a joke on me. But it was no joke.
As a schoolboy, I was always one of the tallest in the class, but between 14 and 15, I got even taller, growing to more than two meters. Everyone who has experienced this knows how difficult it suddenly is to coordinate their body movements. That's why people laughed at me on the field because I looked comical. Already at the age of 10 during ski races, parents of other children yelled at me because I was clumsy, and football spectators said much more.
As a child, I endured swearing and ridicule. It made me sad. I wanted to be smaller so that I wouldn't always be so visible; so that I wouldn't stand out so much. Eventually, I began to use my height as an advantage.
While today children all have personal coaches, it was not until my adulthood in Milevsko that I first learned proper technique. My legs were so tangled during warm-ups that I wonder how I didn't break them. Everything that helped me succeed in football was gained by playing, experiencing and learning things from watching players on TV. And when I later moved to Belgium, the coaches paid a lot of attention to me.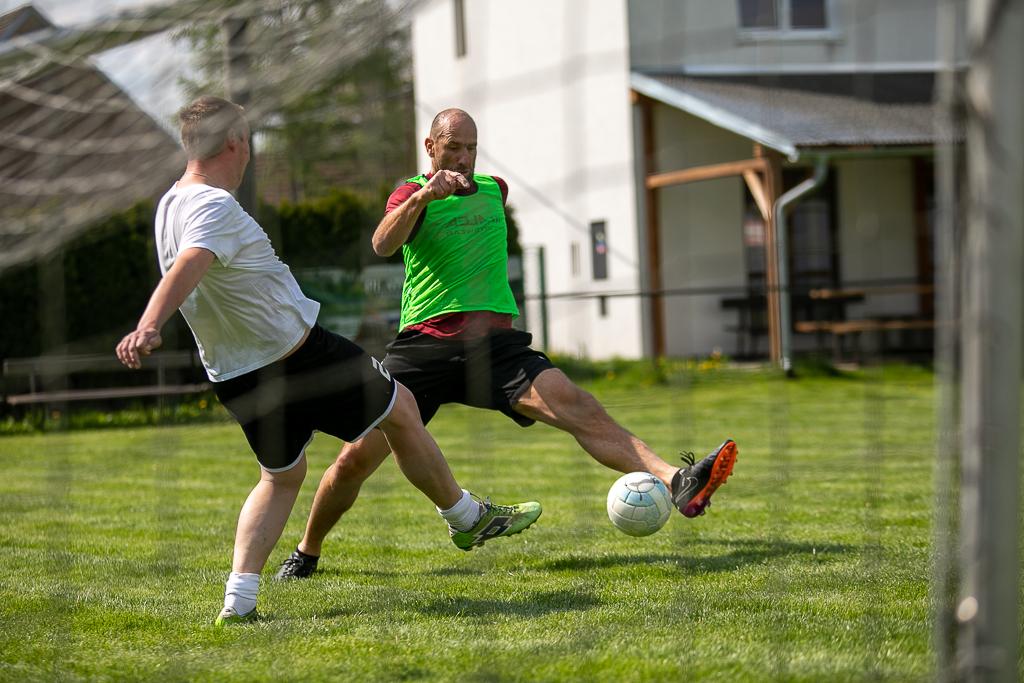 The only thing I always excelled in was peripheral vision. Although I never did anything targeted for this sort of development, I still have better field vision than others. Every time a ball was coming my way, I was able to subconsciously sense the placement of the players around me and I knew where I wanted to put the ball; what my options were. Even in a car at an intersection, or when I play hockey with friends, it seems to me that I can find my way around the situation immediately.
Honestly, I would be lost in today's football. When I see the current top level, I wonder if I would be able to play at all. The speed and intensity are completely different today. On the other hand, we had something I don't see in today's young people. Through natural development, we gained ingenuity and the ability to adapt. Today, we educate teenagers like robots.
I believe that you simply catch up with your physique at a certain age, but you have to be able to stand up to the ball and to find your way on the field. When I started training with the Spartan B-team, my whole body hurt at first. During dexterity exercise, I toppled all obstacles, but when you don't mind going through pain and don't give up, you'll manage eventually.
Because I was able to score some goals during various exhibition matches, they told me that I should start regular summer training. At first, the management did not care about some country boy. They did not want to give me a contract and negotiate my transfer from Milevsko. They had enough of their own teenagers whom they were preparing for the A-team. However, coach Kára and Jirka Šíma persuaded them. They said that I could be something someday.
In the summer of 1994, at the age of 21, I was sitting at a table with Pepa Chovanec, a personality of the national team and Sparta's playing coach at the time. This icon, whom I had watched on TV, signed my first football contract with me, Honza from Smetanova Lhota, who coincidentally got the opportunity to train with the B-team. I had a salary of 4,000 crowns a month. More importantly for me, someone finally found cleats for my giant feet and I didn't have to play in yellow-black textile cleats with rubber bottoms that always got wet in the rain and made me slide on the field instead of running.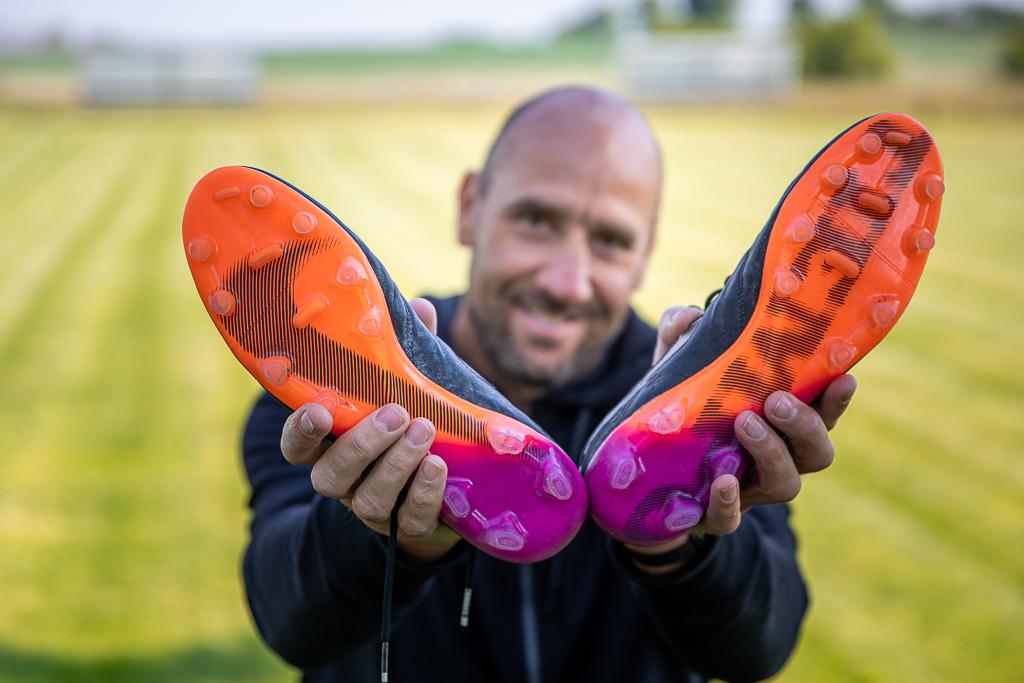 Everything came together. My part-time job at the bank had just ended and I didn't have to look for another one. I started making money playing football. I ended up with some 5,000 crowns a month bonuses, some of which I gave to my grandmother with whom I had lived from the beginning, and who had cooked for me. I fit in perfectly with the boys on the team. The group was excellent there and I soon convinced them that I deserved a place on the team with my game.
In the first match, a newcomer to the competition was waiting for us. Fezko Strakonice, where I used to be a goalie. It was crowded in the stands. A lot of friends came, and even though I didn't score, I was very happy. I was in the starting lineup and we won 2-0. The new coach, Mr. Veniger, clearly liked me and used me a lot. So much so that the boys were joking that I had to be his son.
I scored in the next game. Everything went well, which in my case meant that I played steadily and scored goals. Gradually, I settled in among the best shooters, which at that time meant Marek Kincl in Neratovice, Václav Koloušek and goalie Antonín Kinský in Dukla, and Petr Papoušek in Mladá Boleslav. It was as if I suddenly caught up with these peers who had been on a path to great careers from a young age. I joined them during one single fall. Then came a December match at Letná and I was sitting in the room with the greatest players of our league.
I didn't expect to do anything more than practice through the winter. I assumed that I would get through the prep, and as soon as the real matches began to approach, I would move back to the B-team. But I started in three exhibition games and scored three goals and the coaches told me that I was going with the team to training camp in Spain. I had only been abroad once until then, at the age of 10 with my parents on Lake Balaton. I had never flown in a plane before. I didn't even have a passport. It never occurred to me that I would need it.
In the mid-1990s, it wasn't as easy to arrange it. I had to stop in the office in Písek, fill out all the files and pay extra for a temporary document.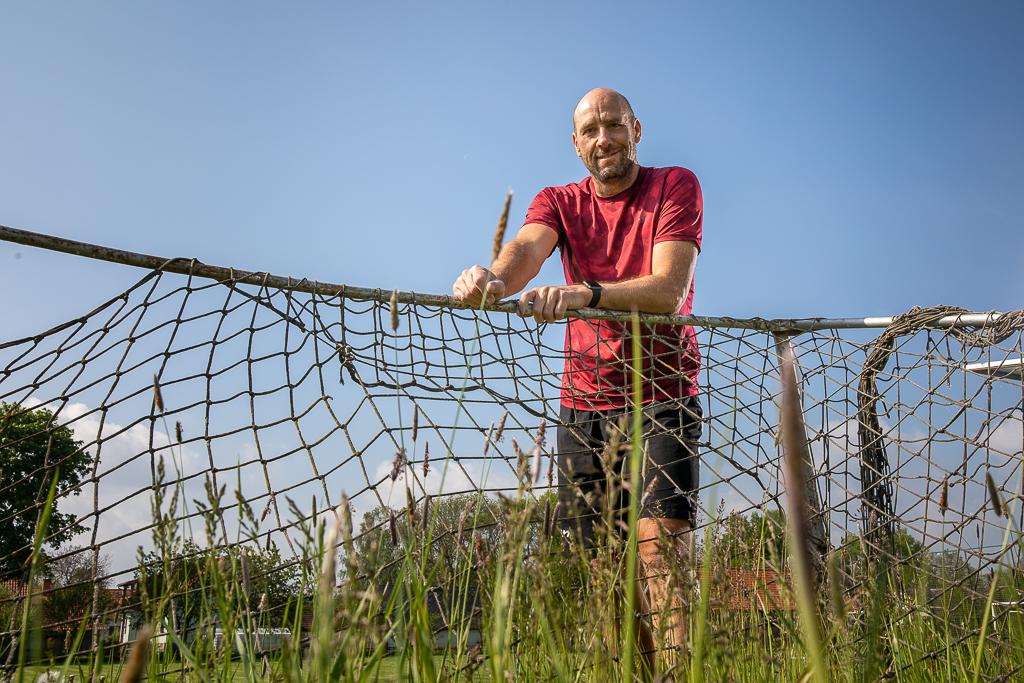 I still expected to play for the B-team, but I started the spring as a substitute on the A-team, which, among other things, meant bonuses higher than my entire salary in the contract. Just for sitting on a bench against Drnovice, I got about 10,000 crowns. And immediately after that match came my first start.
To this day, I remember coach Sundermann shouting at me on the sideline in Benešov, telling me that I was going on the field. My heartbeat was 220, the whole world was in a fog, I was startled. I nodded about 20 times when instructed to help move it up at the front. Me, a boy they didn't even want in Krč to train a year ago, suddenly running onto the grass instead of Roman Vonášek in the Sparta Prague jersey.
I don't even know if I touched the ball in the 20 minutes I played. I mostly ran around in a frightened way and waited for something to bounce off me, because we were constantly in the penalty area. We pushed and in the end Horst Siegl broke through and we won, 1-0. Our fans broke through the barriers, flew onto the field and injured the Benešov goalkeeper, which of course was the main topic of the talks afterwards.
My new regimen had me training with the A-team during weekdays, then I went to sit on a bench on the weekend. The new coach, Mr. Jarabinský, sent me in here and there for a few minutes, and I continued to play for the B-team, where I scored plenty of goals.
I experienced something new every day, and whenever I could, I went to Smetanova Lhota to share those experiences with my friends. There were a lot of Sparta fans in the village and they were interested in all things behind the scenes. My only regret was that neither grandfather had lived to see this. They both cheered for Sparta, too; one even had a season ticket and went to every match and took me here and there with him as a child. I know they both would have been very happy to see their grandson in the jersey of their beloved club.
This spring ended with a title to which we were definitely directed by the derby in old Eden against the in the end second Slavia.The derby I played in.
As a substitute player, I got my first league chance, but I overshot a header. Then I managed to get the ball in the midfield and started the push, which resulted in the ball getting to Pavel Nedvěd. While running, he shot to the upper part of the net and we won, 1-0. It was like being in a dream; being part of something like that.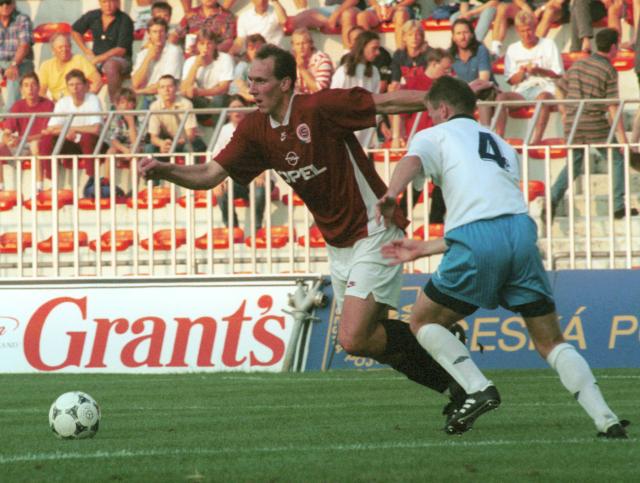 I had to wait more than a month for my next start, but it was worth it. And I feel like you'll know what I'm talking about. Bohemians had been my club since I was a child. When I started to notice football as a child at the 1982 World Cup, I fell in love with Antonín Panenka and even cheered on the Kangaroos thanks to him. I remember their title from the 1983, and the match against Servette Geneva in the UEFA Cup, which I saw with my own eyes in the crowded grandstands of Ďolíček, thanks to my dad. To this day, I have respect for the club's legends, whom I looked at as footballers from another planet as a child, while dreaming that one day I could play at a level like them. I never dreamed it could actually happen, or that it would be my first league goal that would condemn Bohemka, the club of my heart, to relegation after more than 20 years. I got on the field when the score was 1-1 instead of Pavel Nedvěd, and after a moment on the field, I jumped for a pass from the corner by Pepa Chovanec. I managed to direct the ball out of reach of goalkeeper Jaroslav Blažek, my future teammate. The moment I watched the ball go into the net (I can still see it), I was in a trance.
There was a great drought then. The turf was like a desert, but I didn't care. I fell on my knees and happily scrubbed myself across the lawn, which was like sandpaper. My knees were bruised for maybe another month, but I didn't care. I had scored a goal in the league. In Ďolíček. The winning one, which brought us a little closer to the title. It was an unforgettable experience. Like the interview I did afterward.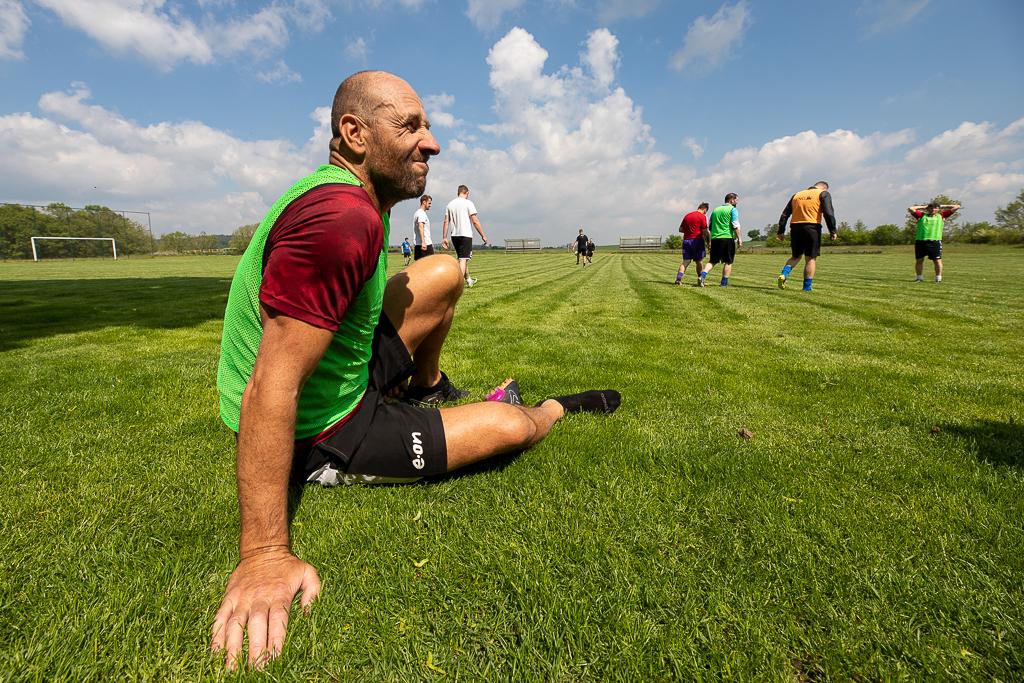 Never before had any of the journalists asked me anything. I didn't have to answer a single question. On the way off the field, excited and distracted by the fantastic experience, I realized that a guy with a microphone and a camera behind him were waving and yelling at me. I had no idea what was going on. It looked like it, too.
Václav Tittelbach didn't help me much with his questions. Of course, I performed spectacularly.
This video began to circulate in my neighborhood. My brother had recorded the match and played the tape wherever he went. It was a hit among our friends. I was ashamed and never dared to look at it, but when the internet era began, it appeared on YouTube, I couldn't escape it. It had its own life. I laughed at myself after some time, but I became allergic to anyone shouting "Honzo, Honzo, come to us."
As soon as I started playing for the A-team, my salary was raised from 4,000 to 6,000 crowns and I agreed to work with Mr. Nehoda, my first manager, so I started making real money on bonuses, such that I could even buy an Opel Astra. A used one. Although some of my friends still had to lend me some money, I got such a good deal that I couldn't let it get away. The car already had its own radio. I put one tape after another into it and enjoyed every ride where I could turn the volume up to the max.
More important, I got more and more opportunities from Mr. Jarabinsky. During summer training I was perhaps the best scorer on the team and in the first match against Bohemka, I started. I started the league at home against Budějovice, scored a goal in the second half and it continued throughout the autumn in a similar fashion. I became a stable player and a competitor, but I played instead of Horst Siegl, a fan favorite, who didn't see eye to eye with coach Jarabinský. That began a series of problems.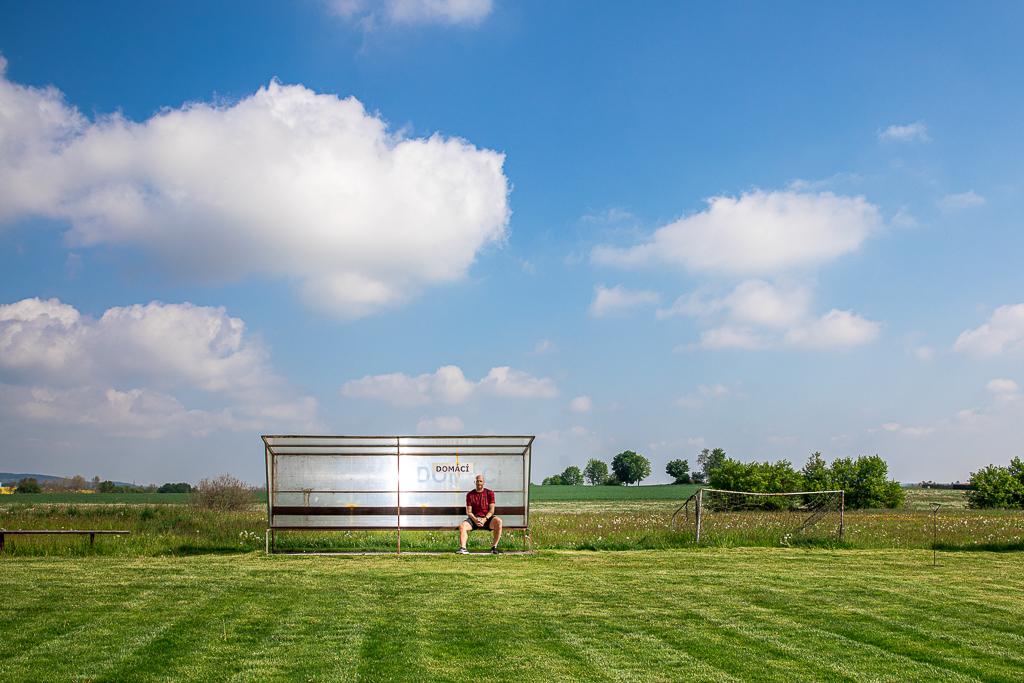 I don't want to name anyone. It doesn't matter after all these years and every cloud has a silver lining, which my later career confirmed. But the truth is, I suffered my share. It started to get very annoying. I felt more like an intruder than a teammate in the room. The core of the team stuck together and I wasn't one of them. I was taking up a spot. When I messed up, didn't make a pass or my ball got away, when I missed a chance during a match or even during training, a bunch of swears came my way. Suddenly, a few other boys and I didn't change in the main locker room, but in the room next door. At team events, most of the team sat at a large table while a couple of us were at the small table next to it, feeling unpopular.
That's why I didn't even go to similar meetings, which was just another reason to dislike me. I wasn't socializing enough. Since then, I absolutely hate when someone on the team acts like they are above anyone else. In my career, I have always wanted everyone, even if it was just a boy trying out, to sit together with the others. In the locker room, at dinner, wherever — not to be hiding somewhere in a corner. I completely hated that.
Being pushed around downright dismantled me. I played worse and worse, I was stressed, I wasn't good. This further intensified what probably all players of a taller physique know. Whatever mistake they make, it looks even worse and comical than others. So my own fans started yelling and whistling at me.
"What are you doing there, you stupid," was the mildest thing that reached me from the stands.
Years later, I learned from people at the club that it didn't just start on its own, but it was provoked from the room. Who knows, maybe it was just talk. Anyway, I already knew that I didn't want to be in such an environment. Everything culminated in my aforementioned outburst in Opava.
I clung to the B-team then. I liked it there and I took the occasional play for the A-team as a necessary evil, which would end in two or three months. I didn't go to Letná with excitement, but I concentrated on at least training towards my next club. I felt that I was doing it all for myself and it would be a mistake to just slack off. Although I was not a favorite of coach Petržela, I am grateful to him that he was able to prepare me physically. At his first summer practice, I vomited from exhaustion, but as I got into it, I gained a foundation from which I then benefited throughout my whole career.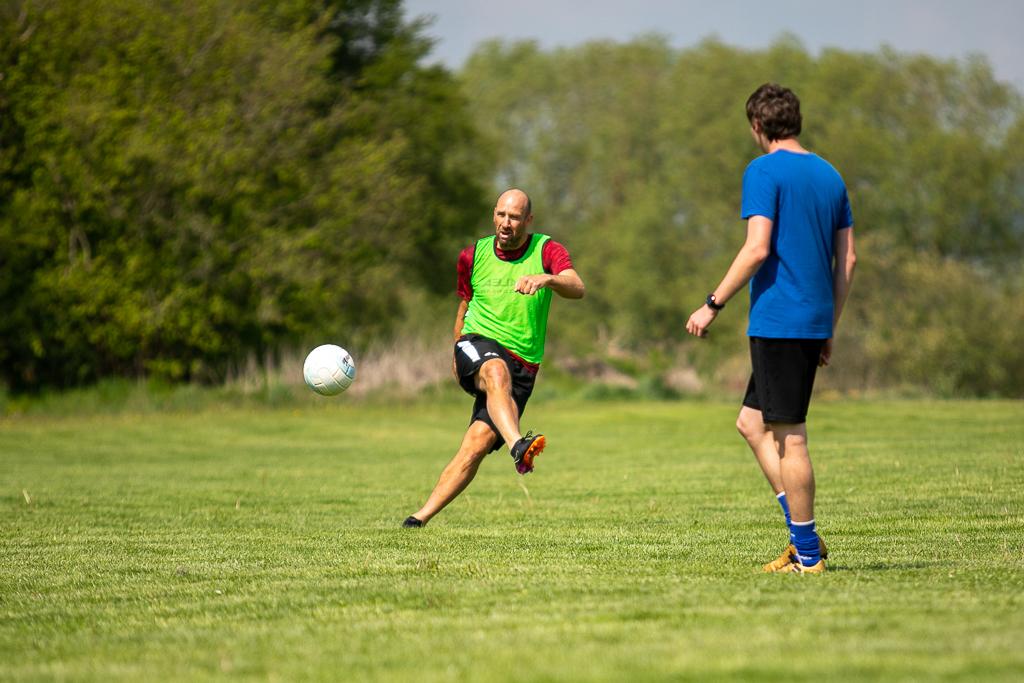 My game was simply bad. With negative attention focused on my every move, I couldn't play well. During the matches, I didn't even want to get the ball. I was afraid of what would happen if I messed up again. I didn't believe in myself. I had lost what one needs to succeed at such a level: self-confidence. It is not possible to perform well enough without it.
At the same time, I did not underestimate myself. I knew that I could play in the league, and I was looking forward to new challenges. I knew I could, and should, get a chance somewhere else, which I did. At the end of the season, Mr. Tobiáš from České Budějovice asked if I would like to transfer to them.
I accepted gladly, but Mr. Nehoda also represented my Spartan teammates Václav Budka and Roman Vonášek and they had signed in advance with Lokeren, Belgium. He asked the local management if they would take me with them, just to try me out.
Well, maybe he kind of forced me on them, telling them that in order for Venca and Roman to arrive, they had to try me as well. It certainly wasn't like they cared about me in Lokeren, but they agreed to a tryout.
I informed Mr. Tobiáš that I had already a negotiated tryout in Belgium, purchased tickets and it felt stupid for me to cancel it all, but if it didn't work out, I'd be happy to go to Budějovice. Who knows how my career would have developed if he had called me a few days earlier.
At the time I flew to Belgium, I was dating a girl who was a little older than me. She already had a child, a boy who was just starting school. We agreed that if I stayed in Lokeren, they would move in with me. She backed out at the last moment. She already had tickets, but I guess she got scared. She called to tell me the news, and said she meant no harm, just that she had changed her mind.
After two weeks, I wanted to forget Belgium and return home. I think the night we talked on the phone, I pulled out a bottle of whiskey to drown my grief. We've never seen each other again. I guess that's how it should've been.
Football certainly didn't make me happy at first. I was struggling in a foreign environment, because I didn't understand a word. We were lucky to go together, me, Venca and Roman, because we were all going through the same thing. While the two of them immediately joined the roster, they kept me on the club, but I wasn't even a substitute in the first match of the season. I was an alternate to the alternates; the one who is on the bench, but does not even change.
I watched without interest what was happening on the field, and I wondered where I had gone. I was suddenly alone, an abandoned guy in a foreign country where I wasn't playing and I couldn't even speak with anyone. I told myself right away that if I got this far, I would stick it out and see what happened.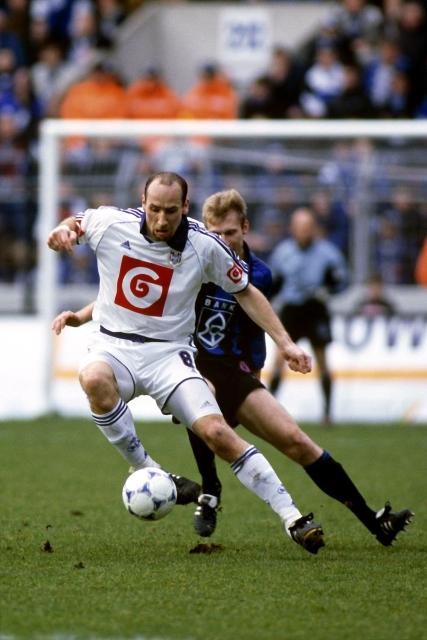 I spent the first two months in this gloomy mood, but then my situation gradually began to improve. At first, I got on the field here and there as a substitute, and then I started playing from the beginning. With that came the goals. Of course, without the boys and their families, I wouldn't have been able to do it. Thanks to them, I was not alone.

In terms of football level, the Belgian league did not seem that different from Sparta, but it was different from a non-football point of view. Everything around me was new. For the first time in my life, I had my own apartment and I had to take care of myself in a foreign country that was far more advanced than the Czech Republic. In the middle of the 1990s, we were still recovering from communism, while this was the West with all of its advancements. There was better food, HI-FI sound systems, and I was already buying everything wildly.

I also learned how to do housework. Until then, because my parents took care of me and later my grandmother, I was almost unable to make a cup of tea. Suddenly, I had to learn to cook at least basic meals because I didn't have enough money to go to restaurants. My mother gave me some recipes and I had written instructions from her about what I could and could not mix in the washing machine. I couldn't even afford a cleaning lady. I lived from paycheck to paycheck, and I ironed myself. I also called home a lot.
None of us knew what cell phones were yet, so I called home every evening after the matches. There were only three telephones in Smetanova Lhota, in the shop, at the mayor's office, and at the pub, so I called from the pub. I told my dad how we played, then he passed the phone to my brother and all of my friends.
I soon learned that it was an advantage being on my own. In Belgium, nothing distracted me and I could focus on football only. During the day, I literally had nothing to do, so I stayed on the field after training and worked out some more. I ran sprints, practiced shooting. The next year we got a new coach who started trusting me, and I suddenly made a lot of progress. He let me play, he paid a lot of attention to me at training, he gave me exercises for dexterity and thanks to all that I started to trust myself immensely.
Even in Lokeren, the audience initially whistled that I was clumsy, that I was losing the header fights, but gradually I felt like I was getting them on my side; that they wished me well. Roman eventually became the captain of the team and as a creative midfielder, he sent me great balls, and the other teammates were great as well. It was obvious we had the right group on the team. I felt completely different than in Sparta. I felt like I belonged here. I was looking forward to every practice.
That's when my career really started.
In my third season in Lokeren, I became the league's top scorer and Pepa Chovanec, the one who signed my first contract with me in Sparta and then passed me my first goal, was leading the national team at the time. Roman used to go there regularly and he mentioned to them how well I was playing. I secretly hoped that an invitation would come. When Pepa came to see me once, I just scored two goals and assisted on the next one. I couldn't have presented myself better.
A friendly was waiting for the national team at the beginning of the year in Belgium and I received an invitation. It definitely helped me that it was played in the country where I lived and worked. The players I knew from the league played against us, so I felt confident against them, and everything came together so that I scored the only goal of the match and then made the team during the decisive phase of qualification for the next Euro. In June 1999, we had a chance to advance, but playing against Scotland at home on Letná, we gradually fell behind, 2-0 until Tomáš Řepka scored to make it 2-1. Twenty minutes before the end of the match, Pepa Chovanec sent two forwards to the field. Pavel Kuka and me. Pavel scored first and I scored after him, reversing the result and ensuring our advance.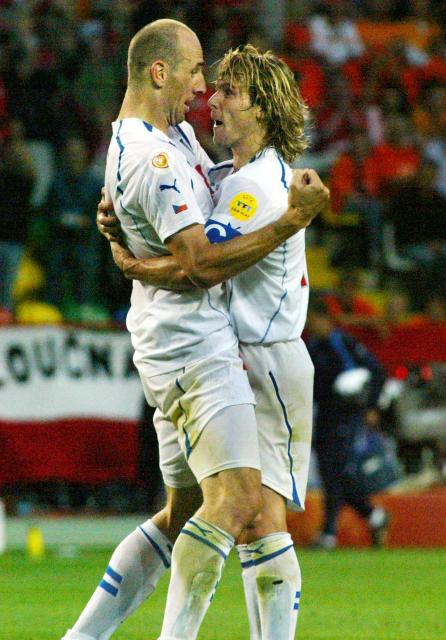 When we went to celebrate, it was Pavel, the star of Slavia and vice-champion of Europe, who leaned towards me to say he was sorry. When he initially saw me with the national team, he didn't have faith in me. He said that he had been wrong.

After my goal, Letná, that Letná where people whistled and yelled at me a few years ago, was ecstatic, but I wasn't paying much attention to it. I know how it goes in football. However, what Pavel Kuka told me warmed my heart. He didn't have to say it at all. I was his direct competitor on the team. It was really nice to hear.

Only then did I begin to believe that I probably belonged on the national team. Until then, I was so scared. I was one of the boys who grew up in all youth national teams. When Nedvěd, Berger, Poborský, Šmicer, Řepka and others started on the international scene, I was playing football on the weekends in Smetanova Lhota or goalkeeping in the second youth league for Strakonice. Suddenly, here I was. The relationships they had built for years were ones that I had to gradually build. I had the greatest respect for the older ones, who had been playing abroad for some time. Jirka Němec, Honza Suchopárek, Pavel Srniček. I used to live with Pavel in one room at first. God bless him, he was such a great guy.
I kept asking him all these questions about what was going on, and he patiently explained everything to me. As a real professional, he went to bed early, around 10. I'm more of the type who falls asleep after midnight, so as not to disturb him, I went to the bathroom to read. It wasn't until I was a seasoned player that I asked management if I could have a room to myself, and I was one of a few who actually received this privilege. I didn't want to bother my teammates by staying up late.
During my football career, I've had a lot of team and individual successes, moving farewells in Belgium and Dortmund, beautiful matches, goals, but for myself the best of the best will always be the memories and feeling of the group that gradually formed on the national team. No title or award can match that.
I wish today's boys would experience what we did, but I'm afraid it will never happen again; not what Mr. Brückner was able to create with the team he put together. Take what characters we had. One personality next to another, all important players of big European clubs. Nedvěd, a key player of Juventus, Jankulovski in AC Milan, Ujfaluši in Fiorentina, Poborský in Benfica and Lazio, Šmicer in Liverpool, Rosický in Dortmund, in the back Čech from Chelsea. I could go on and on. Under Mr. Brückner, all of these fighters were able to drop their egos and adapt to a team. In other countries' national teams, this was not a standard, as we learned from our club teammates.
We looked forward to getting together so much that we would arrive the evening before the official start of training. We always sat down for a beer. We all played abroad, so after those months, it was always a pleasant reunion. Mr. Brückner accepted this and always gave us a looser training at the beginning to reacquaint with each other. Only then did we push the pedal to the metal.
I couldn't wait until we were all together. It never occurred to me to skip a friendly. After all this time, we still see each other with a lot of boys from that era. We play hockey or just go for a beer. At first, I was honestly shocked that all of these stars took me in and understood that just as they helped me with their genius, I could contribute to our overall success with my skills. Mr. Brückner specifically adapted the tactics to my height. We were able to overcome the opponent's defense with crosses to me, or I pulled the backs to myself and the ball went to the fast-legged Milan Baroš. This is what worked for us for years.
At the same time, I certainly did not view myself — and even today I do not — as someone who is indispensable. I just got the opportunity to use my strengths and I benefited from the ingenious cross passes of Rosický, Poborský or even Zdeněk Grygera.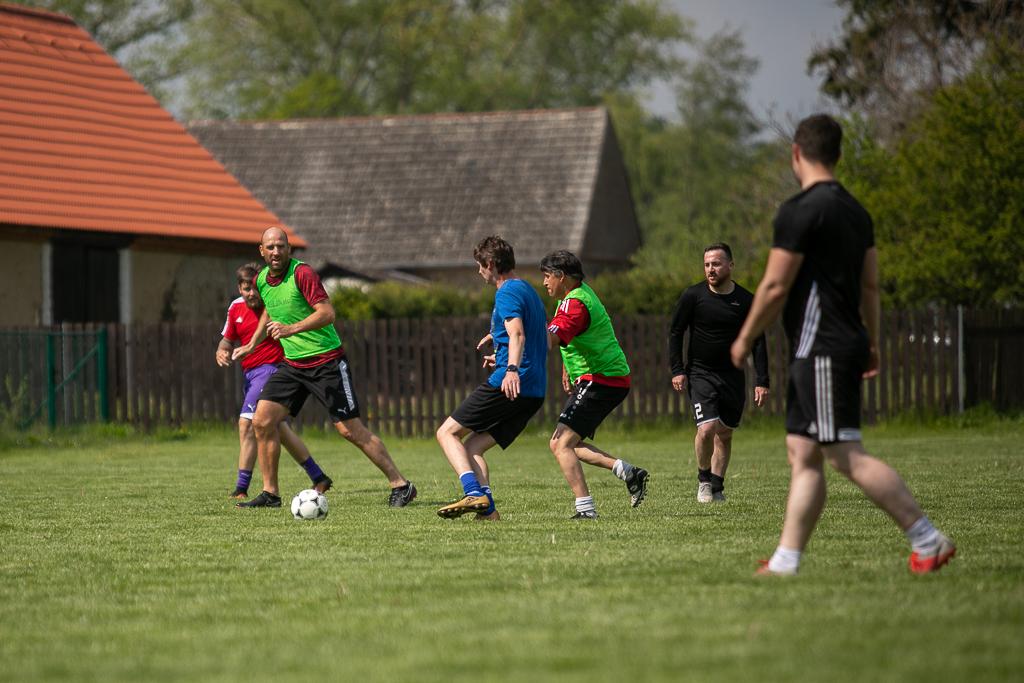 Those guys were able to pass amazing balls like few in the world. It was as if their crosses found you. They were intelligent players who knew exactly where they were passing, not like a lot of today's players who were staring at the ground and kicking somewhere in space. These guys were able to feel and see where you were and then gently pass the ball right on your head. It was unbelievable.
Rosický and I played in Dortmund together and we were clearly used to each other. All we needed was brief eye contact, a second to look at each other, and I already knew what he was going to do. I knew that he was able to fake a shot in front of the penalty area, which everyone would jump at, and then he would push it three players over to me. As my goals gradually grew thanks to such amazing cooperation, the talks started to appear about Mr. Puč's national team shooting record from the end of the 1930s.
I'm not going to lie. When I approached his record, I definitely wanted to beat it and I am glad that in the end I actually succeeded. But everything was based on the simple fact that as a forward I wanted to score goals. And that I also got lucky with my exceptional generation of teammates and the offensive style we played under Mr. Brückner. It is no coincidence that I am still on top and Milan Baroš is right behind me. We just benefitted from the incredible team around us.
My career took the right direction thanks to the interplay of coincidences and moments when it could have gone in a completely different direction. You probably understood that from my story. The last time in Lokeren, it was not at all certain that they would keep me. The local president did not care about me at all after my tryout, but he was convinced by Mr. Vacenovský, a former Dukla player, who worked in Belgium and knew the president. He literally forced me in.
I've had a lot of people in my life who have helped me and coaches who have had patience with me. I wonder why they did it. I know one thing for sure. If I was a know-it-all dude, no-one would have cared about me. No-one would have risked his place for me and they would have all just let me fight on my own. But I tried to behave well everywhere I was and it was probably obvious how much I enjoyed football, so many were not afraid to vouch for me. And again, when someone offered me a chance, I was not afraid of what might happen and I came to show what I could do; to show others and myself that I could do well at that level.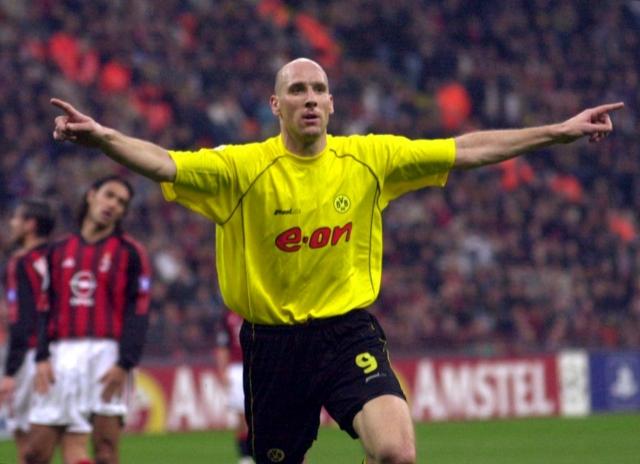 I was definitely lucky to meet the right people at the right time. Until Andrelecht bought me from Lokeren, no one wanted to buy me from anywhere. Someone always had to step in for me because I didn't force myself anywhere. And fate gave it back to me.
When I see fathers out of their minds today, pushing their sons at any cost somewhere beyond their football and human abilities, it never ceases to amaze me. I had the exact opposite. I loved football in its purest form. I played it anywhere and anytime. Even during my time in Dortmund, I played in the local league in Prague with my friends. To a lot of today's boys, it seems to me as if football is forbidden for them outside of training or something.
Even though it wasn't until sometime in my 20s that I started to catch up to my peers, everything went pretty well. First the division in Milevsko, then the third league in the Spartan B-team, then the A-team, a small foreign club, a large club and then the top of the Bundesliga. Step by step, I climbed higher and higher, I got better, and football fame and money came with it. None of this fell into my lap.
I never lost touch with reality in all this. I still have the same friends. One is a taxi driver, the others work with their hands, one of them has a small business, and my brother is a car tinsmith. They are all ordinary people. Although I lived in Monaco for a long time, I still preferred to return to the village to see them. The lifestyle there is dearest to me. Despite being born in the center of Prague, we moved to Smetanova Lhota before I started going to school. My mother allegedly cried. She was the only one who wanted to stay in the city, but she got over it and I will be forever grateful to my parents for that; for letting me grow up in that environment.
The village raised me and gave me the basics from which I benefited as a footballer.
I am grateful for being outside in the fresh air all the time. We stretched a piece of rope with the boys and played volleyball, we climbed trees, jumped over fences, we played hockey in winter. We compete together as if we were children even today. In addition to football, we play volleyball, darts, tennis and bowling. We call it pentathlon. This is the world that suits me; no need to act like someone else. Have a cold one in the garden in front of the pub and chit chat. No swag and whatnot, I've never been into that. I grew up like this thanks to my family and to the village. There, when you act like someone you are not, you get smacked. Figuratively and sometimes literally. Everyone knows everyone, and people who make themselves seem better aren't very popular there.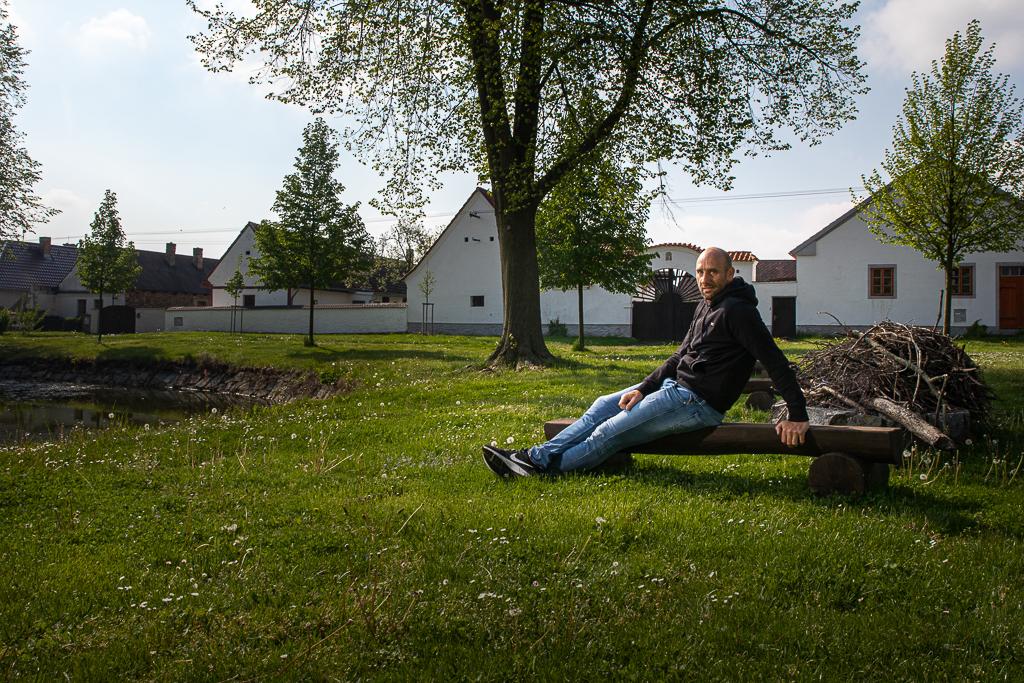 Thanks to where I come from, not even money changed me. I was used to surviving with little, and to this day, before I buy something, I'd rather think three times if I really need and would use the thing. I've never been attracted to expensive watches or cars. I always keep them for many long years. I'd rather invest somewhere, because at a certain stage of my career I started earning a lot of money.
When I played in Anderlecht, I could afford to buy my first apartment in Prague, and from what I signed in Dortmund, I realized that if I wouldn't fool around, I could secure myself and my children with this contract. Yeah, I also lent some money and lost a lot of money. I got talked into a "guaranteed" profitable investment, but I banned similar excesses in time. I no longer lend to anyone, and they respect it, because you just lose money and friends that way. In Smetanova Lhota, I will donate something to the club before the season so it has enough for new kits, balls or diesel. And here and there I pay a round at the pub, but everyone does that there.
I don't need to show what I can afford and what I went through. For me, the greatest benefit of all those years is that I got to know the world, I know different languages and I learned a lot about life. But the truth is, football would have made me just as happy if I had stayed in the regional competitions. Seriously.
Jana Mensatorová, ČTK/Michal Doležal, ČTK/IMAGO sportfotodienst, ČTK/AP and the archive of Jan Koller