I apologize for the expression, but I can't say it any other way. In the summer of 2003, I got so fucking pissed.
The previous fall had been miserable for my hockey career in America. I was starting the second year of my rookie contract and I didn't even make Pittsburgh's AHL team. They sent me to the ECHL, to the farm team's farm team. When I sensed it was coming during camp, I called my agent, Mr. Henyš, and told him that I no longer saw the point in this venture. Sparta was interested in me, coach Hadamczik and I had a deal and I wanted to go back to the Czech Republic.
But Pittsburgh refused to let me go. It went so far that I asked for the number of our general manager, Craig Patrick, and I called him, this NHL icon, and told him straight out what was on my mind.
"Craig, you don't want me here, you're sending me to the East Coast for the second year in a row, so just let me go, I don't want to be here anymore," I told him
"No," he said, curtly. That was all he said. No further comment. It caught me off guard.
"No, you will stay here," he responded to all of my other arguments. I tried to persuade him for half an hour and he didn't give me any answers other than: "No, you'll stay here."
Basically, he didn't even talk to me. When I realized that there was no other way, I hung up filled with rage. I lived in an apartment with my teammate, Michal Sivek, who had just been called up to the NHL team, and as I was raging, I swung my phone against the wall so hard that it left a pretty nice hole.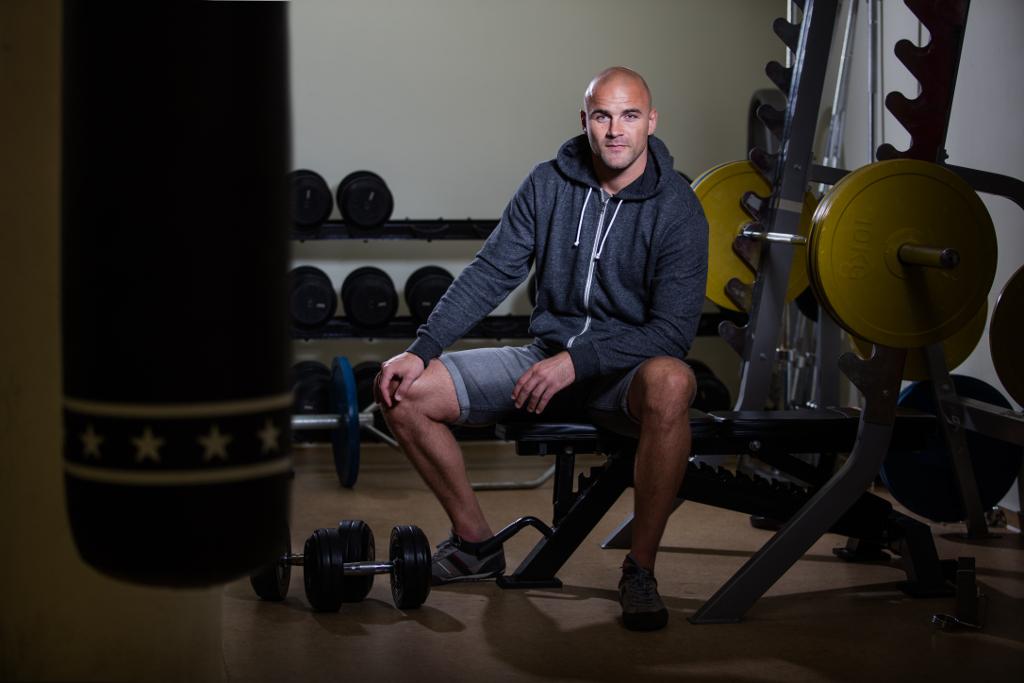 All I could do was pack up and report to Wheeling and somehow make it work. On the bright side, it was encouraging that they wanted me to stay with the club so badly, but after the season, I was really annoyed that I still hadn't made it. The feeling bubbled inside me more and more and I poured it into training over the summer. And that's not hyperbole. I really felt like I was working out hard, taking my stamina to a different level.
I also promised myself one more thing: When I returned to the camp, whoever touched me or gave me a bad look, I would smash him. I didn't care who it was. I realized that they liked that style in the States and I have a huge body (6-feet-6, 238 pounds), so I had all the prerequisites. I'd just try it out.
Poor Ross Lupaschuk. On the first day of the camp, during one exercise, he forced himself in front of the goal. I pushed him away and he returned it. I grabbed him and beat him up. He was an average player and I felt badly. The poor lad.
"What are you doing, are you crazy?" he shouted at me.
I didn't care, I wanted my spot. From that point, I gave everyone a beating. I knew that this was my chance, that I had to develop the aura of a madman whom everyone was afraid of. During the two preseason games in camp, no one even came close to me.
It was a game and I had found the instruction manual for it.
I made myself a loose cannon, and the coaches noticed.
I played much better than before and I jumped from the position of the 15th defenseman in the organization to almost being on the first team, all thanks to my new skill. I was sent down from the Penguins just before the start of the season; Kris Beech and I were the last ones to go to the AHL. That alone was a great honor for me.
I continued my new style of play. I whipped everyone, gaining the attention of enforcers from other teams. When I went after someone, they immediately pounced on me. I provoked them with my aggressive play, sometimes clean, sometimes to the point of being an asshole. I played pretty solid hockey and I added what people overseas call toughness: perseverance, hardness, resistance.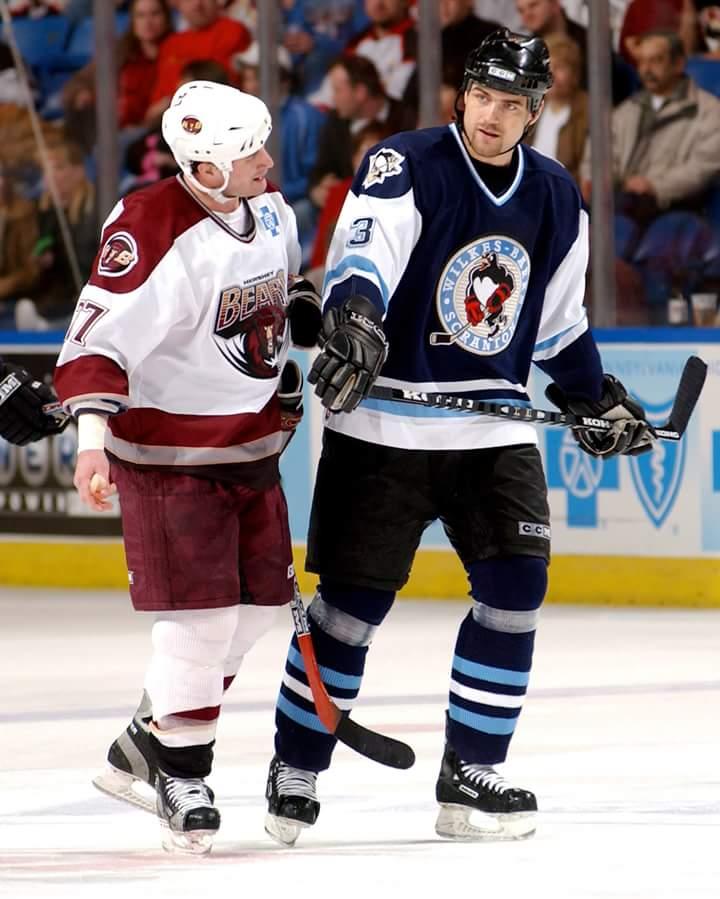 Next to the hockey stick, my fists became my main working tool.

The first year felt great because you ride the euphoria wave of everyone suddenly treating you differently. Coaches, teammates and even masseurs suddenly respected you. You were no longer just a number, but a legitimate NHL prospect.

But gradually, I realized what I had gotten myself into. I'm not a natural enforcer. At first, I enjoyed the change around me, but then I realized I had to do it every day. If I stopped, they would take someone else. It's like drugs. You start to take them, you are on top and only in time do you realize that you are up to your neck in it and you can do nothing about it.

In my case, I didn't want to give up something that made me one of the top five players for my skill in the league. During that season, I ended third overall in penalty minutes. I had almost 300 of them. I competed with Brian McGrattan and Jim Vandermeer, who had more five-minute majors for fights. I had 25, they had about 30.
It was a kind of prestige. So many fights was a sign that you had no fear. In this role during our time, perhaps three goons were clearly enjoying it, the rest of us, like me, understood that this was the way we could succeed. Sometimes, I enjoyed fighting with someone, but I often knew I was going against killers like McGrattan or Steve MacIntyre, who were butchers. Before games with them, I used to feel sick, because I just knew it would be a slaughterhouse again.
But I enjoyed hockey at this level so much that I wanted to go through it.
I was close to the NHL in my third year on the farm. Penguins coach Eddie Olczyk even told the newspapers at the end of the season that he was going to call me up because I already understood my role, but it didn't happen. Pittsburgh played terribly that season, while we in the AHL were in playoff position, so they actually left important players with us, while sending the boys up from even the fifth line to at least finish the rest of the regular season.
Then came the lockout, a serious injury, and finally a contract with Chicago, where I was already being viewed as a fighting specialist.
My time came in March 2007. However, my dream of the NHL came with a sour flavor. I didn't even enjoy it, because I didn't do very well in terms of playing or fights during the season. I sensed that they just wanted to see me when they signed me. The Blackhawks didn't play great hockey anyway, so they just tried me. I had mixed feelings about it, I was stressed. In addition, I did not start immediately after the call, but I waited for three days, wondering what awaited me. My head was spinning. It was a strange beginning.
But it turned out the best that it could have. If I wanted to plan my debut, I wouldn't come up with a better script. I was anxious before I stepped on the ice. We played Phoenix, where there was an enforcer I didn't like fighting. Josh Gratton was no star, but he knew how to punch and he had a small figure. I don't like small enforcers. You go against them as an absolute favorite, but they are agile and dangerous. Ninety percent of the fights you will win, but if they manage to punch you, it's a shame. And Gratton was good.
I wasn't even looking for him, but he came to see me on the first shift, challenging me straight away. I was stunned, I threw off my gloves, and before I realized what was happening, he knocked me out with one blow.
I sat in the penalty box, knowing I had messed up. They chose me as an enforcer, and I let myself be knocked out at the first opportunity. It occurred to me that this could be the end of my opportunity. There were a lot of things flashing before my eyes like a movie: that phone thrown against the wall, all those years of hard work to get here. I was terribly angry with myself at that moment, that I had screwed it up like that.
"What are you doing here?" I asked myself.
It couldn't get any worse, I thought. I got into this strange state and I felt a huge strength inside me. I didn't care about anything, fuck it. I knew that if I got at least one more chance on the ice, I would dominate. I'd leave everything I had out there, I'd push myself to the edge.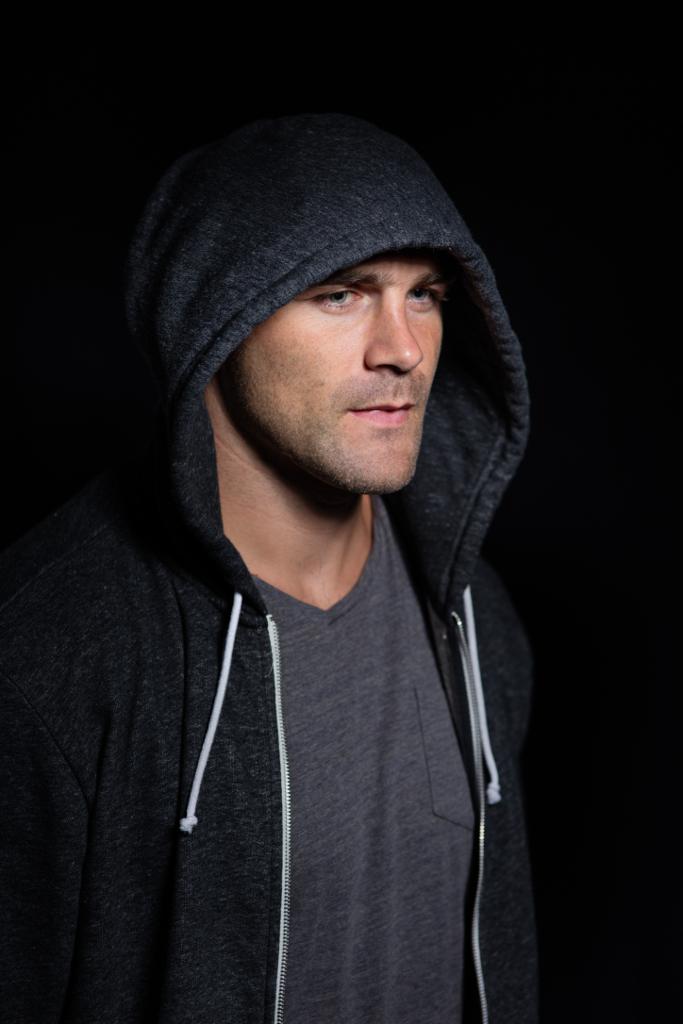 I went back to the bench and the boys patted me on the back out of compassion, politely. Chill out, buddy, it's fine. I didn't pay any attention to them. I just sat down and waited for the coach to call me again. I was prepared that it might not happen.

"Fourth line, go." he said.

I jumped in and Gratton looked at me like "Hey, idiot, you got smacked, didn't you?"

I didn't care. Faceoff, the puck went to their side and I just pounced on the guy.

Boom, I smashed him against the boards. The puck got passed to the second defenseman.

Boom, I smashed him, too. I scattered them across the ring. Both clean hits.
Gratton came to me, shouting: "What are you doing idiot, I'll shoot you down again."
"Come then," I said.
And I beat him up.
The boys and the coach were excited. I showed that I was a warrior, that I was not scared. Despite getting smacked, I returned. When I returned from the penalty box to our bench the second time, I was already being tapped with respect. Good job, mate. I was in a trance.
I played great every other shift. I hit one opponent in the middle of the ice at the very end. I think it was within the rules, but he spun around and had some blood coming out of him. All their remaining players jumped on me and after the third fight I went to the locker room automatically.
I sat in it, unsure if it was too much. Wayne Gretzky, who was coaching Phoenix at the time, shouted at me and asked what kind of moron I was. But as the door to the room opened and our coach, Denis Savard, was the first to enter, he came rushing after me and shook my shoulders, telling me how great it was. I immediately had a better feeling. I would rather score three goals, but being praised is always nice.
Still, I couldn't get rid of this strange feeling. I never wanted to act like a brainless dude. I knew that in the States they liked that, fans and management demanded this style, but it was clear to me that a lot of people at home would condemn me for it. That's exactly what happened, but whatever. We won 7-5 and they were ecstatic in Chicago. No one cared about them that season until then, and suddenly they were celebrated by the newspapers and we were on the highlights on ESPN. Why? Because some guy named Kočí flew onto the ice and started rioting, waking his team up.
I believe in destiny, something between heaven and earth. In retrospect, it was the best introduction to the other enforcers. Everyone knew right away that I had beat up Phoenix. In just one match, I fought three battles, had 42 penalty minutes and pummeled a dude who had to be carried away.
A week later, we arrived in Anaheim to play the NHL's toughest team. George Parros, Sean O'Donnell, Shane O'Brien, Travis Moen and Chris Pronger. Three enforcers were already looking for me on the red line as they were warming up. On the first shift, one went after me; on the second shift, another one. And that's how it went. Wherever we played then, I felt respect. I was no longer just the new guy. I immediately showed that I was not afraid.
And I played in the NHL.
I got knocked out for the first time while still playing the AHL, by Brian McGrattan. Michal Sivek, with whom I played there, had a groin injury at the time and he was out for about four months. I woke up in the room and saw him.
"Why are you not playing?" I asked. I had no idea where I was. He just looked at me like I was crazy.
They immediately tested me for concussion, which turned out well, but then when I saw the fight on video, I was amazed. It was scary to watch myself get punched right in the face, get up and instead of going to the penalty box, go straight to the room. At the same time, I had no idea this had happened and I couldn't remember any of it.
I never got a really hard beating like Todd Fedoruk once did, when he ended up shaking on the ice. There was a lot of blood flowing when Zdeno Chára broke my nose, but nothing brutal, even though it looked like it. But, with every similar injury, with every broken bone, you gradually grow afraid that something will happen to you eventually. Stress increases. You are no longer fearless before the fight.
It's not pain; adrenaline won't let you feel it. You may fall, stagger, everything goes black, but nothing hurts. It hurts later. I remember breaking my hand on D.J. King. I punched and punched and suddenly as I was preparing another blow, I clenched my fist, and something was wrong. I looked and I had this weird bump on my hand. It was quite clear what had happened. Or when Kevin Westgarth broke my jaw. There was a crack, as if you were splitting a pencil between your fingers. I didn't feel anything, I just heard it. When I bit my finger in the penalty box I thought I was fine; that nothing had happened.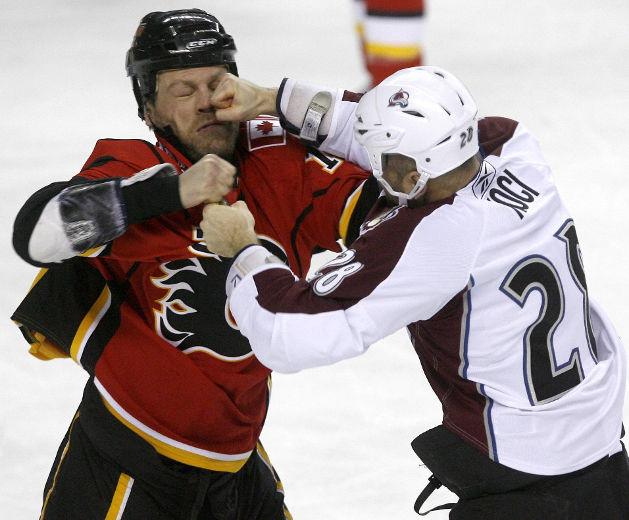 We fought in the first period and I finished the game. After the match, the doctor told me that my jaw was split in two pieces.

I consider my best fight to be with McGrattan in Calgary in January 2010 when I played for Colorado. We were competing for a spot in the playoffs and all three of our enforcers were in the lineup that evening, as well as theirs. One was on the second line, one on the third and I was on the fourth. We started the game with the second line: fight. The third line went in: fight. And then us. It reminded me of boxing fight night in Las Vegas. Lightweight, medium weight and finally the heavyweight.
McGrattan and I stood at the faceoff and we already knew what was ahead of us. We just looked at each other, stepped back for a second, threw our gloves away and we went at it. It was a great and long fight. In the end, I lost my balance a bit, but otherwise we were quite even. We nodded at each other, like good job.
The audience was ecstatic, they were crazy. One battle, another, a third, then it just kept going. None of the three bouts had a loser; every one gave strength to both sides. When someone is knocked out, their team shuts down, but this helped both teams. The fans and players were excited.
At the beginning of my career, I used to have problems with starting out right. I wanted to play as much as possible and I knew that if I had a bad first shift, I would not get another one. There is no way that, as a technical player, I would just warm up in the first period and start to really play in the third. No. I had to be good right away, otherwise I would have stayed on the bench.
I used to just drink coffee in the locker room, which was useless. After some time, however, I found out that it suited me to go to the gym before the game, because after it, you always felt good. I found this out in Colorado. After exercise, I was so pumped that I could play right away, and I realized that I should do the same before every game. I wouldn't get tired because I wouldn't spend as much time on the ice anyway. At least I'd be ready. I used to do short, dynamic exercises to get started, and to get to the state of mind where the player is in a rhythm right from the start.
It worked.
Hockey enforcers respect each other. At first, I used to be able to win fights with some sneaky blows, like when someone was lying on the ground and I gave him another one to let blood flow, but over time I realized that this is not what the role is about. When you do it for a long time, you realize how hard it is and you appreciate everyone who has endured it.
I actually had one friend among the enforcers, Latvian Raitis Ivanāns, who played mostly in Los Angeles. We met a few times in the bar and we already had a lot of fun while on the farm. We always greeted each other in the hallway before the games, asked each other if the other was playing, and rolled our eyes, knowing it was going to be a tough fight. Then we punched each other on the ice and had a good talk in normal clothes again later in the evening. We knew it was just a job. Raitis was a nice guy.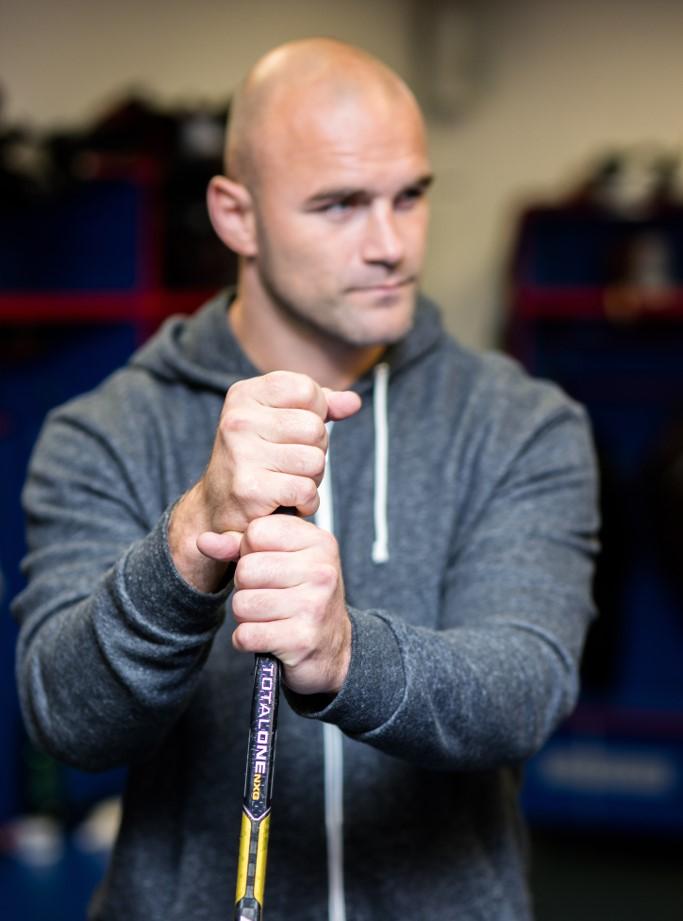 But more often, it was not so funny. Many enforcers fell into a spiral of depression and pills. Before the lockout in 2004, almost everyone took them. Steroids, caffeine pills, everything… The boys got loaded, their eyes lit up and they went to work.

I was never inclined to try that. I've never tried a cigarette in my life, I drink alcohol, but I've never been good at getting all drunk, and I've barely tried tobacco. I'm not prone to addictions. I've always been able to say, "Enough." I drink a lot of coffee, for example, but if I say to myself that I won't have it for a month, I can do it. And because I think about it like that, no one has ever offered me any of those other substances.

I only took painkillers once. I admit, they helped me to overcome tough times back then, because I was preparing for camp for four months and I suffered a broken jaw, which I have already mentioned, in the very first match.
Thanks to the pills, I managed the first two weeks. You eat one, you're kind of high and it's actually pretty fine. But when I imagine that many of the boys loaded themselves regularly and drank beer on the plane afterwards, I'm not surprised that they only managed to spend three years in the NHL. They would also take sleeping pills at the hotel for a good night, a pill to get started in the morning, and they would do this every day.
Ever since a few boys died a few years ago, all drugs must be on prescription. You used to see a team doctor, saying something hurts, and he gave it to you without anyone caring. Now, according to the rules, he is responsible and everything is recorded.
The NHL was my goal already when I played in Prague in Hvězda, small local club, as a child. I was not attracted to the Czech league. I bought magazines about overseas hockey and above my place in the room I had my idols glued to the bottom of the shelf. Joe Kocur and the like. Hard workers, tough guys.
I promised myself I would be like them, I worked hard and I had faith, even though a lot of people told me that I had no chance. I was always one of the better ones, then later at Sparta I fell down into the average players, until the second year in the juniors when I flew up again. After I had a high school diploma, I started focusing only on hockey and something changed. I got in the U20s, got drafted, and there was a chance to go to Canada. I didn't hesitate.
I'm as stubborn as a mule. I'm chill most of the time, but when I get angry, I start seeing red, steam comes out of my nostrils, I release everything and I fly. That's why I became who I was. A hockey enforcer.
I feel sorry that a lot of people imagine an enforcer as a player who can't even skate. No. Even an enforcer must have skills at a certain level and understand the system. The team cannot afford to put someone on the ice who can't do this.
I didn't play hockey to fight.
I was fighting to play hockey.
The NHL world, with its professionalism and luxury, attracted me so much that I didn't want to leave. I paid my tax for being able to enjoy training and games alongside the best hockey players in the world and under top management, which was an experience from which I still benefit today in my coaching career.
My two fists were a ticket to my dream come true.
Jana Mensatorová and the archive of David Kočí