Granite. Smooth and slippery. Unique and daunting.
Anywhere else, the same surface would have been as rough as sandpaper. So why did I feel like I was on a water slide? Before I got used to the feeling, I didn't trust my feet. I was stiff. I felt like a tennis player who had been training all of his life on clay and then expected to deliver the performance of his life on the grass at Wimbledon.
El Capitan is nearly a kilometer-long icon of rock climbing in Yosemite National Park in California. There is no wall in the world so vertical, so high, and yet so close to the parking lot. When I stepped under it to get a sense of the height, I felt so small.
Dawn Wall, its southeastern face, is thought to be the most punishing and challenging. It looks so threatening that at first glance, you're certain that it cannot be climbed. Or second glance. And yet, you feel that this path was created for you.
It is a fascinating paradox for all climbers. The edges are narrow; sometimes only two millimeters. The holds are tiny; sometimes for one finger only, but you will always find an opportunity to go one step farther.
I took several weeks to get used to its specific conditions by climbing through all of the passages and marking all of the critical points. At first, I was struggling, but as soon as my body understood the terrain, I started to feel lightness and I knew I was ready for a serious attempt.
I completed Dawn Wall in eight days. The record had been 19 days, set by Kevin Jorgeson and Tommy Caldwell one year earlier. I was on the wall the entire time. Due to the heat during the day, Czech climber Pavel Blazek and I climbed at night with a headlamp. The wall is so smooth that all of its bumps are visible in the artificial light.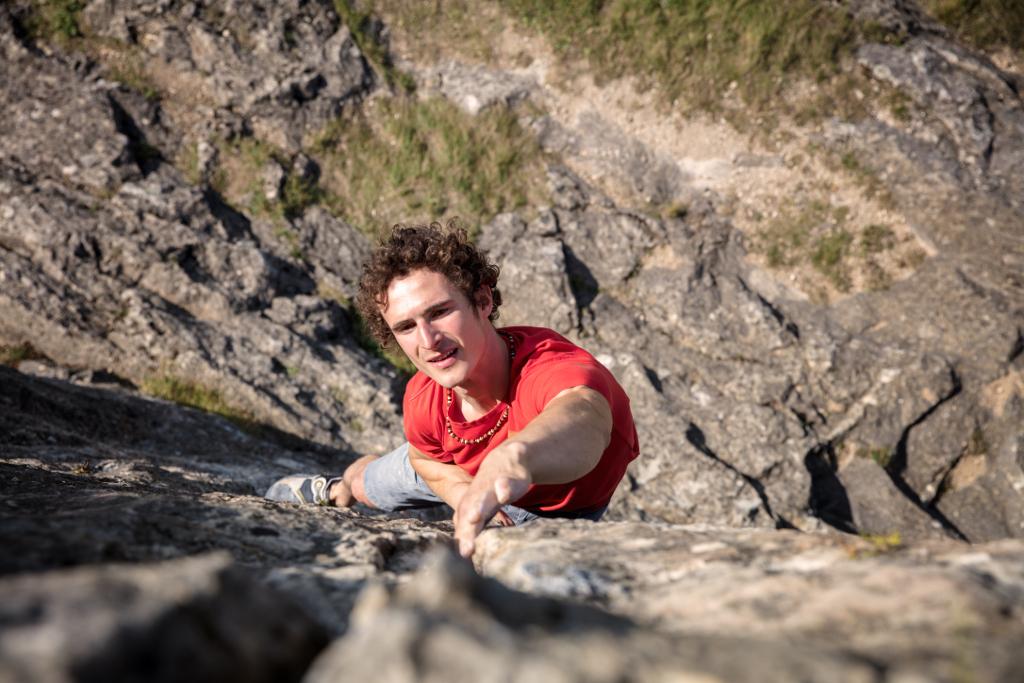 My achievement garnered international attention, and well outside of my sport. My American predecessors had even received personal congratulations from President Obama. Only three of us have completed the most challenging route, using free-climbing technique. It is considered a monumental achievement, and since I had also won the World Championships in lead climbing, I was nominated among the top 10 athletes of the year in the Czech Republic.
I guess that reaching the summit was a great achievement. At the same time, I see a lot of gaps in my performance. I don't think that I was in the best of shape. My calves and legs hurt badly. It destroyed seven pairs of climbing shoes. In perfect conditions, I am convinced that Dawn Wall can be completed in 24 hours. It's crazy to imagine, something akin to ultra-marathoning, but it's also a realistic goal.
It took me a long time to find common ground with the wall. Only then did I understand how amazing the sections were that it offered. As I started to feel and understand the holds, they began to talk to me, telling me how to turn properly, how to twist, where to put my foot. In some places, it was a two-way communication. Then I climbed well, efficiently and with joy.
The wall let me reach the summit. I never say that I conquered the summit. It's not in my vocabulary. I don't own the mountain. I just climbed it.
I'm 28 years old and sometimes I ask myself: "Am I going to just climb or am I going to push the boundaries of my sport?"
No one is on the same level as me. By age 12, I was one of the top 10 climbers in the world. Today, I feel that I set the bar for where my discipline of lead climbing on rocks and bouldering is headed.
Others recognize me because I get a hold everywhere. I like diversity, which only a few people can afford. I endure long difficult climbs. I enjoy bouldering where tremendous strength is needed for a short performance. And rock climbing also suits me.
I have gained respect and with that comes a great deal of responsibility. Before I commit to anything, I always answer some questions directly and clearly. How high will I climb? How dangerous will it be? I always want to have rope and safety equipment on certified rivets. With this, you can push the skills and limits of your own strength without any fear.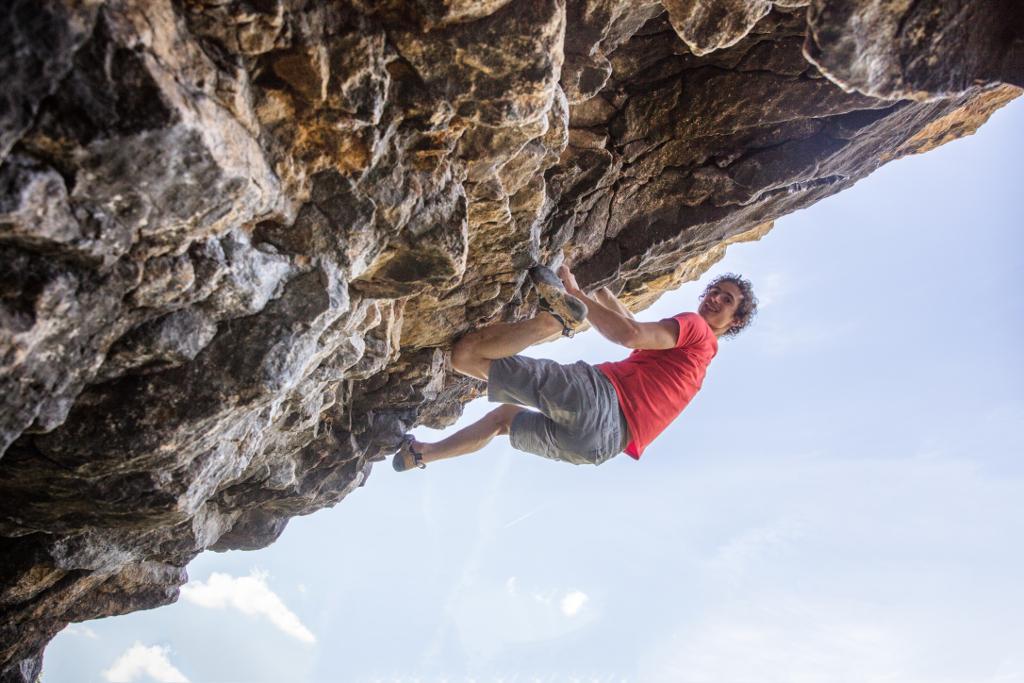 What I will not do is gamble. Everything is completely safe, but of course, you must use the brain. Ninety-nine percent of injuries are caused by underestimating the routine. I know it from my own experience. Most days of the year, I climb rocks. During that time, I put on the climbing gear a thousand times, and sometimes it can happen that I do it wrong.
Fortunately, thanks to my experience, I always find it out in a situation where I have control. Although I do things that are a little odd, I am not an extremist. That's why I am not tempted to climb without a rope. It's a risk that I'm not willing to take, but I understand the temptation of people such as American Alex Honnold, who climbed El Capitan without a rope. He chose the relatively easy Salathé Wall route, but I still think it's completely crazy. It must be an unbelievable feeling, though: just you, climbing shoes, a chalk bag and emptiness.
On the other hand, from what I know, it's often a one-way ticket. If you climb without a rope and safety equipment, sooner or later, something will happen to you. Usually, it happens on something easy where you feel confident and do not maintain your focus, like Switzerland's Ueli Steck. He was a climber and an ultramarathoner who ran to 8,000 feet in record time. He completed Mount Everest in a day and a half, but he recently died during an acclimatization ascent. A short loss of focus was enough.
I choose the other way. I make sure I am well secured, and only then will I attempt extremes. It tempts me to try what can be endured. By strength. By flexibility. Technically.
Until now, the limit of the human body has been a grade 9b+ climb, the highest difficulty in sport climbing of single-length routes according to the Union Internationale des Associations d'Alpinisme (UIAA) scale. There are three places in the world that carry this grade, and I was the first one to climb them all. During one of them, I was accompanied by the American Chris Sharma.
The grade of a climbing route is a subjective matter. The scale is set by the one who ascends the route first. They make a suggestion and then it is up to the others to confirm the grade by completing the route, too. If I climb something now and say it's 9c, everyone will believe it. But someone else may reach the top and say, 'Don't fool around.' They may deem it a 9b.
That is why I am very careful in this regard. I managed eight routes graded 9b. Each took me a week at the most. Only then did I dare to grade something 9b+. After five weeks. It was a lot harder.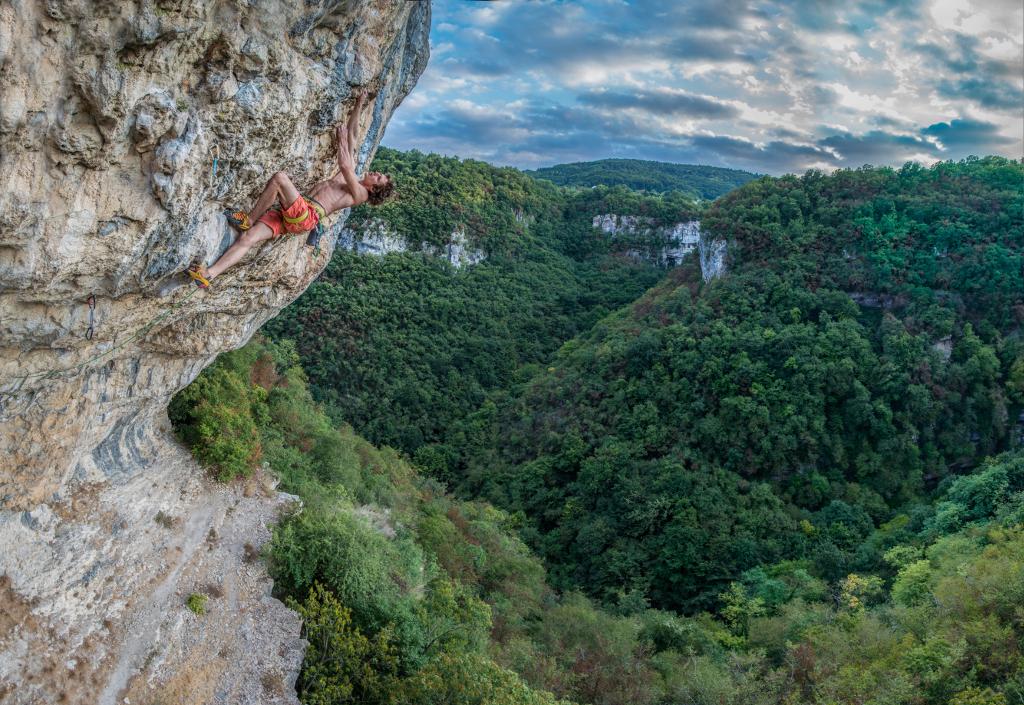 No route can be generalized. It doesn't depend on the length, the surface or the distance between the catches. It's more about how long you've been trying, whether the conditions are good, and whether you are in good shape.
First, I will look for a rock that has many climbing routes. There may be dozens of people on different climbing levels. I will choose an untouched place, I will rappel it, I will make holes for rivets and bolts with a drill, and I will clean the surroundings. This is the hardest part. Later when climbing, I often discover that some holds are too hard, so all efforts would be in vain.
Someone might solve it with a chisel at such a moment. For me, that's not part of the game. I try to accept the rock as I discovered it. When I think something can't be climbed, it doesn't mean that someone else can't do it in 20 years. I have experienced this many times myself.
Around the corner, not far from Brno, I have the Moravian Karst, where the Vasil Vasil project was created. The last of the 9b+ trio next to Change and La Dura Dura (Hard Hard).
To have fun, we called the route Fácil Fácil, which means Easy Easy. It was not very long, nor very pretty. Actually, it bothered me a little. I thought I could handle it easily and rename it, but in the end, it took three years. Every catch hurt a lot and I kept falling in critical situations.
When I succeeded during one cold, sweaty day, I was happy: Partially, because I had finally reached the top; partially because I could finally move on.
A challenging test can appear anywhere. My favorite is the Norwegian cave Flatanger. I first encountered it five years ago and it was like a revelation. It has a beautiful line of rock. Several routes are drilled in this challenging area. It requires a combination of interesting and consecutive movements to make it work.
I knew this was a location where 9c might work; the so-called Project Hard. Four unique steps made it very hard. I did special exercises for each to figure out how to use individual muscles. For example, I was solving two-round holds and the so-called roof, where I must climb with my feet first. In addition, the hold was high above my head. If I wanted to get my foot inside, I had to train one specific movement constantly.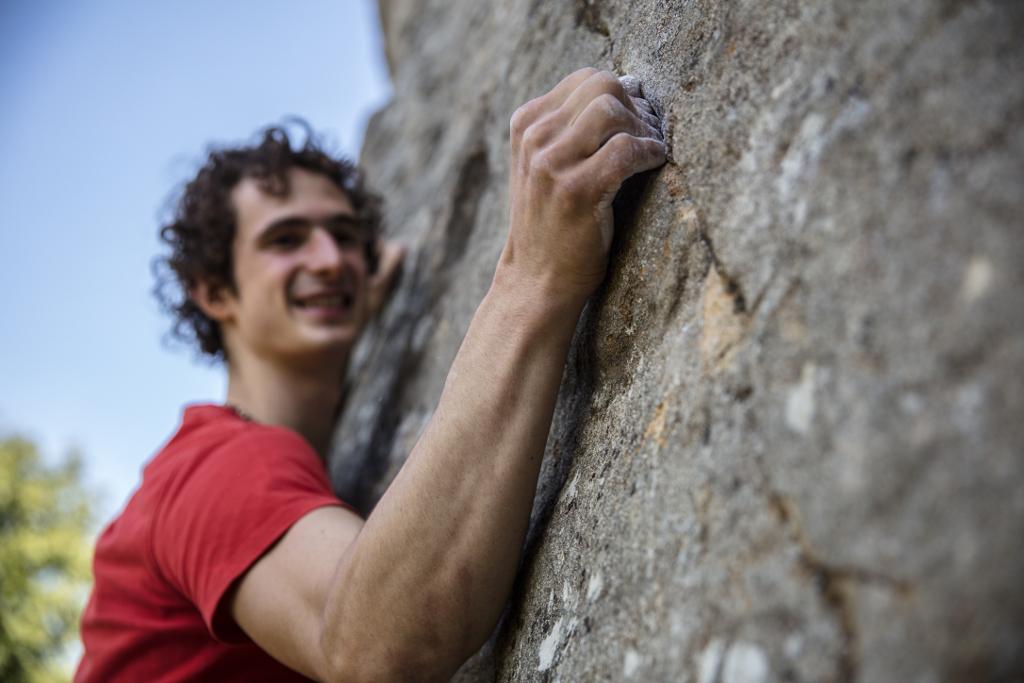 At home, for that reason, I built specific holds on the artificial wall. I was training to improve my ability to rest, using a knee-bar. I found out that when I trained one specific calf muscle, I could relax my whole body by hanging with my head down and bring blood flow to my forearms. At that moment, only one muscle was working, I hung from the rock and in thirty seconds, my energy reserves returned to a high level. This was the reason that I succeeded.
But grade 10? I can only imagine what such a route would look like. I will not climb it. It could be a vertical wall, but also bumpy, where the holds are far apart. I will maintain my high level of climbing for another 10 years or so, but I think that is too short a time to reach this sort of milestone.
I've been climbing since I was 6 years old and I owe part of that ability to my parents. They taught me how to take care of myself, but they never told me how to climb, where to put my foot and how to catch a hold. I came up with everything myself. This is my specialty. I learned the most through experimentation and having an open mind.
I train six days a week, five hours per day. It's my private world and I don't let everyone in.
I invented my own training method based on my physiological assumptions. To make it perfect, I have analyzed hundreds of hours of videos and the result is a fast, efficient and simple style.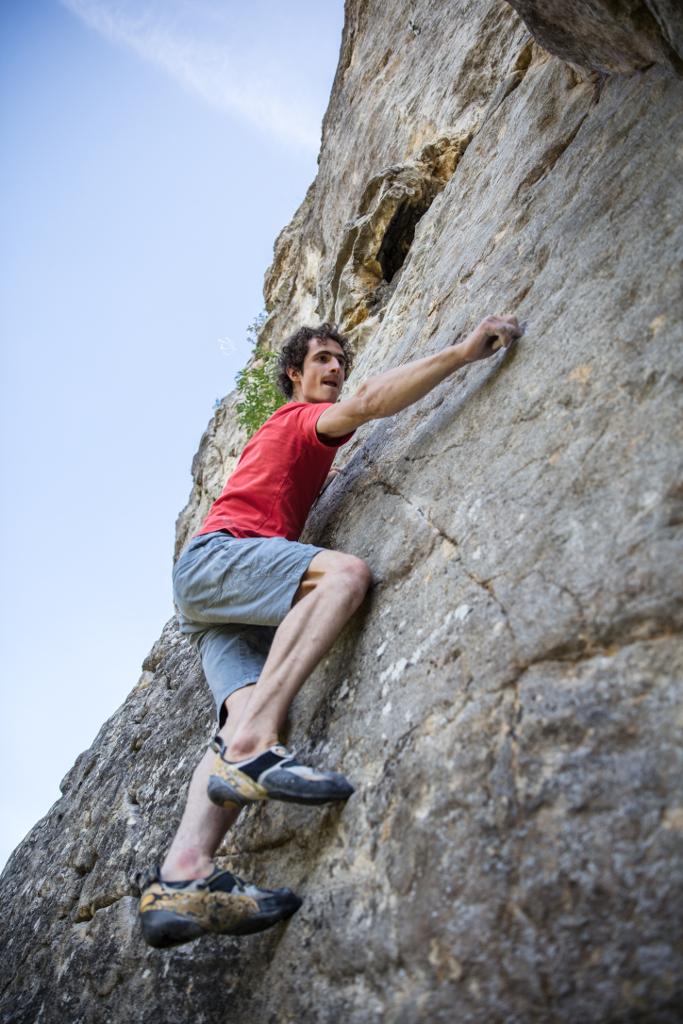 The goal is to make an unbroken kinetic chain. If I can do something smoothly and without mistakes, I will be very happy. I try to combine strength and style. First, I attempt a trial climb through the section and memorize it in my head. Then comes the visualization, including which muscles will be working during each movement.

The first parts of the routes I can handle quickly, and without rest. Later, I slow down and use my head more. When I run into a problem, I never look at it as unsolvable. Instead, I try to come up with every possible solution. Sometimes, you need to change the body angle. There is always a way to go farther. For the most difficult climbs, it is not that hard to complete individual steps. The problem is to endure through all of them and also be able to rest. I try to conserve as much energy as possible as I climb.

My training takes the opposite approach. I try to take as many steps as possible, to the point of absolute exhaustion. It's effective and it separates me from others. I don't think it's hard to train all day, but it is difficult to put 100 percent into it.
My fingers usually suffer during this approach. While they are thick and strong, I usually have totally ripped skin on them. Sometimes, I can hardly squeeze one finger into a catch where someone puts two, yet I don't view any of this as crazy. On the contrary, I feel well. I feel very relaxed. At that moment, I feel like I am part of the rock.
I stand out because I do things that others don't want or can't do. I like very specific moves. I call one of them a goat's foot. I put my left foot to my hip and then roll my knee all the way down. My body is flexible and thanks to that I will stick completely to the rock. I wouldn't be able to complete some routes without this trick.
Even though I don't know anyone who could reach a higher level than me, I still feel the potential to achieve more, so I look elsewhere for inspiration. For instance, ballet helped me — or rather, physiotherapist Jiří Čumpelík, who takes care of prima ballerinas from the National Theater.
He added ballet elements to my training, and it improved my shoulder and back work. He claims that all human movement starts from the little finger. When a person grabs a hold or a pull-up bar and tries to focus on the little finger, they automatically move their shoulders farther back. They straighten up and don't lean back. This engages the back muscles. When they don't, the shoulders go forward and only the pectoral muscles and biceps will work.
Look at an orangutan. They have four fingers and use only two. All they need to do is to engage the back muscles. They almost do not use the pectoral muscles at all. And how nicely they climb.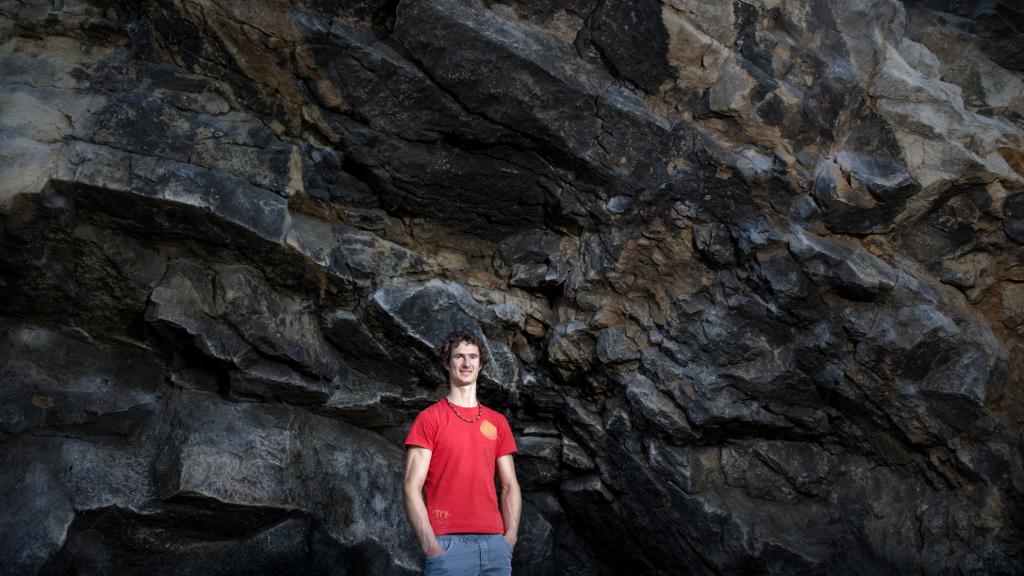 A lot of people say that the little finger is useless. It's a shame. I verified with Mr. Čumpelík that it is very important. I am also fascinated by another one of his other theories. According to this theory, humans, for evolutionary reasons, stood upright, but in reality, we are still quadrupeds. The limbs are still closely connected, which can be observed in toddlers.
Children can balance, everything is beautifully natural, including overcoming obstacles. That's why I sometimes say that whatever I do could be done by every little child with proper training.
I have flat feet. I never saw that as a problem. I have always used extremely small climbing shoes. I used to wear them up to five sizes smaller. I relied on that approach to keep my leg firm, curved and stable on a tiny spot. After consulting with a physiotherapist, I wear only four and a half sizes smaller climbing shoes so that I can activate the muscles in my legs and engage my arms better.
The funny thing is that without all of this information, I climbed 9b+. And now I believe I can achieve even more. That's why I don't care how many pull-ups I can do. Or if I can do a pull-up using just one finger. Of course, pull-ups are part of my training, but I do it differently. Sometimes, I use one foot to make it easier. Usually, I concentrate more on one hand to try rotating a bit each time and simulate climbing conditions. I do everything in order not to disrupt the natural kinetic chain.
I know that I'm not the strongest, but again, I know how best to move.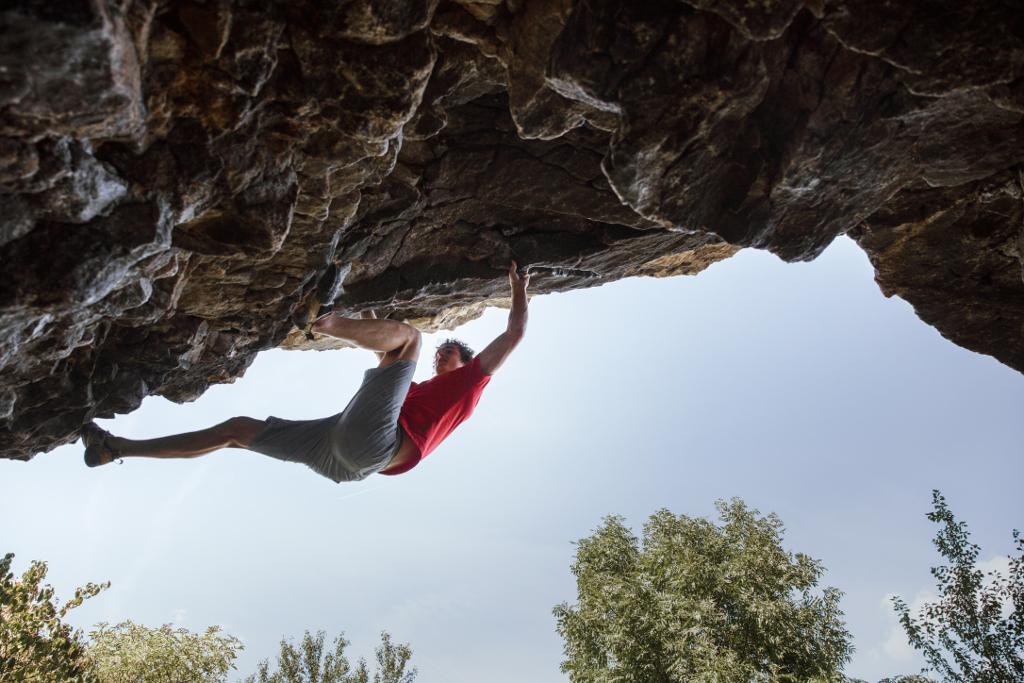 The quadruped theory is groundbreaking in my opinion. It requires a different approach, a different reasoning. Everything is difficult to measure and prove. Mr. Čumpelík convinced me of this through exercises. For example, sit down and try to supinate your feet. Try to bend your feet out. Push into the little toe edge and this will strengthen your hands. It's just a demonstration of how it works.
It would be very interesting if someone taught this to young children so that they do not forget this natural movement and are better able to train their movements. This is the future in my opinion. Not just in climbing, but in complete body movement.
I was hoping to win a gold medal in sport climbing at the Tokyo Olympics. It's just unfortunate that there was only one set of medals. We have three disciplines: Speed, Bouldering and Lead. Merging them into one category creates a weird hybrid. It's like combining a javelin throw, a discus throw, and a shot put.
I don't like the format of the competition. I don't agree with it. Nevertheless, I knew that I wanted to go to the Olympics, so I created a specific training regimen. It was a new challenge.
Speed specialists have no chance against lead climbers and boulderers. The same is true the other way around. Speed climbers will not make it into the elite six when combining disciplines. In other disciplines, they have a level of district champions. But with us, who competed for medals, it would be the same. Our speed is ridiculous; embarrassing. Imagine an athlete running a hundred meters in fourteen seconds in the Olympics final.
Despite all of this, the gold from the Olympics was great motivation. Personally, I suspect that people who understand my sport admire me more for climbing El Capitan in record time. Races distract us and divert us from our personal development. Races are interesting in the sense that you must make quick decisions on a route that you see for the first time in your life. Otherwise, they tend to take away the freedom that I find in rock climbing.
Nature is not perfect. The routes can seem easy, but then comes one difficult step where everyone falls and then they try to solve and overcome it for many weeks. I prefer this more than a short show.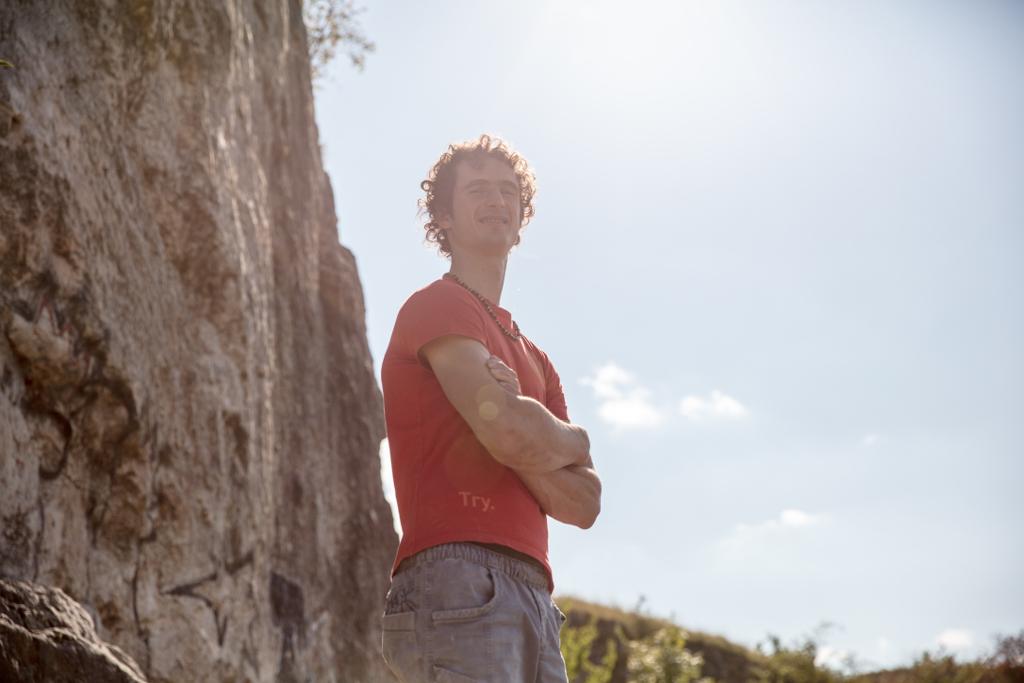 Ultimately, I believe that the Olympics will not affect our sport. Climbing will never become mainstream. If you want to climb a rock, you have to devote the time for preparation. Unlike on the artificial wall, there is a risk of rain, cold and discomfort. That's exactly what I like.
I have so many projects in my head. Climbing for me is a broad possibility of self-realization. I train on artificial walls and climb the most difficult routes, but more importantly, I need to enjoy myself climbing, or sleeping in a car or a tent. I like the freedom to decide where I want to go. There are so many places.
That's why I am so grateful to my parents for letting me climb at the age of 6. Otherwise, I wouldn't have had enough time to do everything I want to do.
Jana Mensatorová and Giampaolo Calza